We had heard from many passing travellers that Chiang Mai is their favourite place in Thailand. It's a perfect blend of Thai culture and religion, but also modern comforts. Buddhist temples and air conditioned hipster cafes line the streets and live in harmony. Spend some time wandering the streets and hit up these spots.
Check out these 8 things we did in Chiang Mai.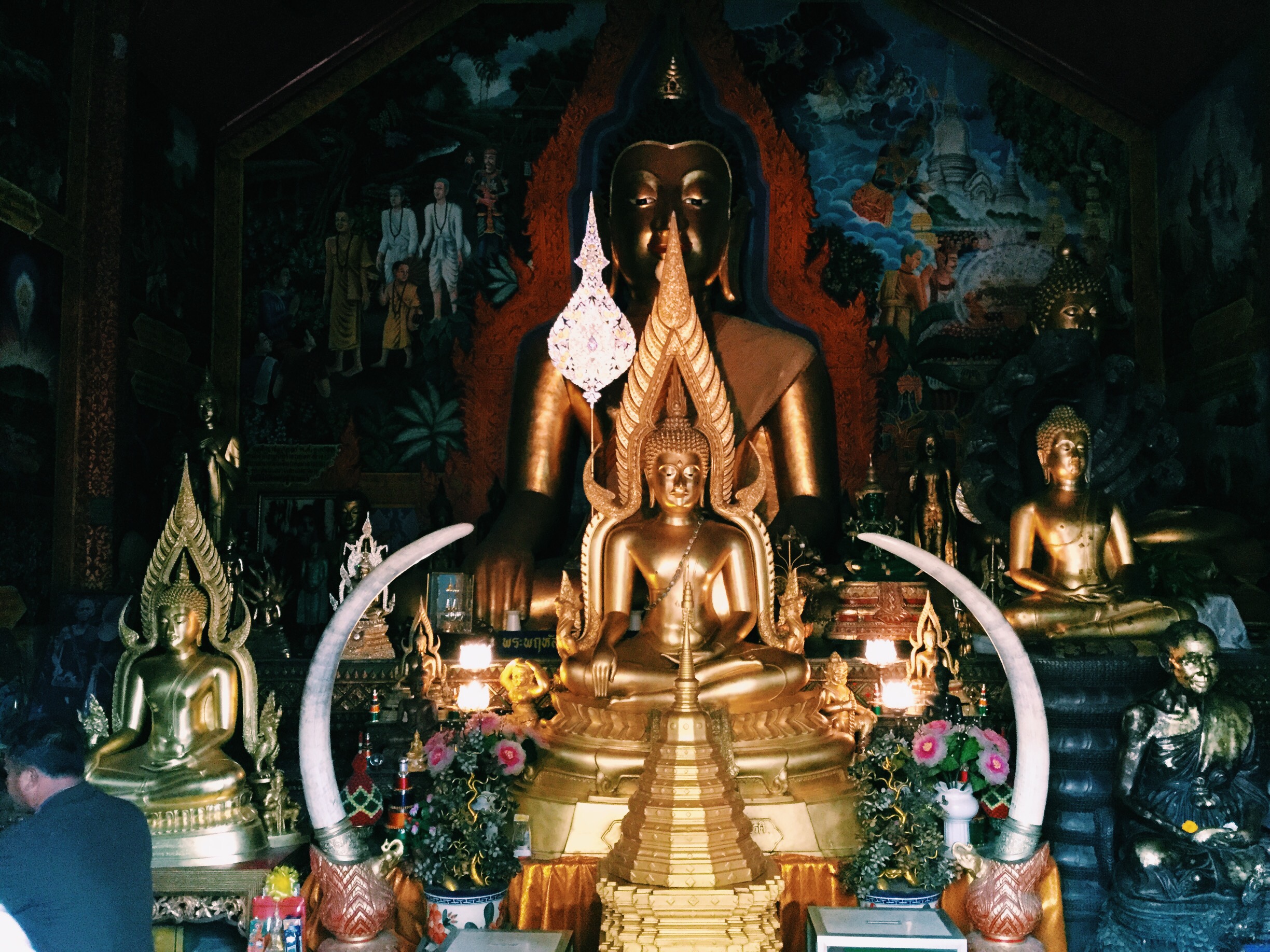 1. Chiang Mai Grand Canyon
This canyon was once a quarry. Now it provides a lovely view to chill out while sipping a latte, or get your adrenaline pumping while cliff diving and floating on bamboo rafts in the water. We did a bit of both.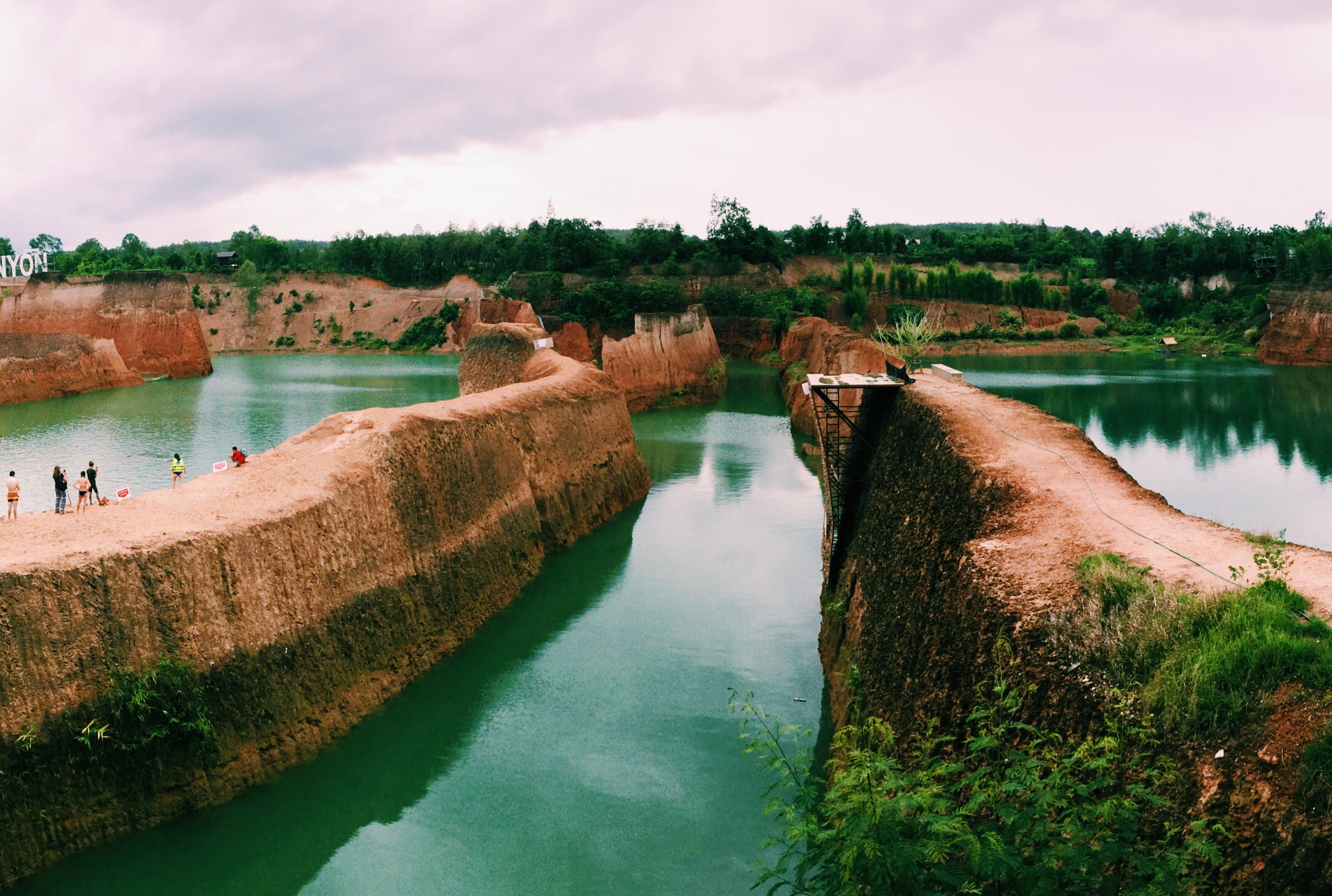 Entrance fee is only 50 THB (~$1.80 CAD) per person. So worth the visit. It is very popular among the backpacker crowd, so chances are you'll end up coaxing some new friends into taking the leap.
If you're into sweet swimming spots in Thailand, you'll enjoy our guide to Krabi and Koh Phi Phi of the south!
PRO TIP: You'll get a 25% discount off food if you show your ticket!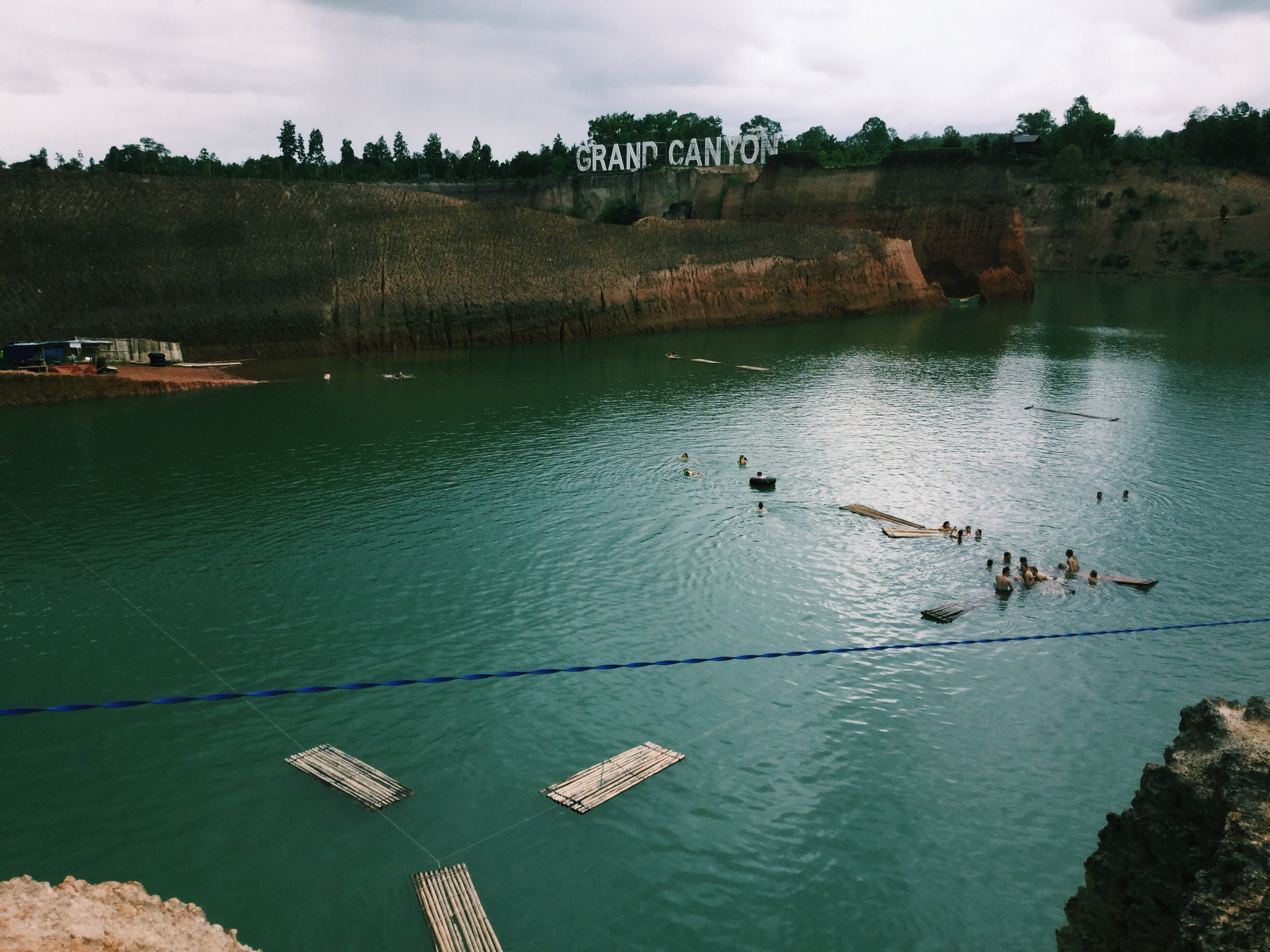 2. Sunday night market
Make sure you're in Chiang Mai on a Sunday night! The old town streets magically turn into a massive market that you can easily get lost among. We wandered around eating everything that caught our eye. The list of what we ate: steamed crab cake, roast pork, mango smoothie, deep fried sandwich, gac fruit juice, mango sticky rice, papaya salad, roast chicken, and coconut ice cream. We can say that it was a successful market visit. Besides the food, the market is filled with vendors selling all sorts of nicknacks and souvenirs.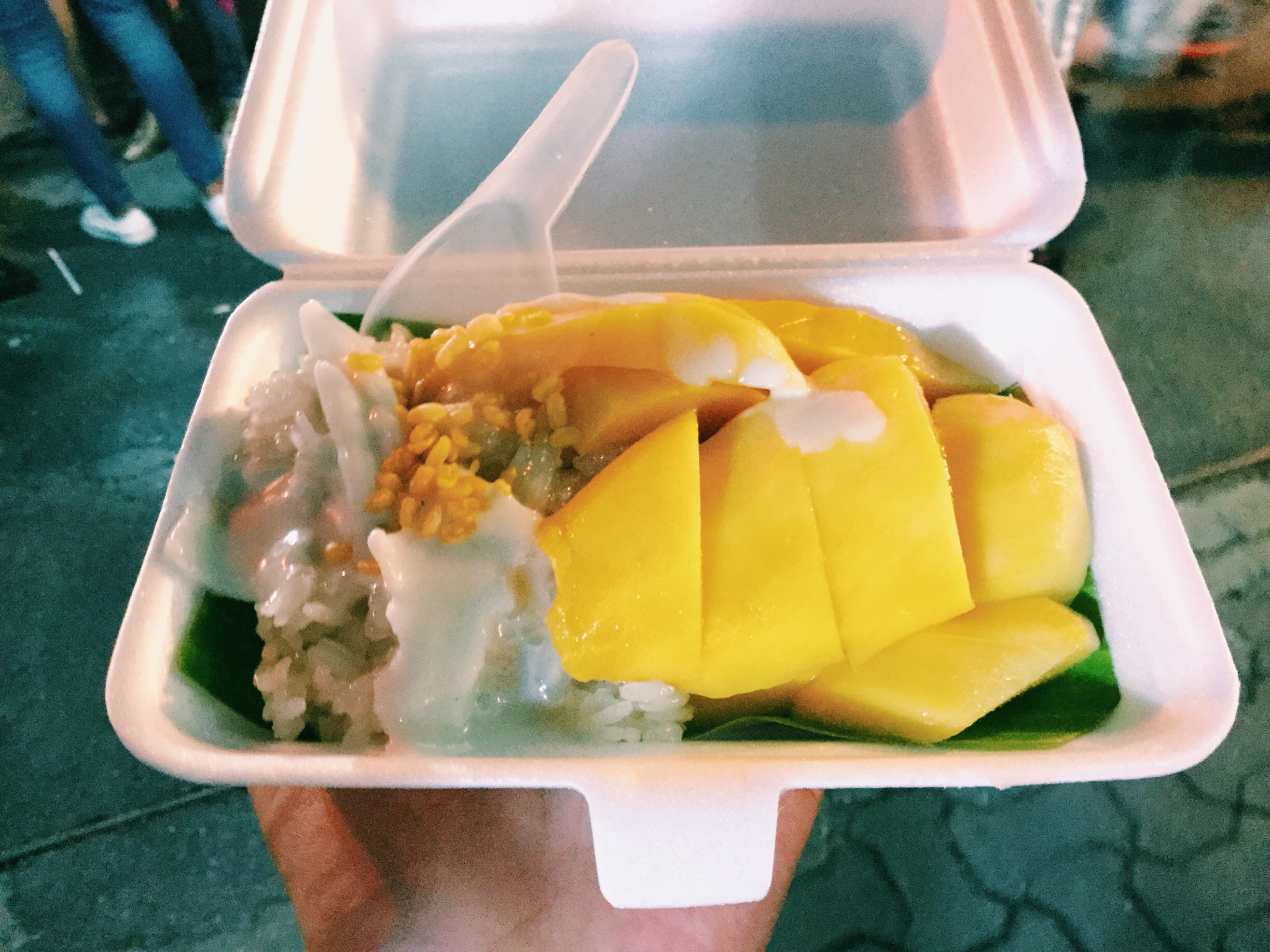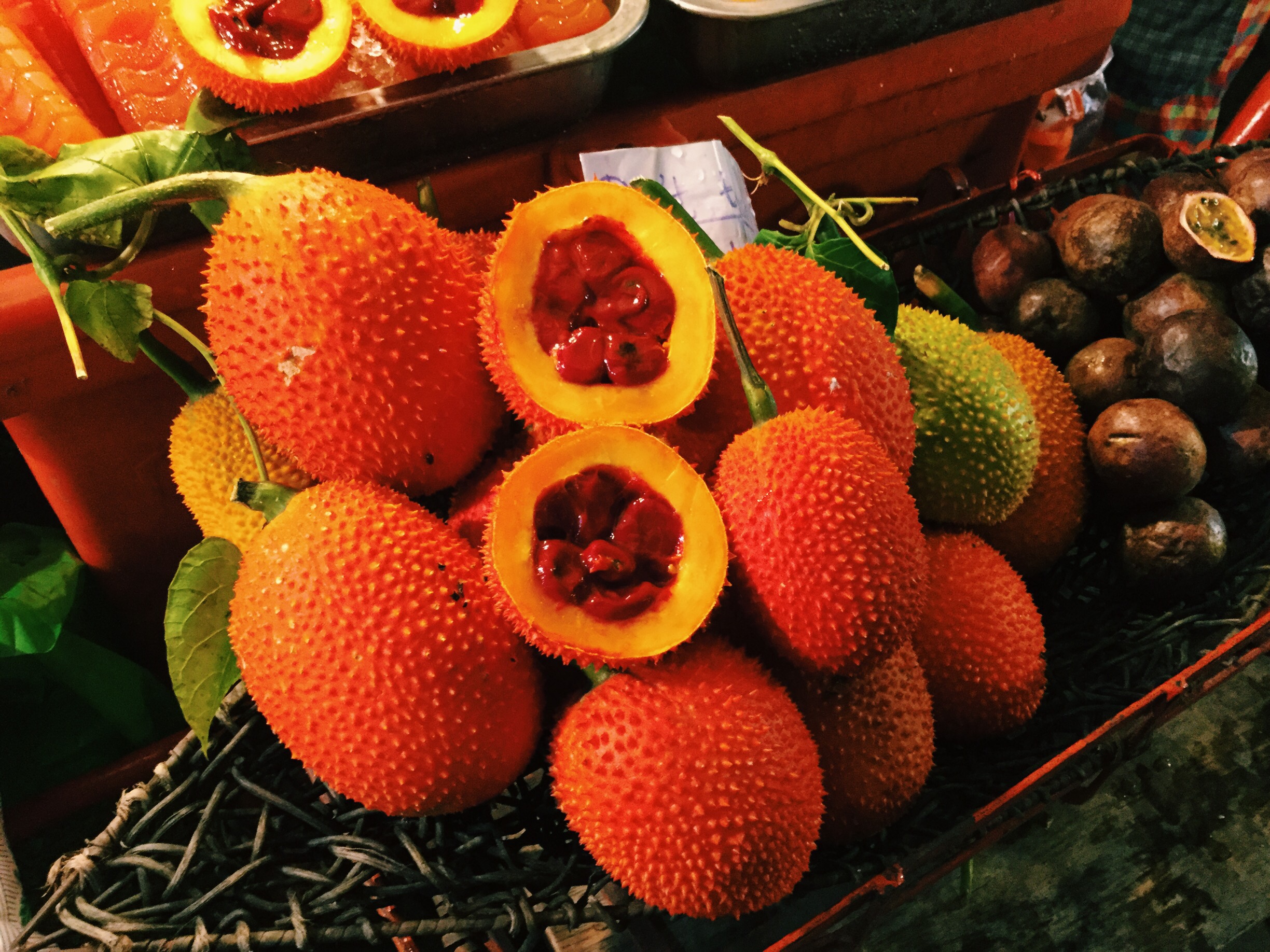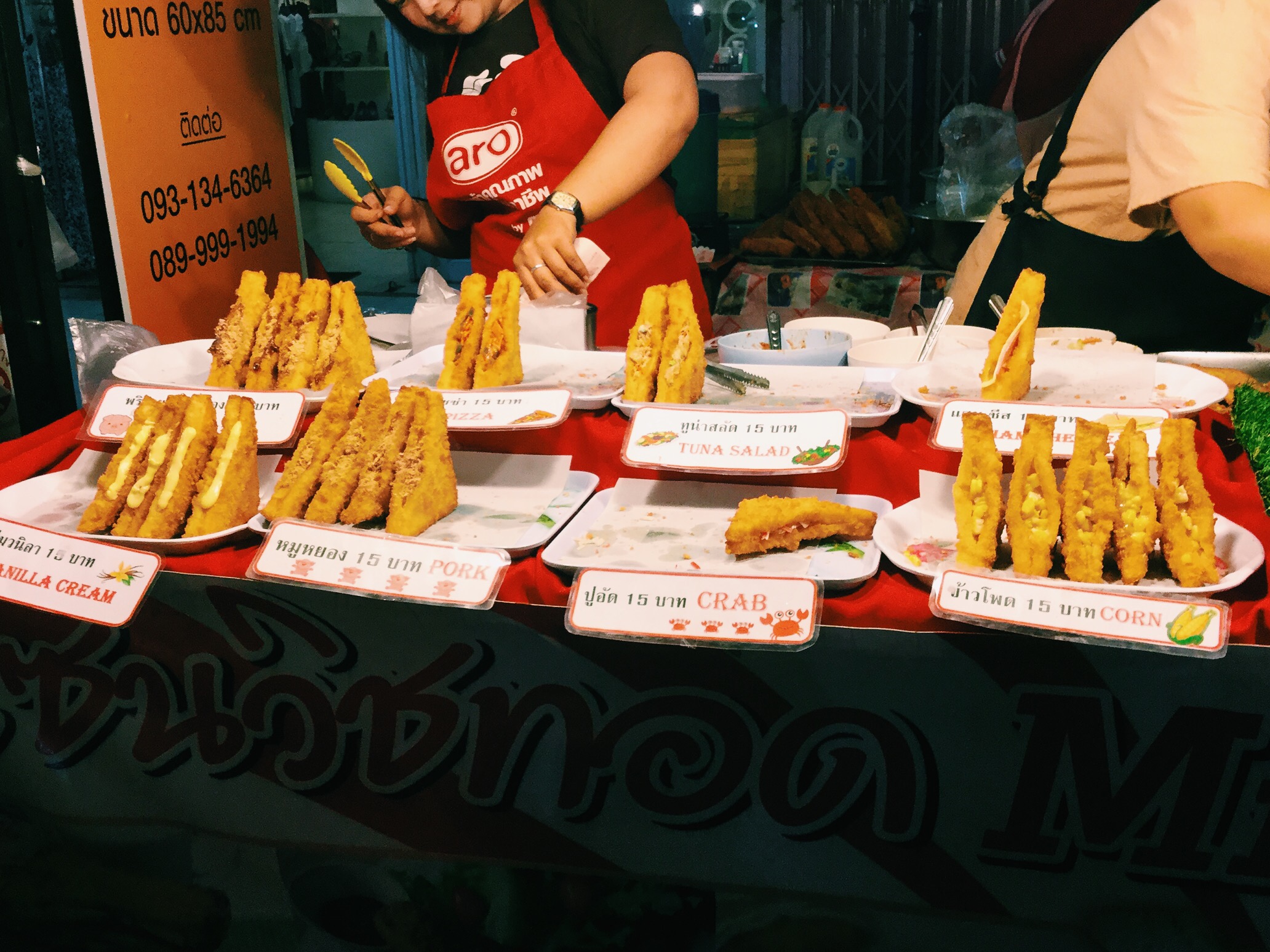 3. Night bazaar
If you're missing the Sunday Night Market, you can visit the Night Bazaar that is on every night. It is located on the east side of the river and is and seemingly endless complex of more vendors selling more of the same. We missed the opportunity to buy some wooden coasters we liked from a vendor at the Sunday market. So we tried to find him at the night bazaar. The task felt like we were at a road block on the Amazing Race. In conclusion we are not bringing back wooden coasters and we'd probably be eliminated from the race.
4. Doi Suthep
If you haven't seen enough temples in the town, what about one on top of a hill? Many songthaews will probably to take you there for probably a crazy price. But if you wait at the "bus stop" (outside the 7-11) near the north gate, a bus will make the trip 50 THB (~$1.80) per person, there and back, the catch is it'll wait until there are at least 10 people who want to make the journey. Ours filled up in no time.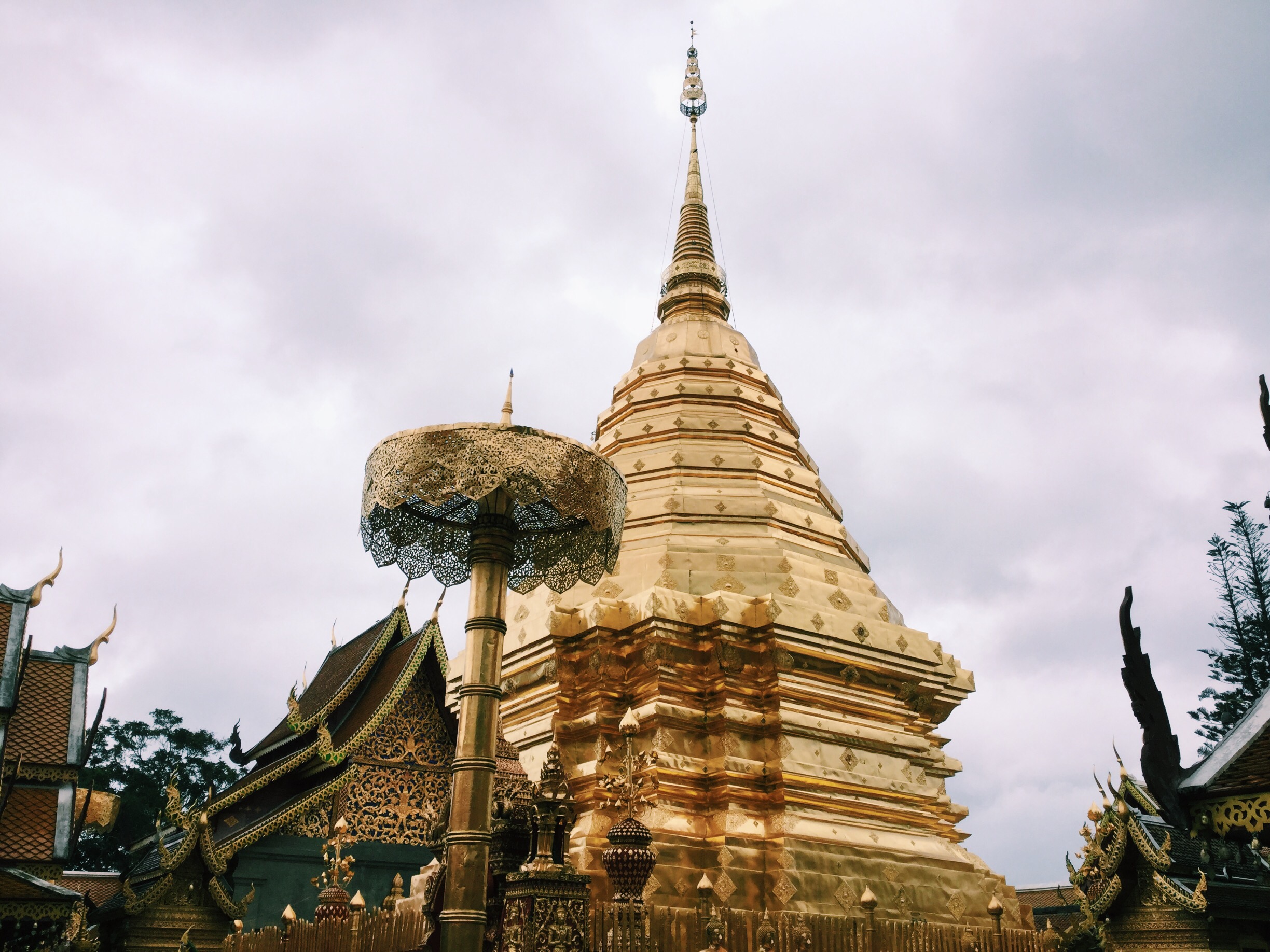 At the top, be prepared to climb the stairs to the temple (or pay some amount to take the lift) and pay 30 THB per person (~$1.10 CAD) for a foreigner entrance fee, a non sense fee in my opinion.
Thailand is filled with grand temples. If you're headed to Bangkok, and enjoy people watching, you must first read about our experience at the Grand Palace and Emerald Buddha Temple. It's one for the books.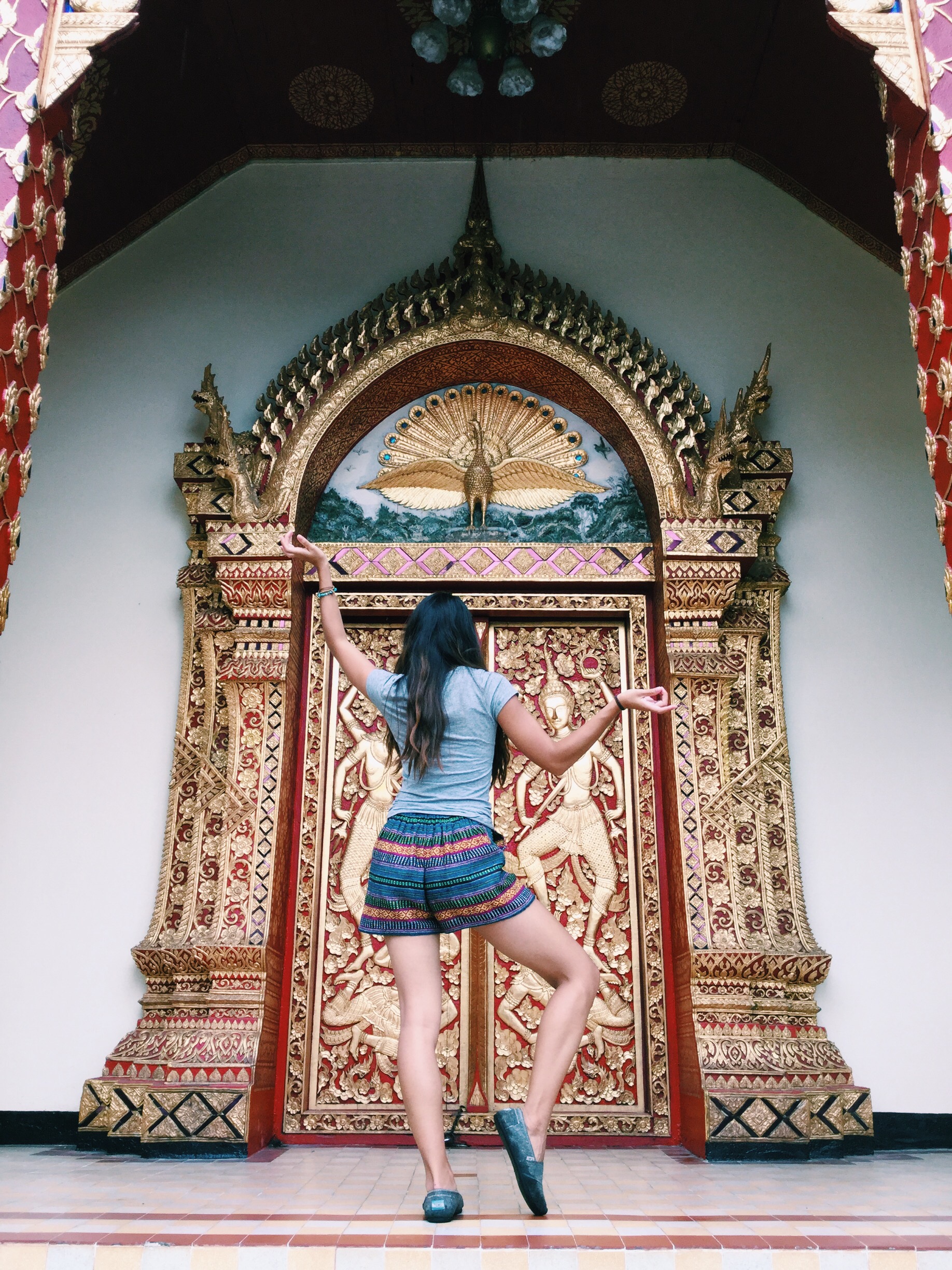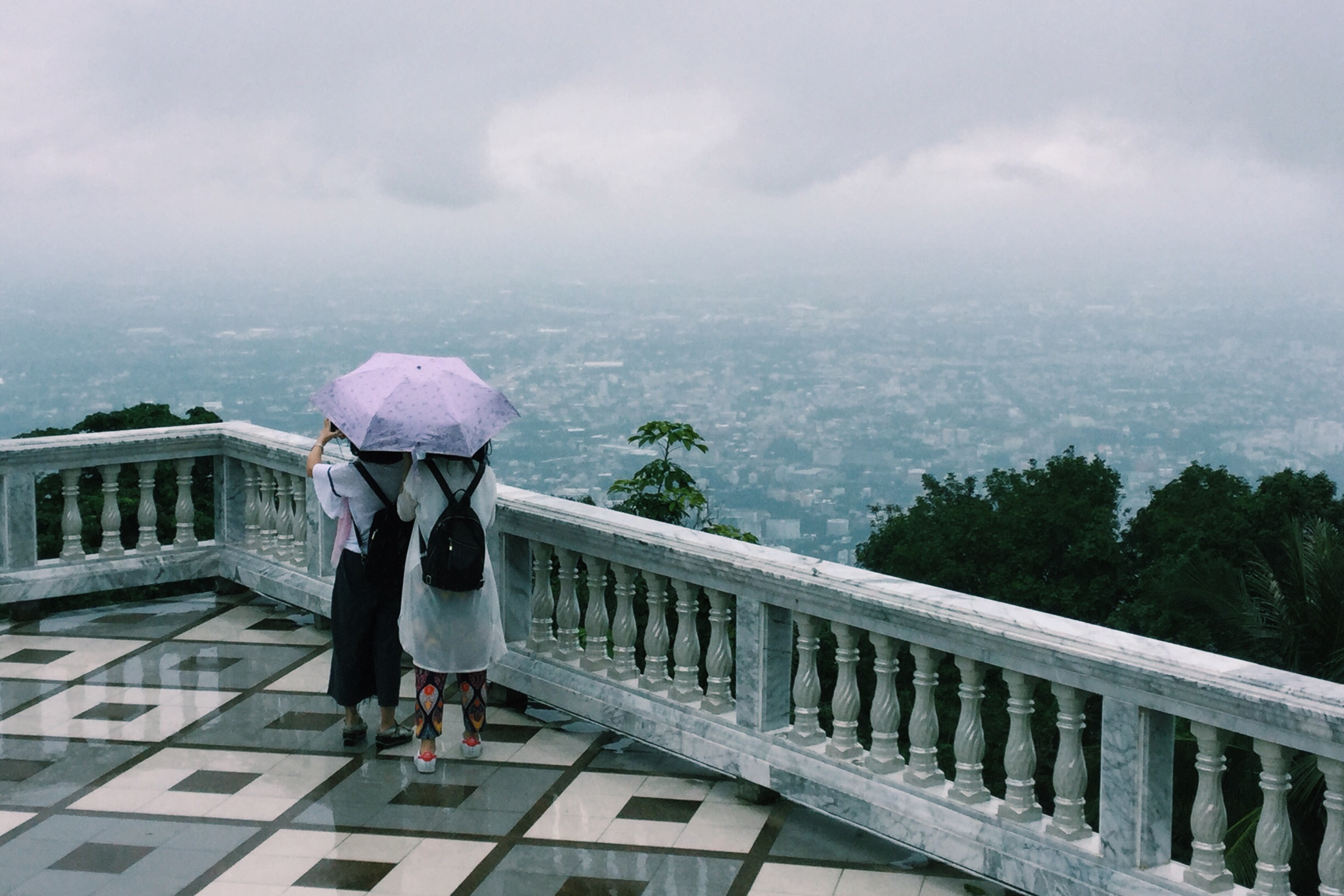 But finally, see the glamorous gold Buddhist temple and view of Chiang Mai from the sky (if it isn't hella foggy, like the day we went). Our driver waited 1 hour and a half at the top for us which was a perfect amount of time to see the temple, enjoy the view, take a look around the souvenir stalls, and eat a cob of corn.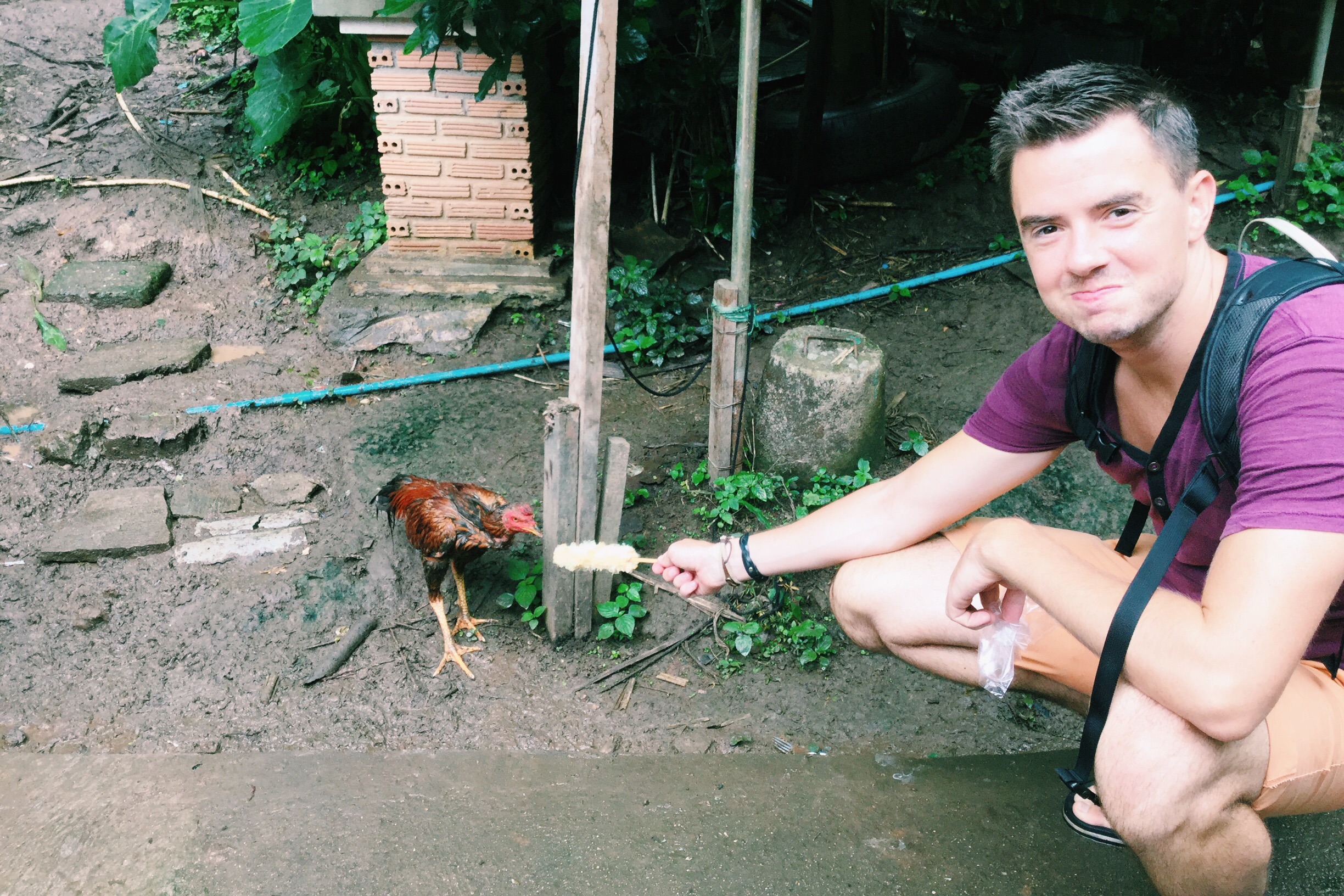 5. Thai Cooking Class
We love Thai food + we love to cook! So naturally an idea of a cooking class in Thailand was a delight! There are so many cooking classes and companies to choose from. We ended up cooking with Baan's Cookery for 800 THB ($~30 CAD) per person for a afternoon course. This included a market tour, a four course meal, and a recipe book, and transportation to and from your hostel.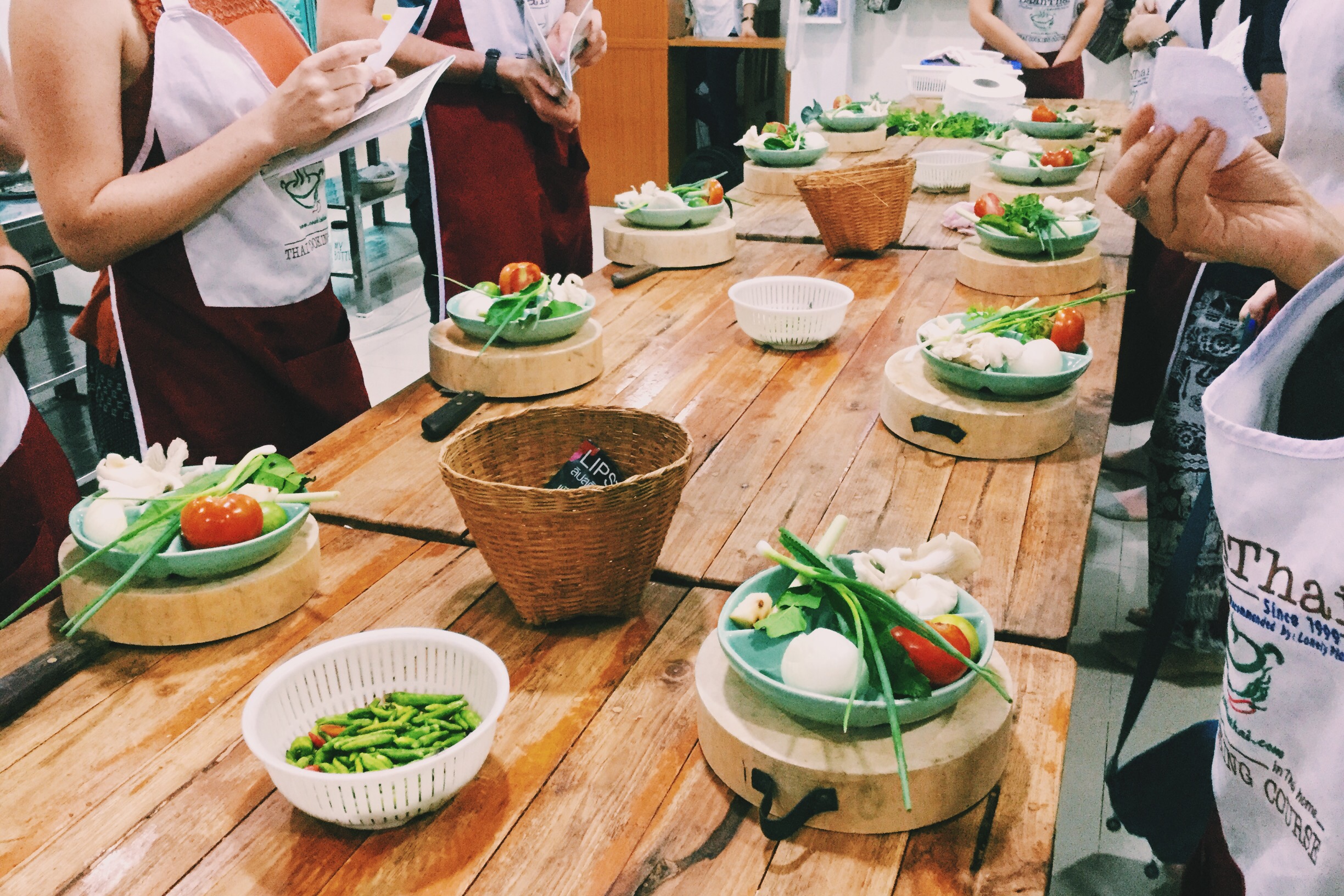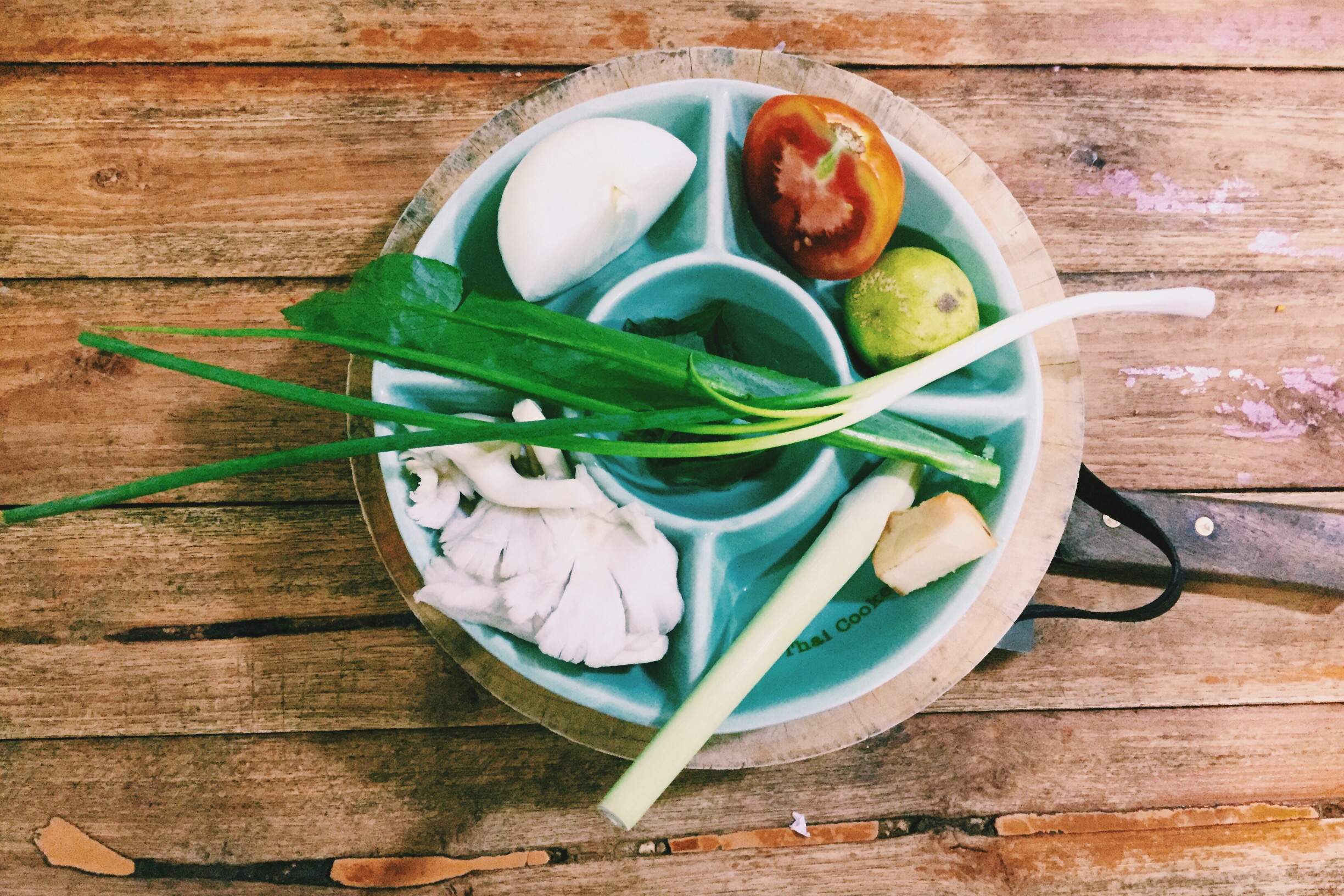 We chose Baan's because it had a really wide menu of items to choose from and Matti and I cooked all different dishes so that we could learn as much as we could, as well as try many different foods. One part we loved was being a part of making the delicious curry pastes that make Thai curries so flavourful. We made: pad Thai, stir fry chicken with cashews, papaya salad, spring rolls, seafood soup, chicken coconut soup, green curry, and kow soi (a curry noodle dish unique to northern Thailand). All the food was amazing and we were stuffed after it all.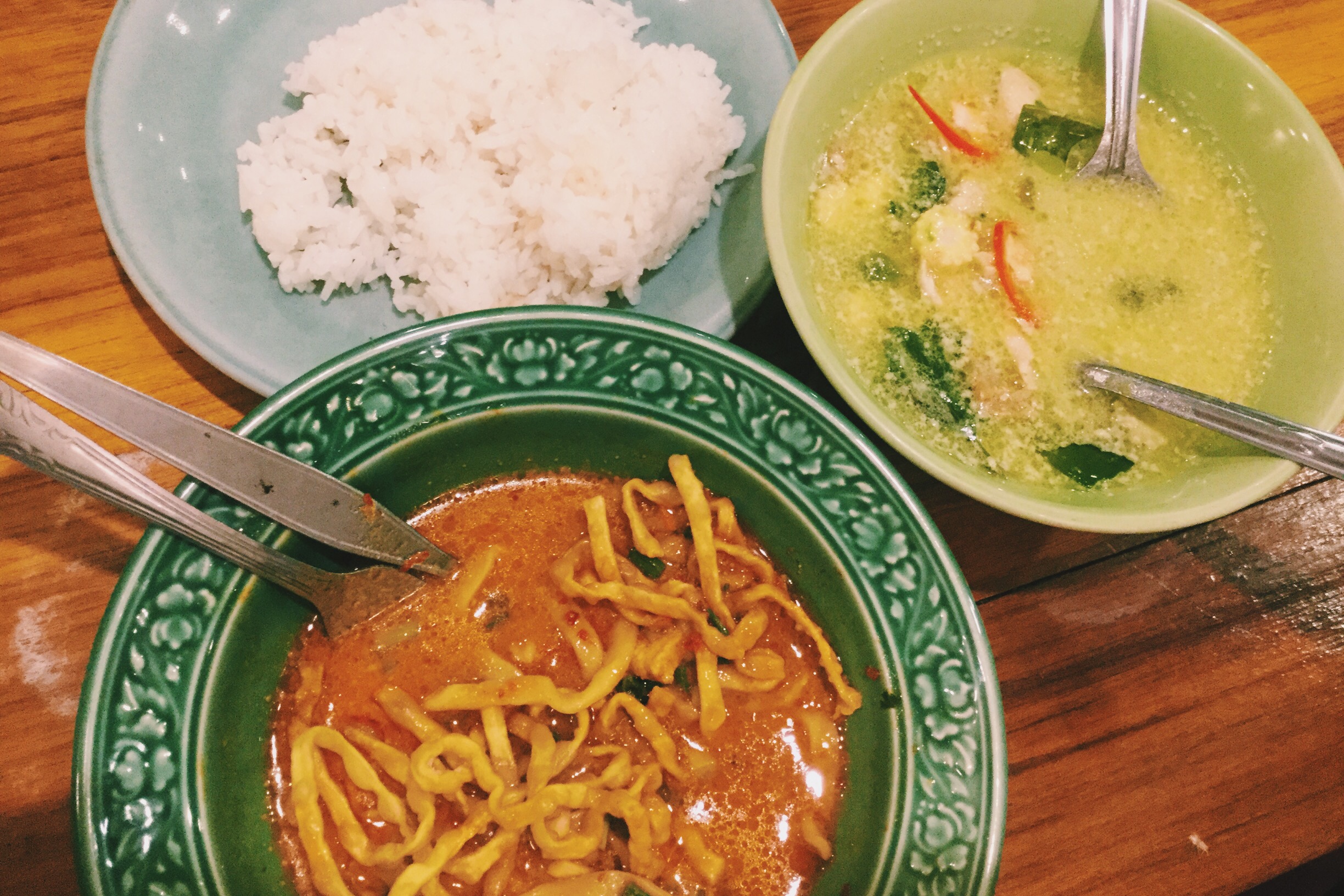 6. Ristr8to – Coffee Shop
Chiang Mai is a haven for hipster cafe lovers. There are many places to get good fresh coffee, but one place recommended to us was Ristr8to. Its gimmick is that they serve coffee from different parts of the world. But even better than that, they have these amazing wood engraved placemats that 1-up other hipster cafes. Also the coffee was good.
Related: Egg & Poop Coffee – Examining Asian Coffee (and tea!)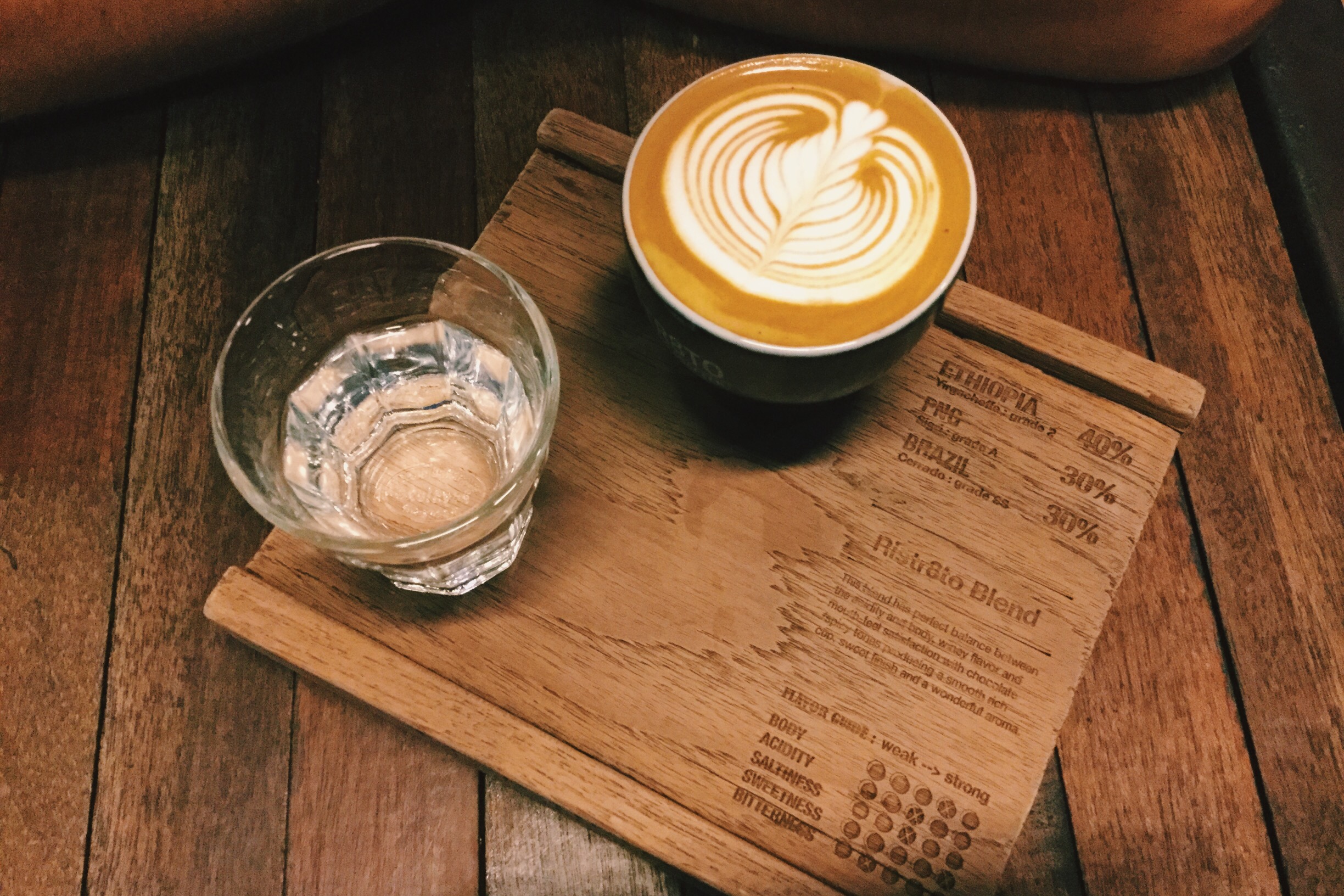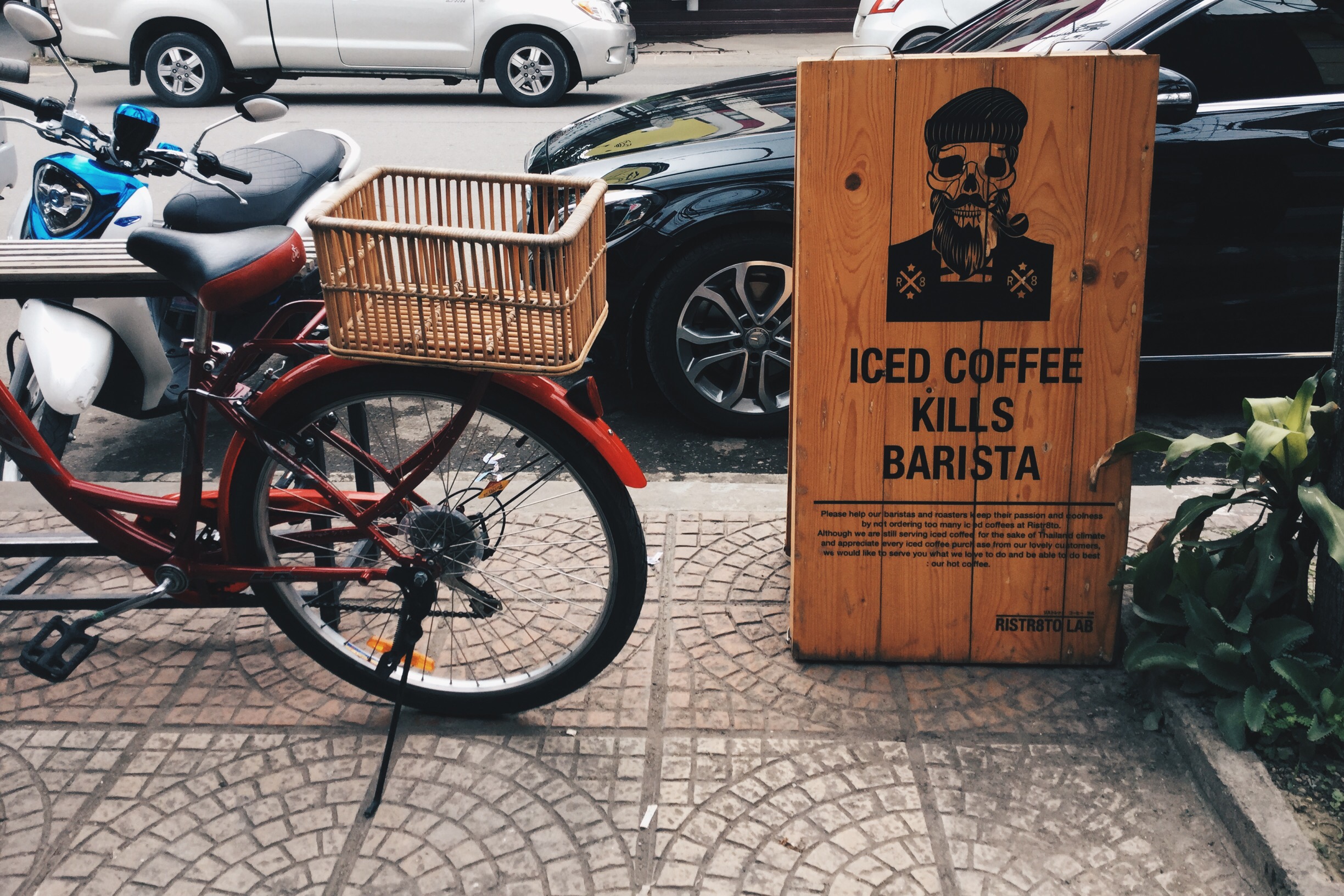 7. Night Safari – free giraffe feeding!
Ready for a super bonus Chiang Mai tip!? Who would have guessed that you could feed giraffes for free in Thailand? Well almost free. You can buy a large basket of cut vegetables for 30 THB (~$1 CAD) to feed to the two giraffes at the entrance of the safari without paying admission to enter. Our amazing couch surfing host Nui showed us this secret with his 5 year old son Ti Lung who showed us how it was done.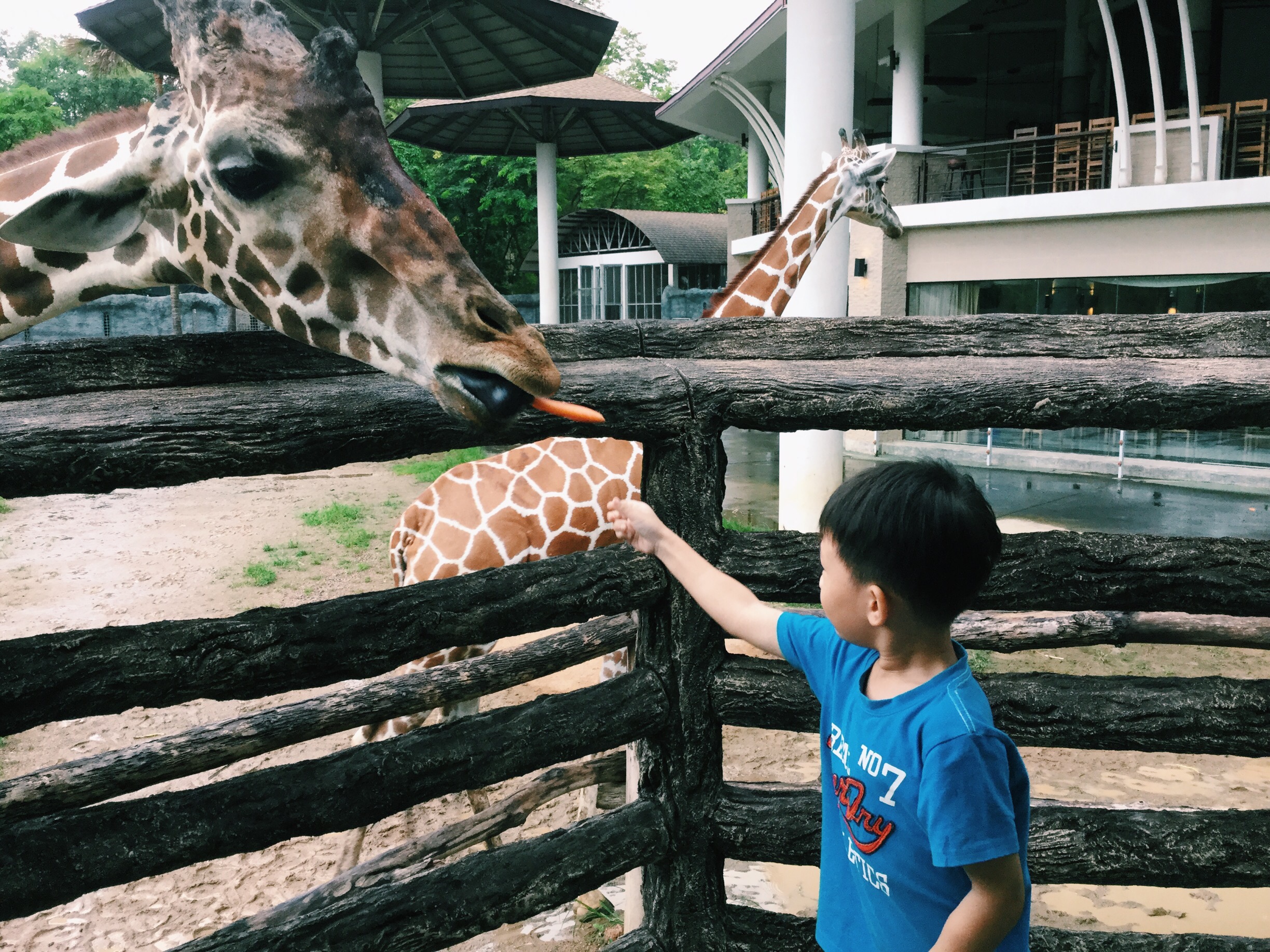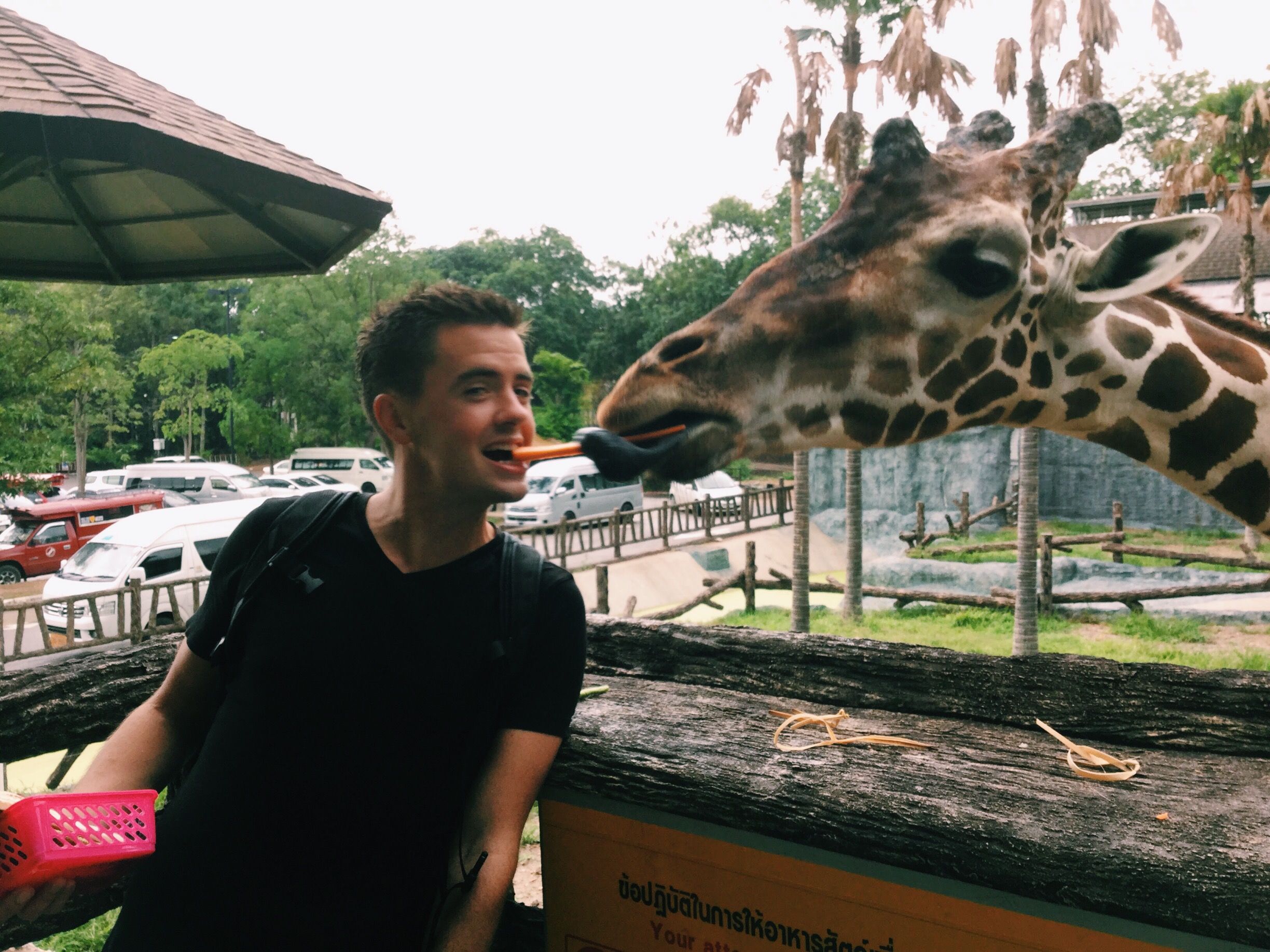 There are also two beautiful parrot displays outside the entrance worth admiring.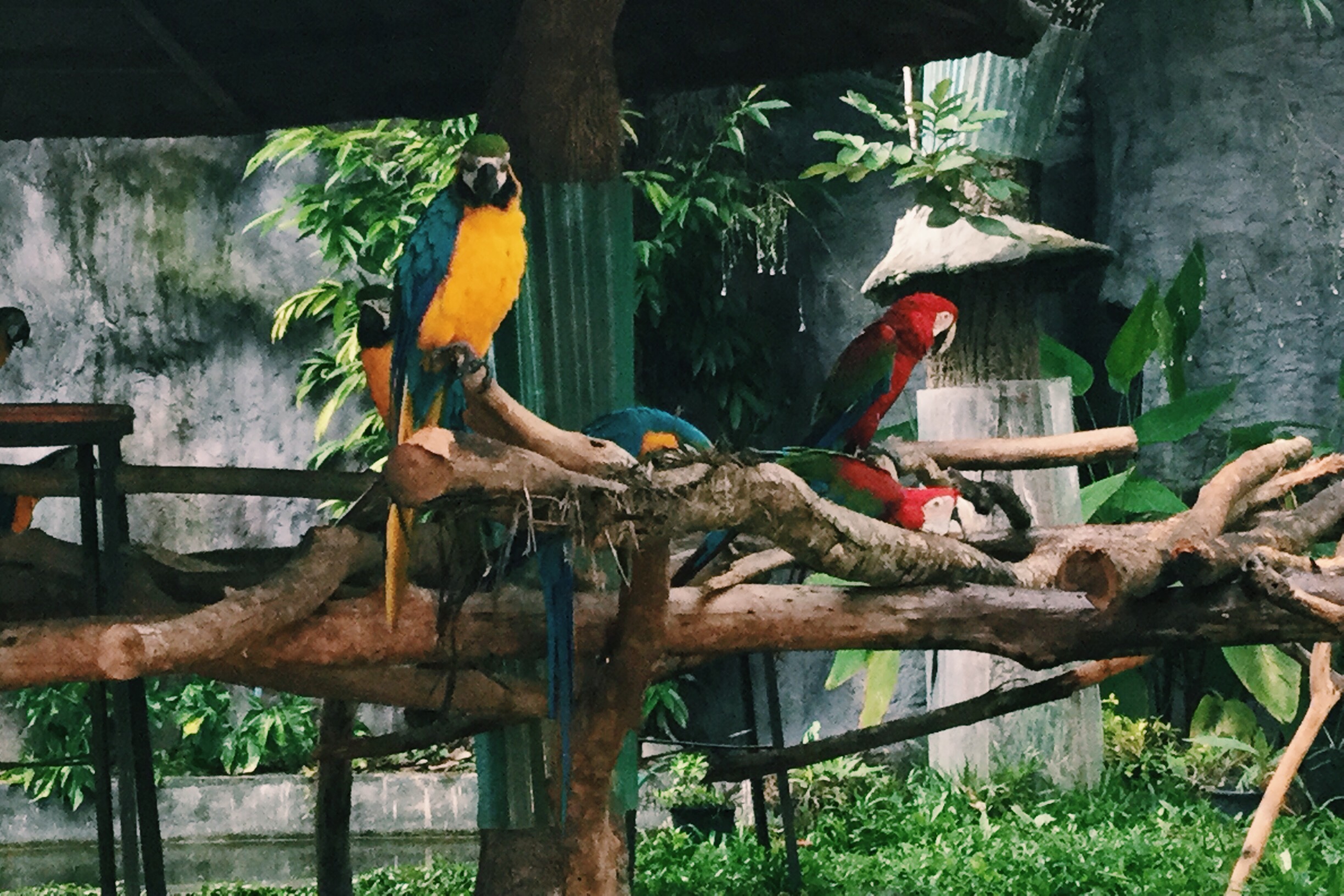 8. Eat food and drink fresh fruit smoothies
When in doubt, just wander around and stop pretty much anywhere for great food. We spent most of our time exploring new small streets and eating from street vendors. Thailand is amazing for binge drinking fresh fruit smoothies because you can grab one for only about 30 THB (~$1 CAD). We also drank Thai milk tea just about everyday because it's pretty much the best thing since sliced bread. Maybe it even came first?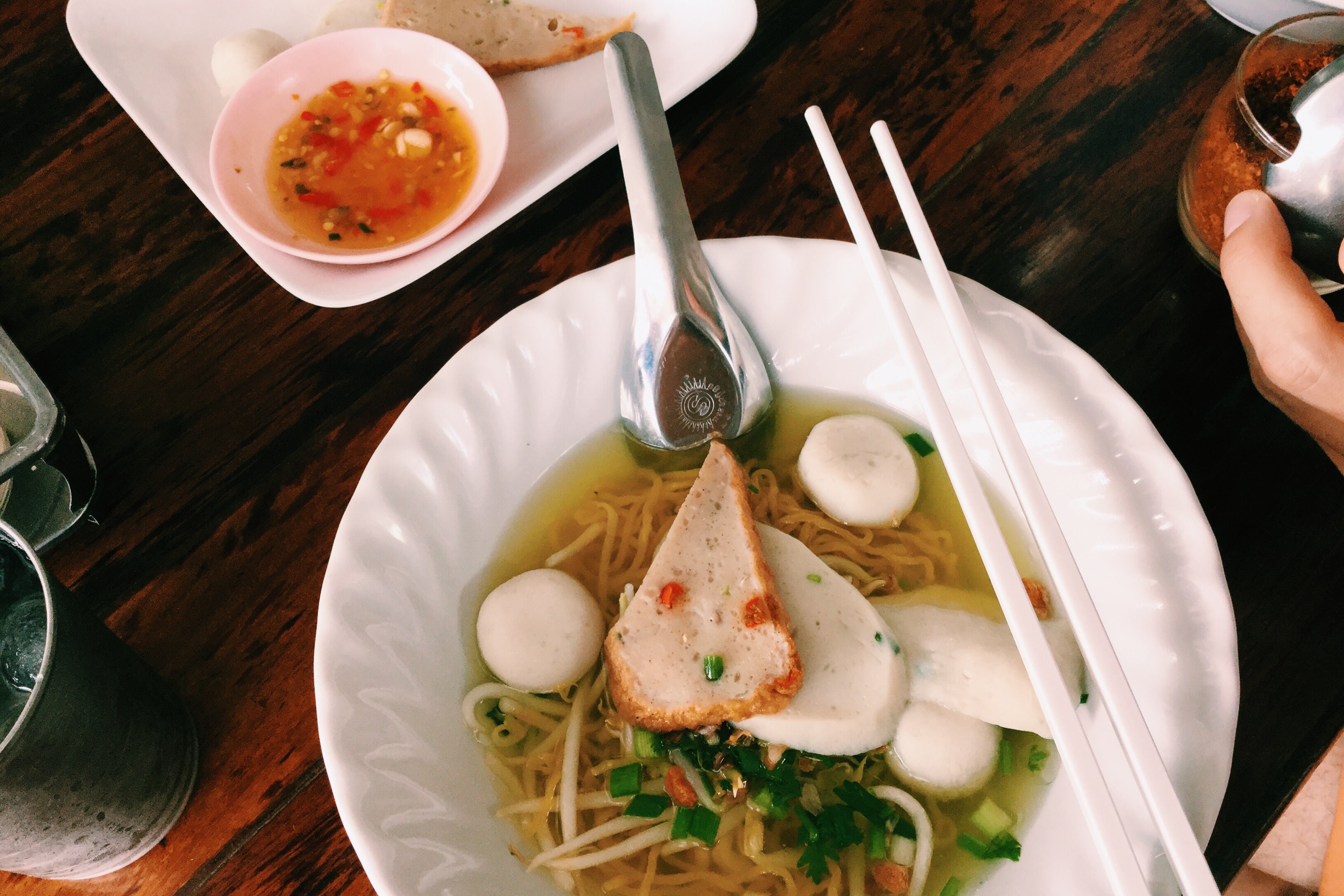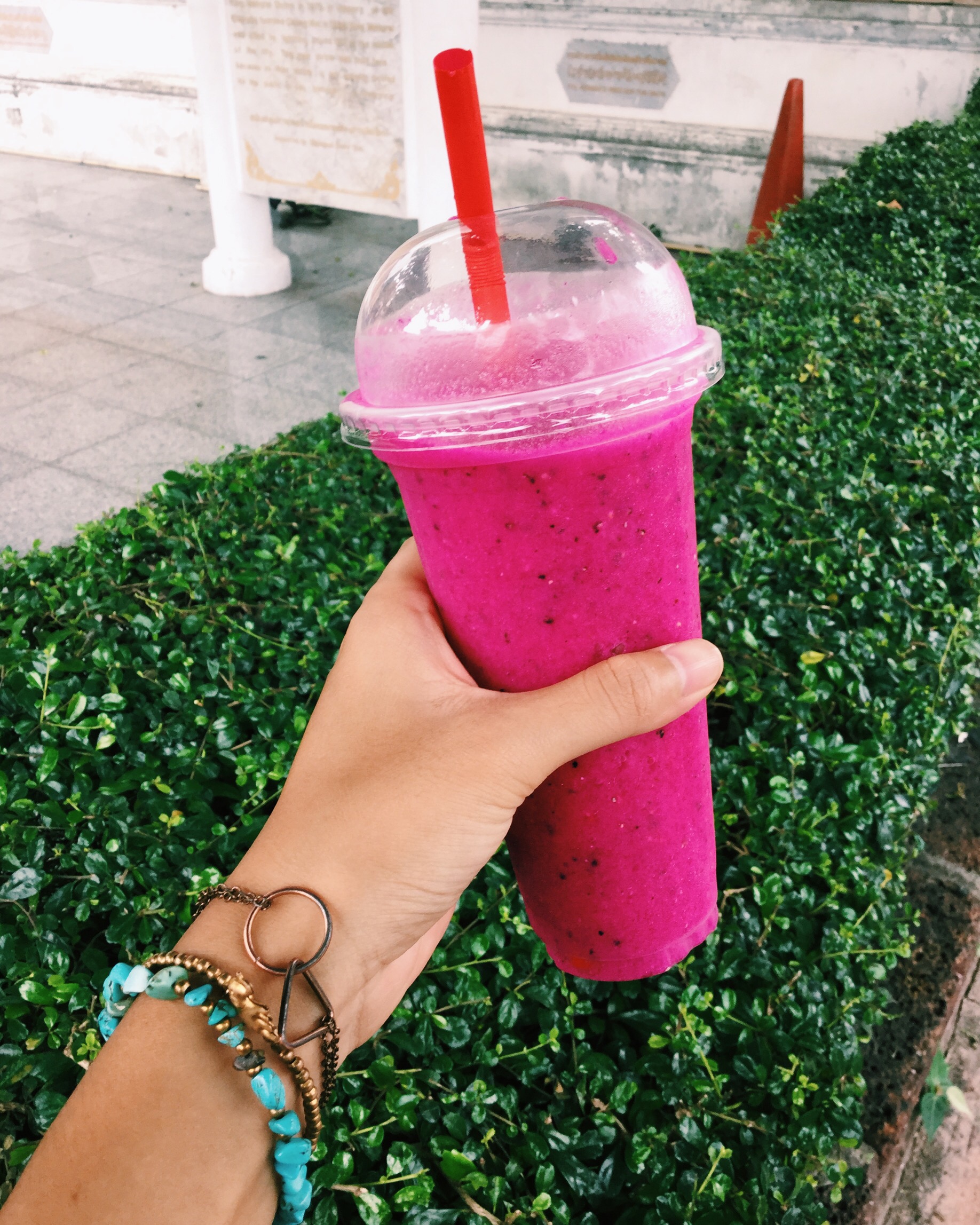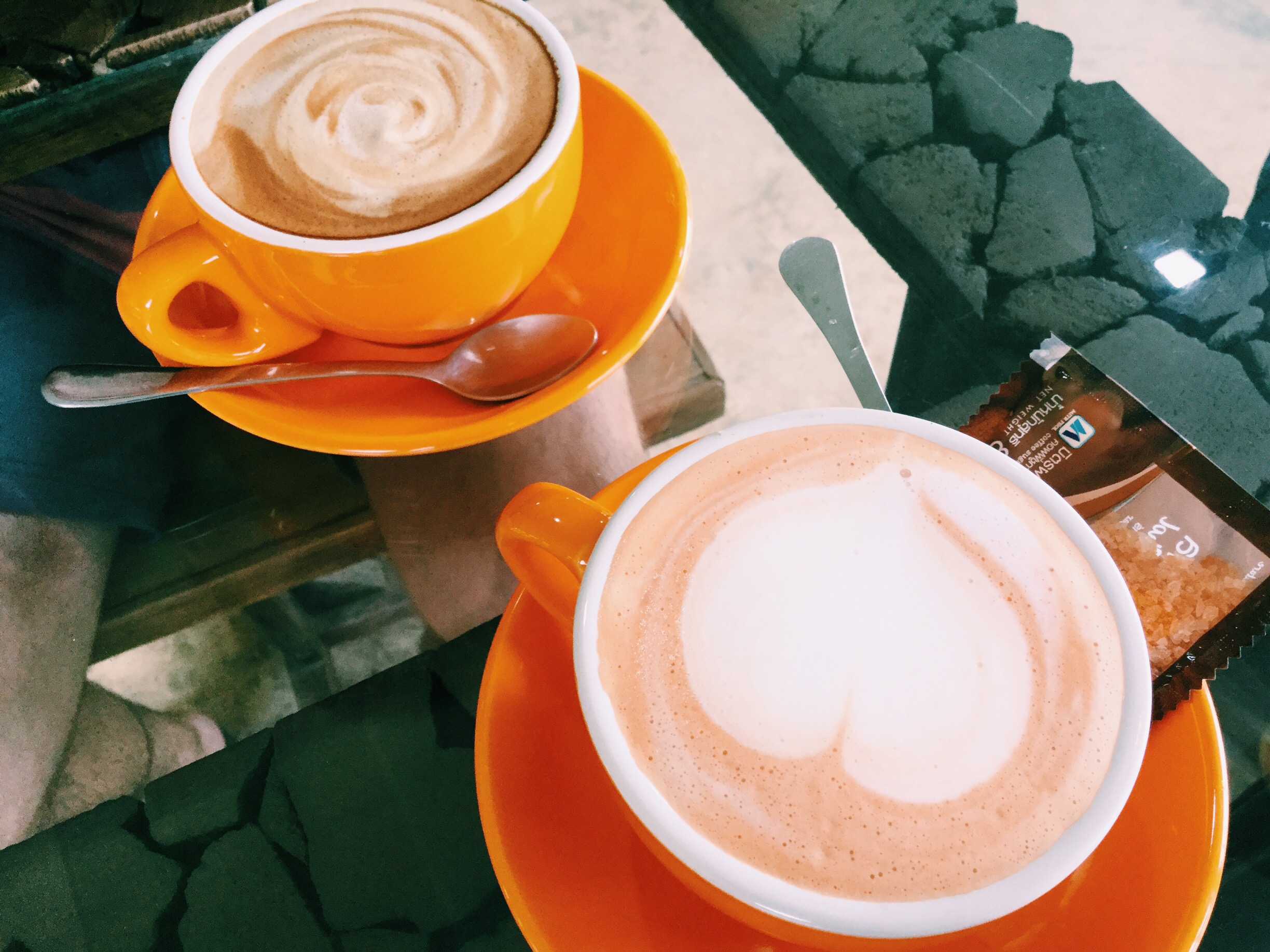 ---
Chiang Mai stole our hearts and we ended up staying a whole week! What were your favourite parts of Chiang Mai? Did our list miss out on a must-see? Let us know!
If you enjoyed this list, you'll love Eat and Fall in love in Hoi An, Vietnam and Visiting Angkor Wat – 6 Things You Didn't Know. Happy Travels!
Like? Pin it!