Sri Lanka is just popping up on the backpacker's radar because the country has just recently settled from a 30 year civil war. Despite all of the chaos and noise, Sri Lanka is known for its beautiful changing landscapes all nicely contained in one tear drop shaped island.
What do you while in Sri Lanka? Have no fear, there are hidden gems all over the island!
Check out Part 1 of A Backpacker's Guide to Sri Lanka for tips on the basics like getting around and what to eat!
1st stop: Colombo
Bloggers tend to write Colombo off as a chaotic noisy city that you need no more than a day to see. But we had an insider show us around, our friend Sanjay who we were there visiting.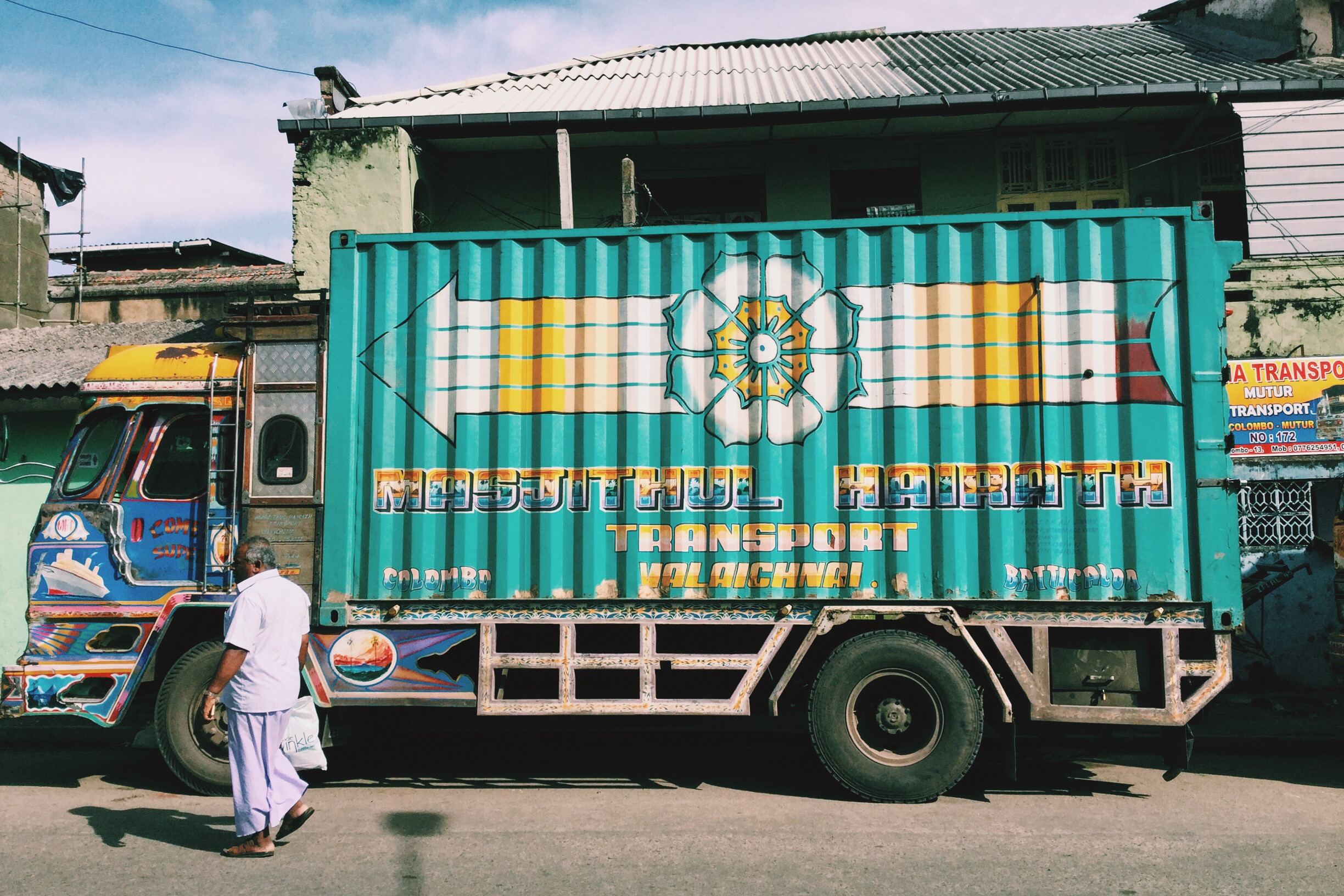 Pettah is a crazy shopping area for industrial companies and materials to clothing, shoes, and household goods. If you want to get a real sense of traffic chaos, check it out. But warning, you gotta be confident with your walking among the streets skills because there are no sidewalks!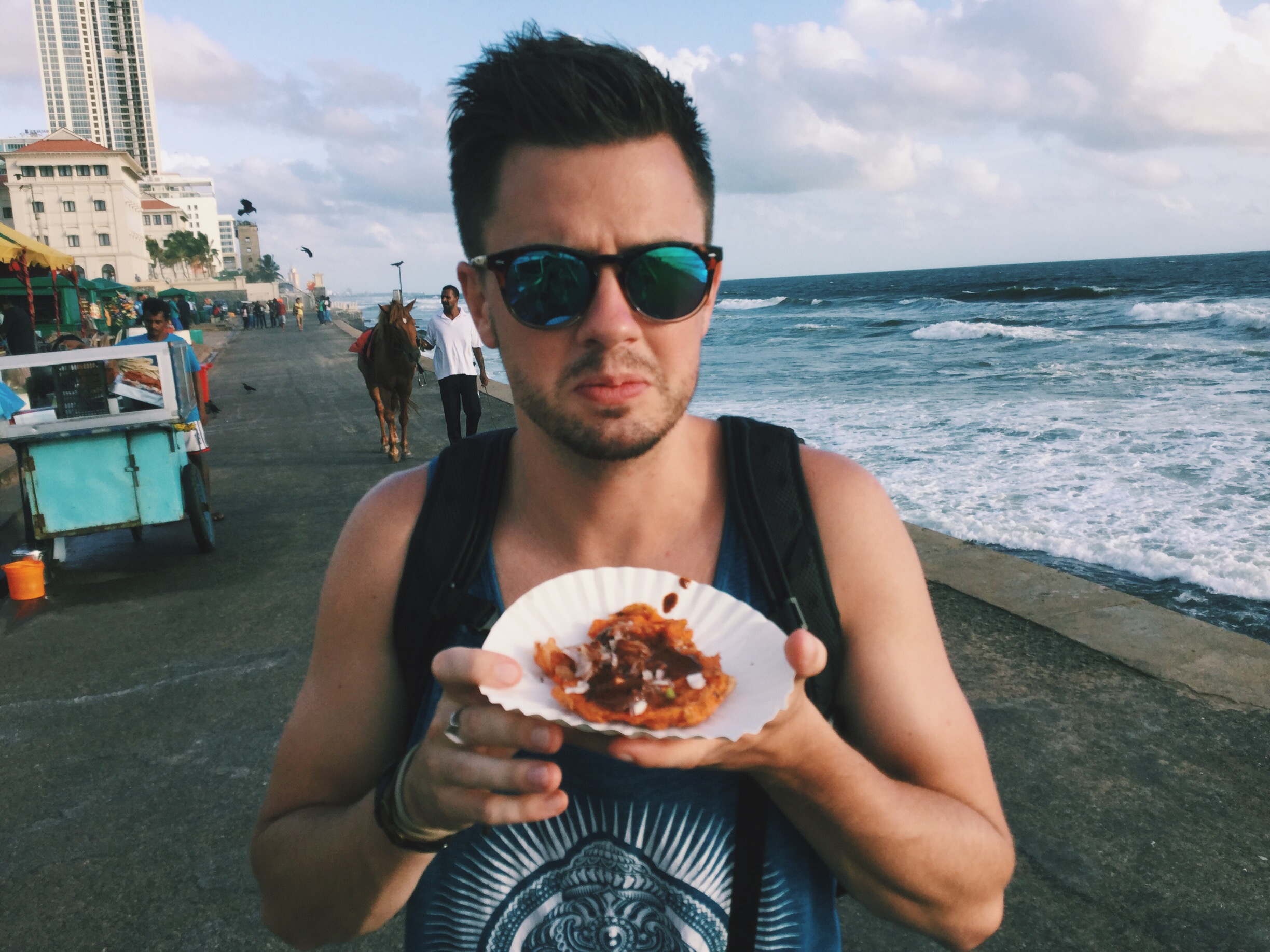 Galle Face Beach is a nice place to stroll both during the day and at night. Watch the waves rolling in while enjoying some street food.
Viharamahadevi Park is like the Central Park of Colombo. Grab your loved one and find and empty bench or old tree to cuddle in. There are actually cuddling couples everywhere in the park, like everywhere. A gardener of the park showed us around (demanding money afterwards of course), having us smell the cinnamon trees and letting us swing from ancient vines.
Sanjay took us for dinner on the beach at Barracuda Seafood & Grill. Reasonably priced for a beachfront restaurant, you'll save some cash because it is BYOB (bring your own booze). It's easy to relax with your feet in the sand, but keep your head straight when you're leaving after a drink or two because it is right in front of the train tracks and it's always cross at your own risk in Asia.
And for our last night in Sri Lanka, we were taken to eat at the Cricket Club Cafe. It's a super cool place if you're willing to break your backpacker budget for a night. As good as the Sri Lankan curries are, it's nice to have some good western food for a change. But a tip, bring your own water bottle because a small bottle is a whopping 215 LKR (almost $2 CAD) so water for the three of us cost as much as a main dish. We only learned of the painful price tag when the bill came, ouch!
2nd stop: The South – Hikkaduwa & Galle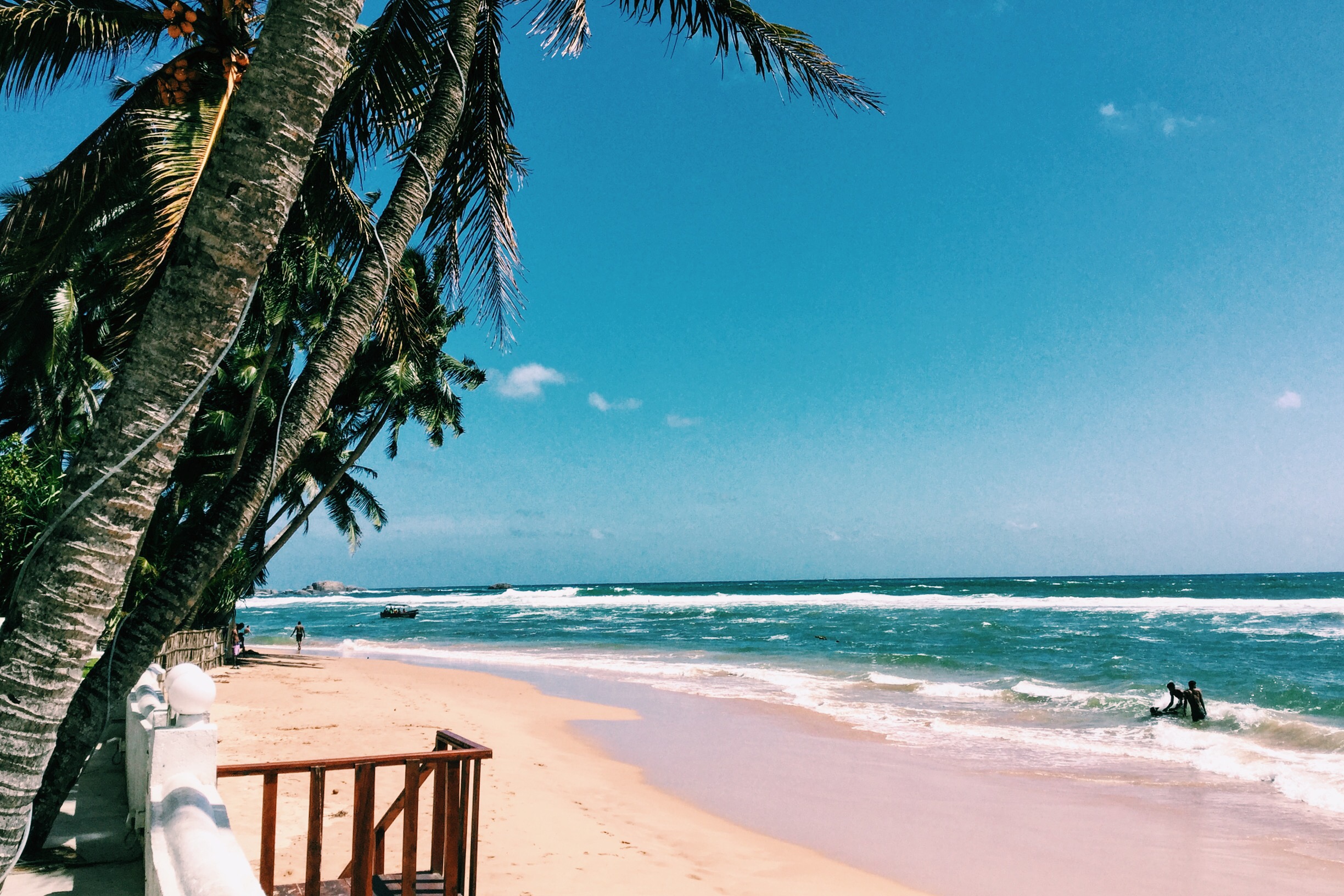 We took the train from Colombo south to Hikkaduwa beach and spent the day at the empty beach because of the off season. We ended up stay with a Couch Surfer, Csaba, near Rathgama lake.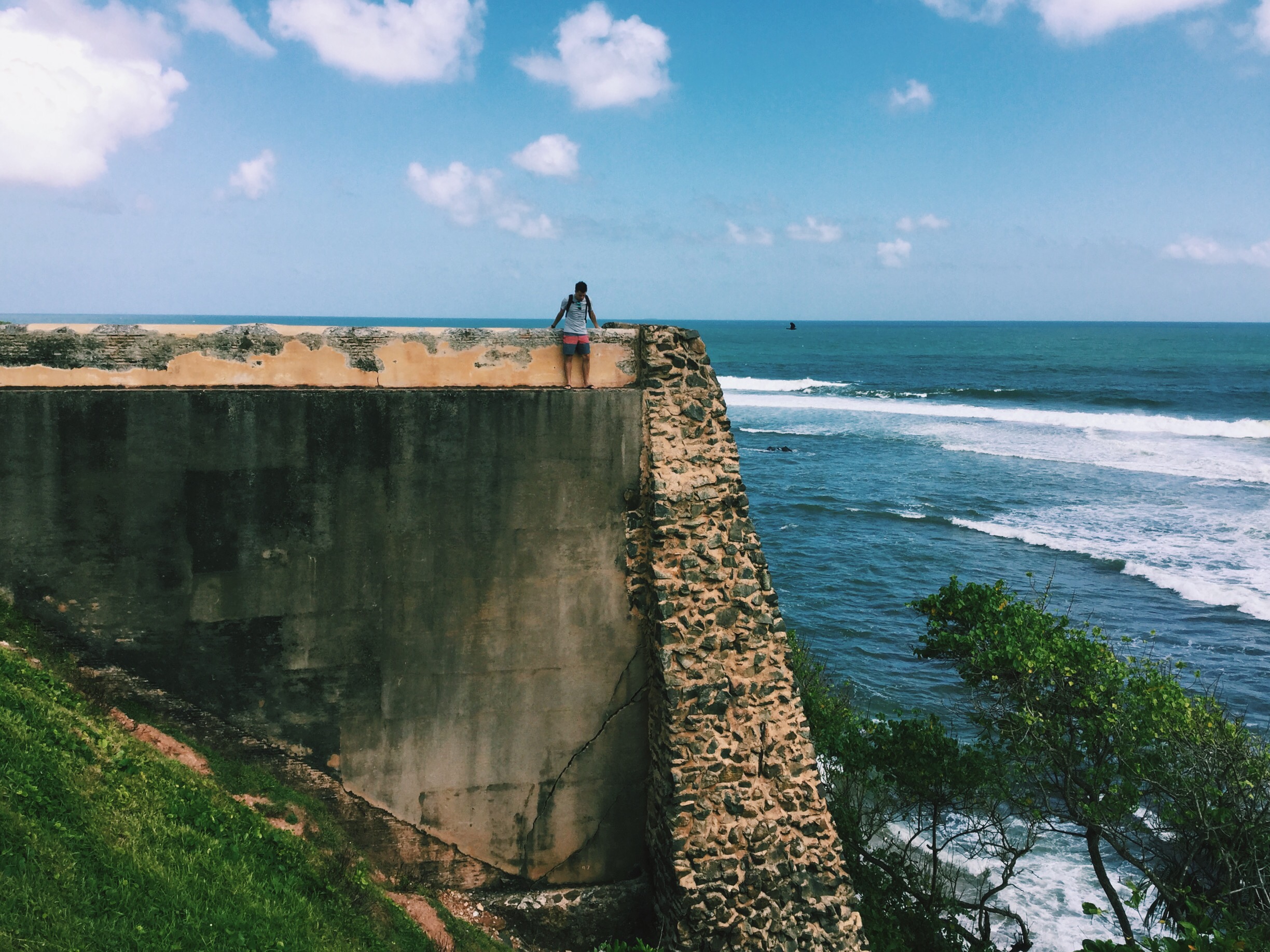 During our two night stay near Hikkaduwa we took the bus and spent a day exploring Galle Fort. What? A free attraction? Yes! Believe it! We walked the whole area of the old British Fort, imagining what it would be like during its prime. It was very Pirates of the Caribbean like, with some really picturesque spots.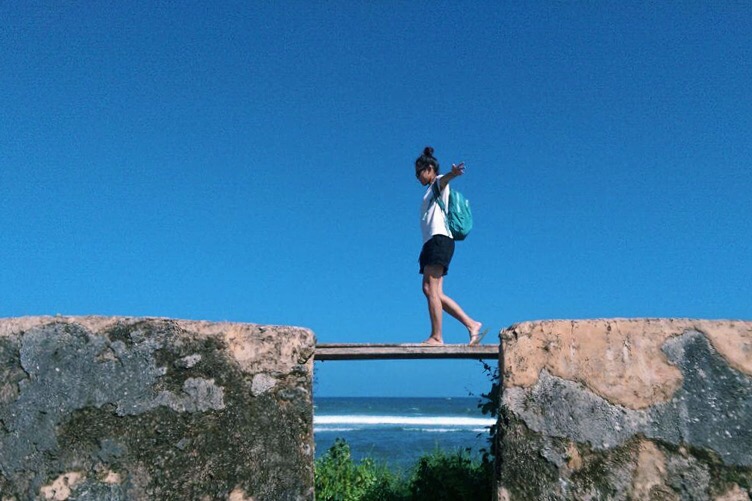 3rd stop: The Highlands – Adam's Peak (Nuwara Eliya), Kandy & Sigiriya
Take the train from Colombo to Kandy and judge for yourself if it is the most beautiful train ride in the world. You'll ride through rolling hills covered with tea plantations for miles.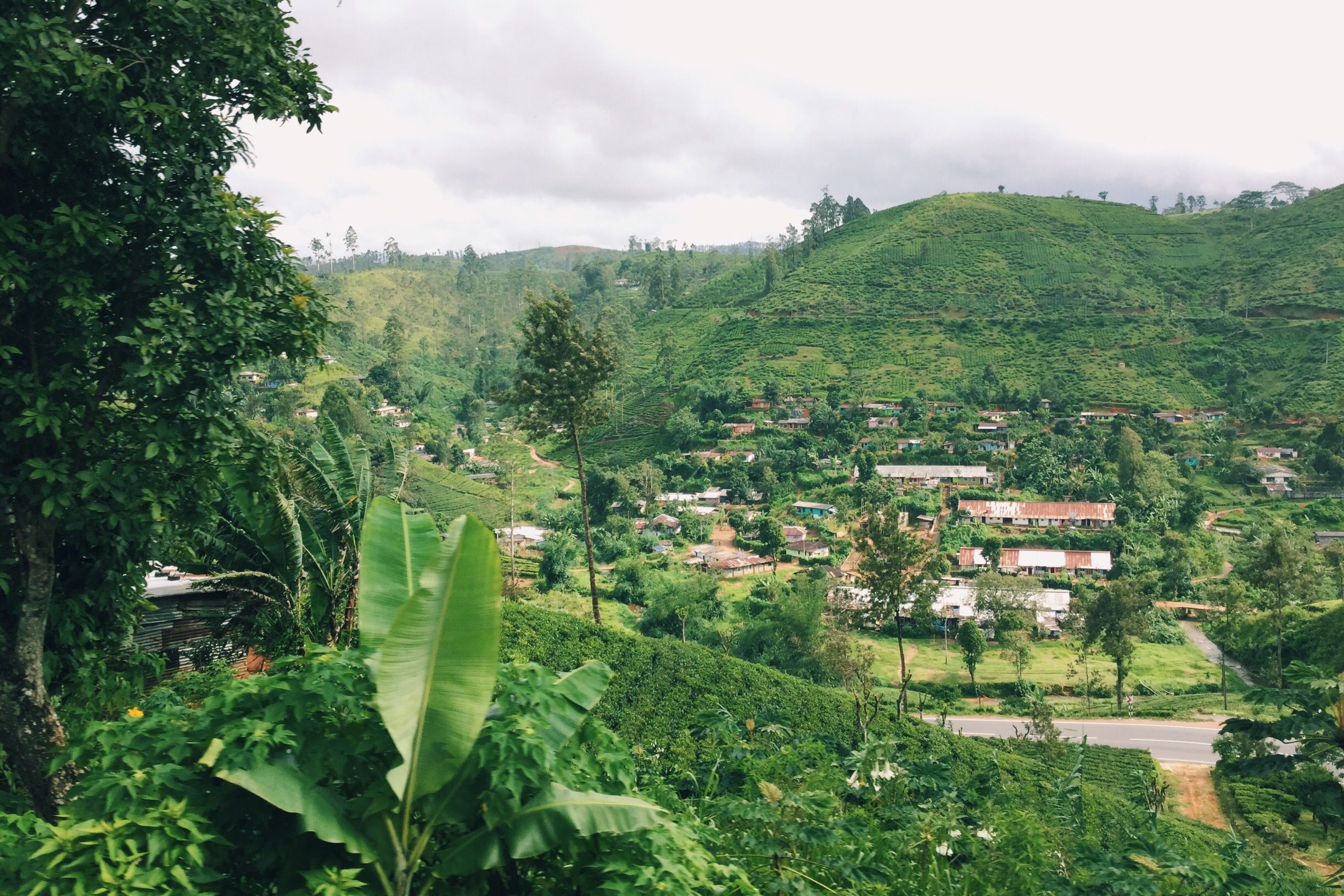 We took the train to Hatton, then two buses through Nuwara Eliya to Nallanthanniya and stayed at an empty guest house of a couch surfer. Hiking Adam's Peak during the off season is an experience in itself. We made the two hour-something trek up nearly a billion stairs through the rain and fog without a soul in sight.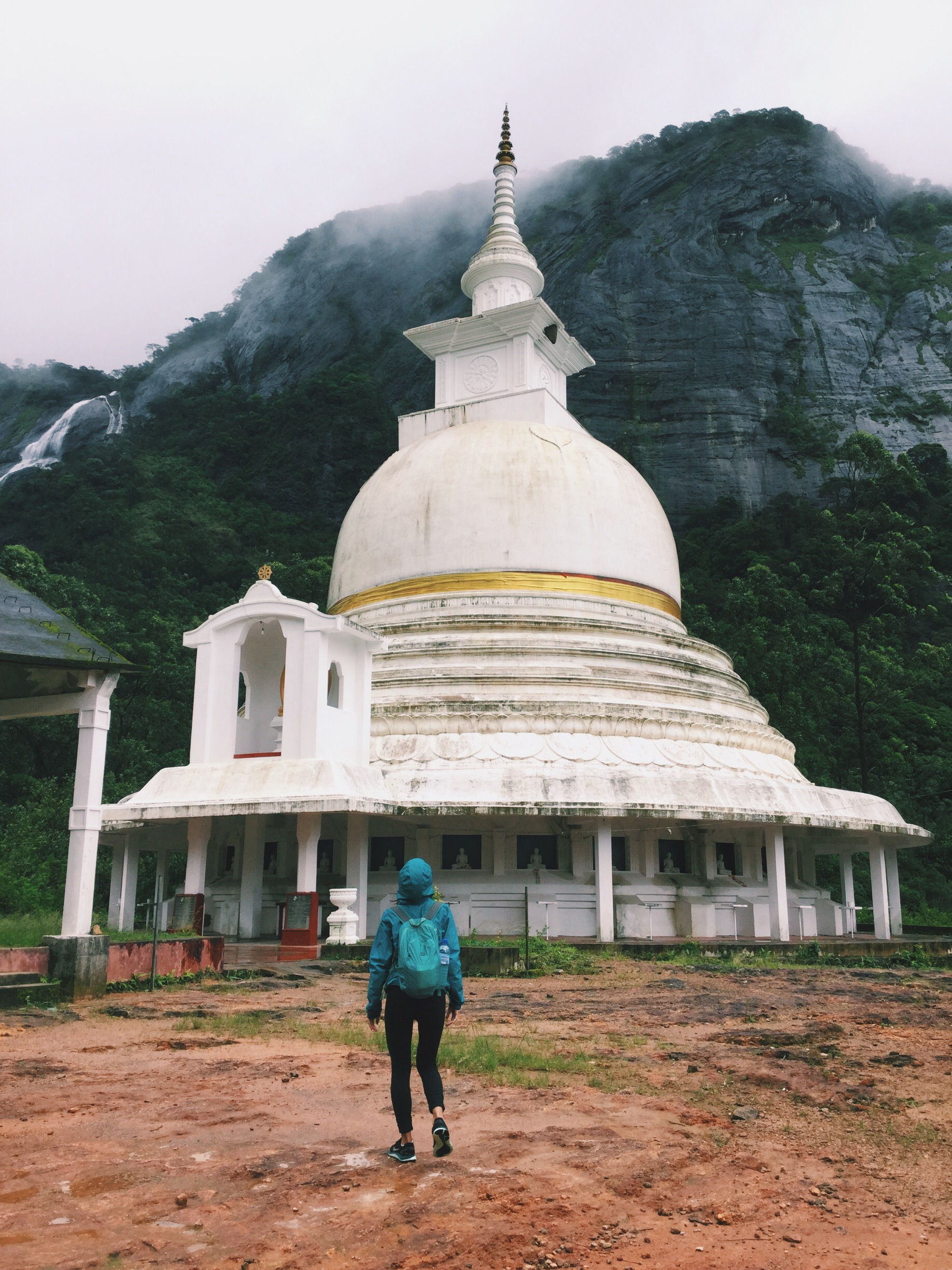 Maybe it was a blessing we went during the rainy season, because we could see 7 waterfalls at the same time on the cliff side. Yes, SEVEN.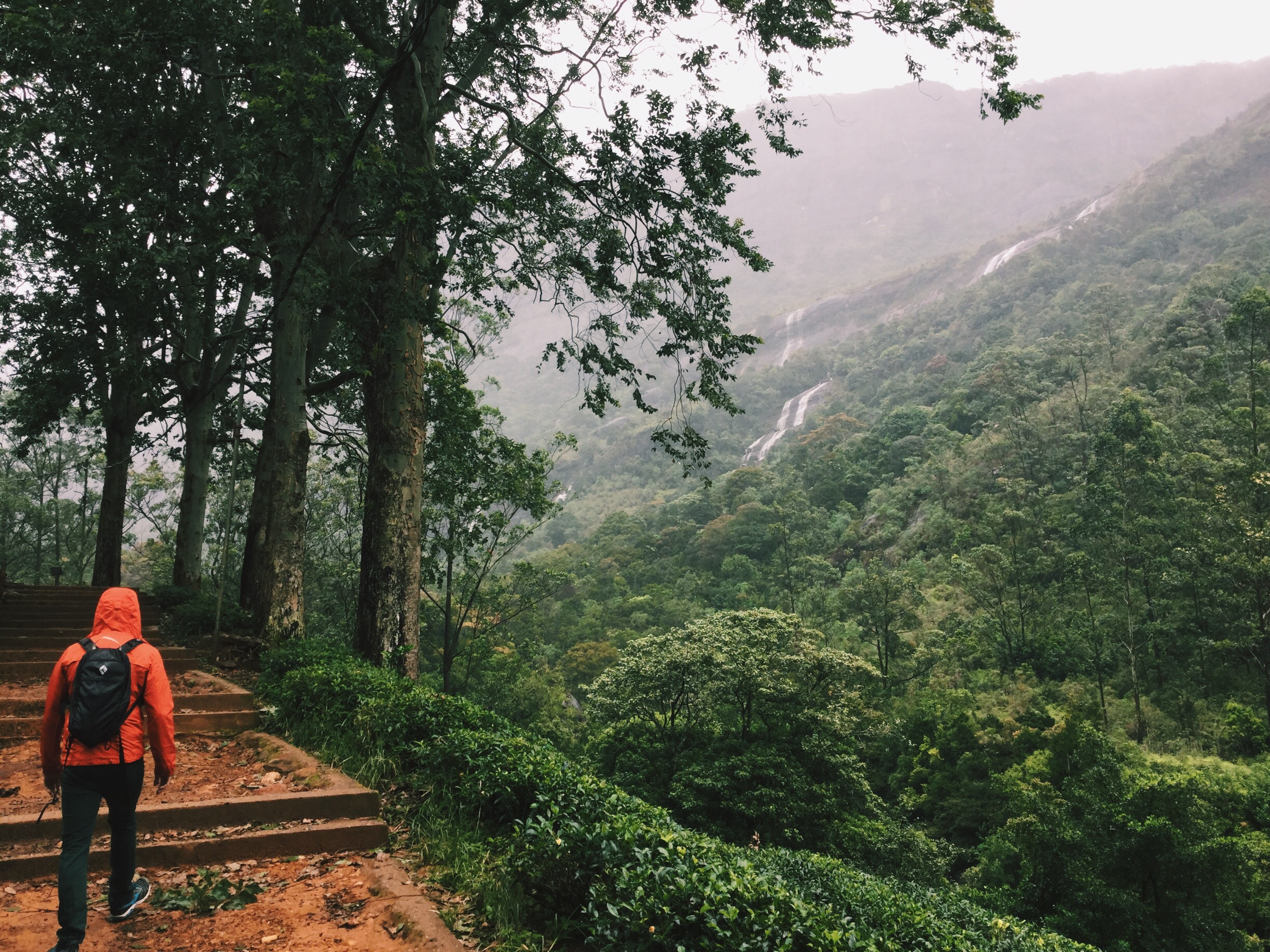 Though we had a completely obscured view from the top, it can take 12 hours to climb to the top during the Buddhist festivals, because there are so many people. Psst, here is another thing you can do for free!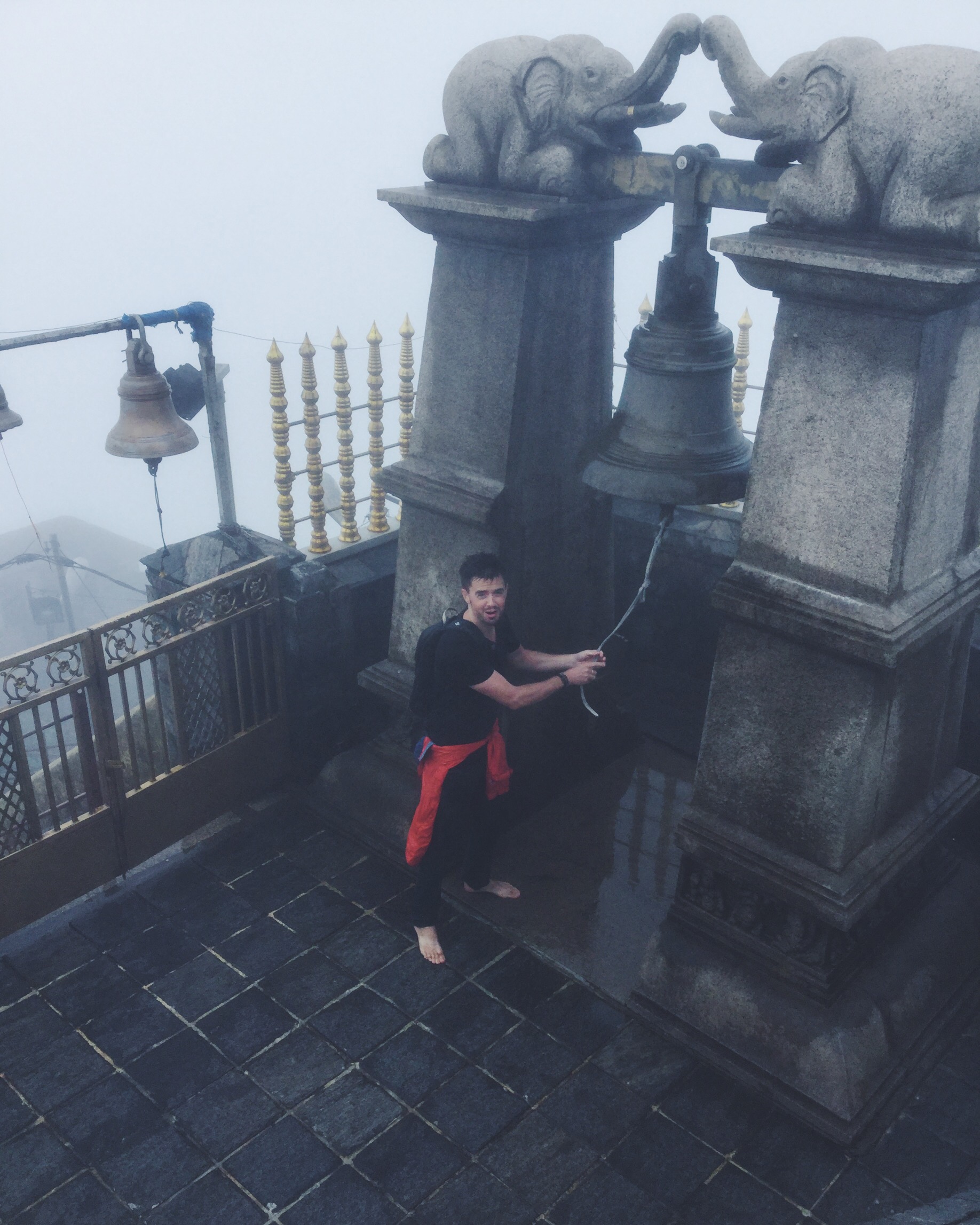 Acting as a bit of a tourist hub in the middle of the country, Kandy is charming and chaotic in its own way. If you're ambitious like Matti, you can go for a morning jog around the lake. But don't even bother after 8am, the sidewalks will be packed with people.
While there we spent a day in the Botanical Gardens amongst trees that are thousands of years old and rows of carefully planted palm trees.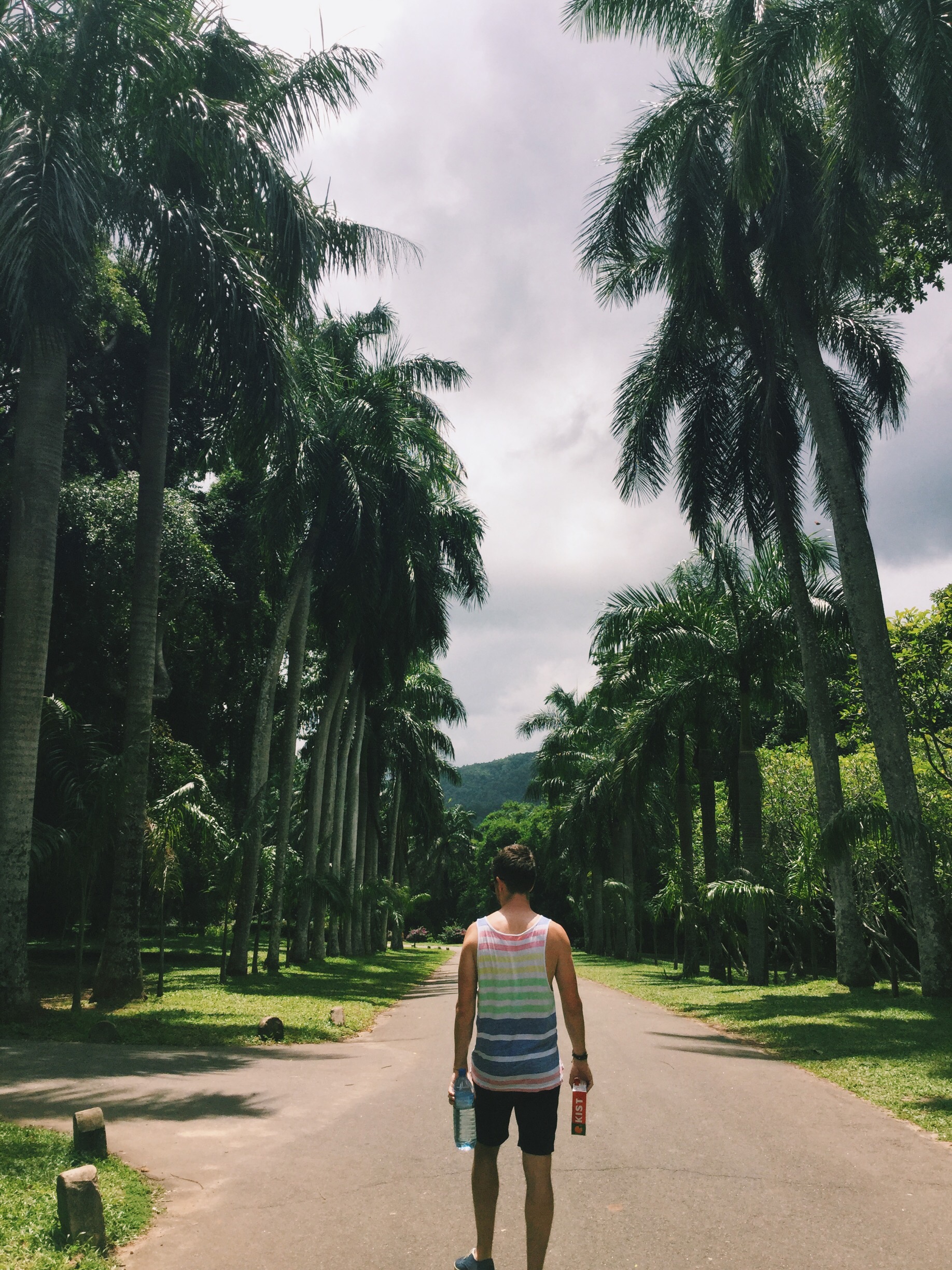 The protected area of the park is 140-some acres of lands. So yes, plan enough time and bring a water bottle for your trip. Foreigner entrance fee is 1500 LKR ($13 CAD) per person.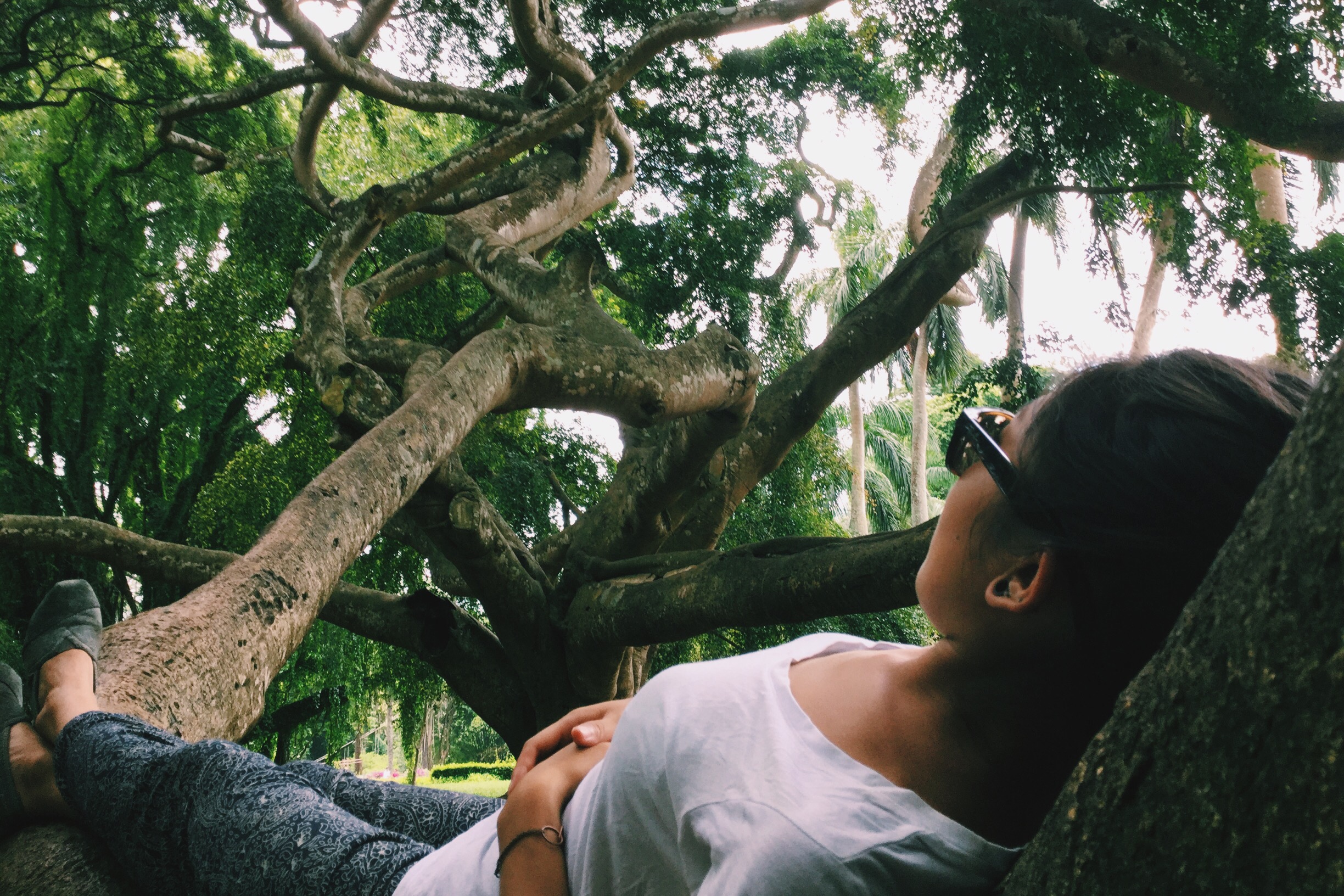 Sigariya Rock (Sri Lanka's most famous attraction)
From Kandy we made a day trip to the famous Sigiriya Rock by bus. The rock formation turned king's palace is sometimes called the 8th wonder of the world for a good reason. Our expectations were exceeded after reading bloggers saying average to mediocre things about the sight. But we spent a good 4 hours admiring the spectacular 360 degree view from the top and all the ancient ruins below.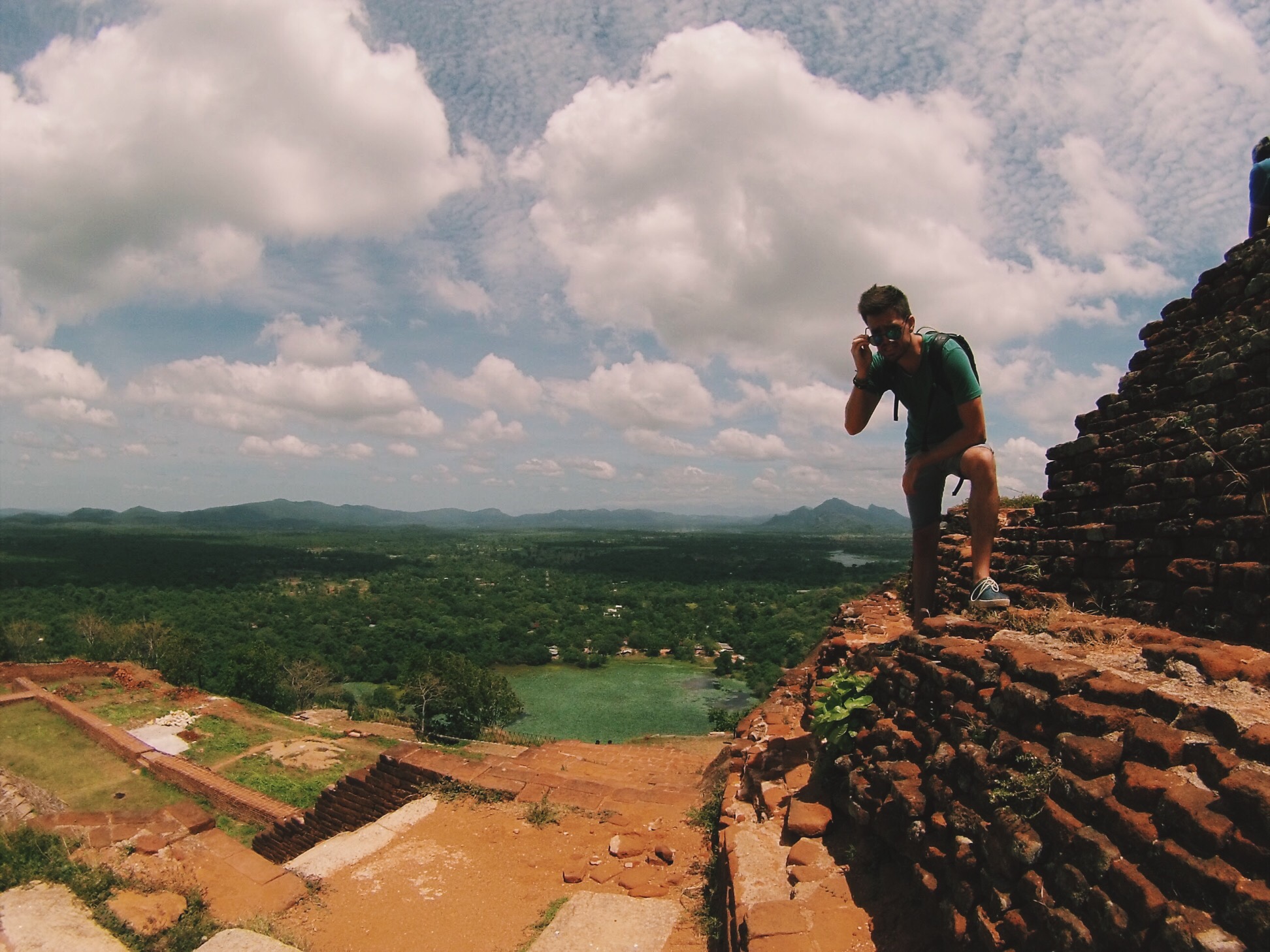 Why backpackers may skip Sigiriya is the exuberant foreigner price tag of 4260 LKR (~$37 CAD). So this was way beyond our budget, but we have no regrets. We don't know when the next time we will be in Sri Lanka might be, so when in Rome… I mean Sri Lanka.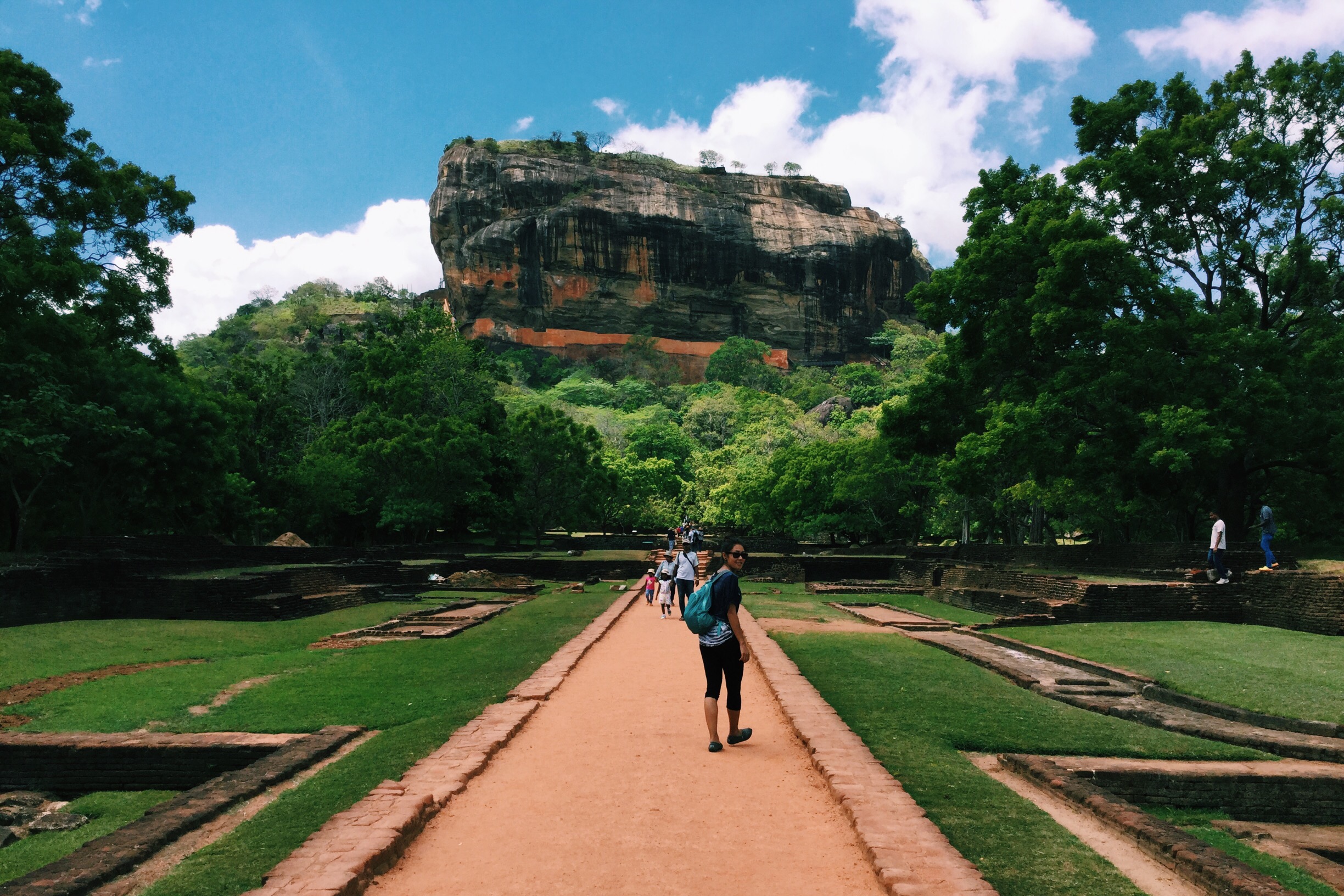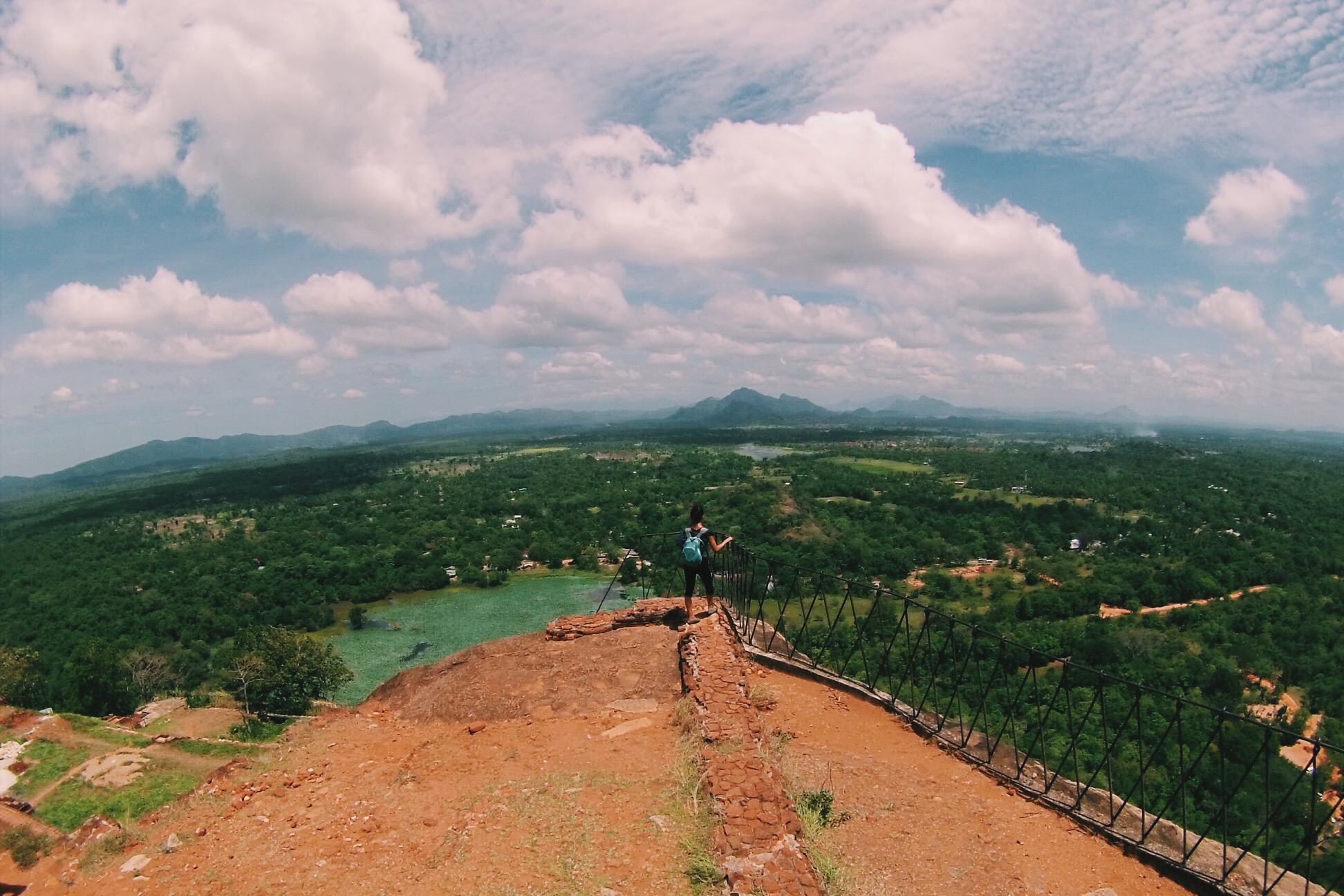 We suffered a bit of a moral dilemma about going to see some elephants. Pinnawala elephant orphanage is the one that all the tourists check out, but we read very mixed reviews and rebated on going. Instead we stayed with a couch surfer named Ravi just east of Kandy in a town called Mawanella. We had a great time, mostly hanging out with his mother who prepared us tea and breakfast on her wood stove. Staying at his home in the jungle was an experience in itself, and it just so happens that Ravi works at a small elephant orphanage near by. So he invited us to come by while he was working. He hooked us up and we fed, washed, and went for a short ride on one of his giant friends.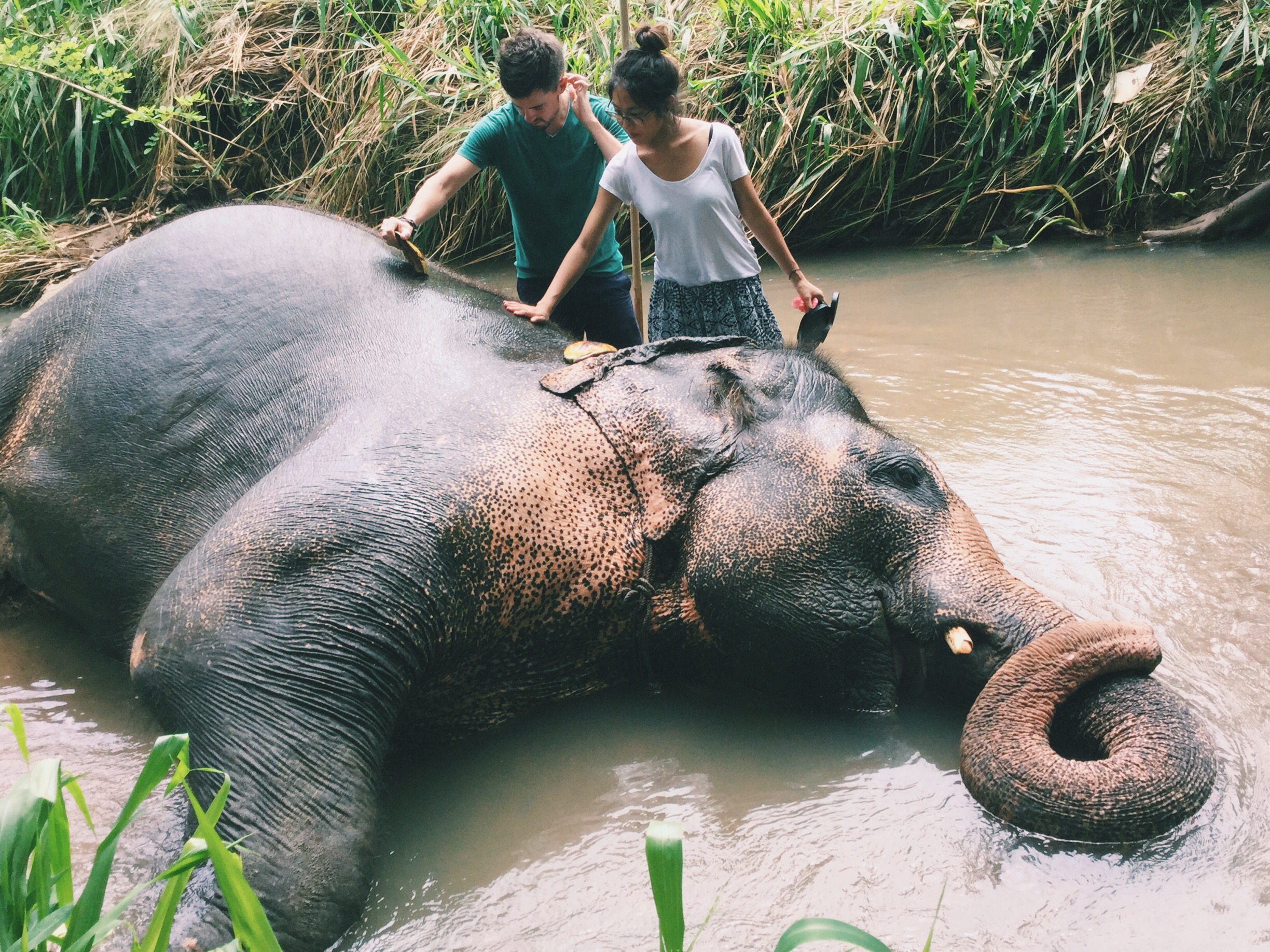 Ravi left his well paying, respected government job as a security officer to find more fulfilling work. The orphanage helps rescue elephants that have been taken to do hard labor for people. So we are left to believe that tourism is a better life for these elephants than put to work everyday lifting and carrying heavy logs or bricks. When it comes to animals so emotional and smart like elephants, we all just want to do what's best.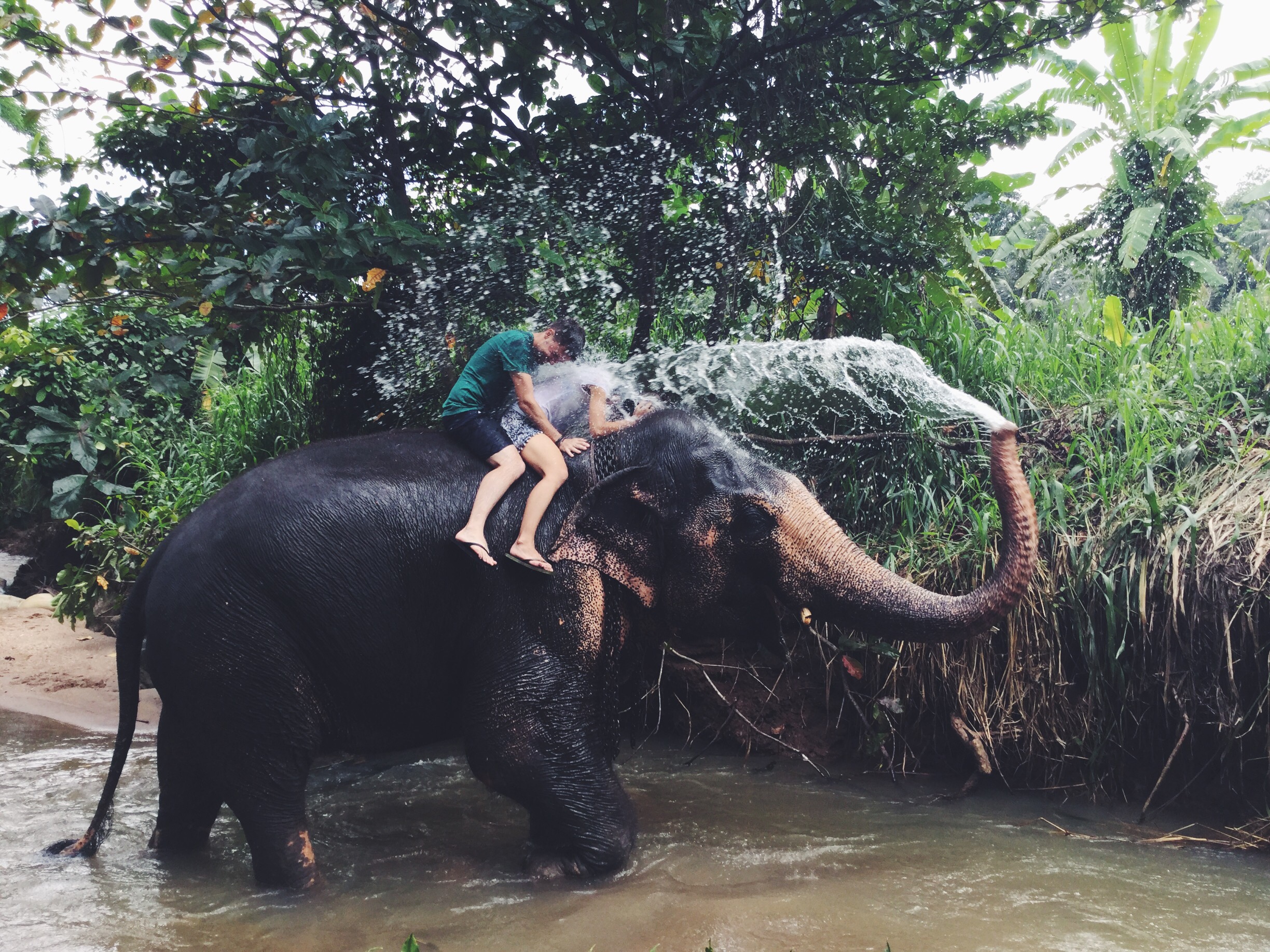 ---
We spent a solid two weeks in Sri Lanka, taking it slow, fighting off food poisoning. I've read of people going to the north, south, east and west in only two weeks, but if you're so ambitious, you be spending most of your days in transit. Our advice is take it slow, be flexible, and this is the only way that you'll soak in the culture and get off the beaten path. Our next trip will definitely include Jaffa in the north and the east beaches for world class surfing! What was your favourite part about Sri Lanka? Leave a comment and let us know!