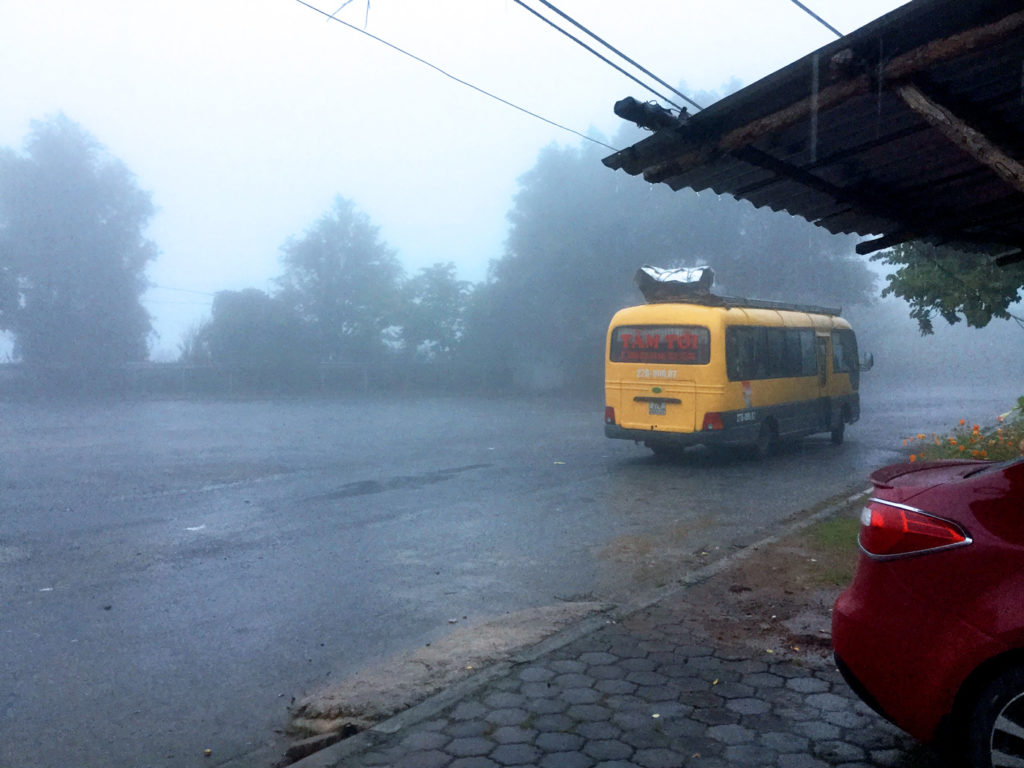 Border crossings always tend to scare me a bit. We had read good things and bad things about crossing from Vietnam to Laos, especially on land. Despite all the research you try to prepare yourself with, you never quite know exactly what to expect. Here is how to bus and get your visa on arrival from Vietnam to Laos.
Buying Bus Tickets
We bargained around Sapa town and snagged bus tickets all the way to Muang Khua for 400k VND (~$23.50 CAD) each. An overnight journey, our favourite thing in the world. We were filled with anticipation (note: sarcasm).
7:00 pm – Leaving Sapa
A taxi took us about 5 minutes to the bus station and we bordered our sleeper bus and left Sapa around 7pm. This overnight journey has been our worst yet. Don't expect a good night's rest. Sleep was constantly interrupted by bright lights turning on and off, stoping to pick up passengers and their large boxes of goods, yelling in Vietnamese including a very distraught sounding woman screaming, and at one point some EDM music suddenly erupted from the speakers which another foreigner politely asked to be turned off.
But before you leave Sapa: How to Trek Sapa Without A Guide
4:30 am – Bus Change at Dien Bien, Vietnam
At about 4:30am we arrived to Dien Bien, very on edge. Some people got off, some stayed on. There was much confusion. Soon a man asked us where we were headed. "Muang Khua?" Yes okay, grab your bag and get off to change buses. I guess that was the end of our sleeping opportunity.
He lead us to a small yellow bus, more like a mini van, with a sign in the windshield reading Muang Khua. Yes, this is promising. We piled our bags among dozens of cartons of eggs and bags of vegetables. We were told the bus will leave at 5:30am. So we walked around a bit and stretched out legs. There are a few vendors selling snacks and banh mi sandwiches, if you're interested. We could survive off our two last Oreo cookies. Then another glimmer of hope, more foreigners boarding our bus.
5:30 am – Dog pickup
We promptly left the bus station at 5:30. Naturally, we stopped to strap a caged dog onto the roof of the bus. Another stop to pick up bails of spring onions. A longer stop to wait for some sheet metal to be cut to size so they too, along with some 20ft metal rods, can accompany the dog on the roof.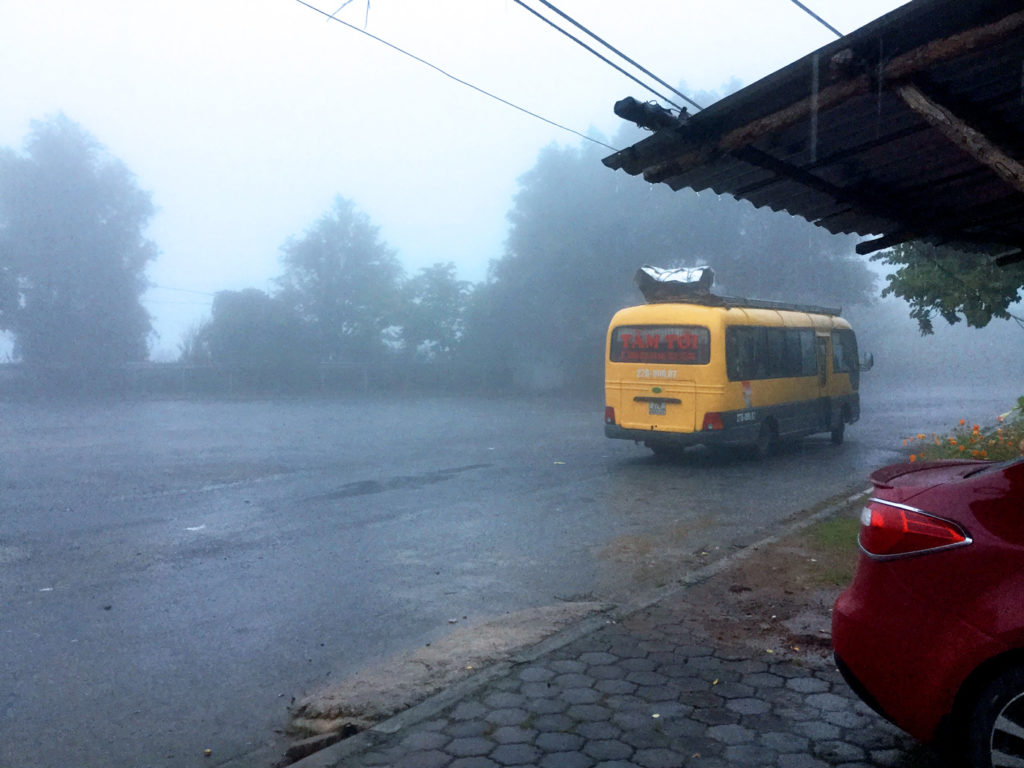 6:30 am – Leaving Vietnam
About an hour of driving down a bumpy and winding road, in through the fog and rain, lead us to the Vietnamese-Laos border. We exited the bus and into a building where we changed our remaining Vietnamese Dong into Laotian Kip at a decent rate. Then we handed our passports to an officer to stamp. We had officially left Vietnam.
7:00 am – Entry into Laos
Then back in the bus and down the road for about 15 through no-man's-land brought us to the entry to Laos. Here we filled out papers and paid way too much money to enter the country. There is a list for visa costs for each country. And right at the top of the list, as the most expensive visa, there we are… Canada. $42 USD. Our European bus mates only paid $30-35 for their visas. Though his totally seems like a scam against Canadians, this price is somehow legit. Canada and Laos must have a terrible relationship.
We also forked over $5 USD each for "Service Taking Thotography": photos that they took and printed on the spot. Plus 10,000 kip (~$1.60 CAD) for a processing fee.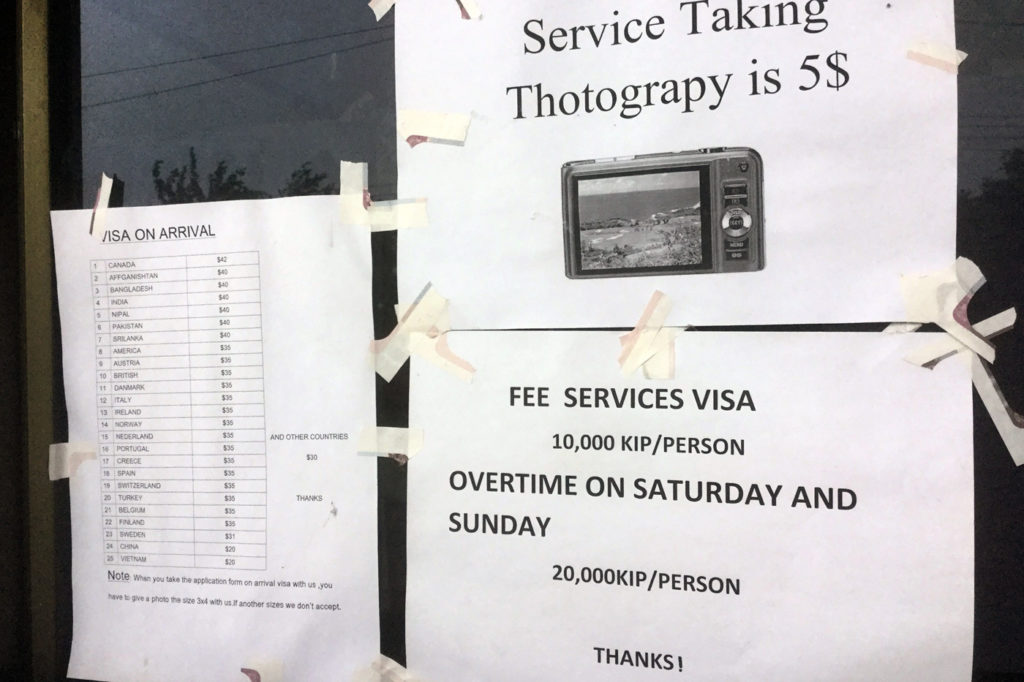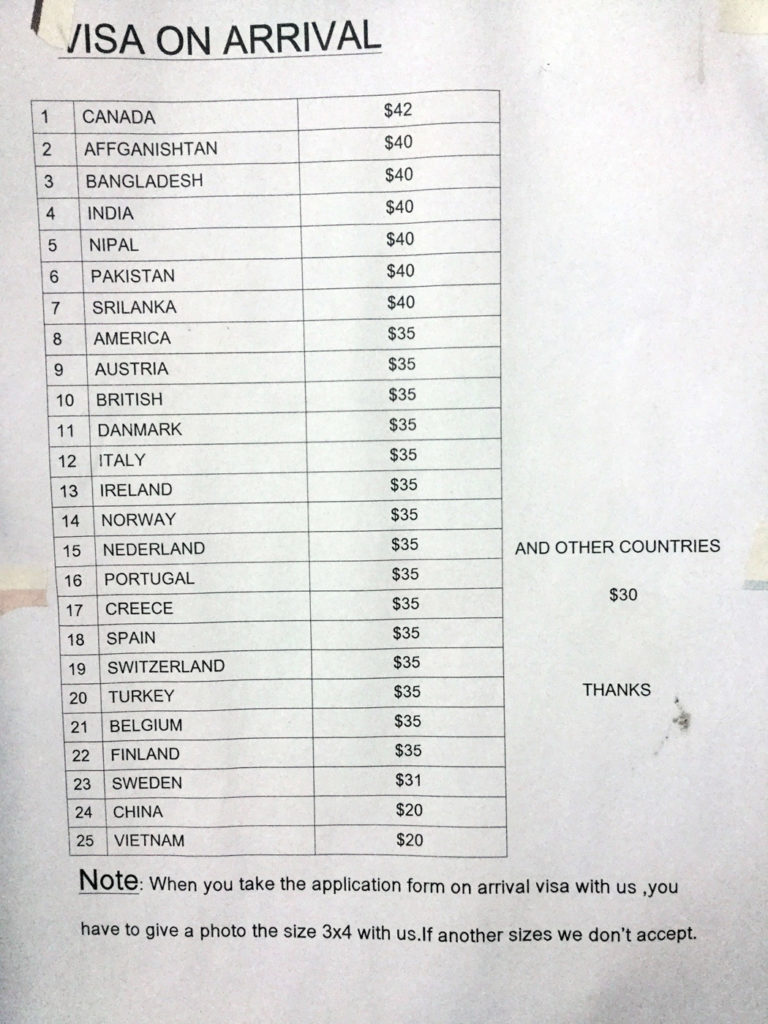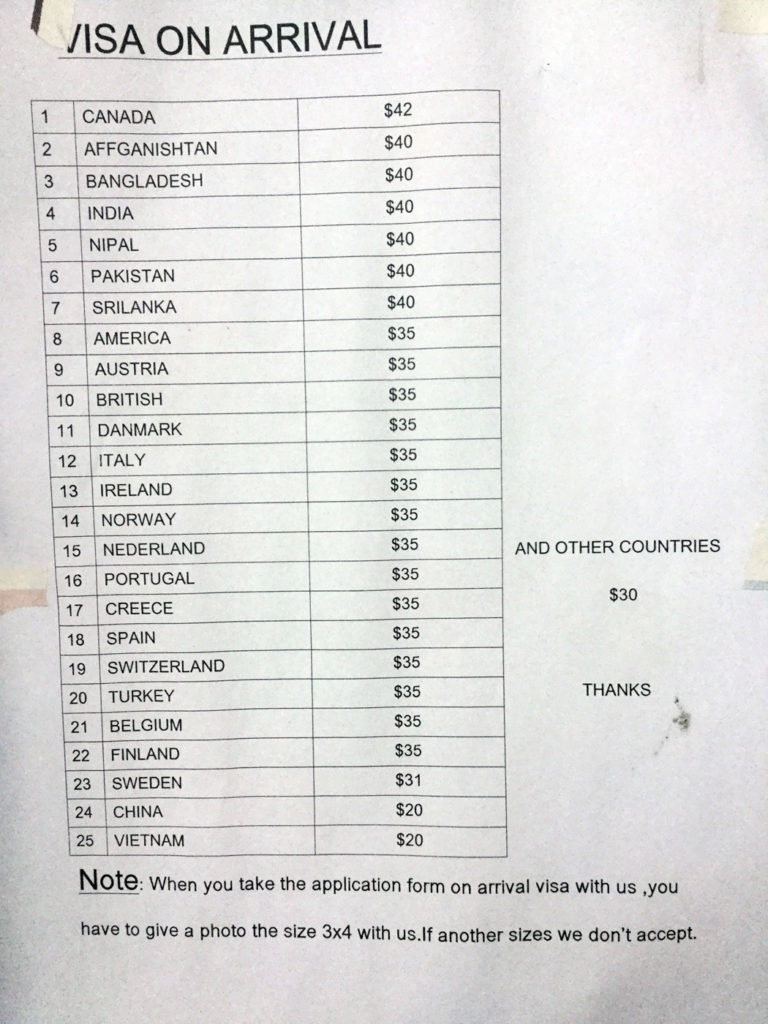 7:10 am – Handing over more cash
Next our passports were handed along, behind the glass to another officer who demanded $2 USD each for some tourism fee, before we could get them back in our own hands.
After painfully handing over more money, again we needed a stamp to get through. Another 20,000 kip (~$3.25 CAD) each. At this point we were done handing over money and declared that this stamping fee was bullshit. No point in arguing, we needed our passports back, and he didn't budge.
7:15 am – Wallets are empty
We dreaded counting up how much money we dropped in 15 minutes.
$42 USD visa fee
$5 USD photo fee
$2 USD tourism fee
10,000 LAK processing fee
20,000 LAK stamping fee
Grand total: $68.92 CAD each
Wow, we did not have a warm fuzzy welcome into Laos. I tried to sleep off the anger for the rest of the winding journey to Muang Khua.
11:45 am – Arrival to Muang Khua, Laos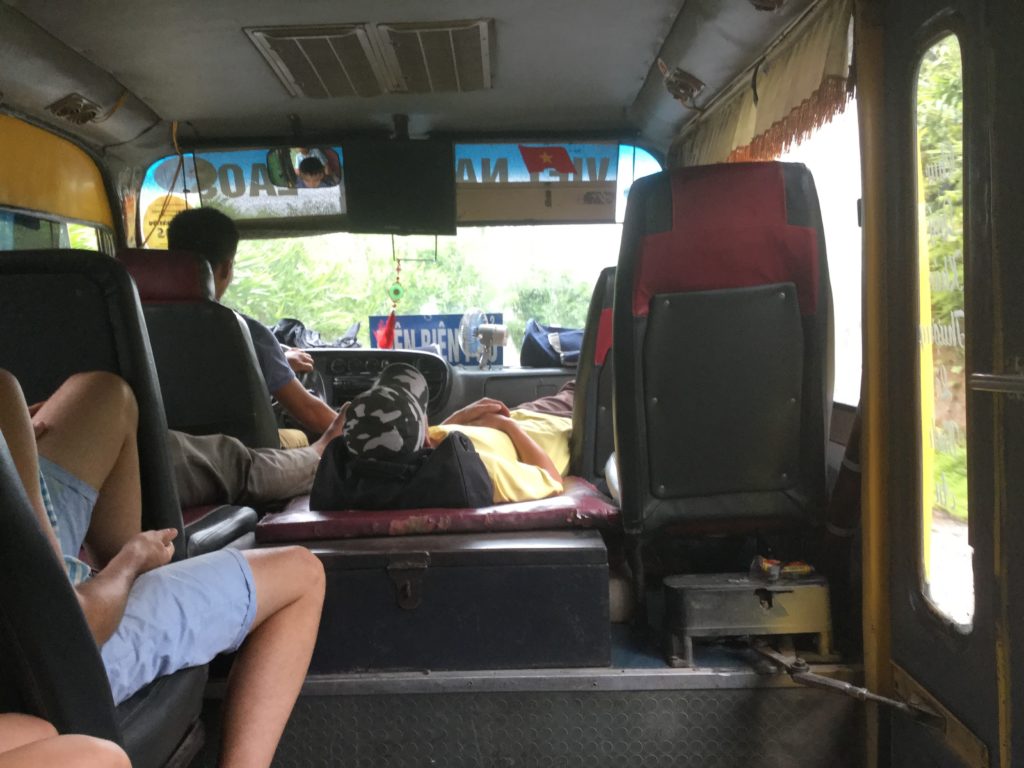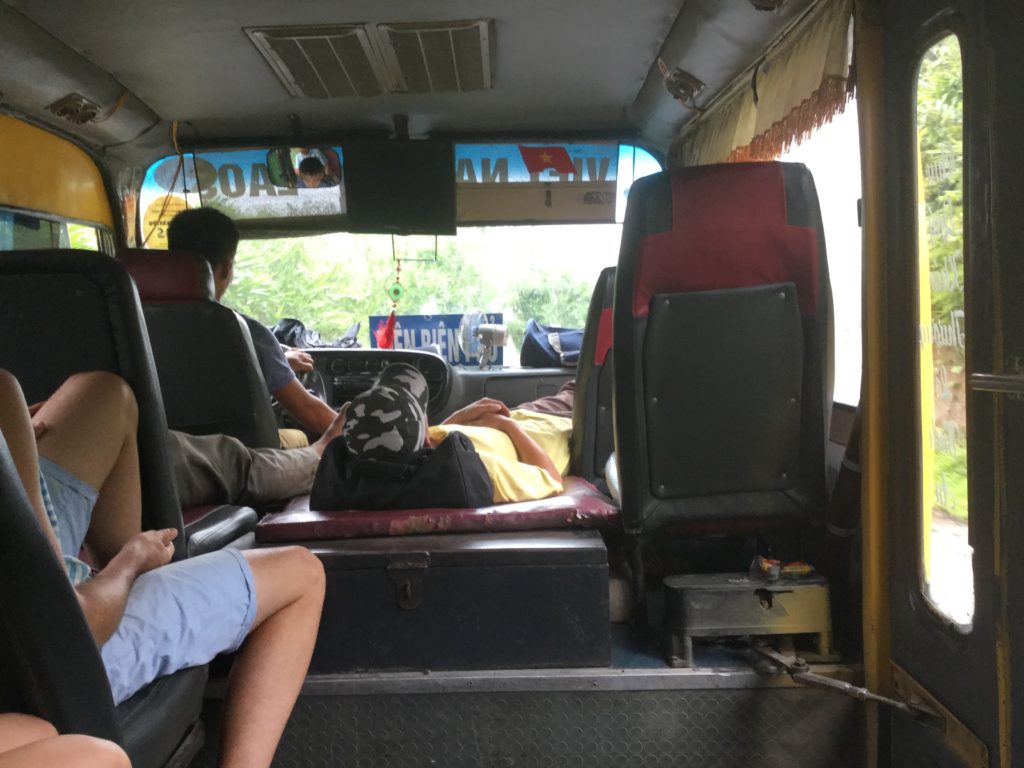 We arrived some time just before noon. When we hopped off the bus, immediately we though "shit, this village is tiny and there is nothing here." But we just chose a direction and started wandering until a man showed us to his guesthouse.
It isn't a real destination for tourists. But there are a handful of guesthouses and restaurants because the towns sees quite a few foreigners passing through on their way to Luang Prabang.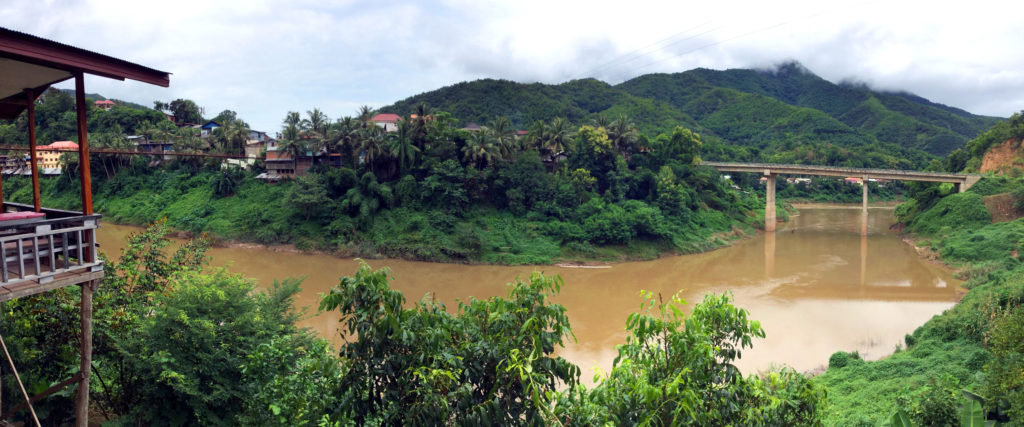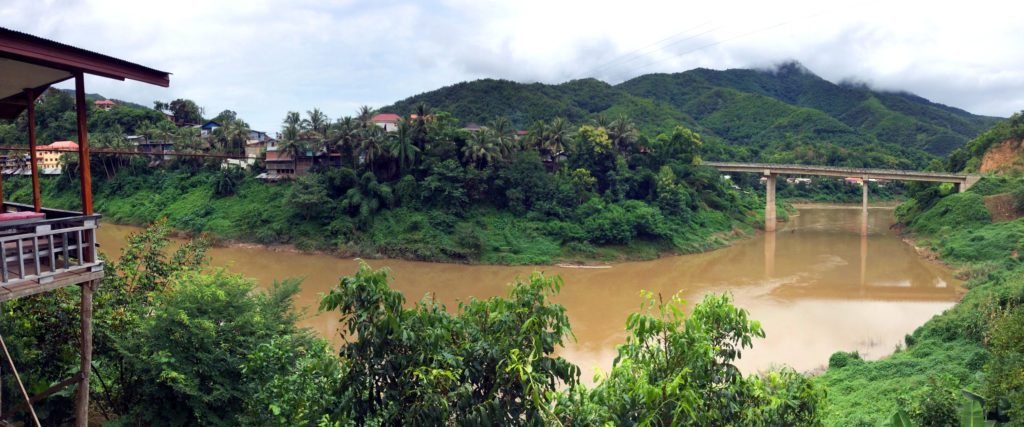 The roads of Laos are narrow and winding, but once the fog clears and you get a view of the mountains covered with thick jungle, the full day journey will all be worth it.
We stuck around this sleepy town for a few extra nights than the usual tourist, and loved every relaxed moment of it. Stay tuned for the whole store of Muang Khua, Laos and where we are off to next!
---
More bus or visa stories?
---
Like? Pin it!