Backpacking at months at a time really does take its toll. If you're looking for some relaxing downtime from all of your adventuring, the beautiful mountains of Northern Laos will surely put you at ease.
Village 1. Muang Khua
Muang Khua is more like a transit town that sees it's fair share of tourists, but usually just passing through on route to Luang Prabang. We had just made the day-long journey, crossing the border into Laos from Vietnam. So we were more than ready to spend at least night in the small town, before being back on the road. Magic happens when you're open to giving a new place a chance. This short stop over turned into a three night destination.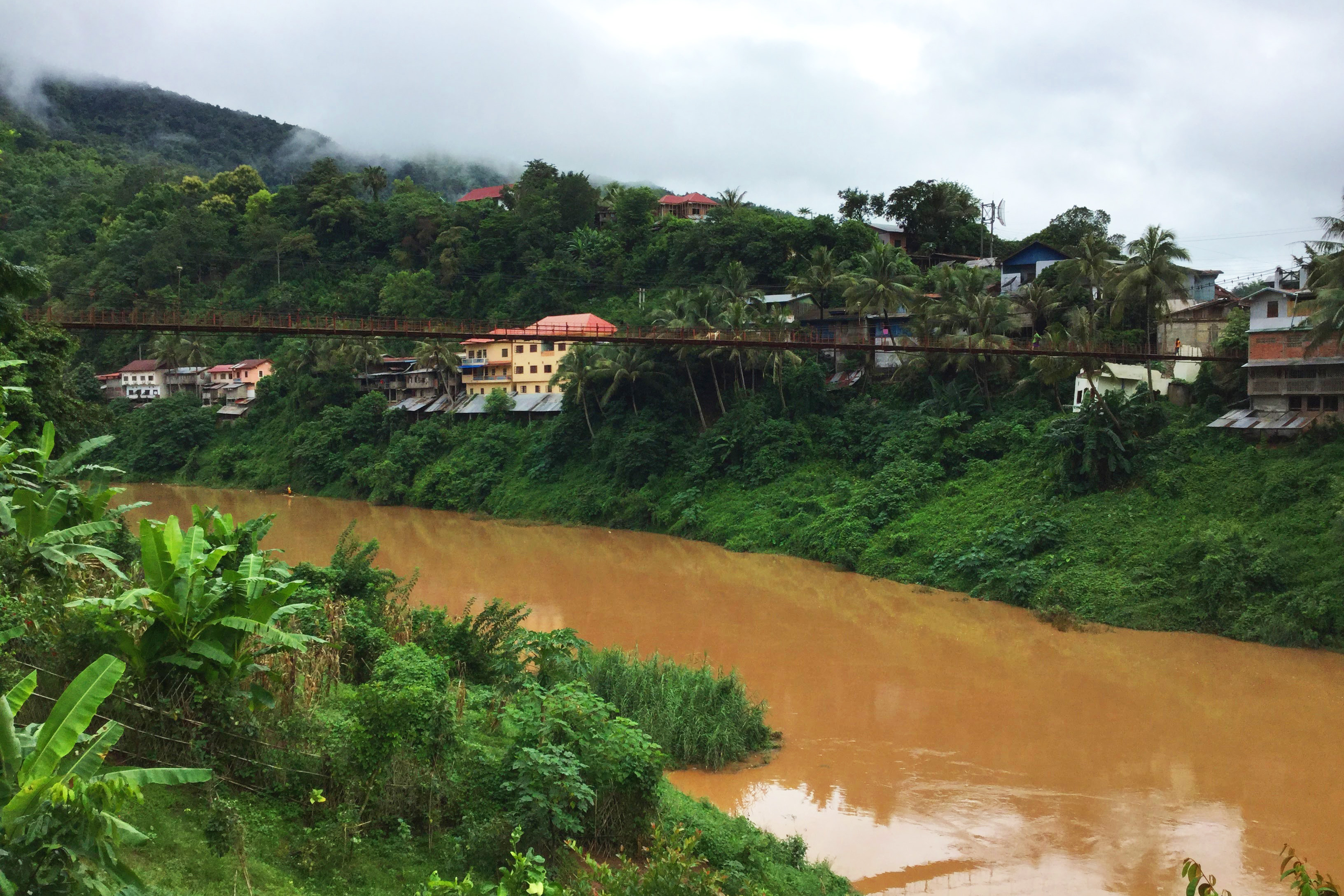 Why you should visit?
The main appeal that this town had for us is that it was small, quiet, with few tourists. There isn't all that much to do in terms of tourists attractions. That's why we loved it. Live like a local and get a real Laotian experience.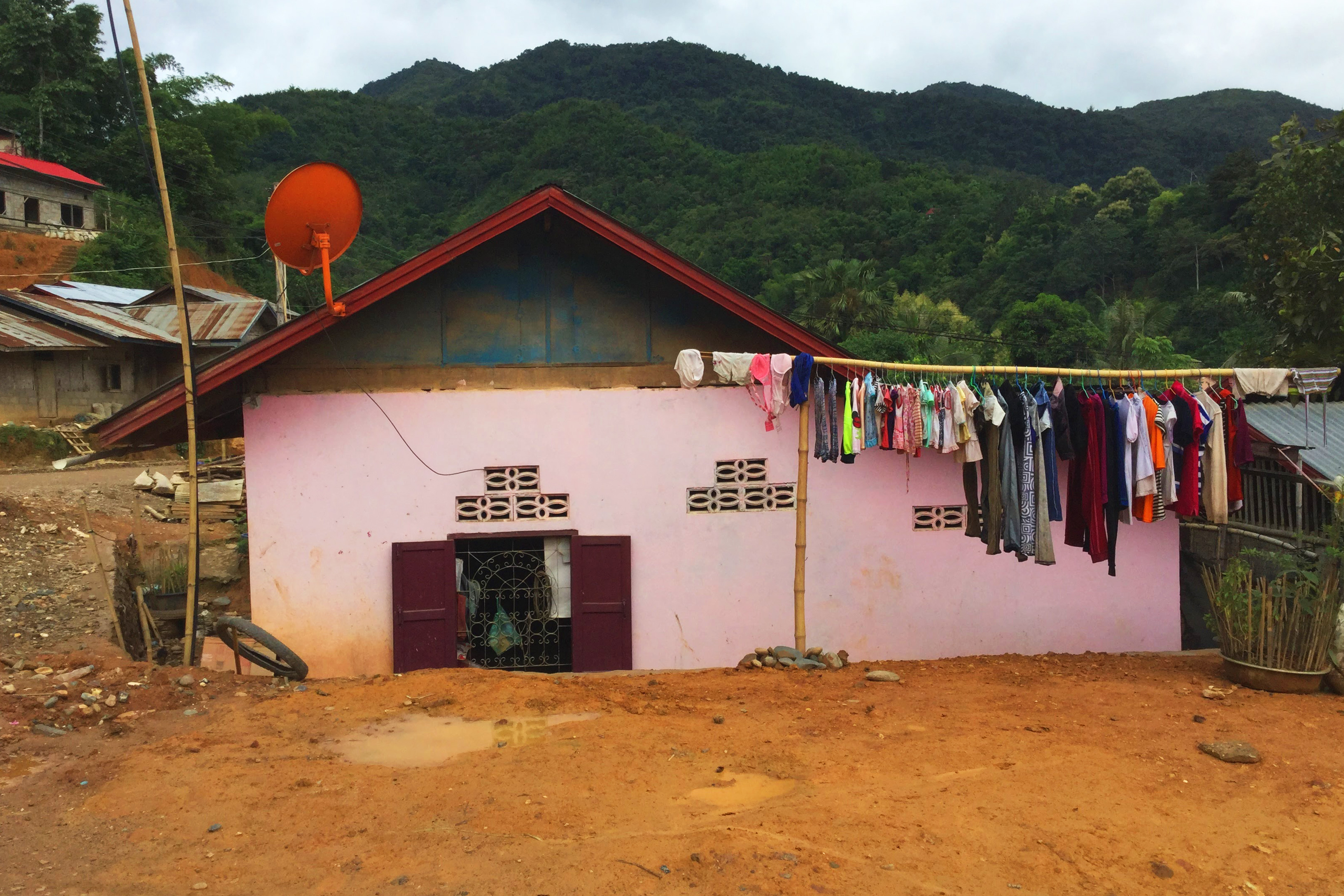 We spent our time there catching up on blogging and making plans for the rest of our travels, things that have kept being put off. Time runs away from you when you're having a good time.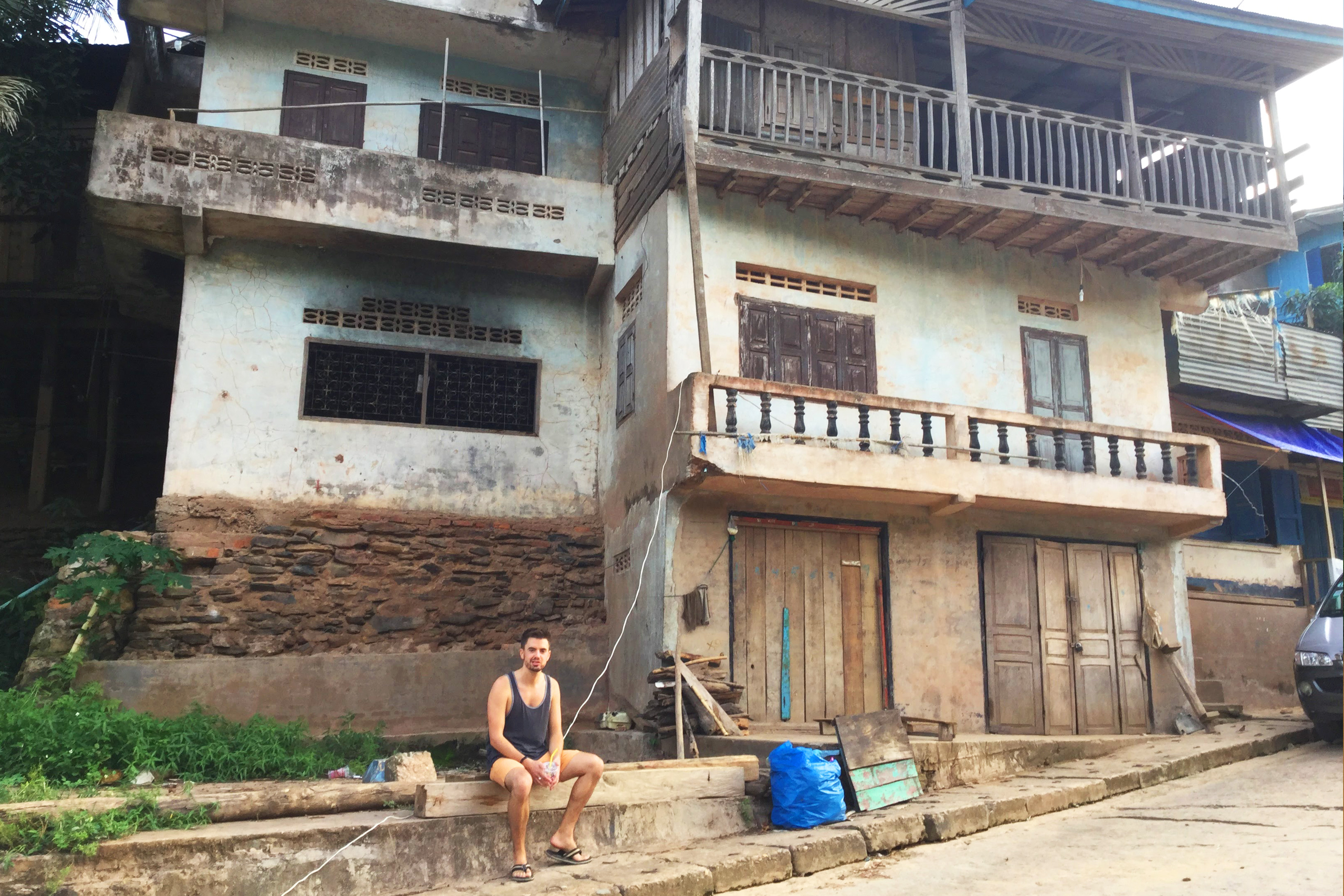 Where to stay?
There are a handful of guest houses in the quiet town. When we hopped off the bus, as usual, we started wandering the town. A guesthouse owner, hustling for business, offered to show us to his bungalow across suspension bridge. And for 80,000 LAK / per night ($8.25 CAD) he had sold us on an amazing view of the river right out our window.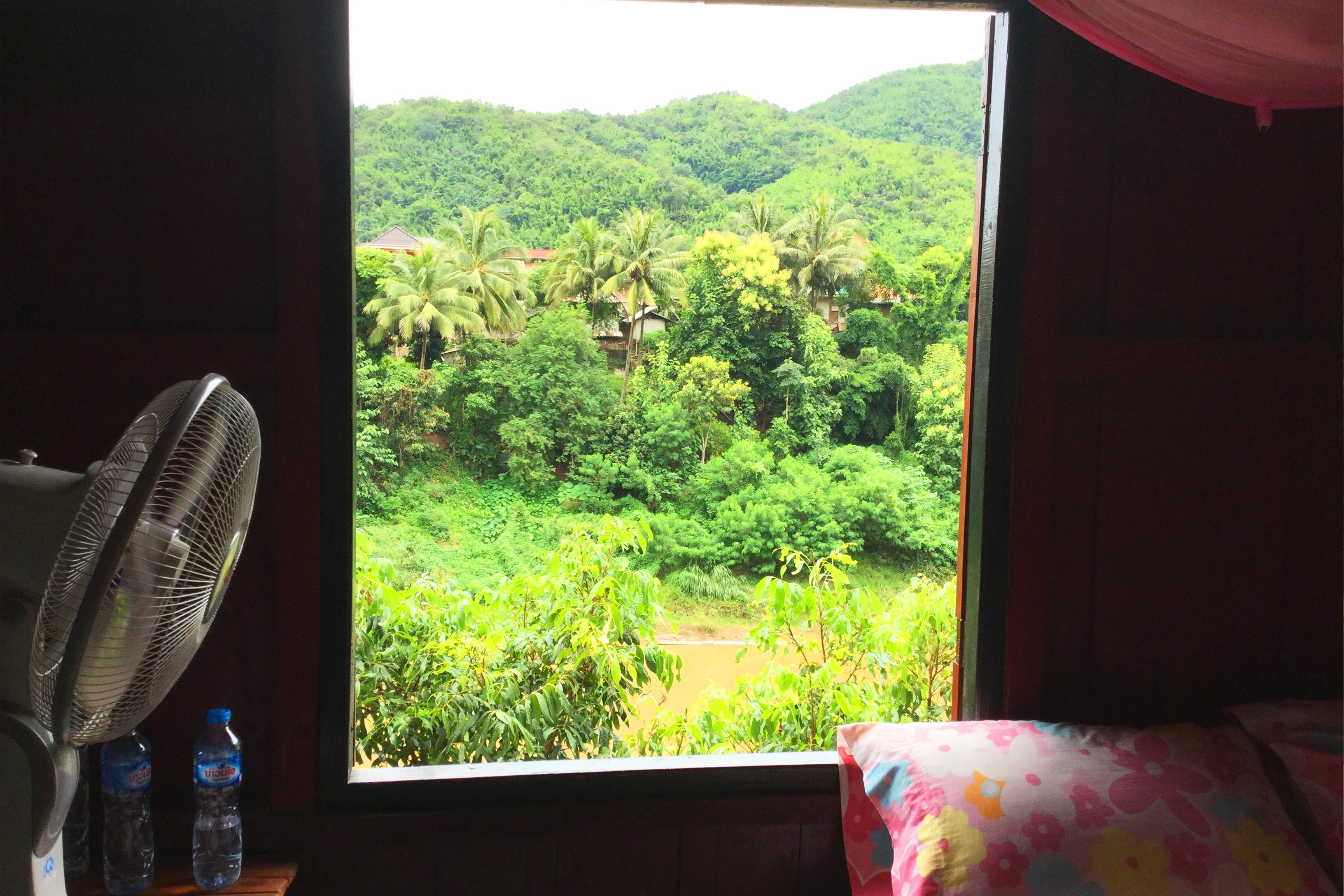 What to eat?
There are a few restaurants with English menus close to the dock at the river. But for a more authentic experience, eat like a local at the wet market. See a fruit you don't recognize? Buy it! What are other locals eating? Try some! People are always so friendly and want to share their culture with foreigners. One vendor made Matti try a bite of her dish before we were sold on some spicy salad something for lunch.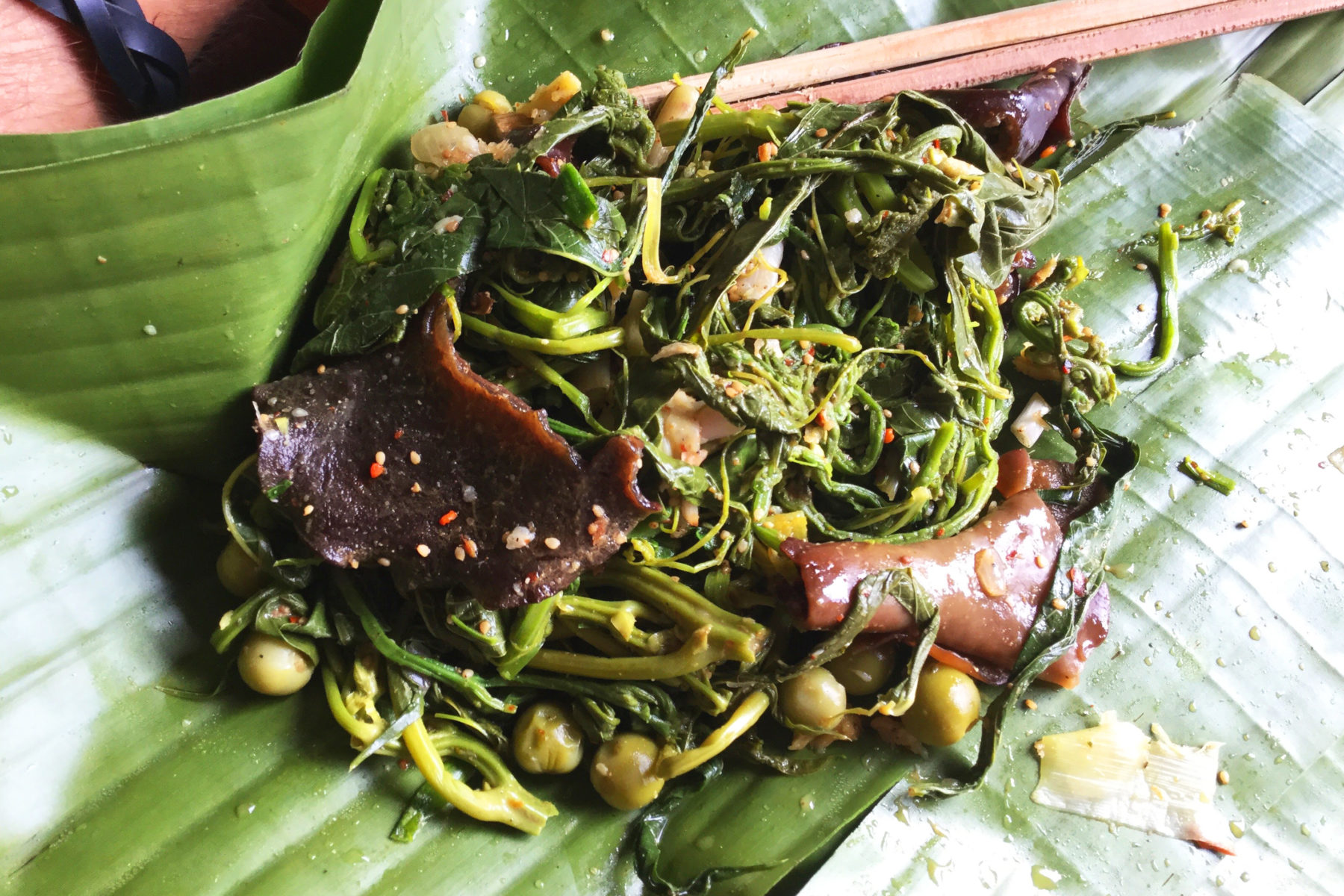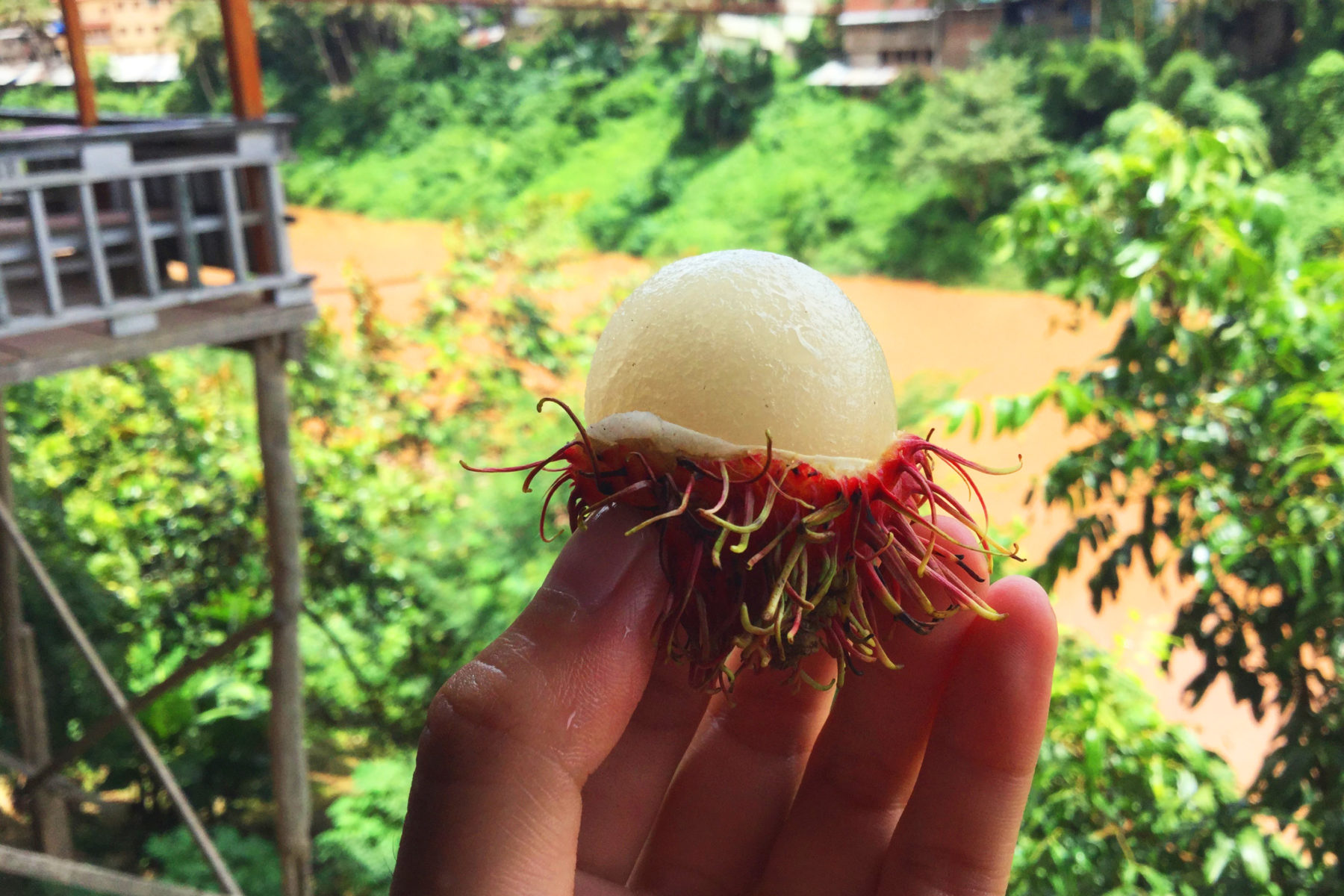 What to do?
Kick back, just relax. Watch the river roll along. Read that book that's been gathering dust in your backpack. There's a group of cute, yet naughty, boys that are keen to hang out with foreigners. They wouldn't leave us alone for a second! Charming none the less, they are suckers for technologies that they don't normally play with, like Snapchat filters.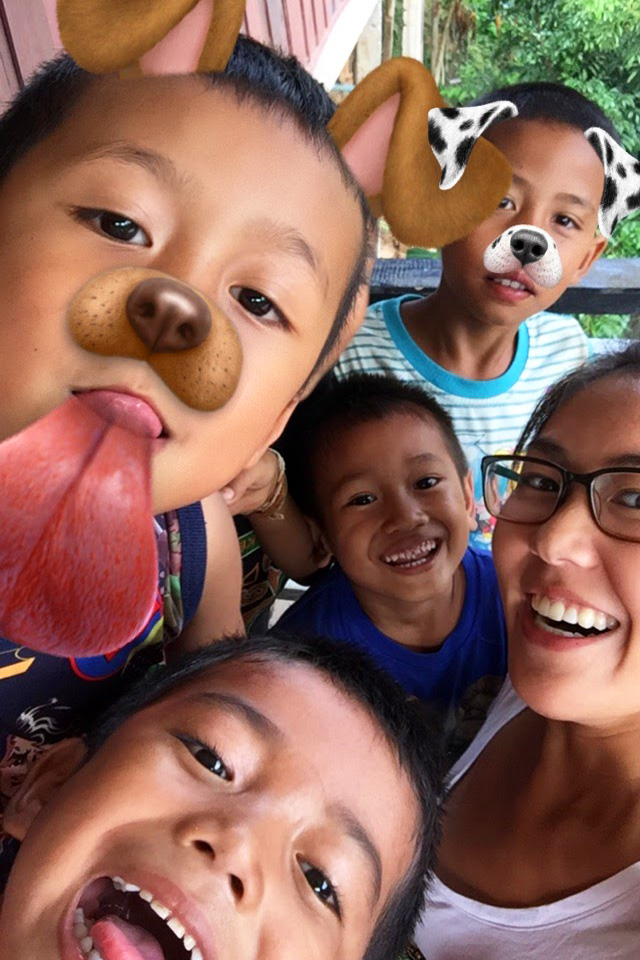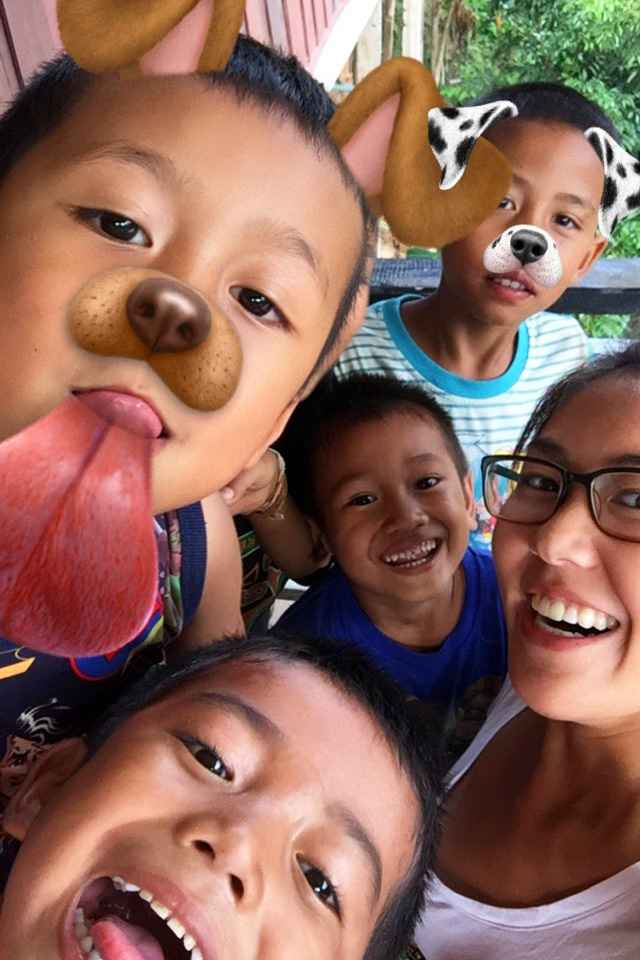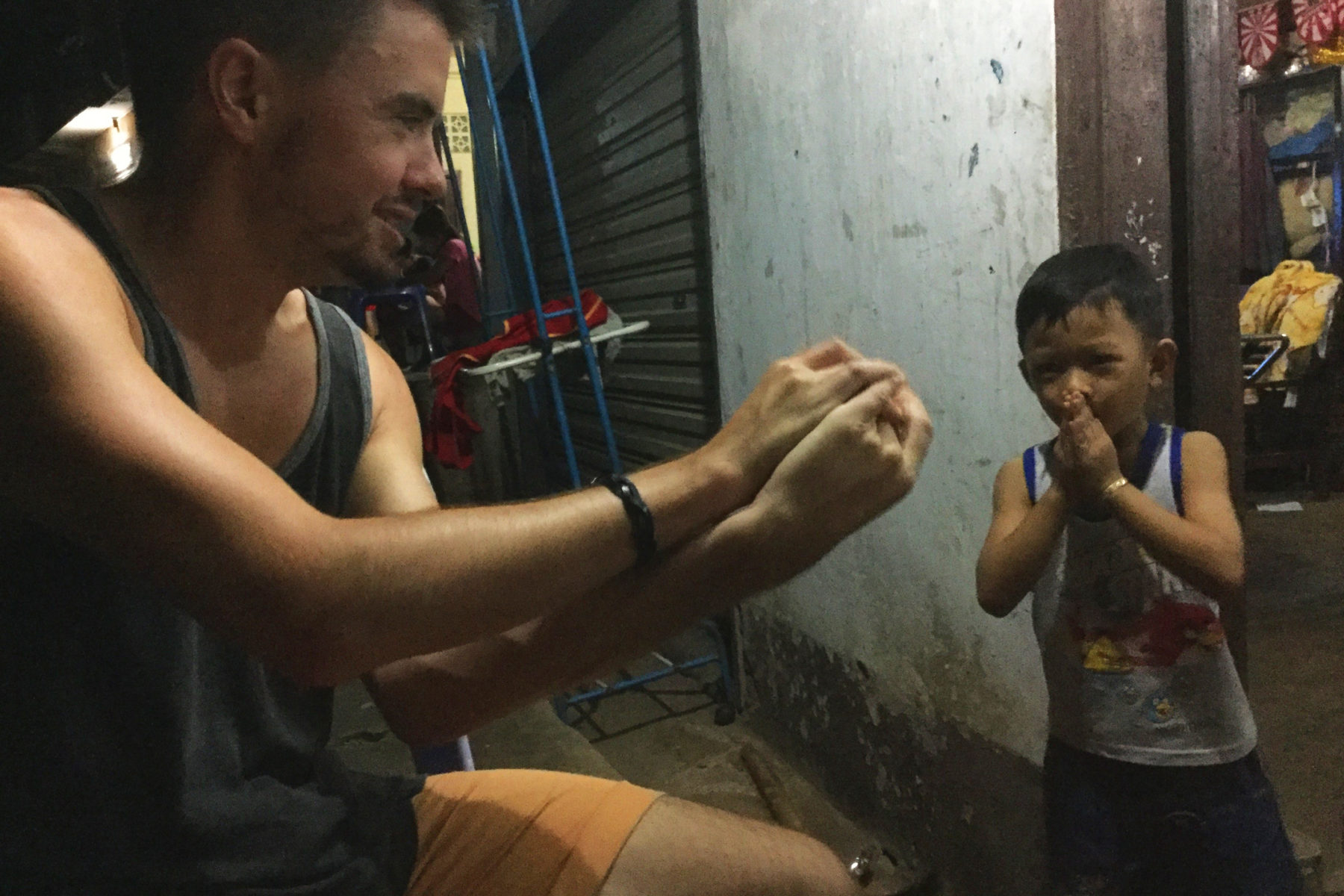 And you'd think time goes by slow when there isn't much to do? Not the case, in the blink of and eye three days rolled by. 
How to get from Muang Khua to Muang Ngoy? Travel down the Nam Ou River!
You don't really have many choices when it comes to leaving Muang Khua. One main transit point is by boat down the Nam Ou River. The boat leaves once a day, at 9am, headed south, making two stops: Muang Ngoy then Nong Khiaw. The cost of the boat ride depends on how many people show in the morning to take a ride. If the boat has at least 10 people, it'll cost 100,000 LAK ($16.50 CAD) per passenger to Muang Ngoy or 120,000 LAK ($19.80 CAD) to Nong Khiaw. But if you're riding an empty boat, expect to pay upwards of 150,000 LAK ($24.75 CAD) for your ride. It takes about 3-4 hours to get to Muang Ngoy (30 more minutes to Nong Khiaw). Most tourists hop off their bus without exploreing Muang Khua and go straight on the boat to Nong Khiaw, then bus to Luang Prabang. This would be a great mistake to blow straight through! We took the boat to Muang Ngoy with the idea to take it slow and spend a few days exploring the small villages.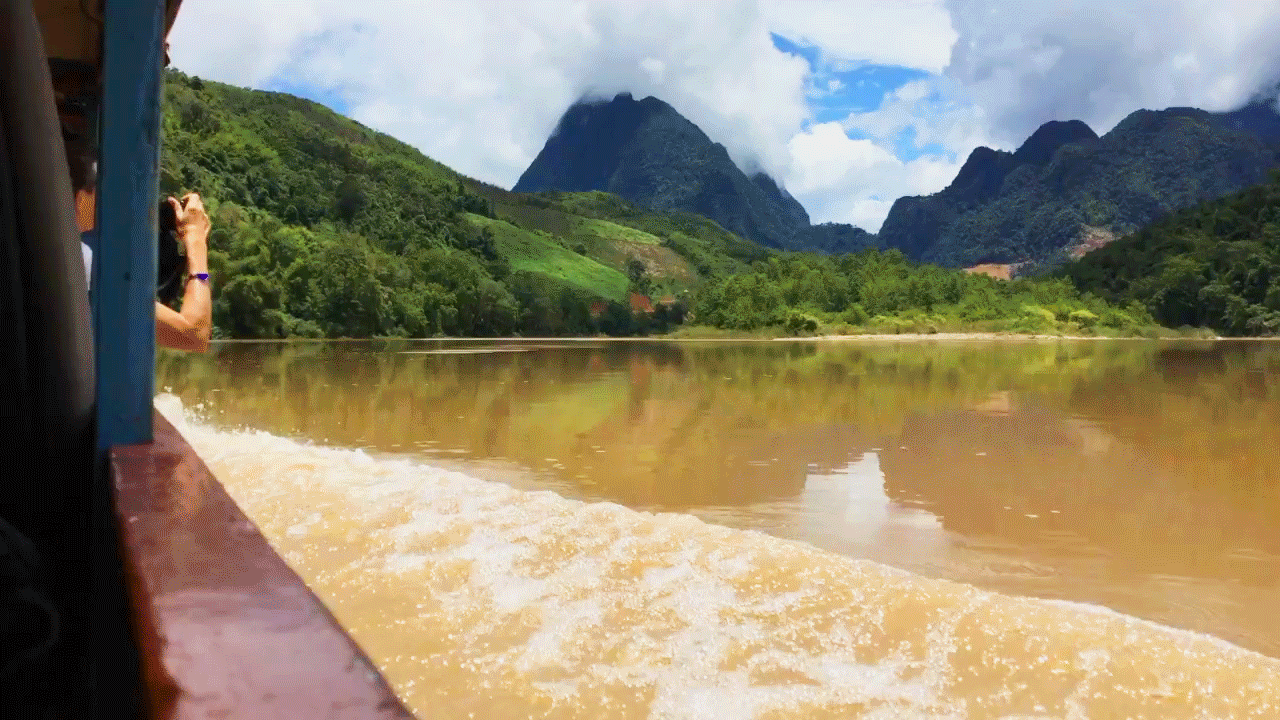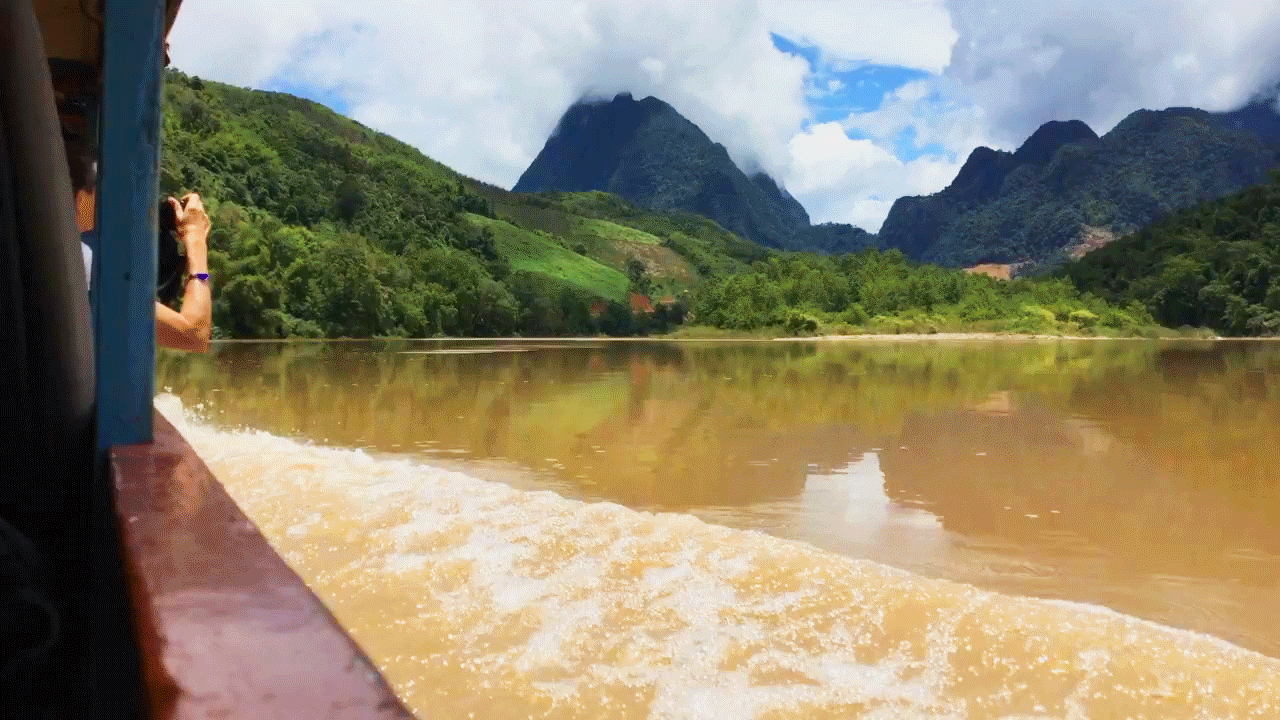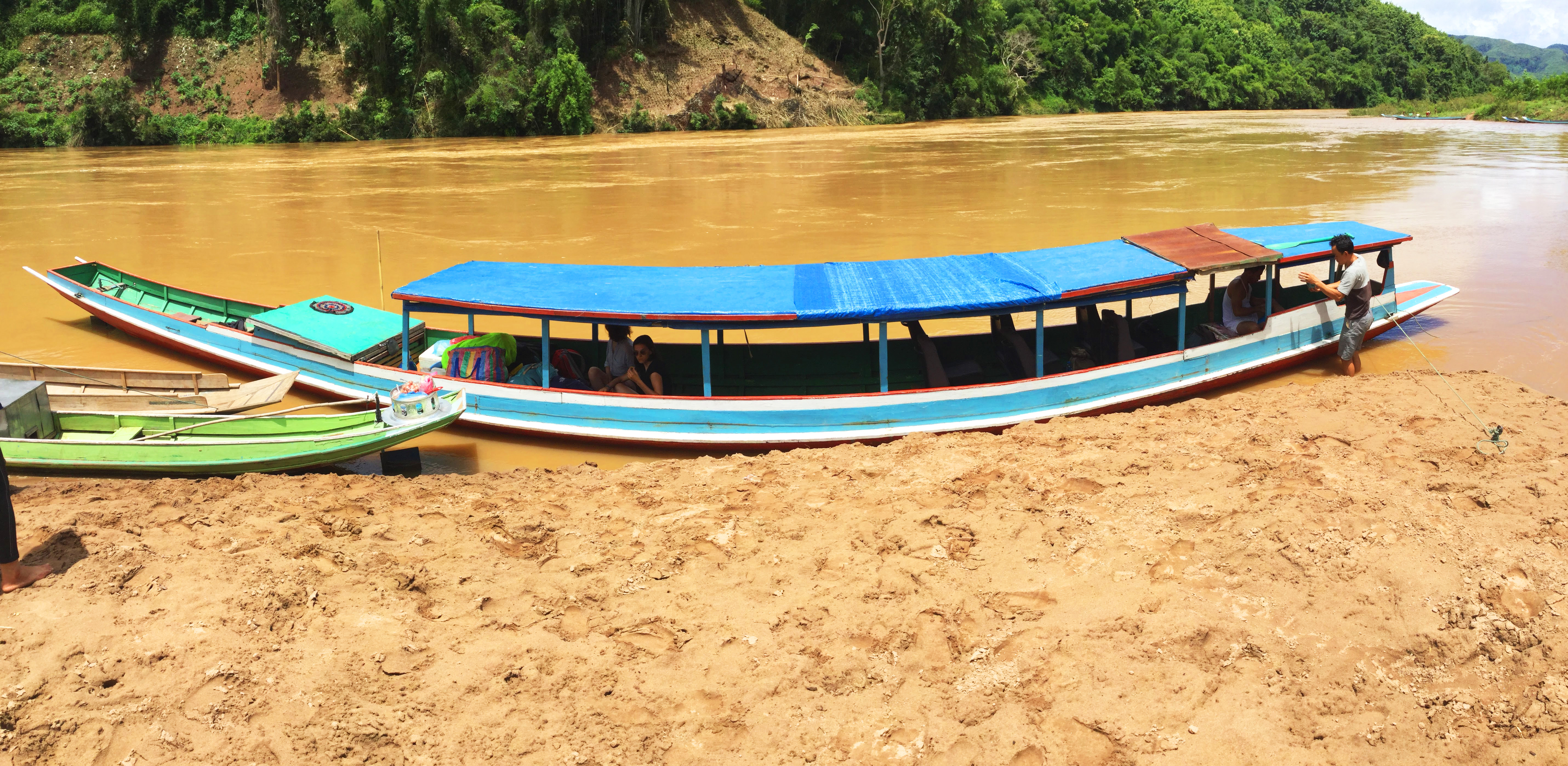 Village 2. Muang Ngoy
It felt like a mini island getaway when our boat pulled into the dock at Muang Ngoy. Even though it attached to mainland, getting off of a boat in a remote place gives such an great island/cottage vibe. The pace is slow and everyone is happy.
The tiny town is made up of two main roads and a bunch of guest houses and restaurants. It's a odd place that seems to be run my tourism, due to the number of guest homes, but was very quiet when were there in the beginning of August. It also seems to be overlooked by backpackers but sought out more by older travellers and families with kids.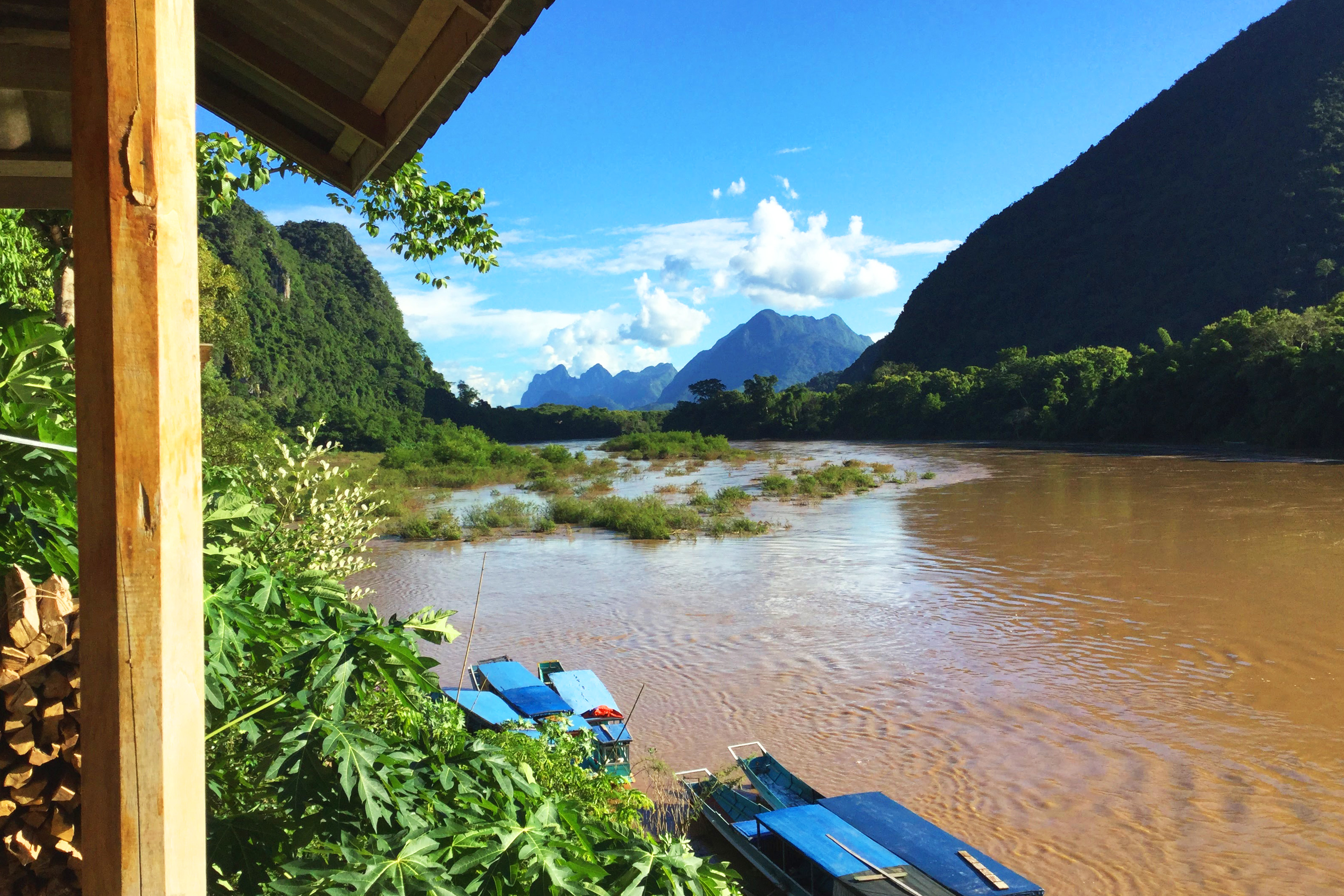 2 Things to know before visiting Muang Ngoy
1. There is only electricity in the evening.
It's funny that all the guest houses advertise free wifi, because Muang Ngoy pulls power from a neighbouring village which only goes on in the evening. That means theres only lights and fans when it starts to get dark around 4 or 5pm.
2. There is no ATM in town
The closest ATM is in either Muang Khua or Nong Khiaw, both a boat ride away. So make sure you have enough cash to last you through your stay.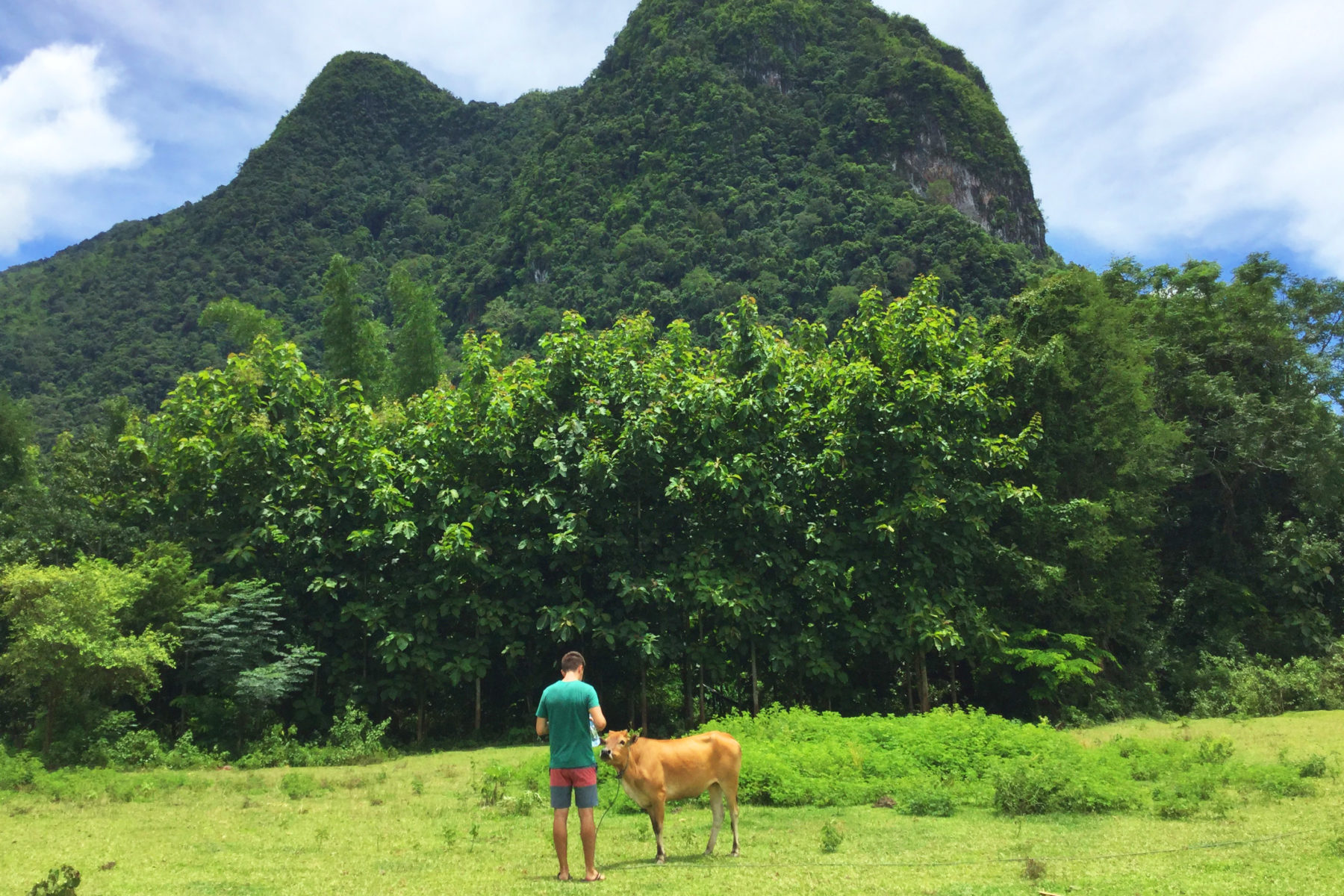 Where to stay?
Immediately when we arrived at Muang Ngoy, we knew it was a destination not to be missed and we spent 3 nights in a private bungalow looking over the water, for 40,000 LAK  ($6.50 CAD) per night. The owner hustled us as soon as we got off the boat and showed us a great deal that we couldn't resist.
What to do?
Eat a Laotian Breakfast
What word says "take it easy" more than brunch? In a town with not much but a hand full of restaurants, it doesn't take much effort to find whatever breakfast foods you're looking for. In the mood for eggs? No problem! Noodles for breakfast? Why not! As hungry as a bottomless pit? Try the all-you-can eat restaurant (at the corner there is actually a place offering AYCE breakfast for 30,000 LAK ($4.90 CAD) a person)!

A personal favourite of ours is a the "Laotian Pancake". This flattened sticky rice cake fried with egg pairs nicely with a thick Lao style coffee with sweet milk, similar to the Vietnamese style coffee.
Related: Egg & Poop Coffee – Examining Asian Coffee (and Tea!)
Trek to the fresh water spring and cave
Since there is no fans or AC during the day, I bet you're going to want to cool off somehow. You could take a dip in the muddy lake, but doesn't a cool fresh water spring sound amazing? Just head away from the river, down the one main road, and eventually you'll reach there (do not have any worry of getting lost, there is only one road!). It only take about 20-30 minutes to walk from Muang Ngoy town.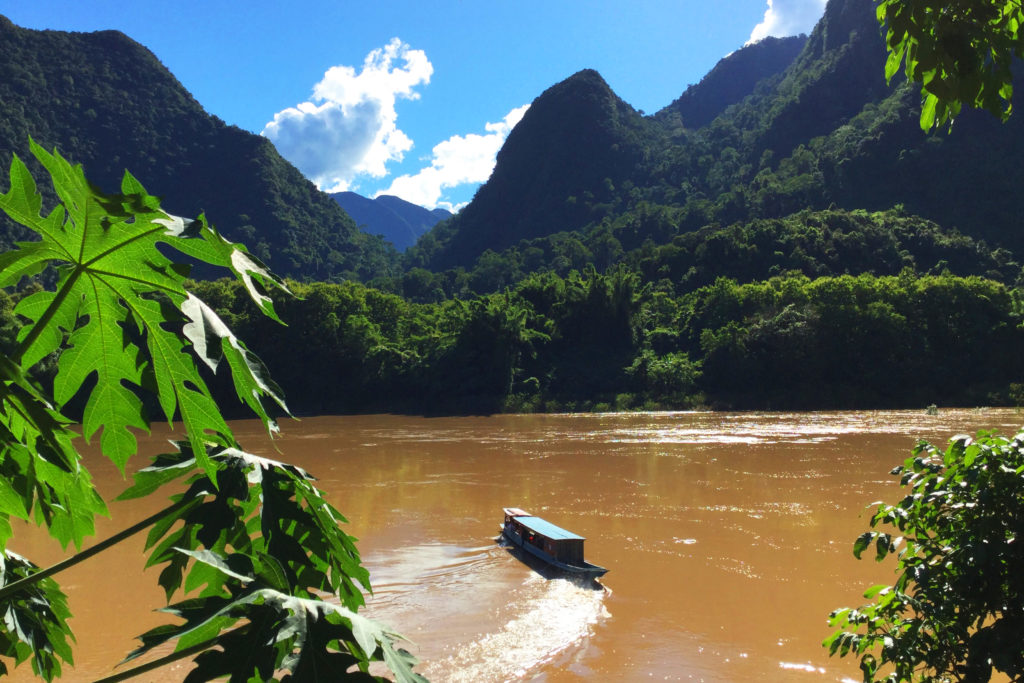 There is a little visiting fee of 10,000LAK ($1.65CAD) per person when you see the water. It's more of a guest book where tourism sign their names and where they are from. So I guess it's nice to keep a record of travellers that visit this tiny remove place.
Bring your swim suit because you won't be able to resist taking a dip in the clean fresh spring water. It is surprisingly cool and clean, we even filled our water bottle and drank the water (and didn't get sick). You can see the water rushing up from the ground, so you know its straight from the ground, free of contaminants.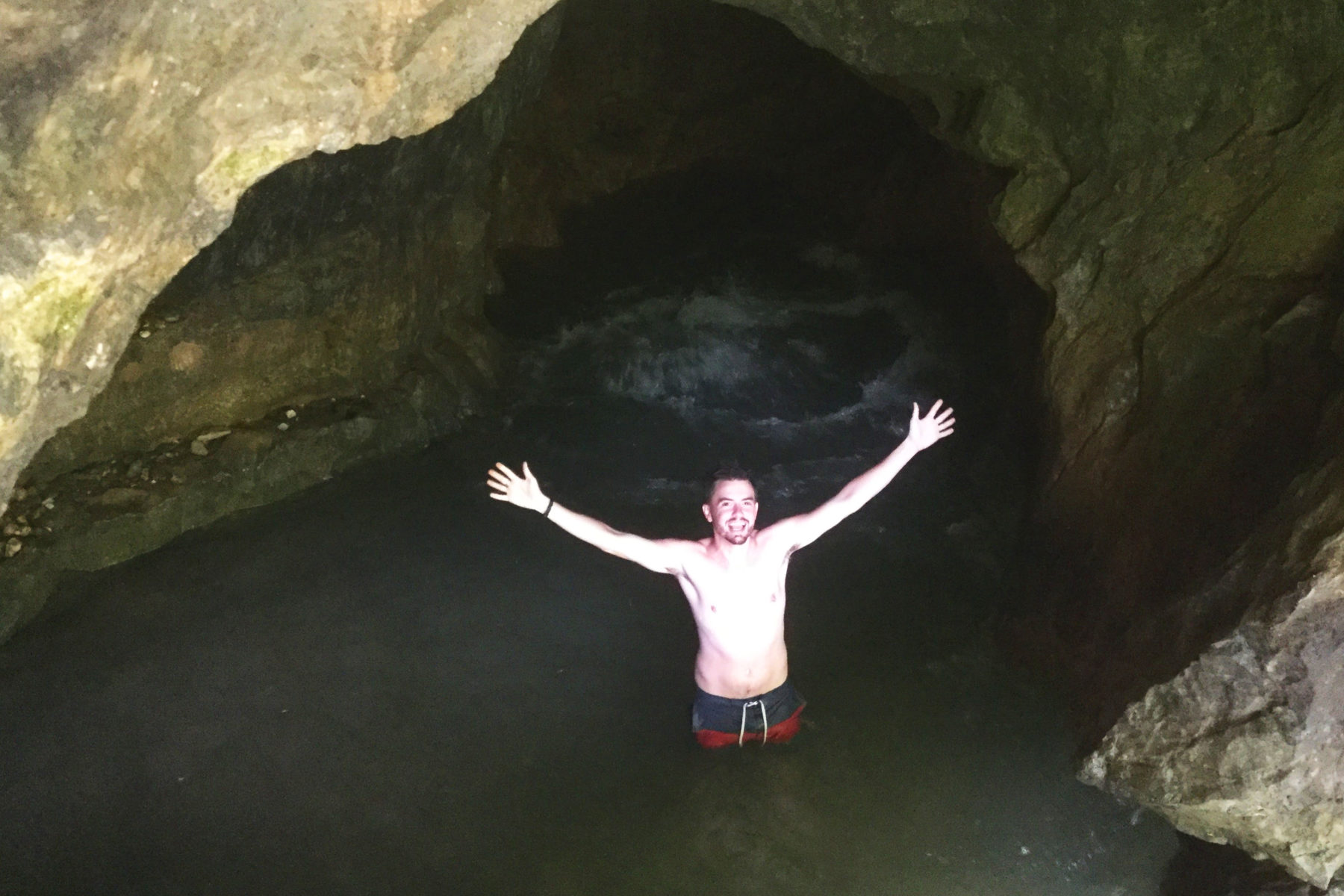 Make sure you bring a bright flash light if you're going to explore the Tham Kang cave. Even when we went in the middle of the day, you soon realize that the sunlight will only light up the entrance and to trek further you're going to need a light source. It's an eerie feeling being in complete darkness. I didn't get too far before my nerves got the best of me. But maybe you'll be more daring.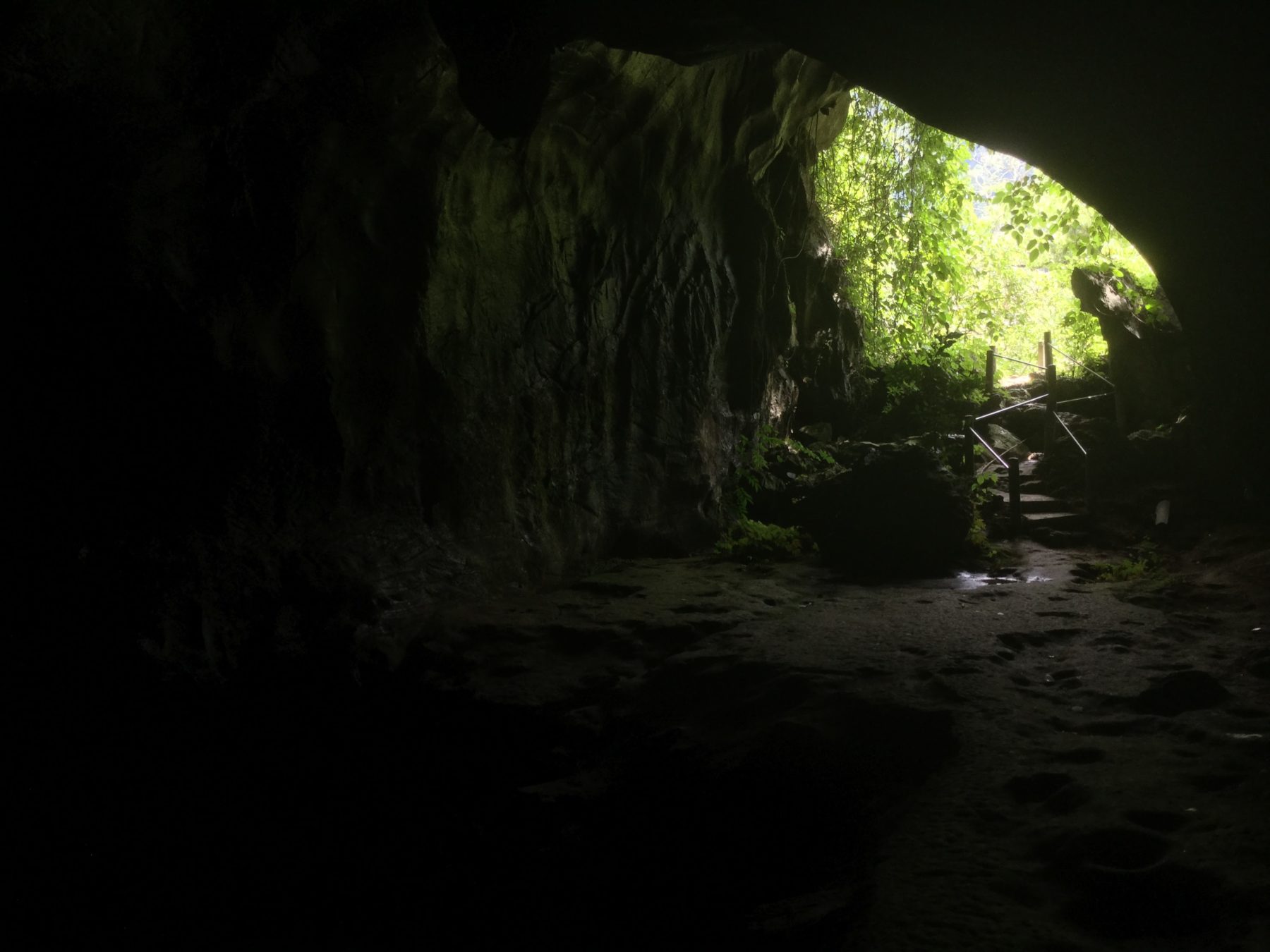 Trek to Ban Na Village
Now keep headed down that one path and about 30-40 minutes later you'll reach a small farming village called Ban Na. If you thought Muang Ngoy was a simple place, you'll have to check out Ban Na.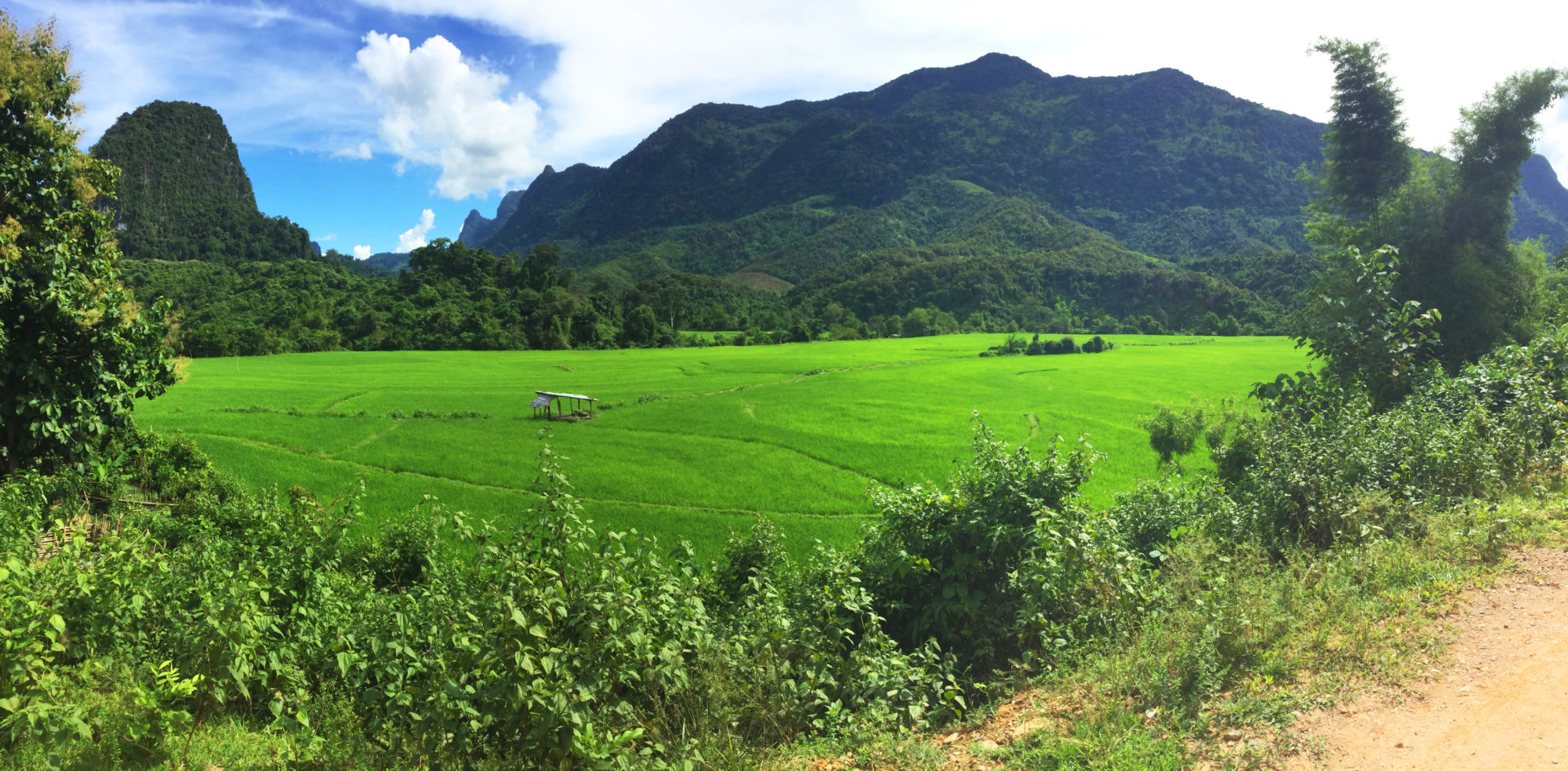 Take a walk through the village and find that it is filled with farm animals and children playing on the dirt street. There is one small touristy restaurant that you can buy a drink, rest your feet, and soak in the breathtaking view of the rice paddies surrounded by mountains. If you're so inclined, there are also guest houses if you're interested in staying the night.
Related: How to Trek Sapa Without a Guide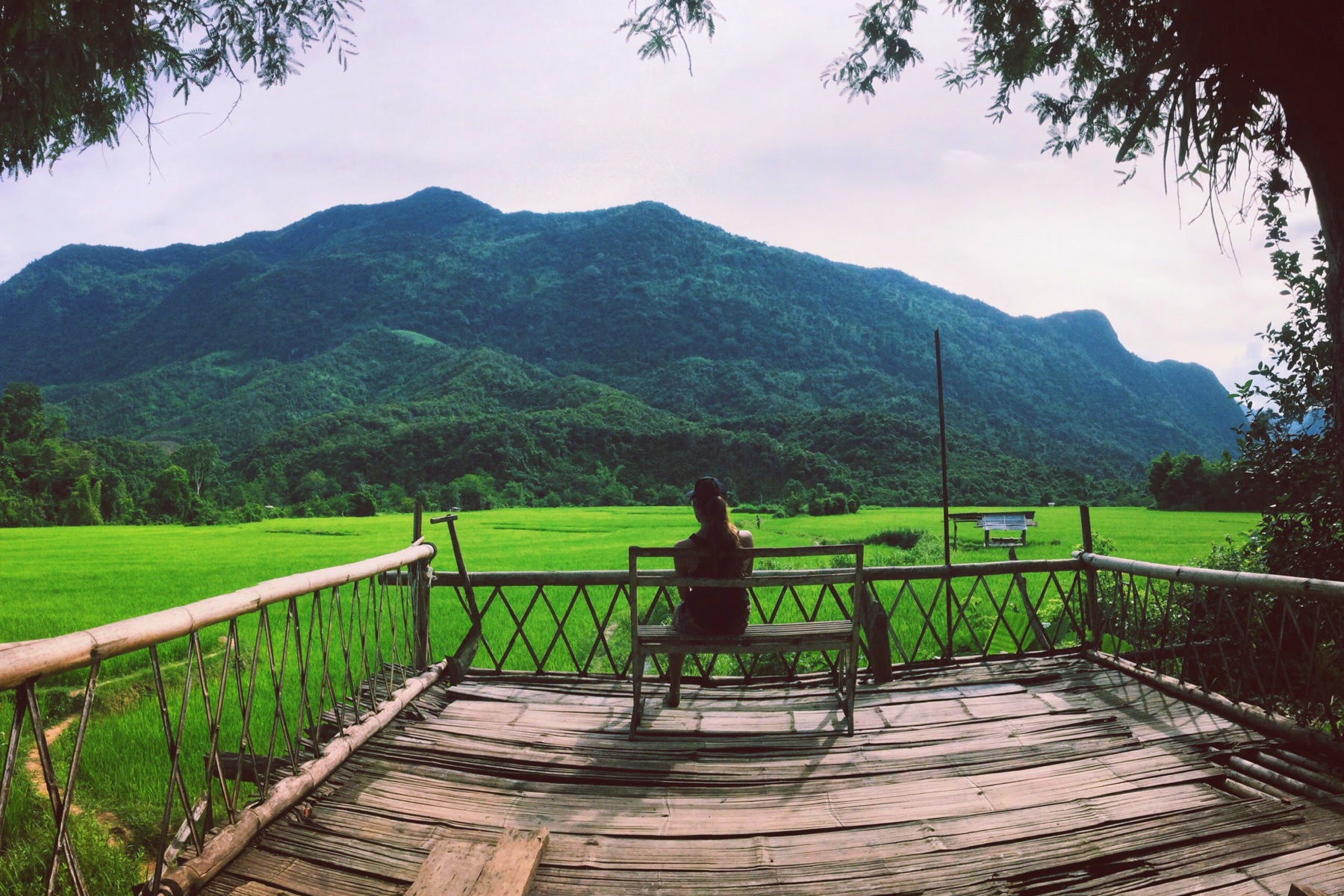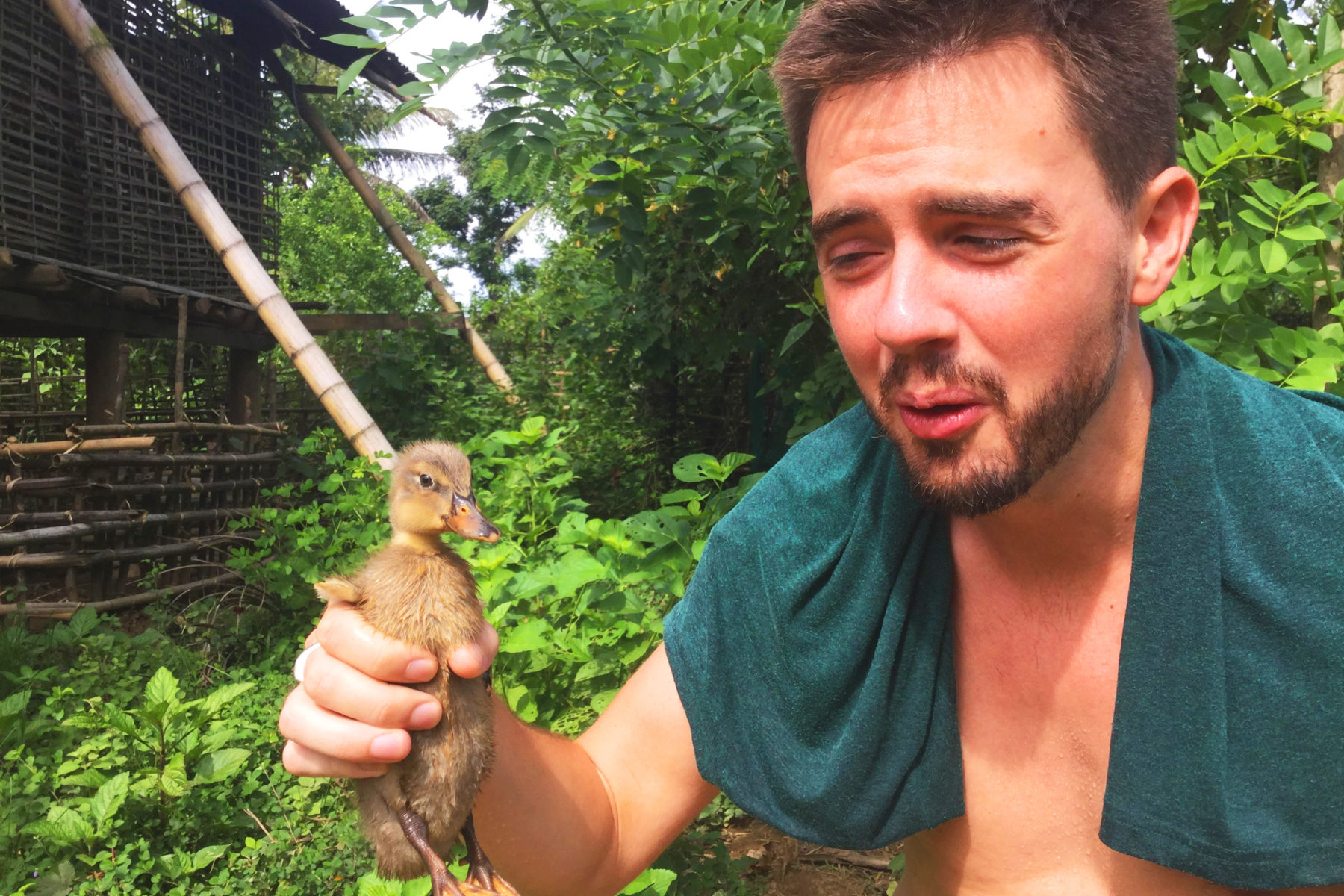 Chase butterflies 
A unique thing we found about Muang Ngoy (and sort of Laos in general) is that there are butterflies everywhere! Maybe it was butterfly breeding season when we visited in August, but it added a magical feel to the whole place. Like you're in a video game and trails of butterflies follow you everywhere you go.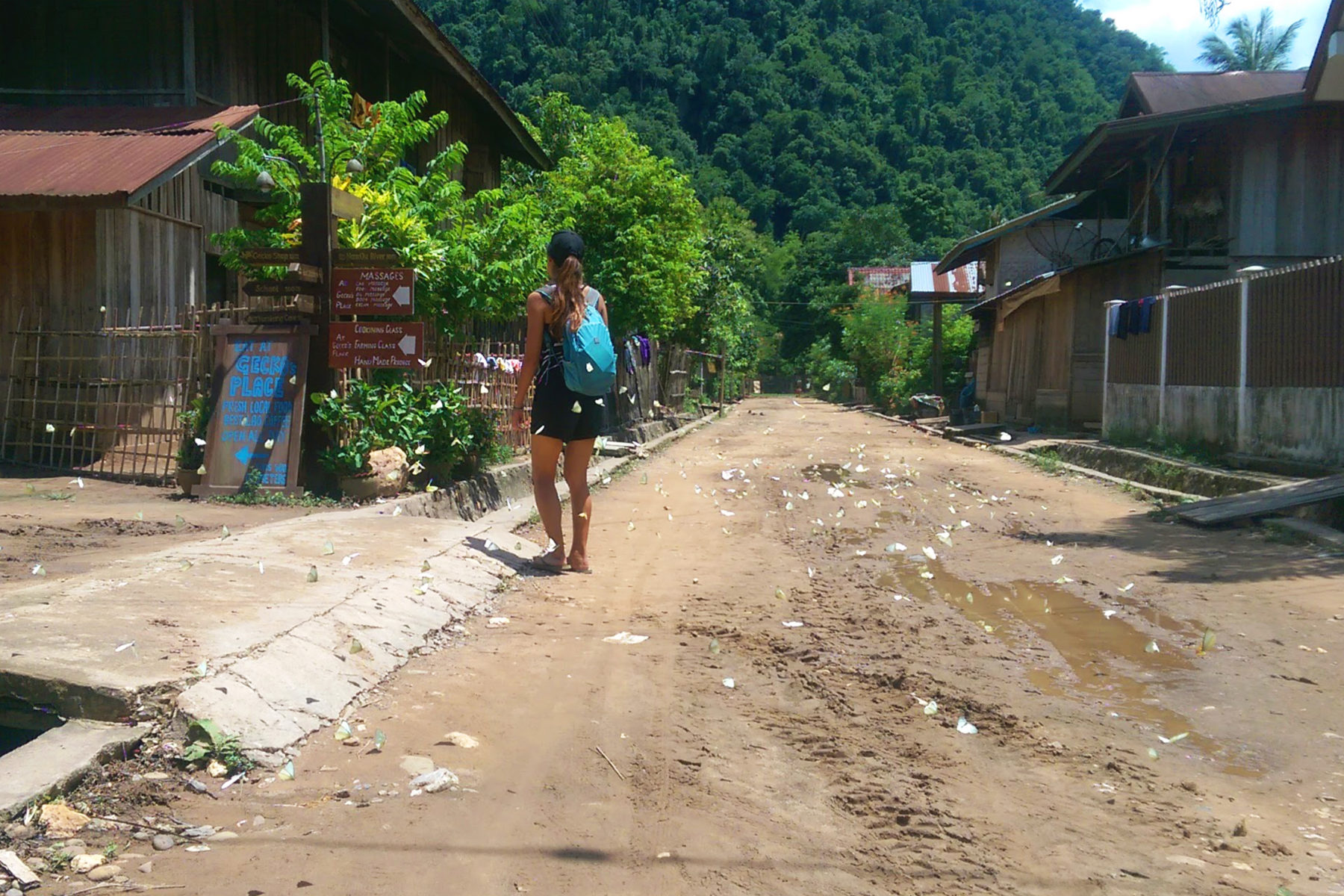 Chill and relax over Beerlao & watch the boats passing though the mountains
Really the main thing to do in Muang Ngoy is just take in the stunning scene that you're in. You're surrounded by mountains covered in rich untouched jungles, next to a river, and the nearest skyscraper is how many kilometers away?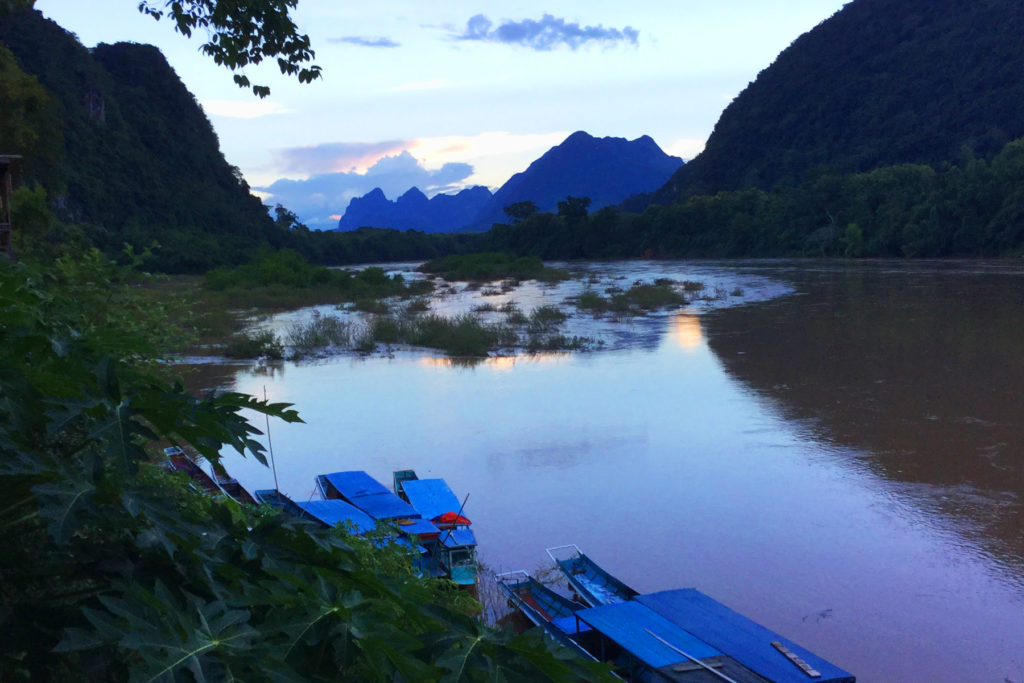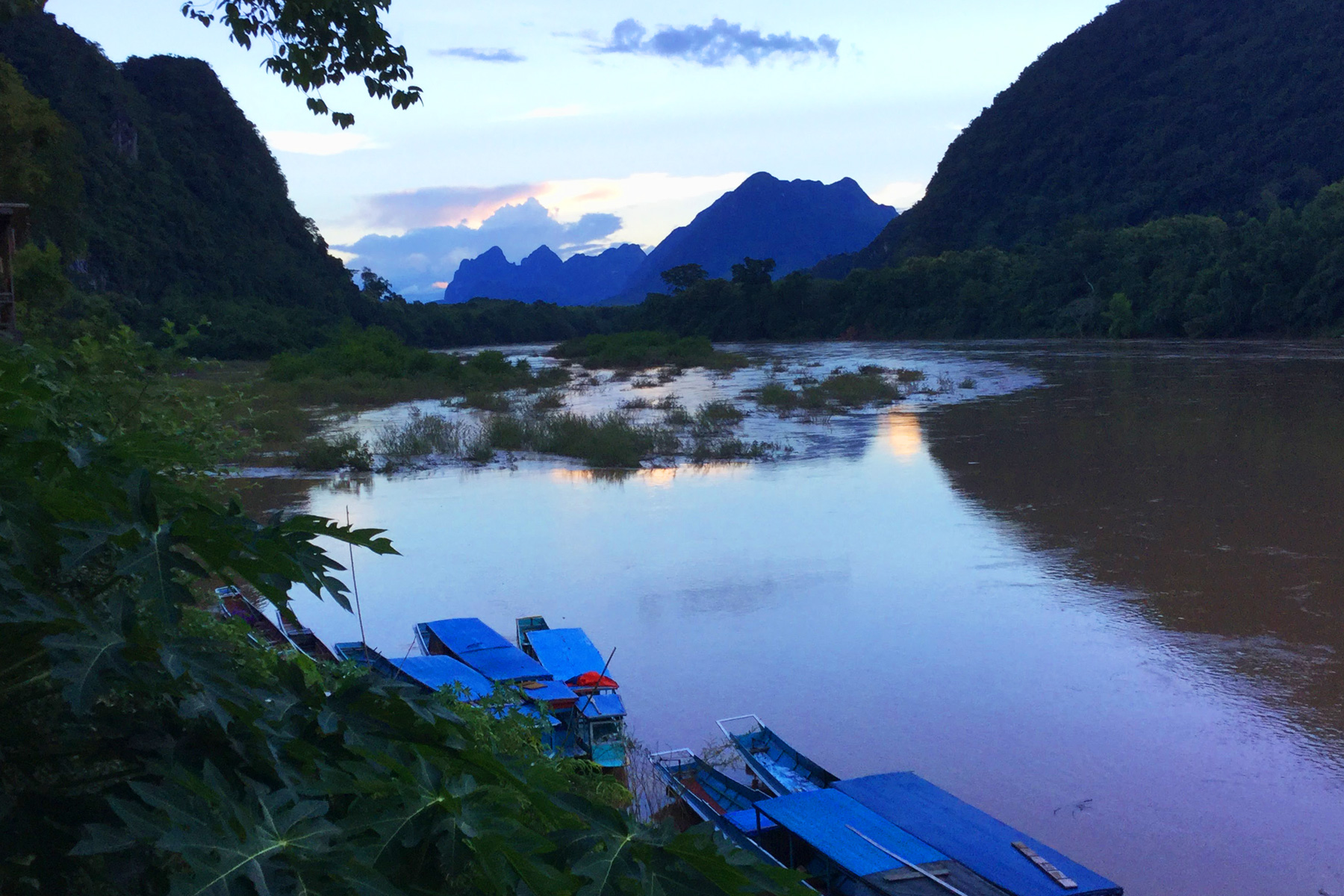 We tried to calculate how long it would take us to travel home at that very moment, and we'd have to take a boat the following morning to the next town, get on a bus to the closest main town with and airport, fly to a large international airport, and fly across the ocean to get home. So chill out, grab a large Beerlao (10,000LAK [$1.60 CAD]), realize how far from home you are, and soak in the adventure that you're having.