We woke up mega early at 5:30am to head down to Muara Angke Harbour. This will be our first island adventure! Just North of Jakarta are a series of island (pulau means island in Indonesian) referred to as the Thousand Islands. It's a popular destination for a day or weekend trip to get away for the chaos of the city.
We took a taxi to the harbour and we ended up driving through an extremely rough area by the water. There was garbage everywhere and some streets were flooded. With a city of a population of 10 million, there are the very rich and the very poor living is close proximity and you can go from 0 to 100 within a few km.
We arrived at the harbour just before 7am. Tickets to Pulau Tidang, one of the most popular island destinations, costs 45.000 IRD ($4.50 CAD) per person. We were led to a large boat by a local where there were many others siting around, eating cup noodles, waiting for the boat to depart. We hopped aboard, grabbed a spot on the floor of the upper level and island bound we went at about 7:45am. Later we learned that there is a speed boat that you can take for a bit more money that will get you to Tidung in an hour. But we made it eventually, around 10:30am.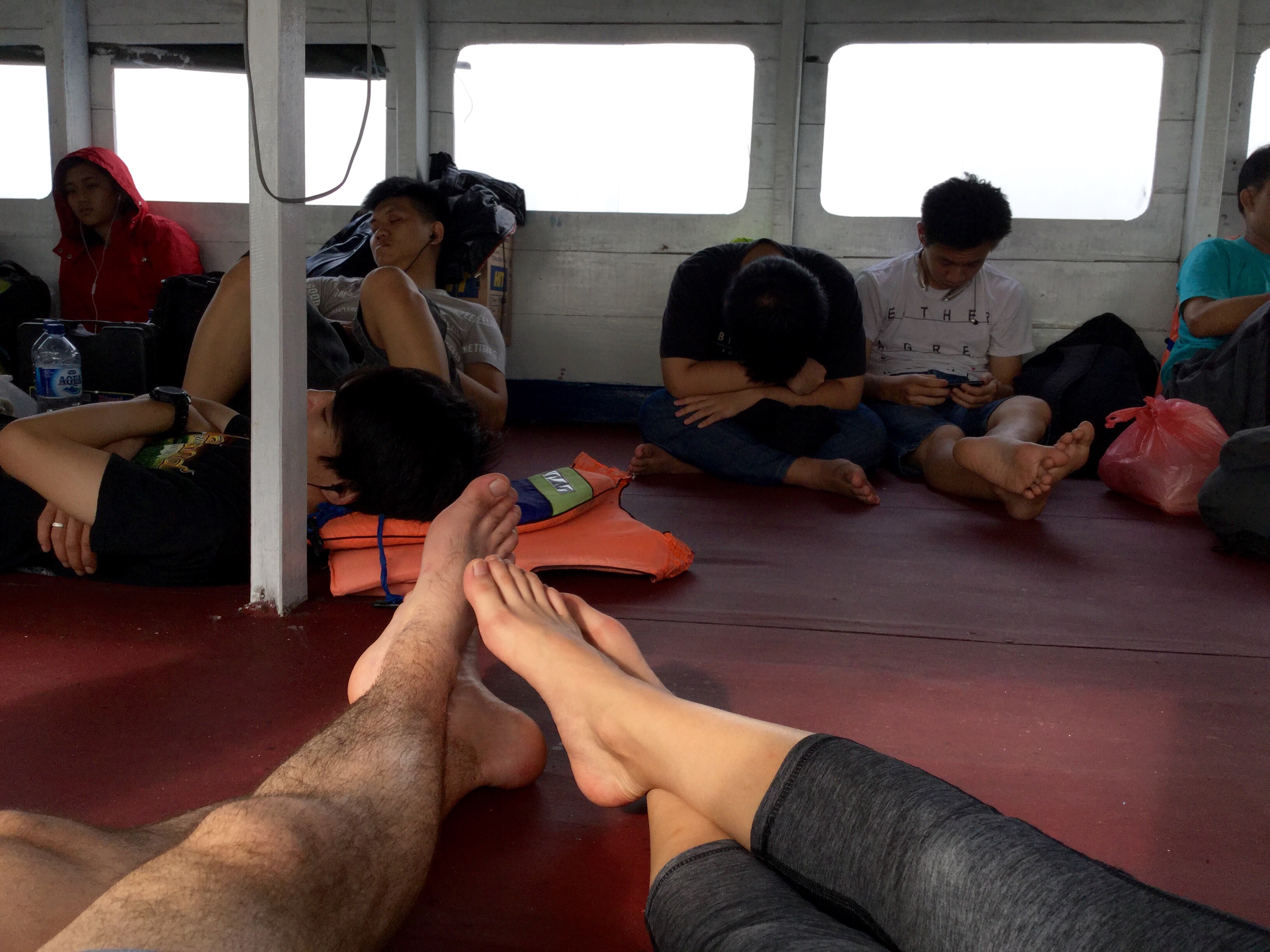 Immediately we were hustled by people selling home stays and rickshaw rides. We took a rickshaw for 20.000 IRD ($2 CAN) down the narrow island to Pulau Tidung Kecil (literally translated as small Tidung island). We heard that it is quieter and camping is a possibly here.
Tidung Kecil and Tidung Besar (big Tidung) are connected by a long bridge. There's is a part of the bridge that is used for jumping into the water, called Jembatan Cinta or The Love Bridge. Dying of heat, Matti decided to partake.

To his disappointment, the water is quite shallow so was very warm. Like warm, salty soup.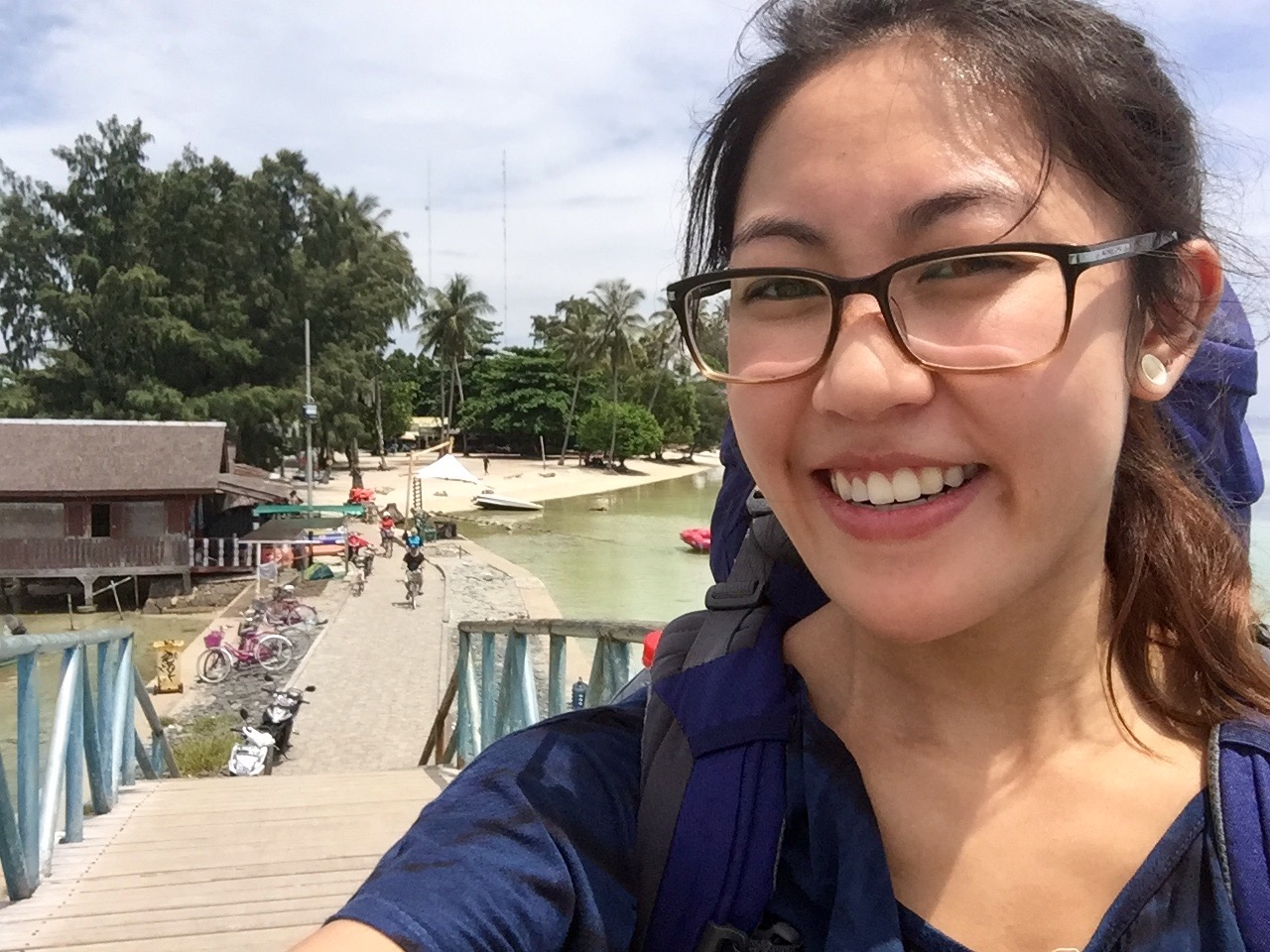 While taking a break from walking in heat with heavy backpacks, some locals offered us some coconuts and we chatted with them. We met a man named Dr Yono who spoke the best English and we asked him about camping on the island.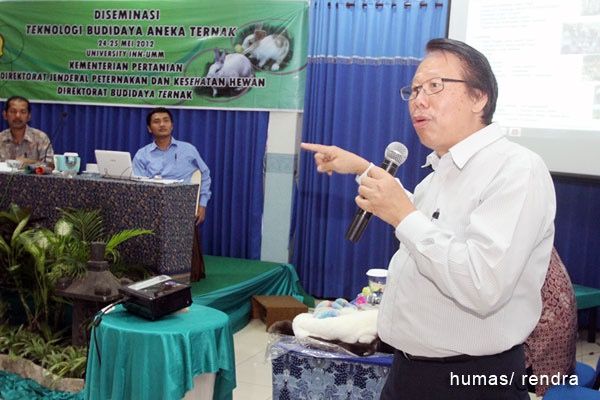 He pointed us to the right person and for 25.000 IRD ($2.50 CAD) each, we had a nice little quiet spot to stay.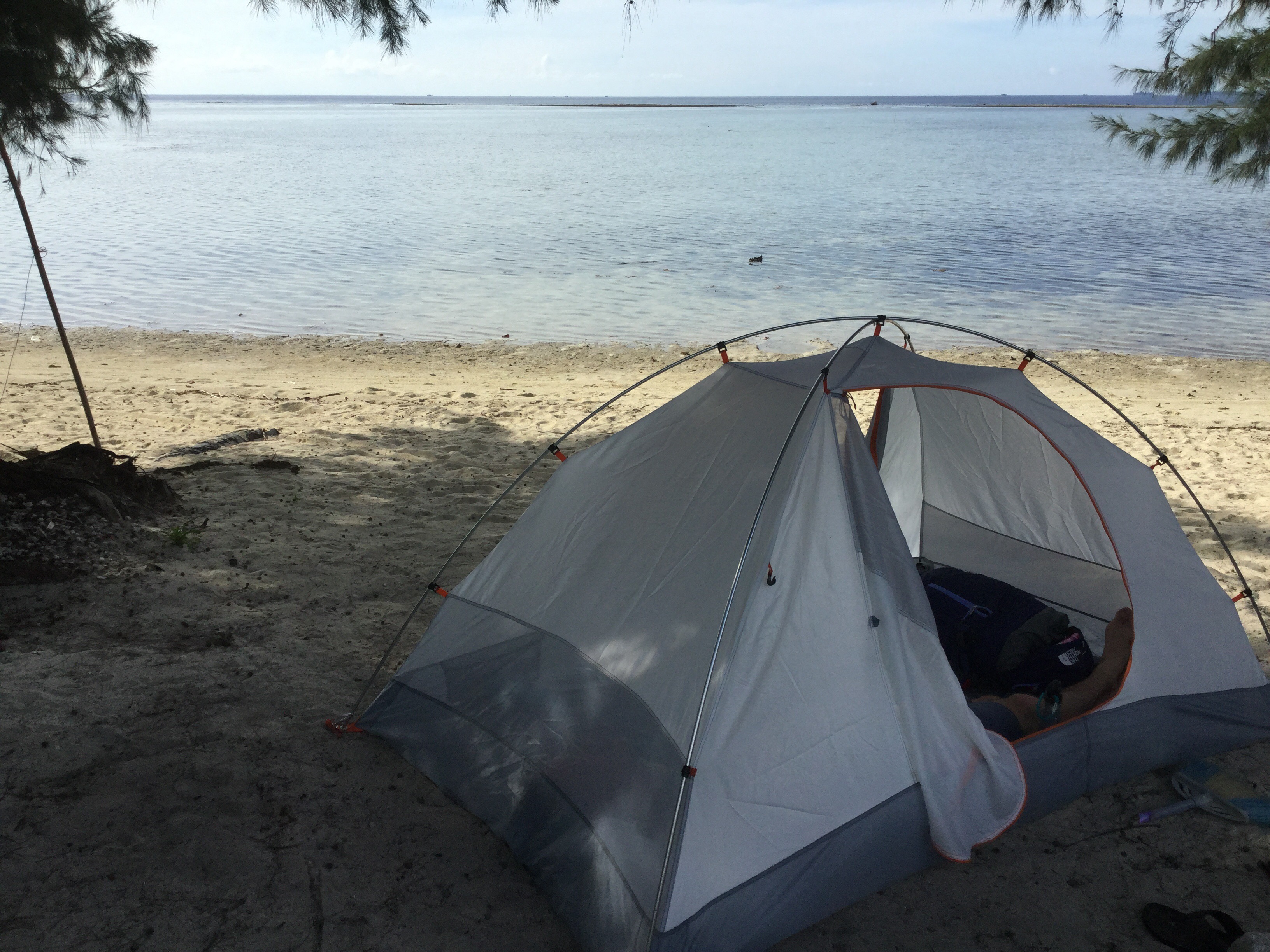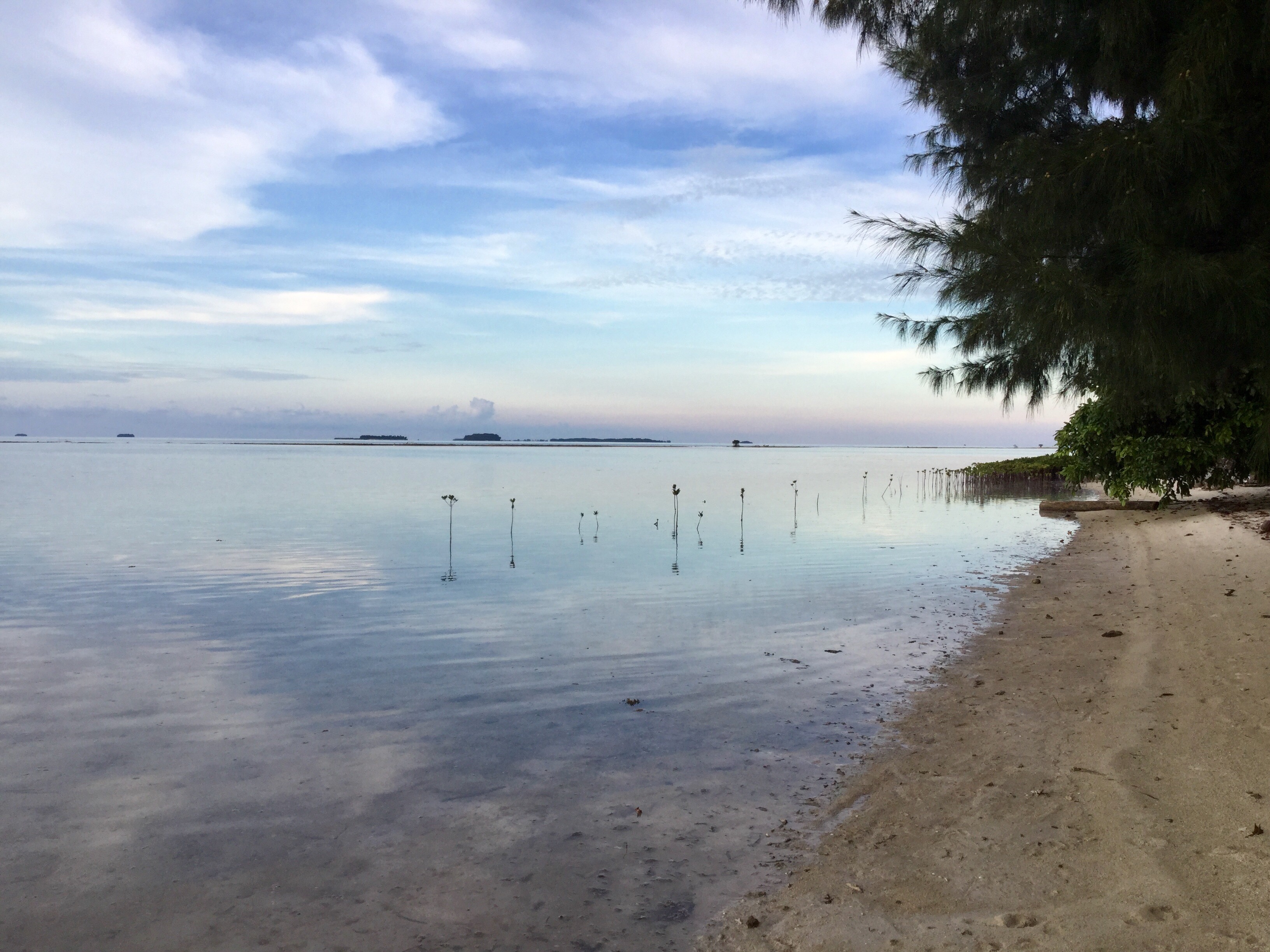 Tidung Kecil is used mostly for agriculture research and where we stayed was beside rows of trees and plants that they grow for their studies.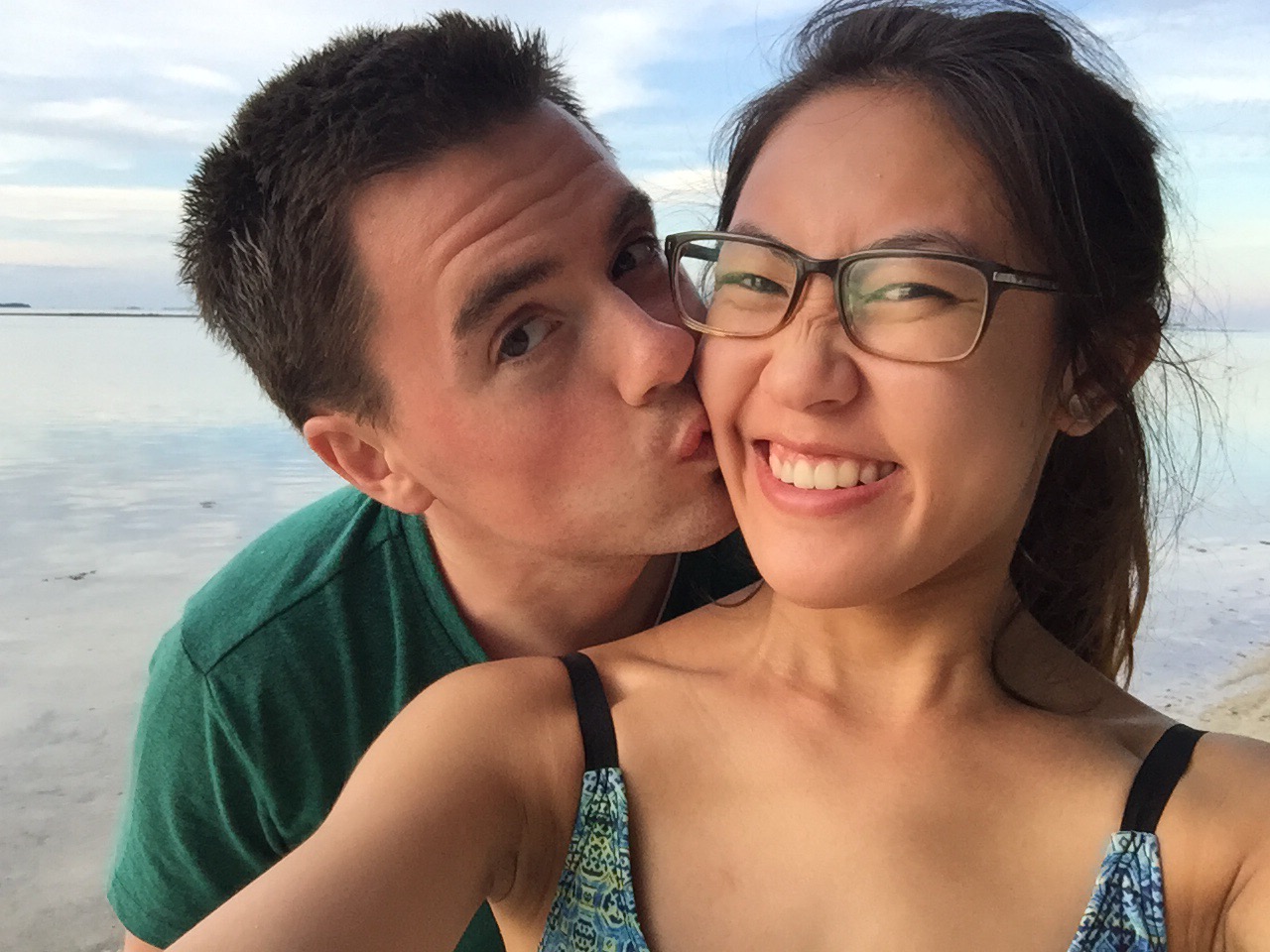 Unfortunately the beaches of Tidung are quite dirty with garbage from tourists not cleaning up after themselves. There are also a lot of stray cats. Like everywhere. Might as well name it Pulau Kucing (Cat Island).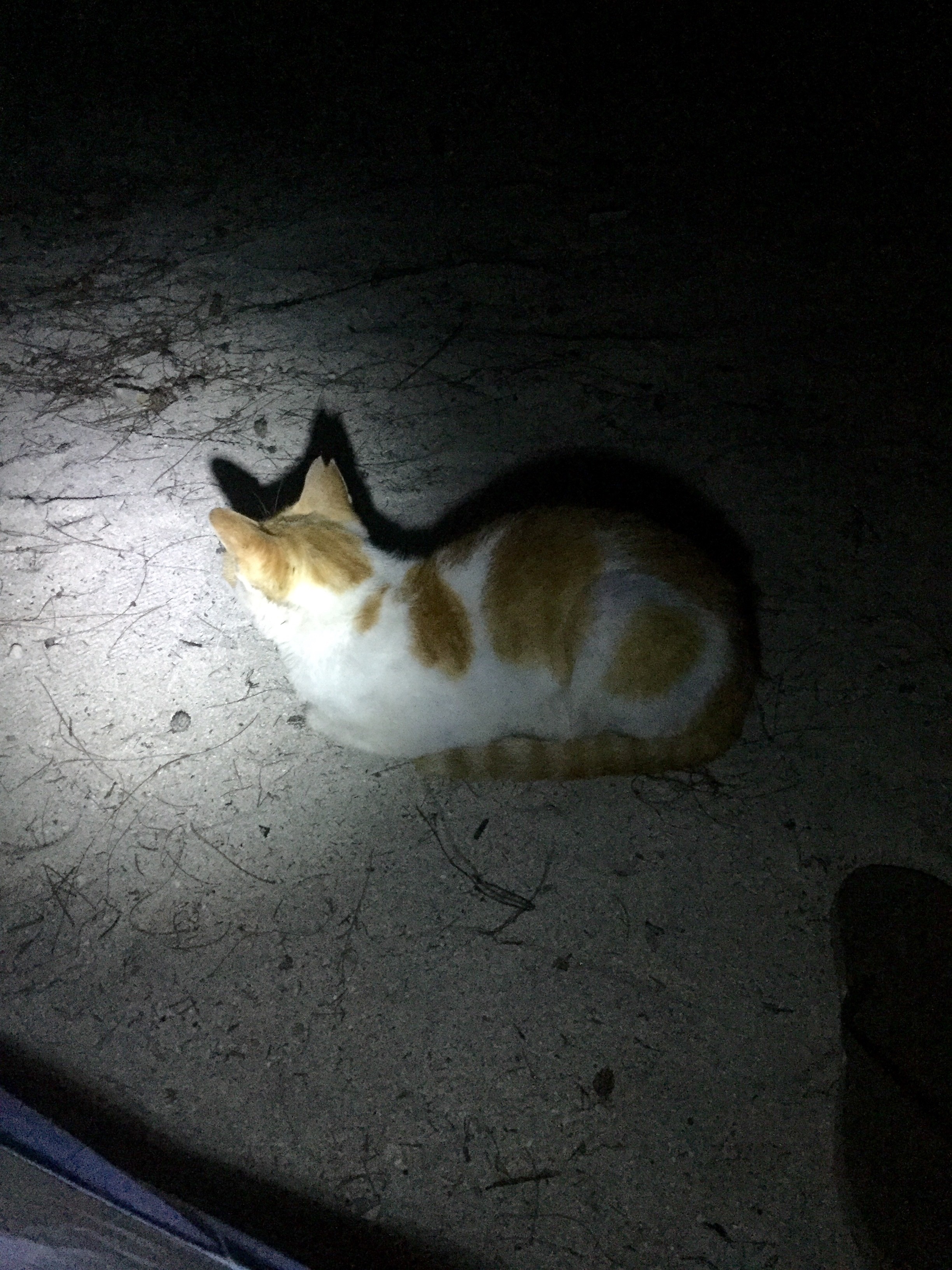 Matti will describe camping on the beach as a miserable experience. First was the heat and humidity. To hide from the bugs we had to close the tent, but then the air flow was just stagnant and we slept in pools of sweat. Then the bugs, you know when they buzz around your ears? And the hard ground. I was tossing and turning all night and I think we got maybe 3 hours of sleep. Well it's all part of the experience right?
No way we're camping again for another night. We found a cute home stay (I think it was called The New Paradise), on the large island, for 250.000 IRD ($25 CAD) and finally we got a clean shower and a working fan.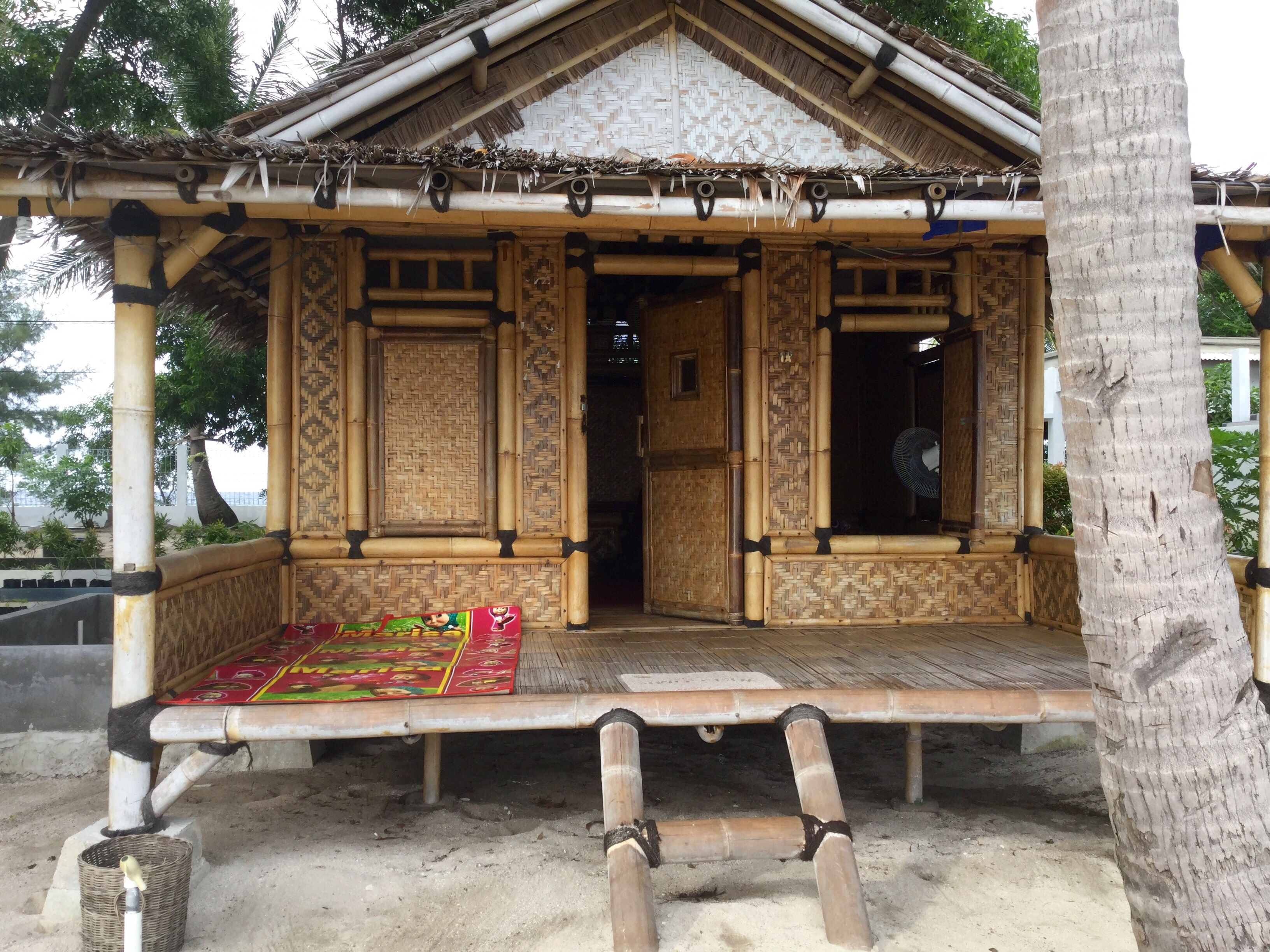 Tidung Besar is a funny island because it is 5km long but only 200m wide. You can see both sides of the island and almost all times. Renting bikes, motorbikes, and water equipment is a popular way to get around.
If you trek to the west end of the islands, through the colourful streets, you will find a nice little beach spot called Sauvg. It has soft sand and swings overlooking the water. It's a nice spot to take a coconut break and just watch the ocean.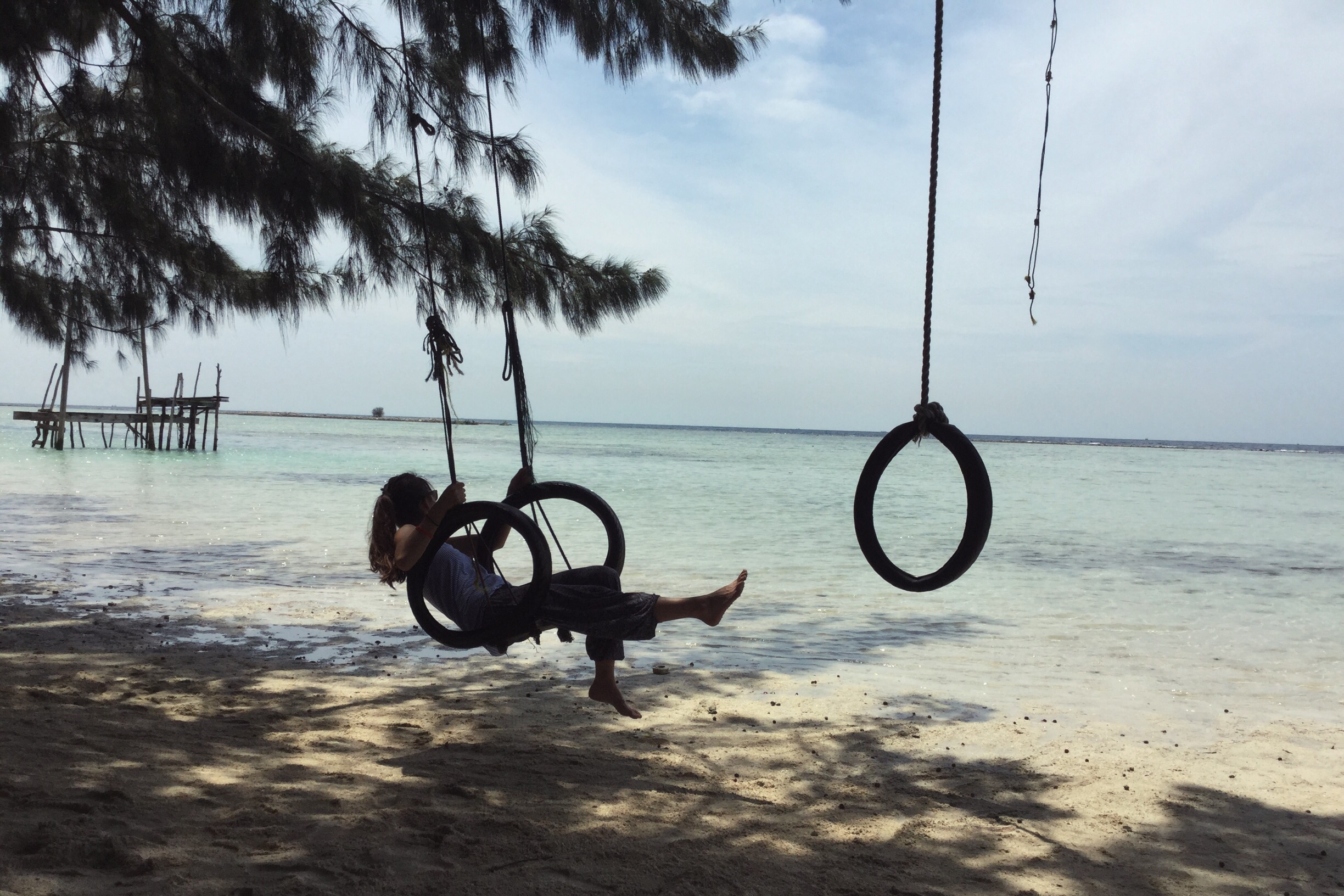 And finally at the most west end there is a spot that is used for watching the sunset. Most people get there by motor bike but we walked the whole way, misjudging how long the island actually is. It can be done but I'd suggest don't trek in the middle of the day when the sun is at its hottest.
Heading back to our home stay, we walked through a more local neighbourhood of the island. About 4000 people live on this island and there are many children. Most of the children stopped and said hi to Matti amazed to see a white guy on the island.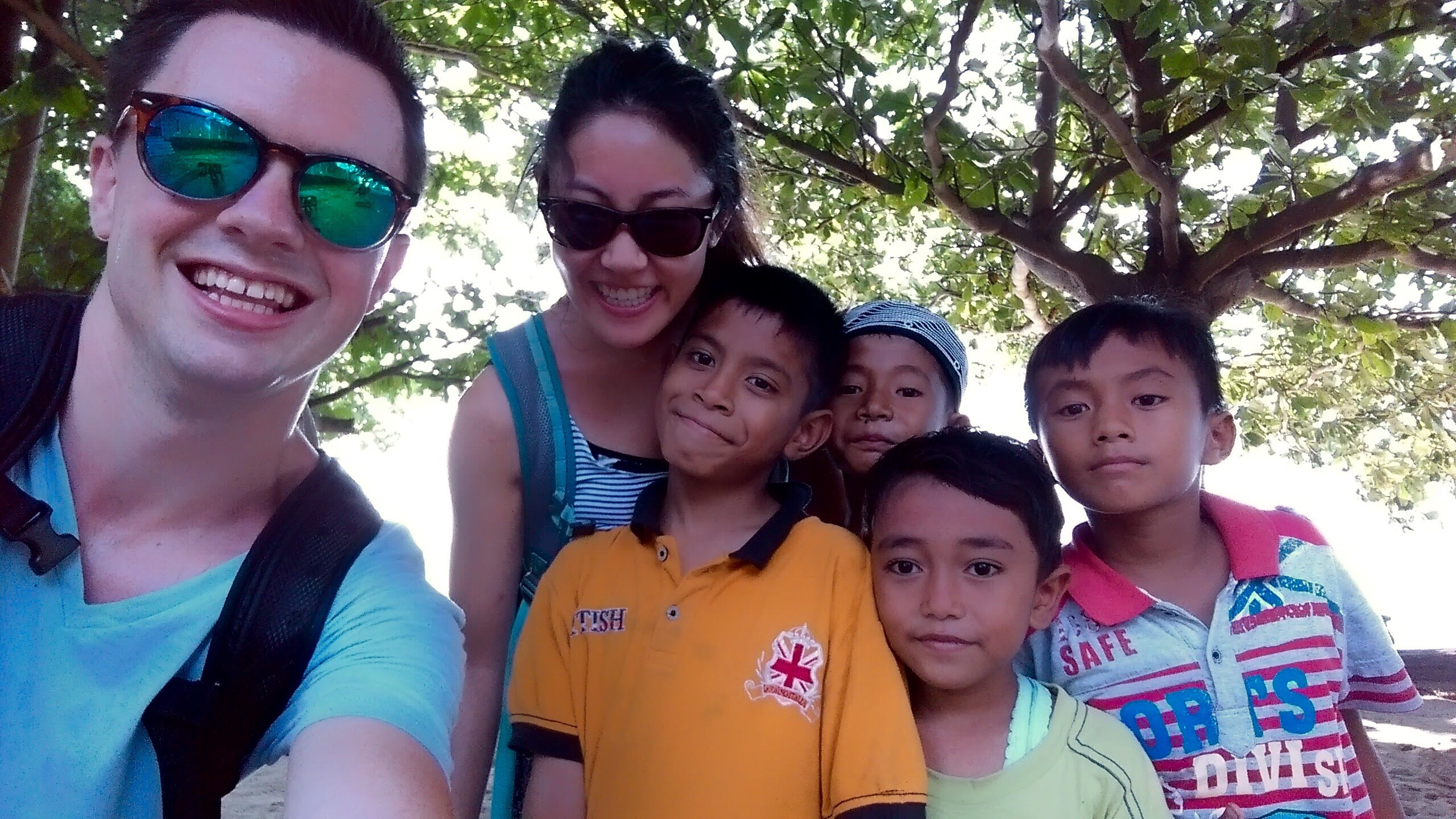 We ran into a group of boys playing by launching each other into the air with a tree branch. They were adorable and they're game looked like so much fun and so dangerous at the same time. 

To head back to Jakarta we caught a boat at around 8am for 40.000 IRD ($4.00 CAD) per person. Honestly I have no idea what the boat schedule is because we get told different things by different people all the time. Just head to the harbour at a decent time and you'll get on a boat. I think there is another boat at 12pm and one at 3pm going back to Jakarta.
So this happened: Our boat broke down in the middle of the ocean. There were four guys in the water trying to fix the motor… And Matti was fishing with locals off the side of the boat. Matti lend his swimming goggles to the guys trying to fix the boat. Apparently it was the propeller that broke. A 2 hour ride turned into 4. So keep your schedule open because who knows how long the ride will take.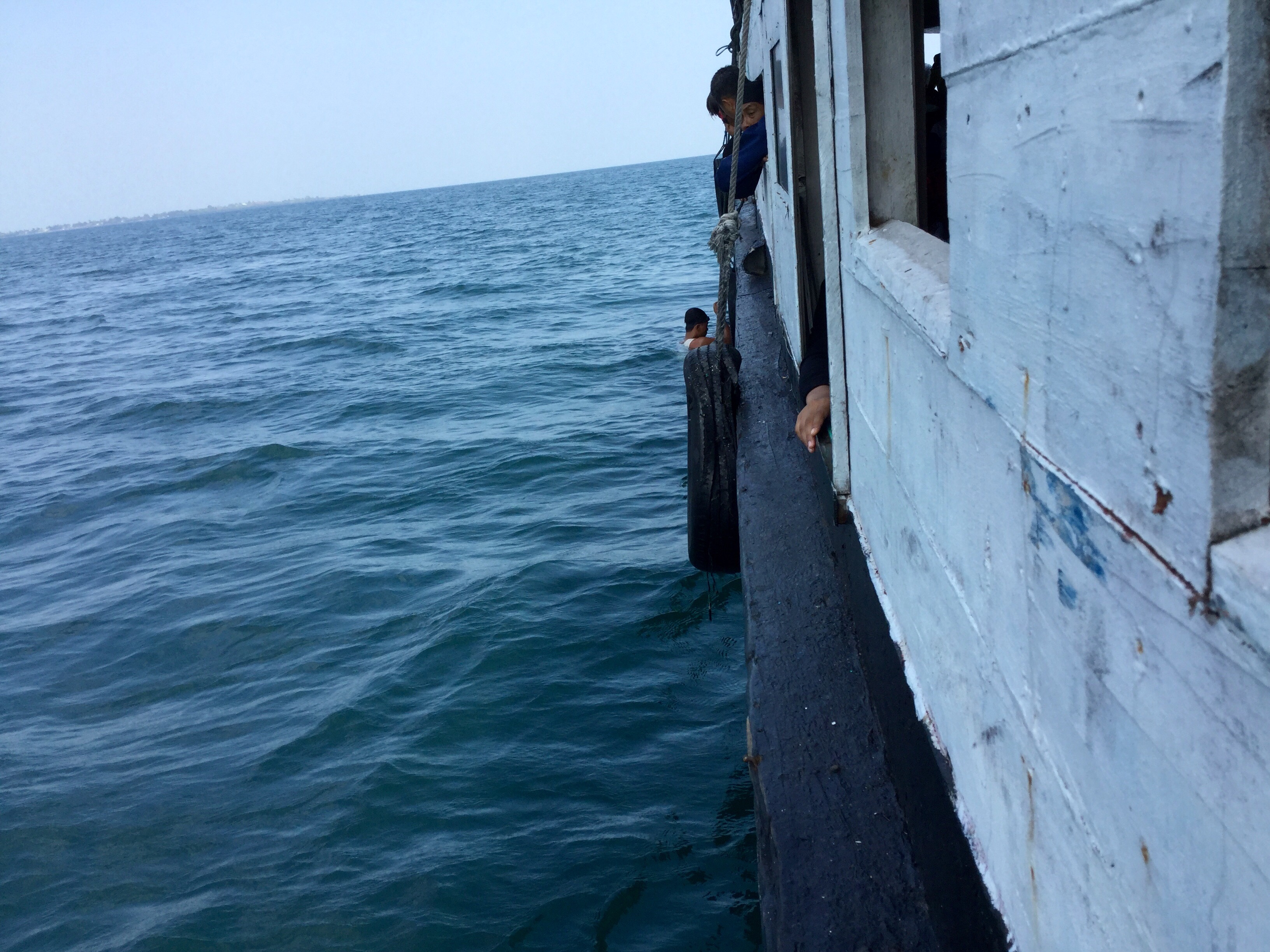 Island Tips: make sure you bring enough money with you to the island because when we went their ATM was out of money so we had to budget well and make sure we had enough to get back to the city. But don't worry, no gourmet food on the island. I think everyone eats instant noodles all the time.
Has any one have other experiences on any other of the Thousand Islands? We'd love to hear!