Oh Munich, you have pulled at our heart strings and captured our hearts. What an easy place to love! We had to make the detour to come to Oktoberest, and fell in love with Munich we did. There are plenty of things to do. If you have limited time here is a good place to start!
1. Have a beer with dinner at Hofbräuhaus.
Probably one of the most famous / touristy breweries of Munich, it's pretty much mandatory to give it a visit. All the tour books will point you straight here. It is well known as a spot that Hitler often gave eloquent speeches to hoards of crowds. Grab any open spot you find along the long benches and you'll be sure to meet people from all around the world here.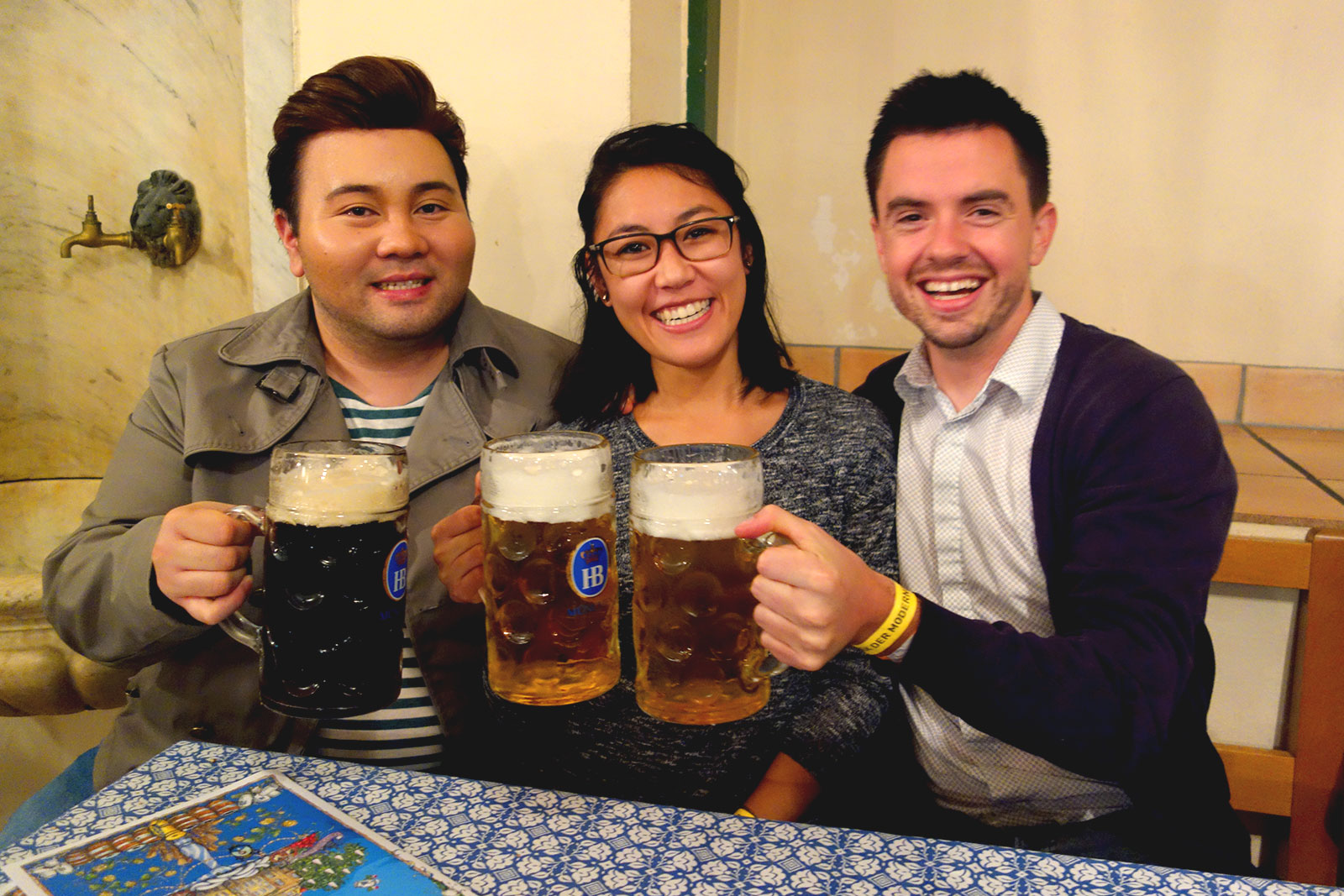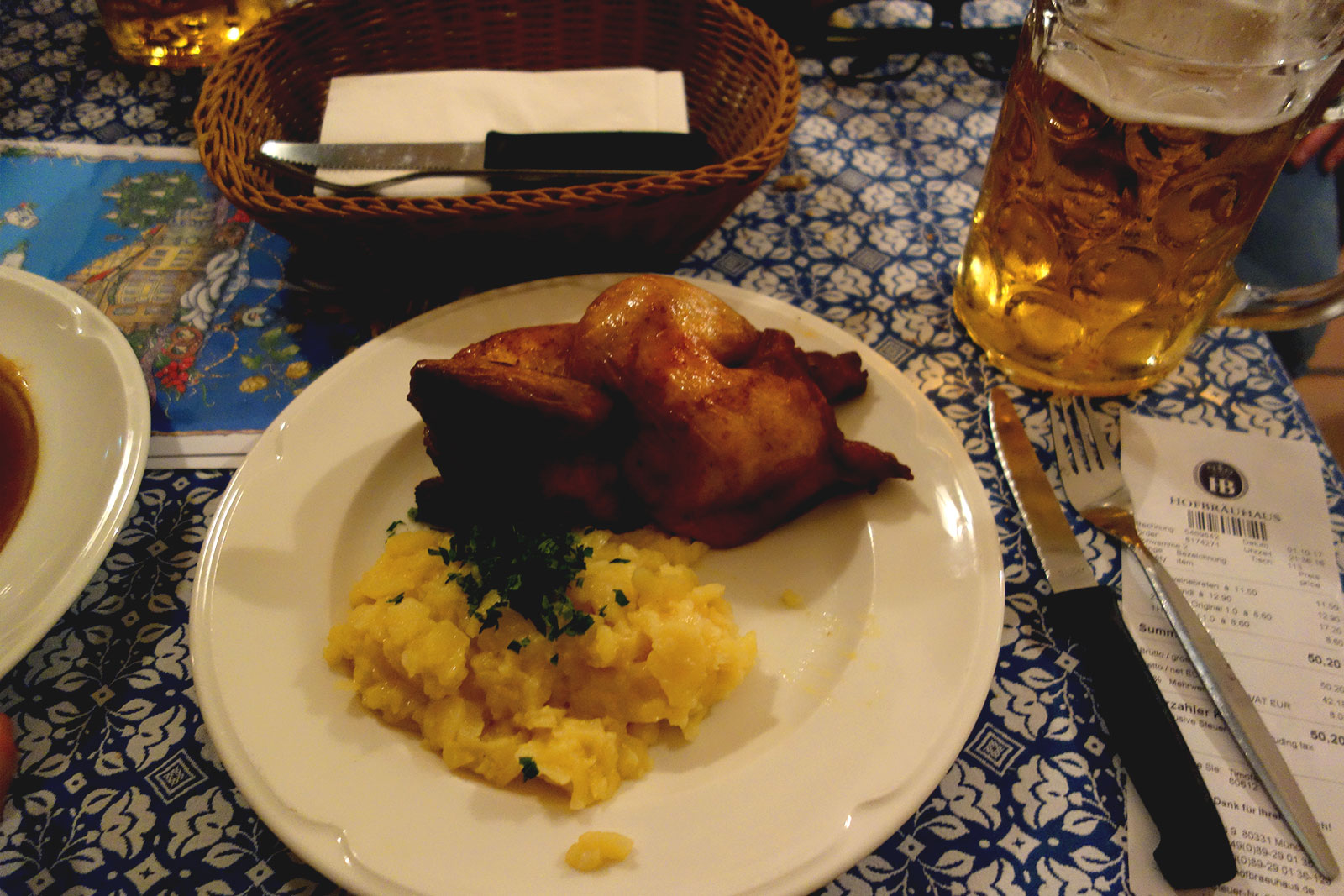 We had dinner with our awesome couch surfing host Jesse, and made friends from some drunk Irish dudes in the process.
2. Do a walking tour.
Once you're bright and refreshed (unlike us, hauling our bags around from just getting off the plane), a good place to start when you arrive in a new city is to do a walking tour. It's so much better than a bus tour, it's just more intimate in the fact that you have to take it slow and think about where you're going. You also usually have a great guide that shares the ins and outs of a city.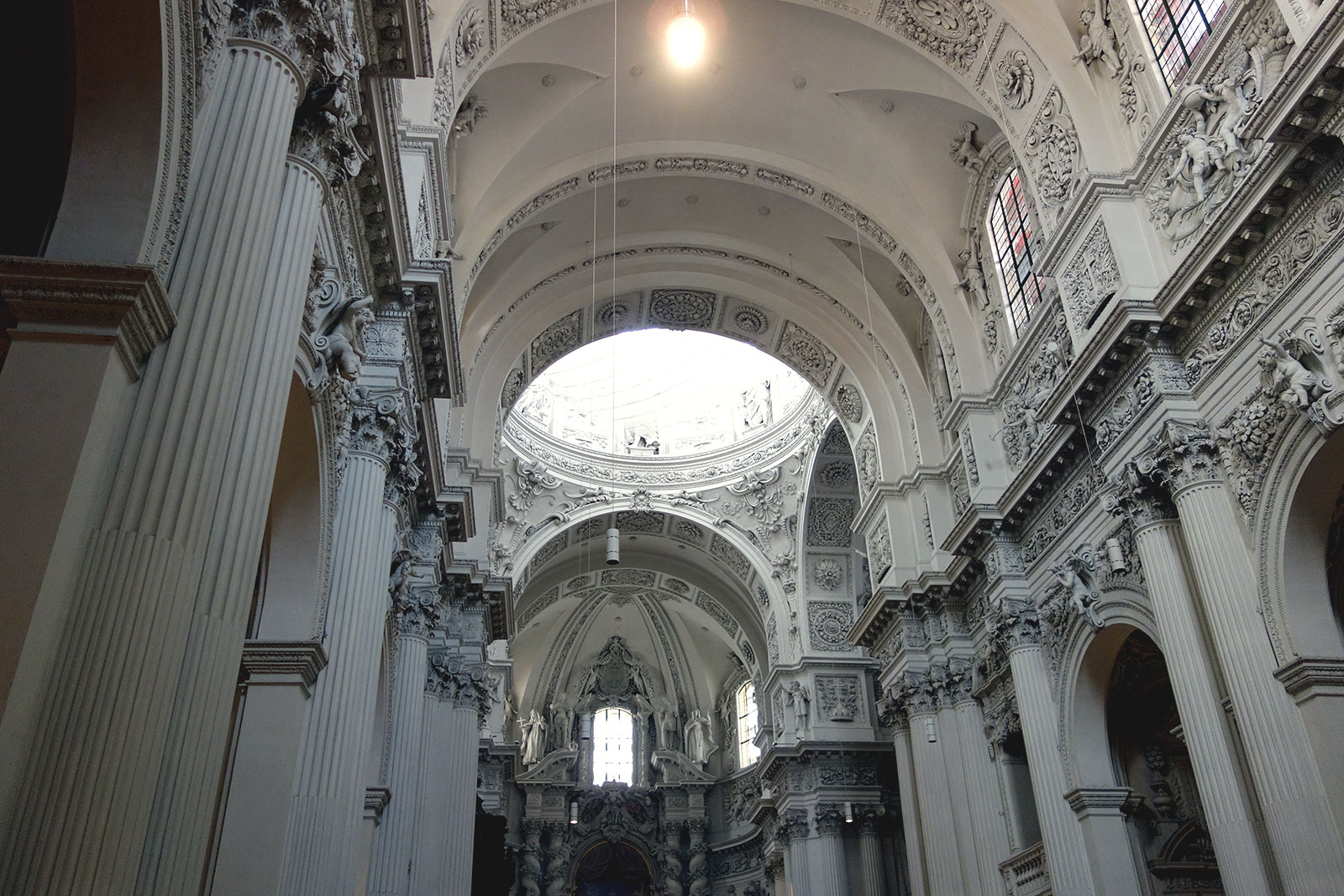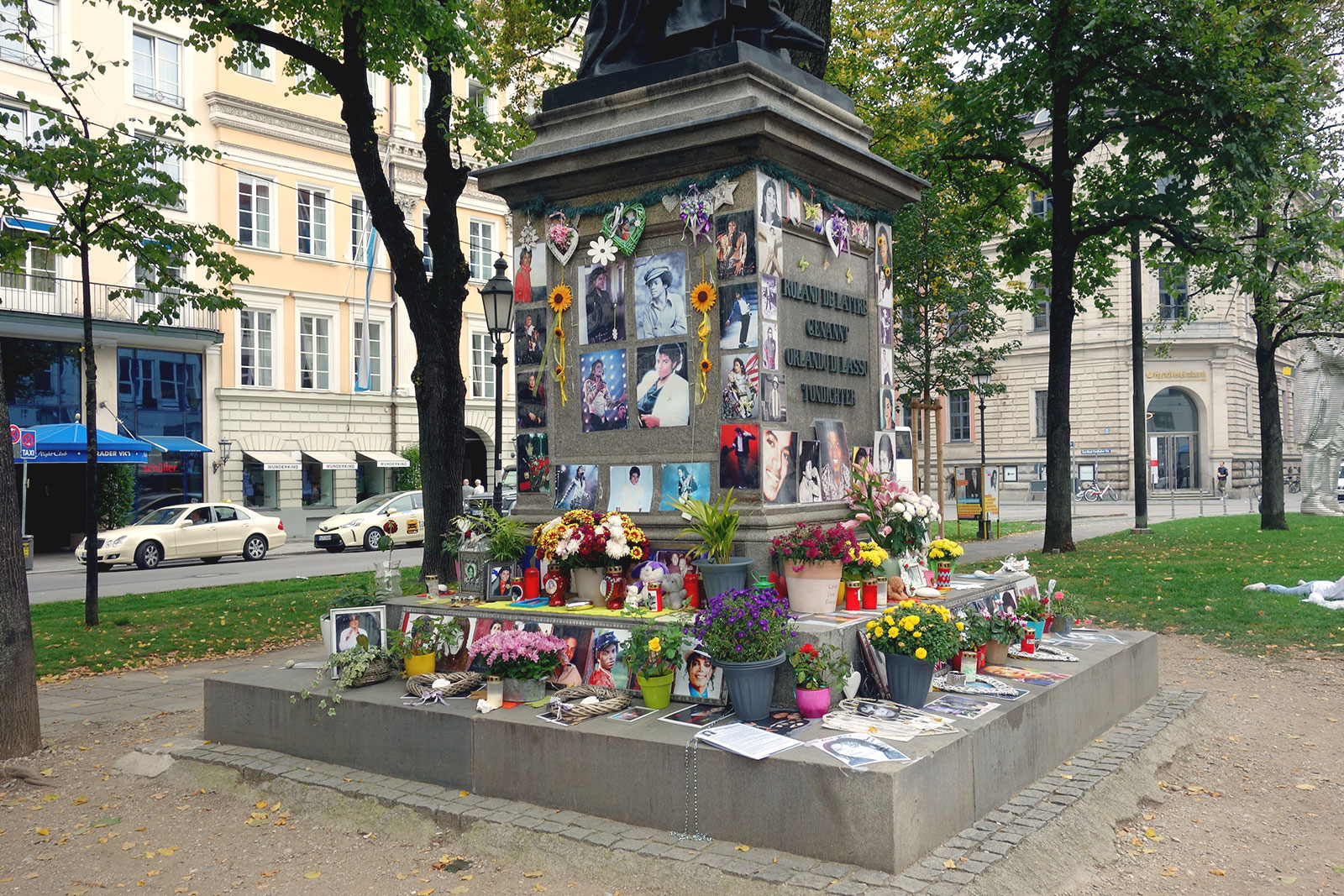 We started in the main Marienplatz and just went to the tourist office and booked a 10 euro ($15.50 CAD) / person tour. It was about 2 hours and we got a good lay of the land, and knew what we were dealing with for the next few days.
3. Pay slight attention to the Glockenspiel show.
Okay, let's get real here for a second. The glockenspiel chimes 3 times a day, once at 11am, noon, and 5pm. The tour lady said to see the show, the guide books probably say to. So I mean, it's probably a grand show right?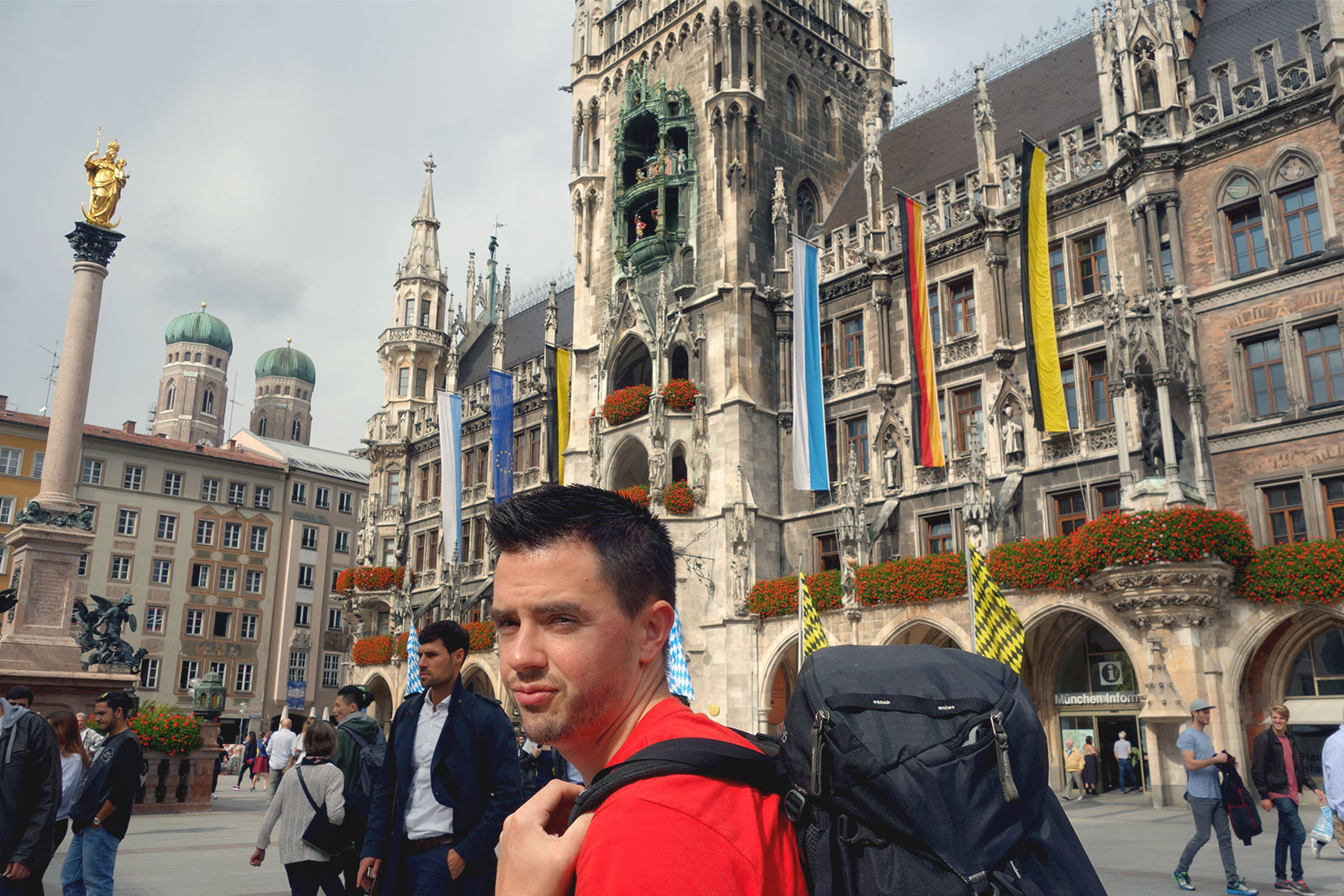 Well… no, not really. We happened to be near by around a showtime. All the tourists stop and gather, phones out, ready to record the entire thing to show their families when they got home. Bells start ringing, keep ringing, it sounds pretty nice. One minute goes on, two, three, people get bored, phones go back into pockets. Barely any of the tourists have stayed to watch the entire ~10 minute show. It is extremely anti-climactic. There, I said it.
4. Watch the surfers ride some mad waves.
Now did you know that you can go surfing in land-locked Germany?! Neither did I. But it's wicked.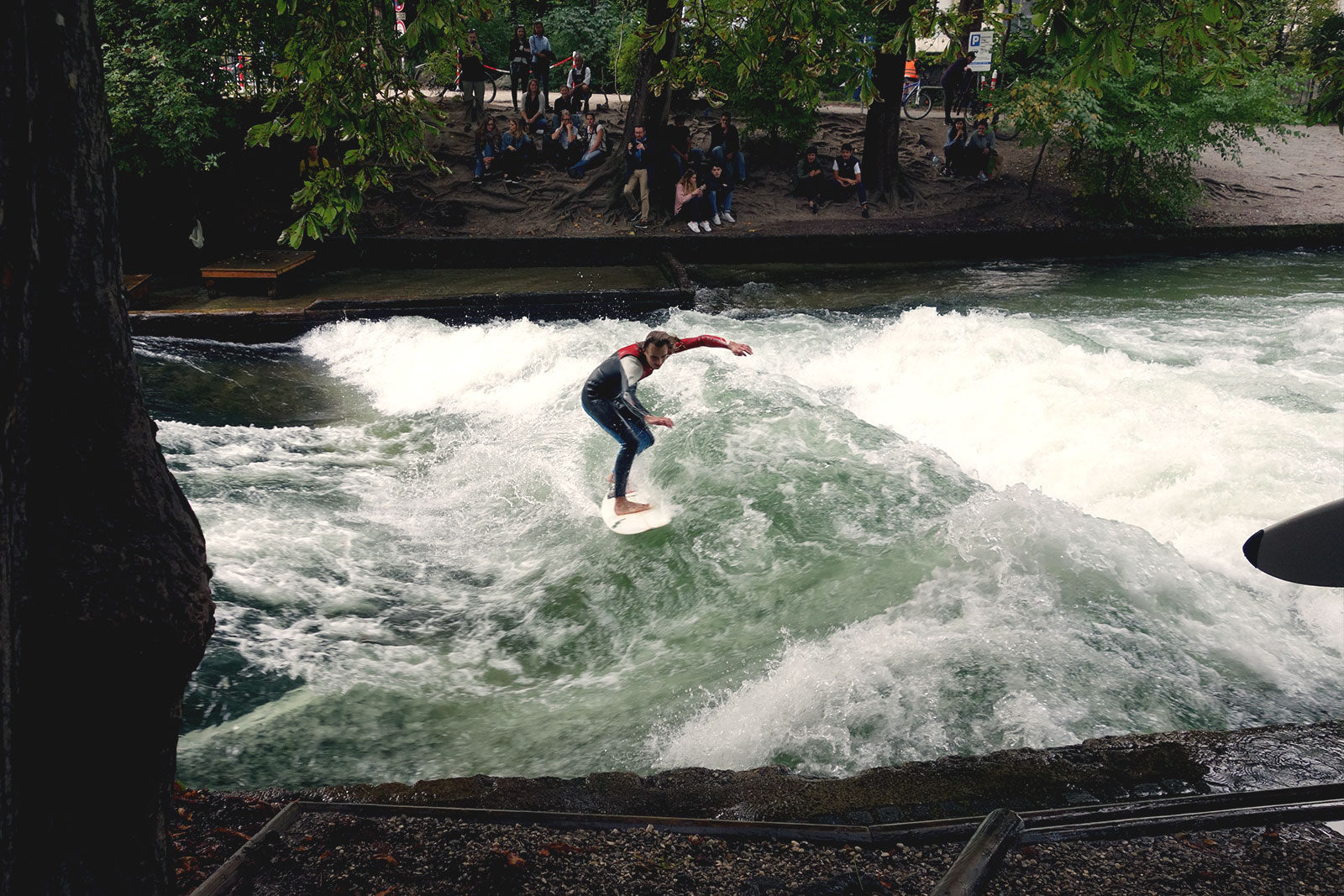 The Isar river runs just beside the center of the city and was diverted, back in the day, to create a manmade river called the Eisbach than runs through the English Gardens. One section of the river held very strong currents that some engineers hacked to create a continuous wave that is surfed year-round. Cool right?
5. Peruse the Modern Art Museum (Pinakothek der Moderne).
Pro tip right here, listen up! All state museums are just 1 euro ($1.50 CAD) every Sunday. We took advantage of this and visited the Modern Art Museum.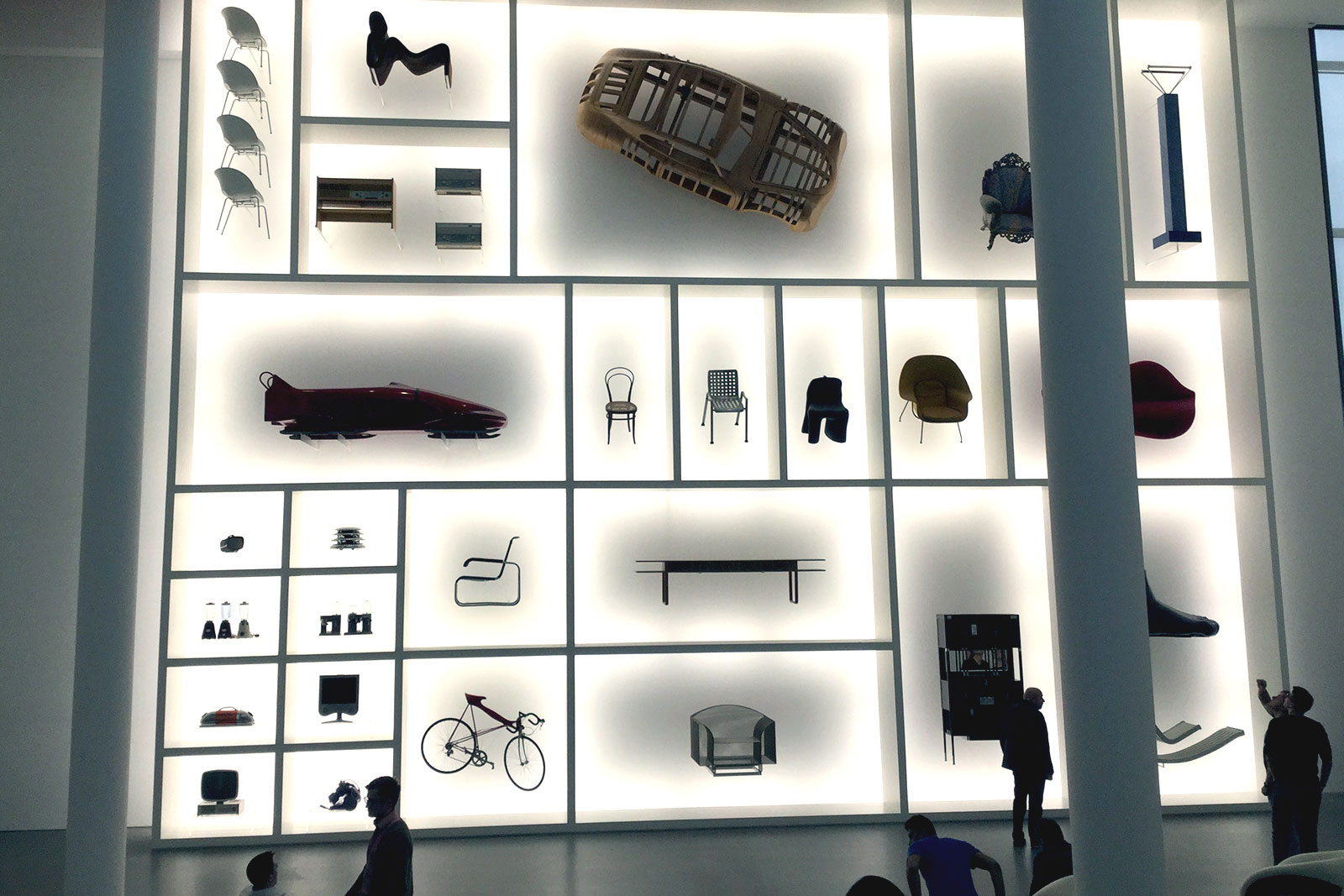 It's a real beautiful building with all sort of modern art, design, and architecture pieces. When we were there there was an amazing temporary exhibit on temporary urban spaces like the famous Munich Oktoberfest and how we design temporary spaces.
6. Have a burger at Hamburgerei.
If you're looking for a hardy lunch on your museum day, try the Hamburgerei. We stumbled upon this cute place and would recommend if you're craving some good ol' American fast food.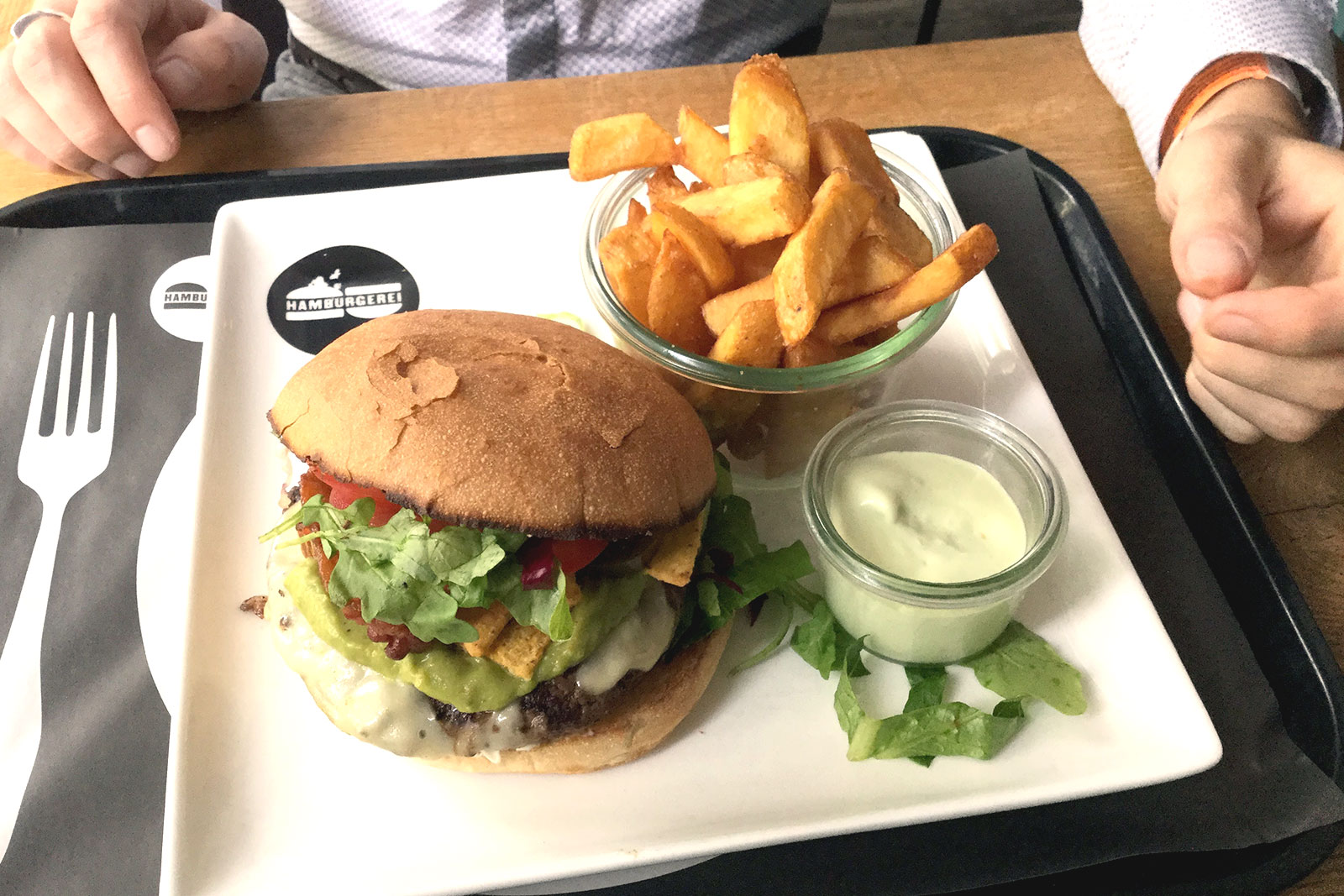 7. Educate yo self at the Munich Documentation Museum (NS-Dokumentationszentrum).
Well we since we made it all the way to Germany, we felt obligated to learn some of Germany's history. The Documentation Museum is definitely a good place for that. It focuses on Germany during the wars and the effects of the Nazi reign. So if you skipped history class (like I did), this is a solid visit. Your 5 euro ($7.75 CAD) ticket includes the audio guide. This 4 floor museum will take a solid chunk of time, so I'd allow at least 2-3 hours to listen to the entire guide. We got booted out close to the end because they were closing. We didn't expect it to be so thorough, no complains!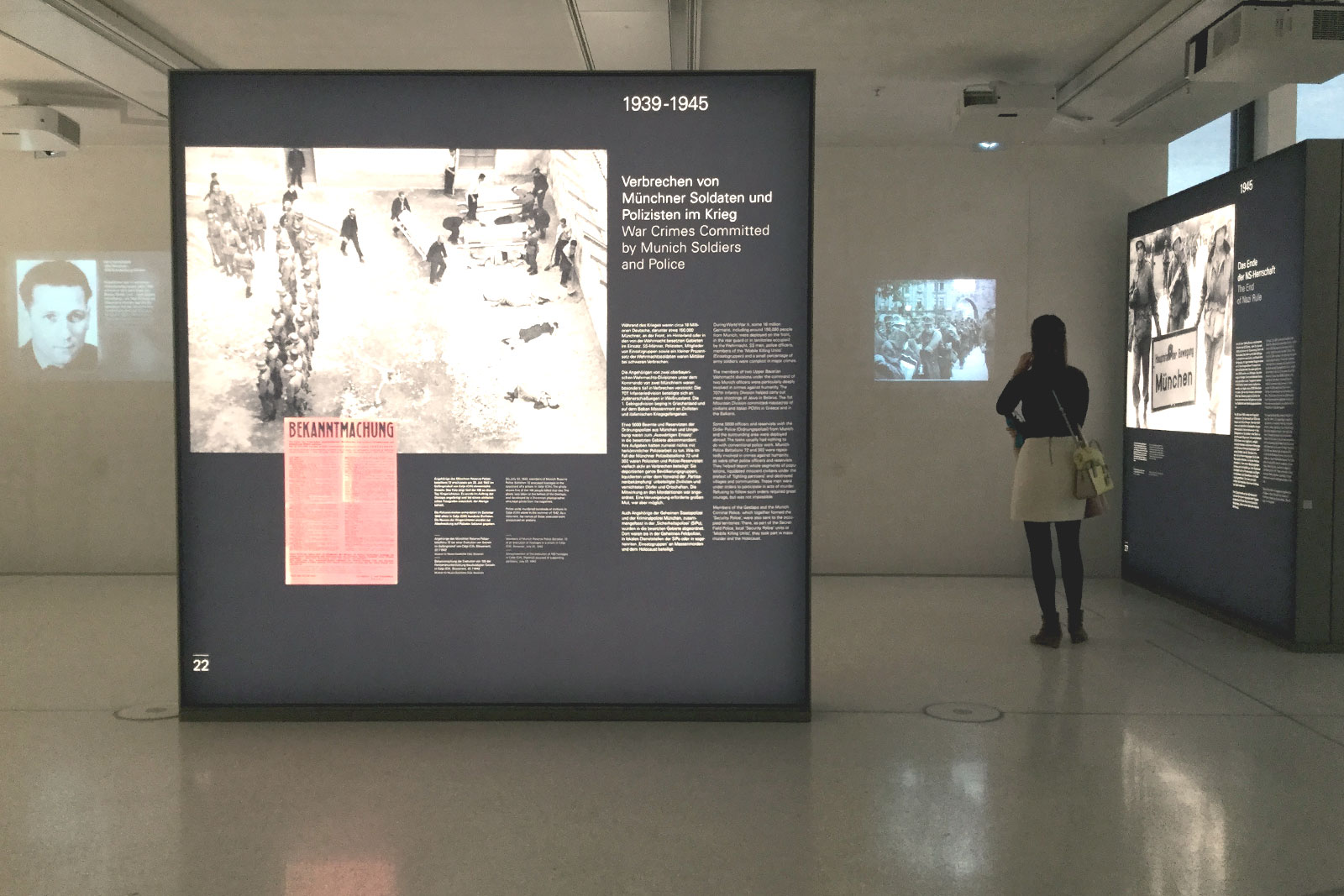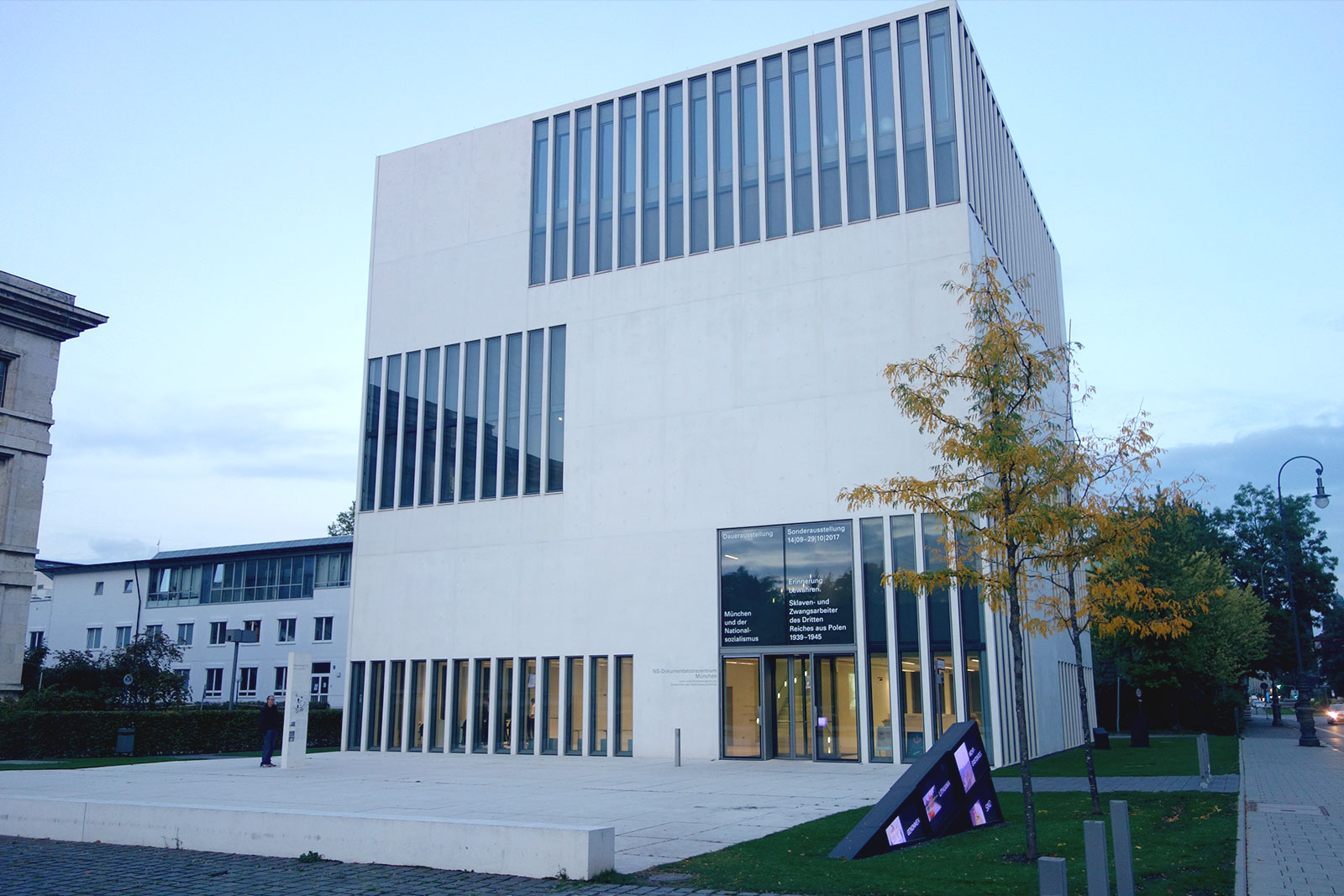 8. Eat at the Schneider Bräuhaus.
Tired and hungry after a long day, we just chose a busy looking restaurant along the main strip. Clearly we made a good choice! The Schneider Brauhaus has solid beer (brauhaus means brew house) and really awesome food. We shared a meat platter with all sorts of sausages and meats which we didn't question, just accepted it and devoured.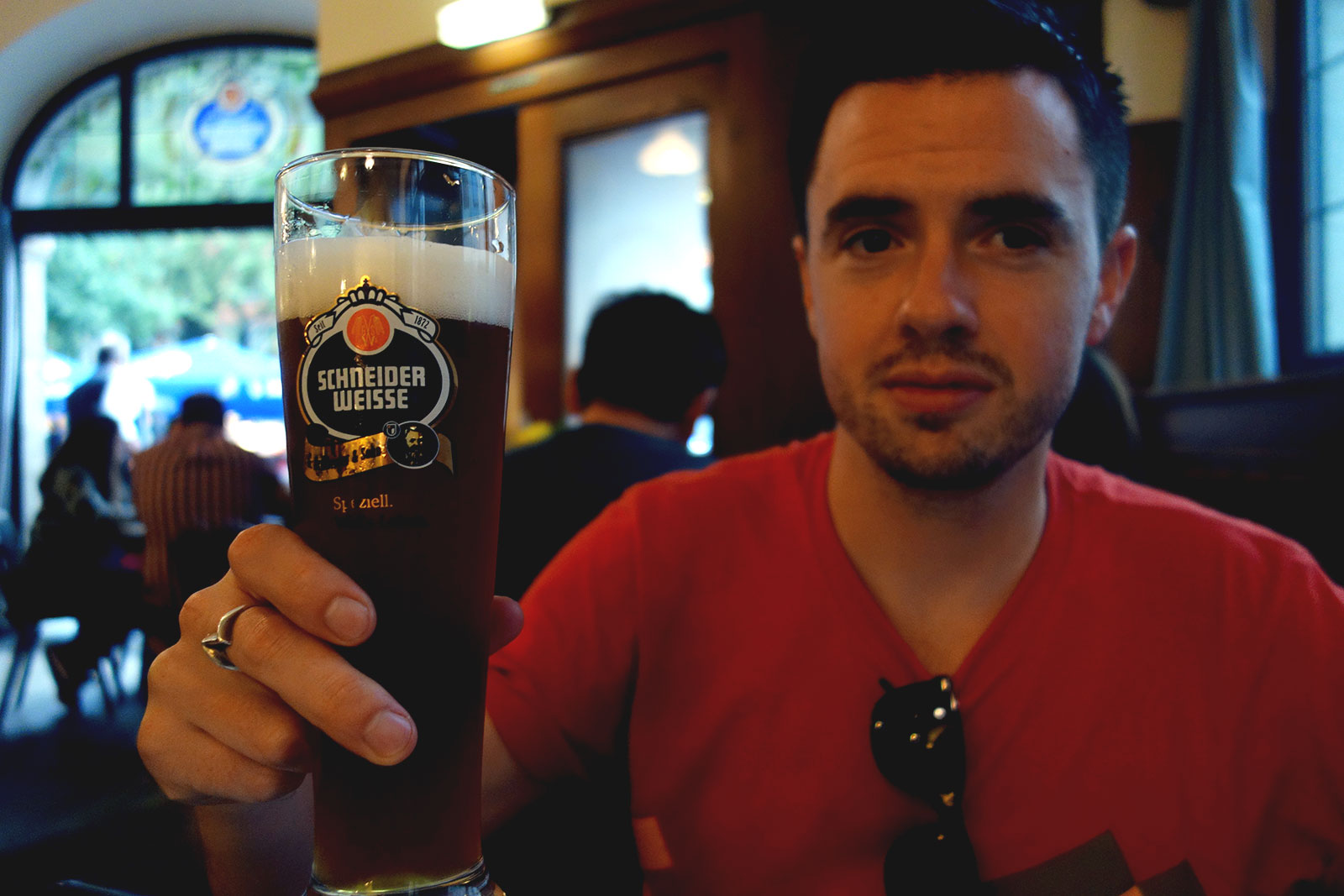 We also met an awesome American couple that had said the restaurant was recommended to them and they loved it! They shared some insider tips with on on Oktoberfest as they shovelled apple strudel in their mouths.
9. Swing by the morning market at Viktualienmarkt.
Just behind Marienplatz is a great outdoor market for pork sandwiches and breakfast beers. It's one of the city's big tourist attractions, but it is just so lovely, you can't really go wrong with an outdoor food market, and did I mention cheap breakfast beers? We made our way around 9am when they were just opening up business for the day. We wandered the stalls with some great coffees in hand.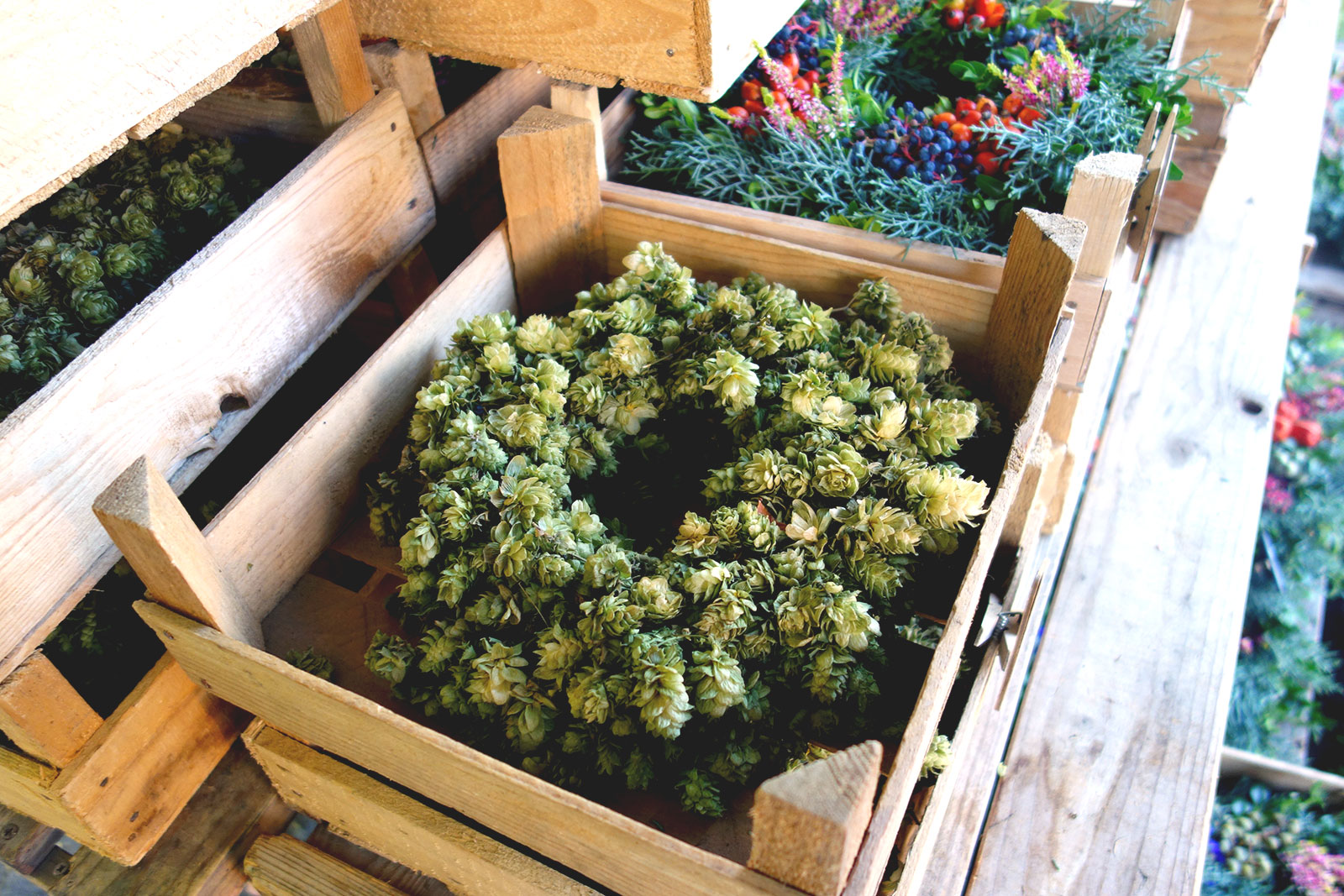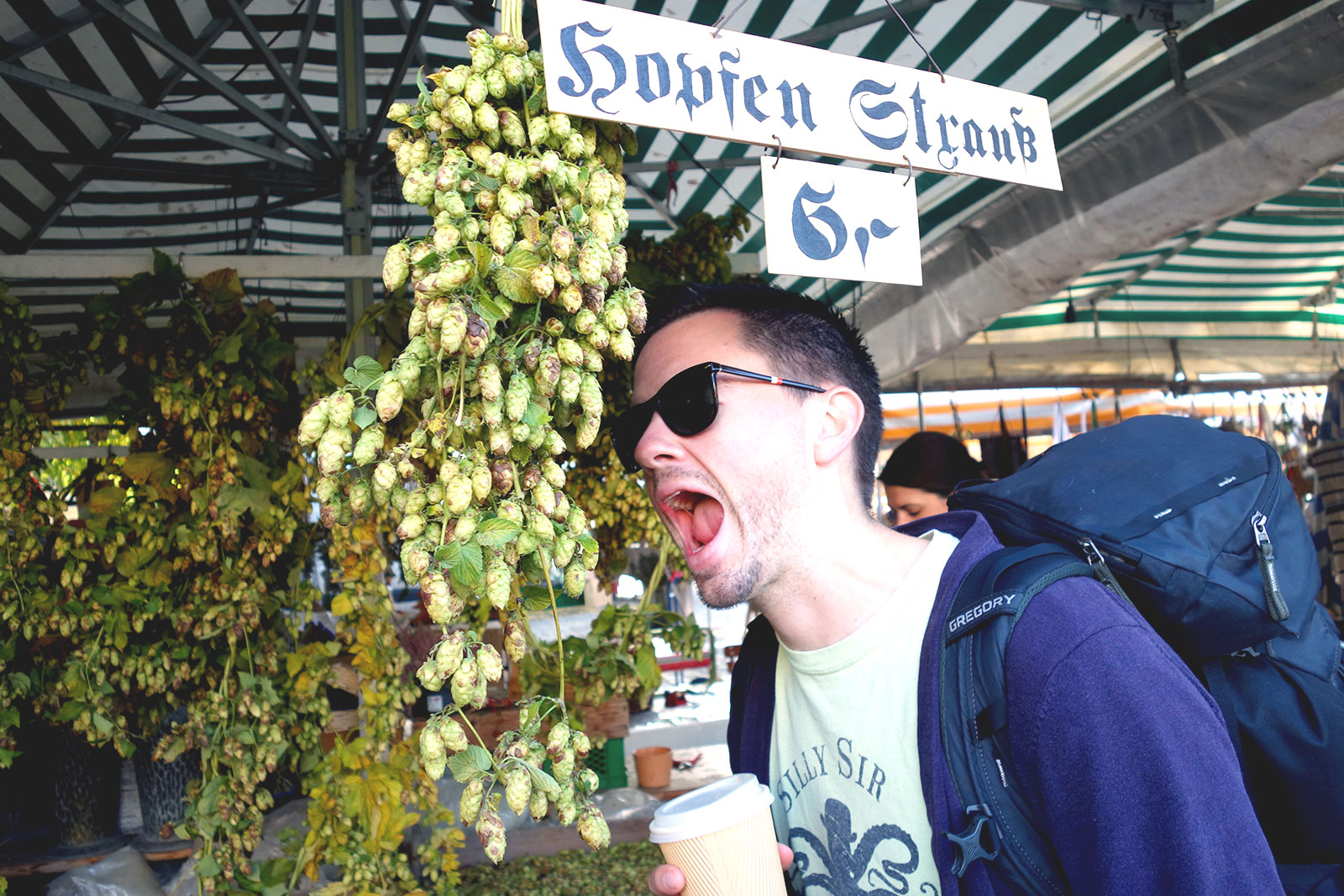 A life changing moment is when we ate this innocent looking pork sandwich on a kaiser bun. It was about 50% pork, 50% fried pork skin. And at that very moment I knew that I had made the right decision to give up being a vegetarian.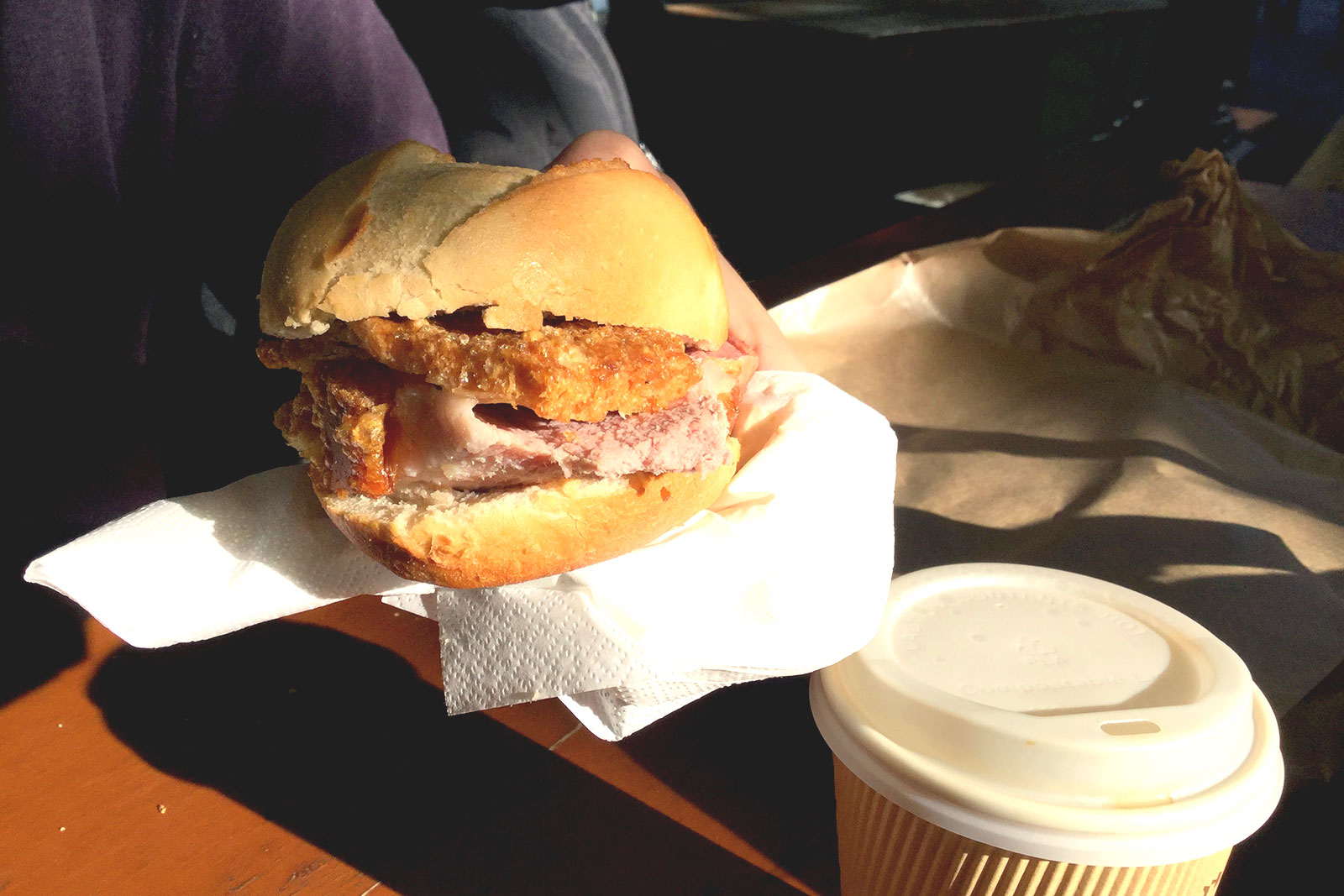 10. Do a brewery tour of Weihenstaphan, the world's oldest brewery.
Weihenstaph is the oldest brewery in the world that is still up and running! The brewery dates back to the year 725 and his brewery on the hill began as a Monastery Brewery. So it was obvious that we had to go!
We actually ended up there twice. The brewery is not too far from Munich's airport, so we went straight there after getting off the plane at 9am. We found out on our first visit that you must book a tour ahead of time. There are set tour times and days and each tour accommodates about 20-30 people. So we booked a tour for a few days later (11 euro ($16.95 CAD) / person) and decided we must come back! You can also book on the phone or by email.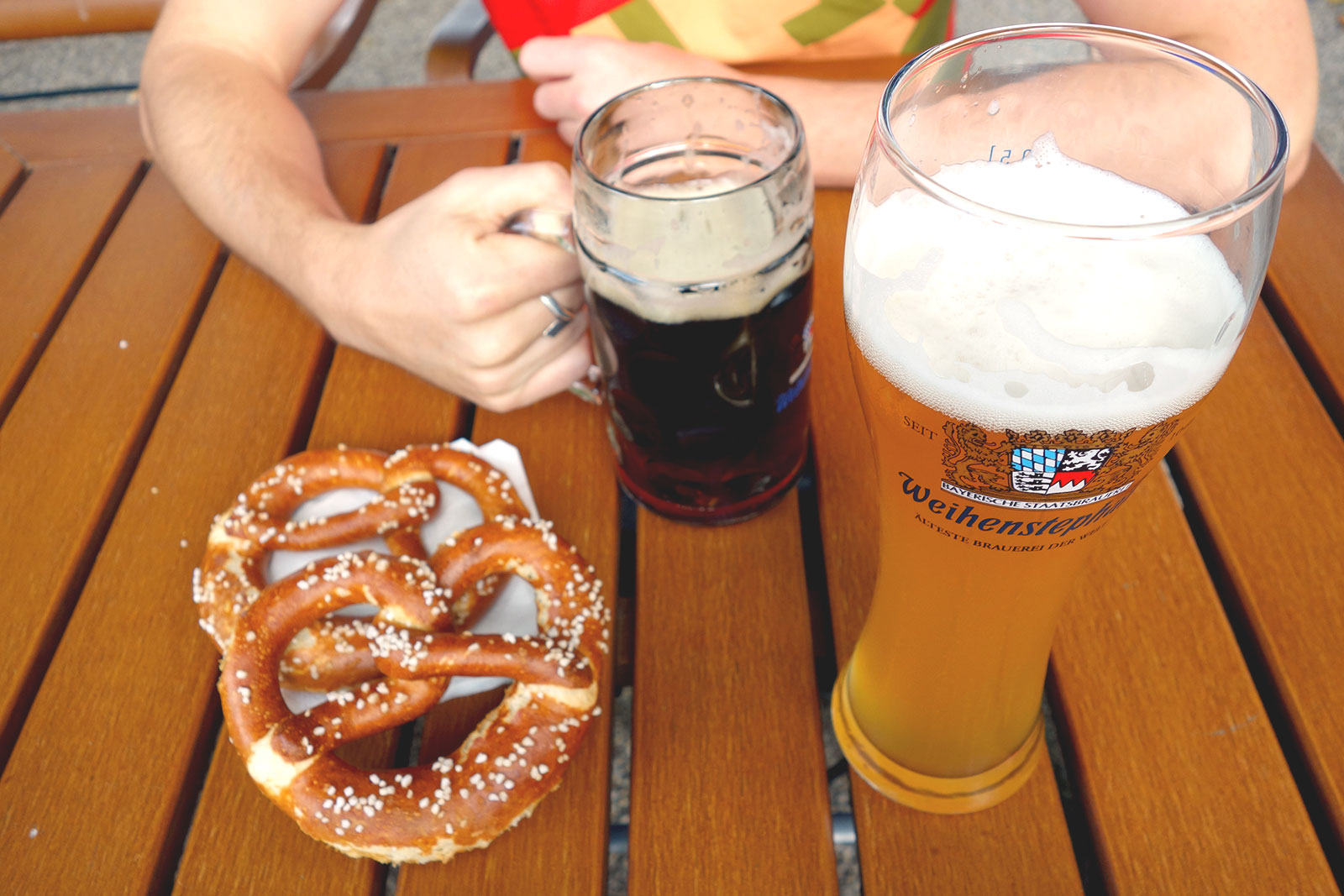 No worries if you end up in a situation like ours. You can still have a morning beer and pretzel at the Weihenstaphan restaurant.
The day of the tour finally came and we took the train from Munich up to Friesing. From the city center you will need a train ticket for 3 zones, and you can take the train all the way to Friesing. Friesing looks like a lovely small town, totally worth the wander if you have the time. We did a bit of wandering from the station to the brewery as we decided to walk instead of taking the bus. And it was an amazing decision! We loosely followed google maps, got frustrated at times, but in the end made found it to be a beautiful trek through walking paths and orange fall leaves. The brewery is at the top of a hill, so we even got a glimpse of the Alps!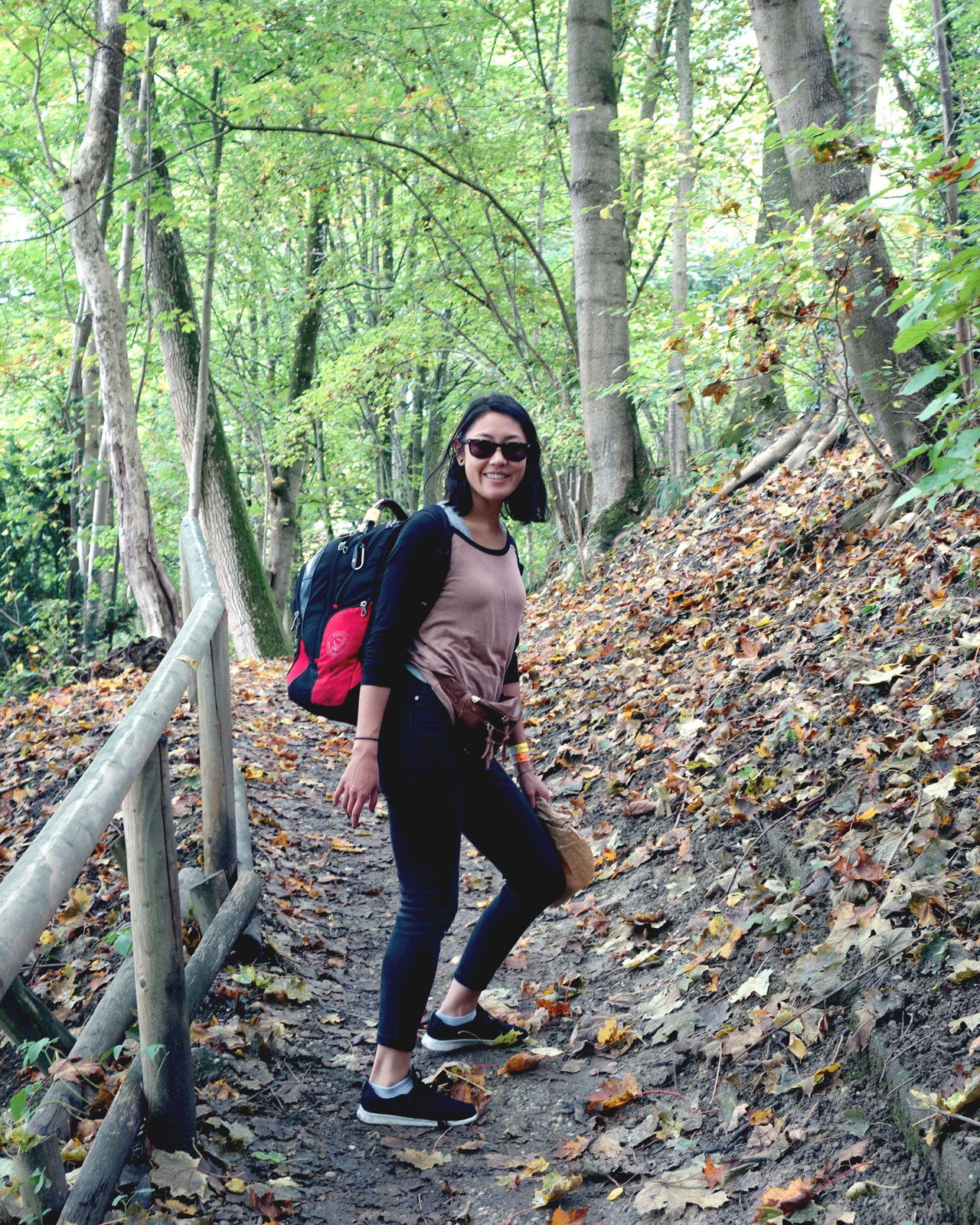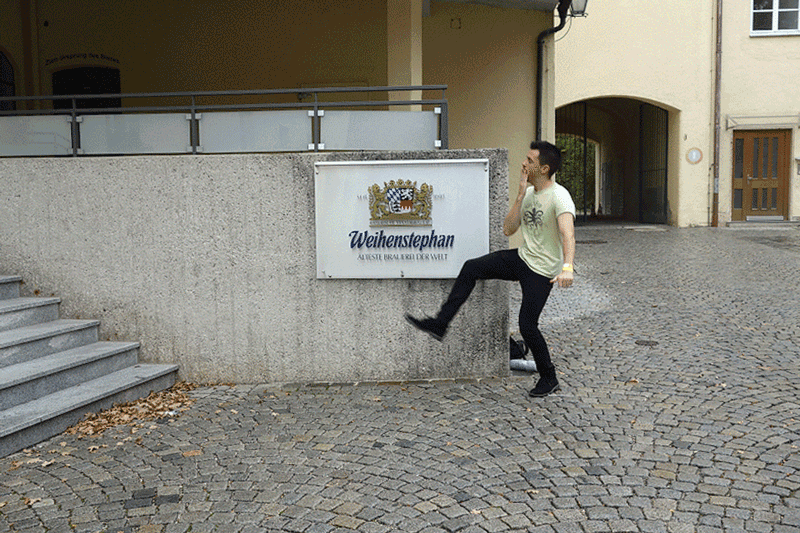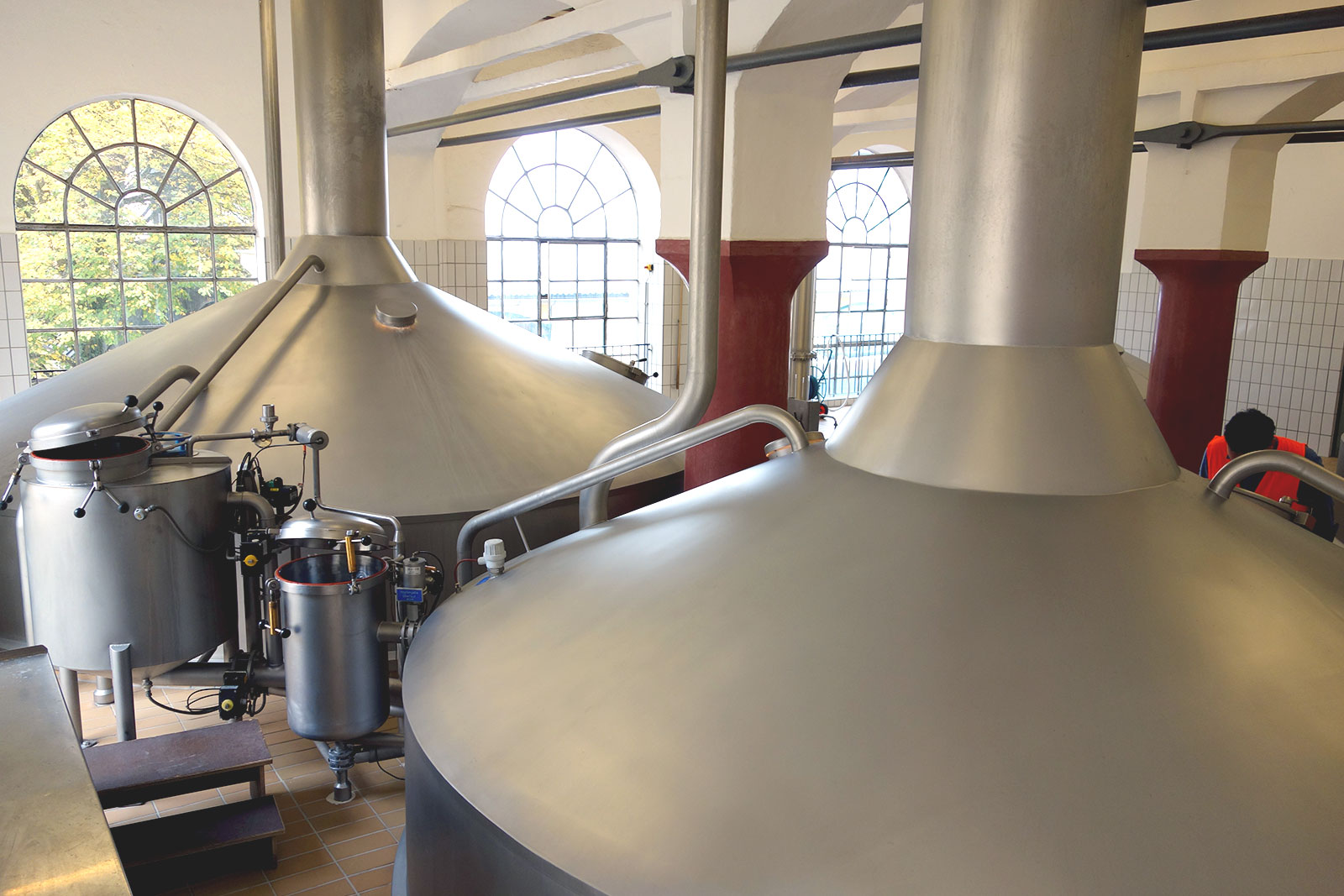 The tour starts in a private room where we are introduced to our guides, and to the history of the site. Then in two groups, a guide took us through the brewery, explaining the brewing process as we made our way. We start in the brew house, then make our way down the the 4 storey fermentors. Germany has their beer "purity" law, so it was really interest to learn the differences between how they brew compared to commercial breweries back home. We did our best to take mental notes, as we wanted to clone the famous Hefeweissbier recipe on a homebrew scale (and we successfully did and won gold). We made sure to ask a ton of really specific question, and they were super helpful, even drew a little graph of the step up done during the mash (for you beer nerds out there).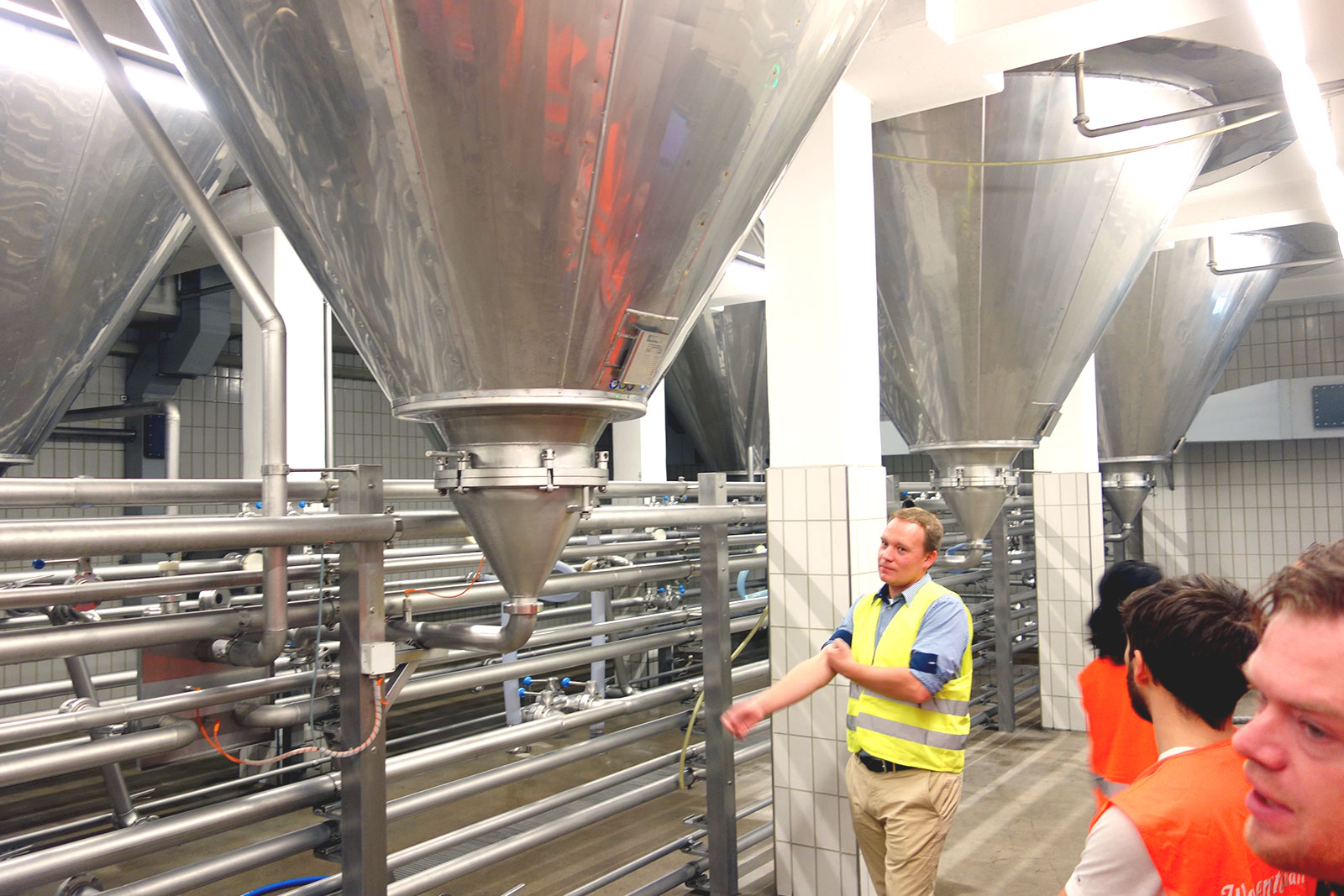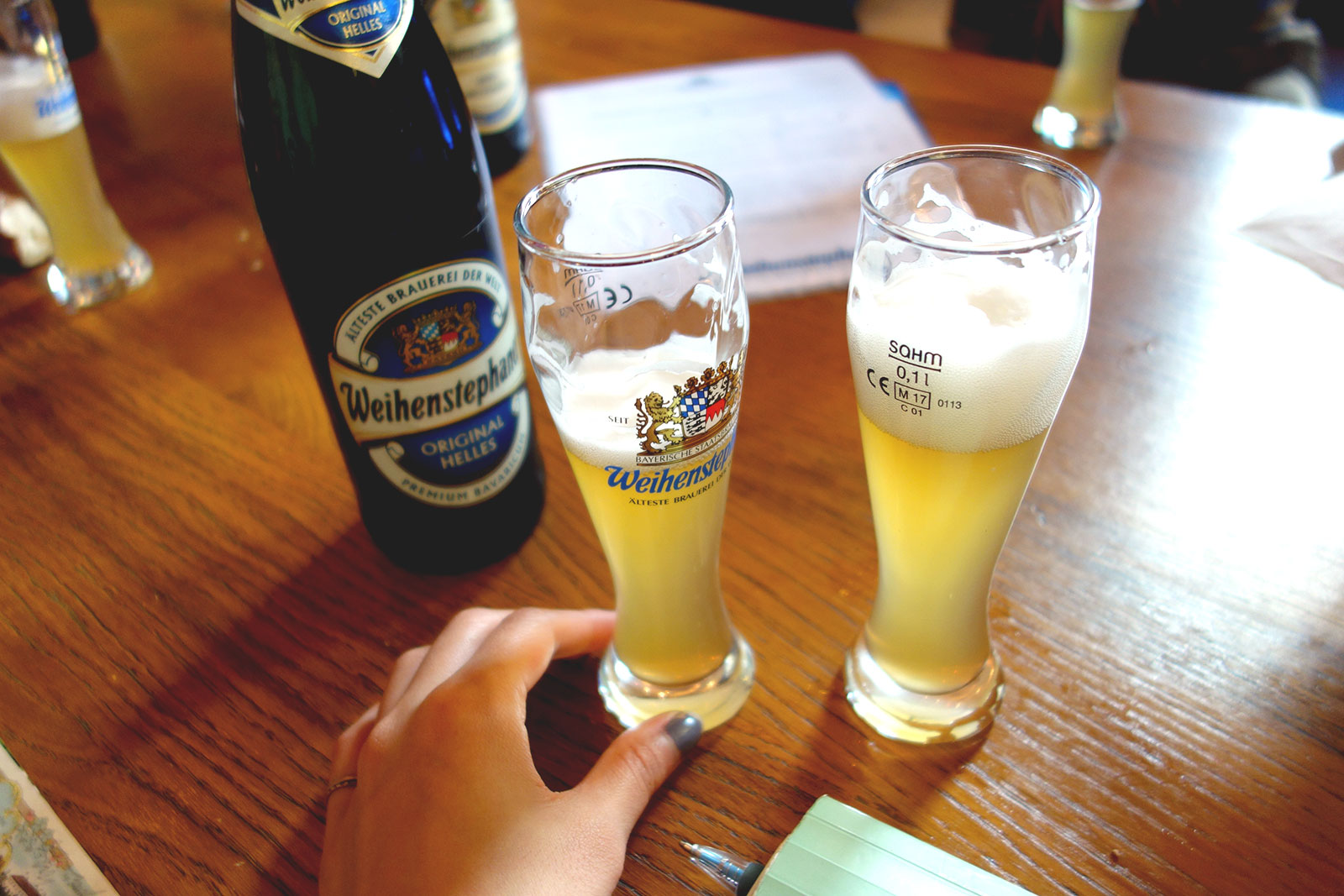 After the tour we were back in the tasting room where we sampled 4 of Weihenstaphan's brews and got cute teenie tasting glasses as souvenirs.
11. Celebrate the world famous Oktoberfest.
If you're visiting Munich in the first place, you're more than likely there for the world famous Oktoberfest. Which started as a royal wedding, Oktoberfest has been just become a solid 18 day festival of beer drinking, sausage eating, table dancing nonsensical time. It runs from the third week in September to the first week of October.
Really, this is a whole post in itself. Oh.. wait, it is! We do, in fact, have a backpacker'd guide to Oktobefest. How convenient.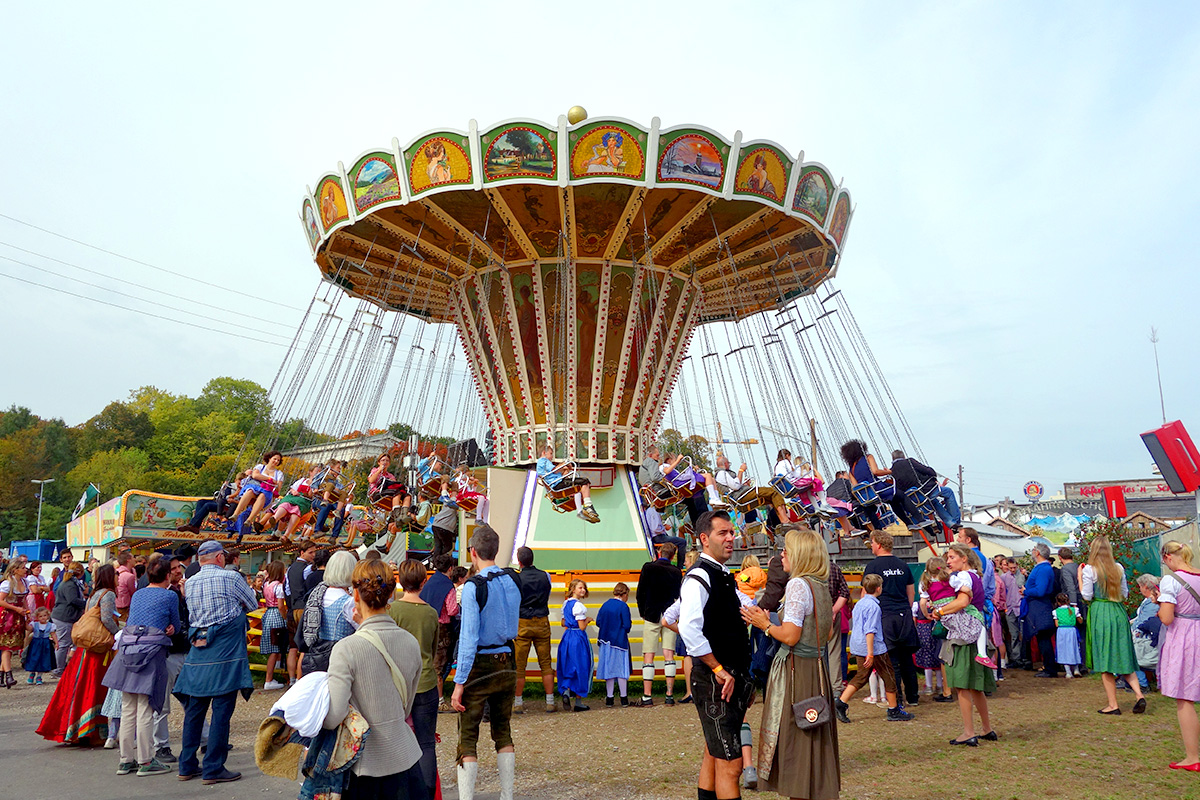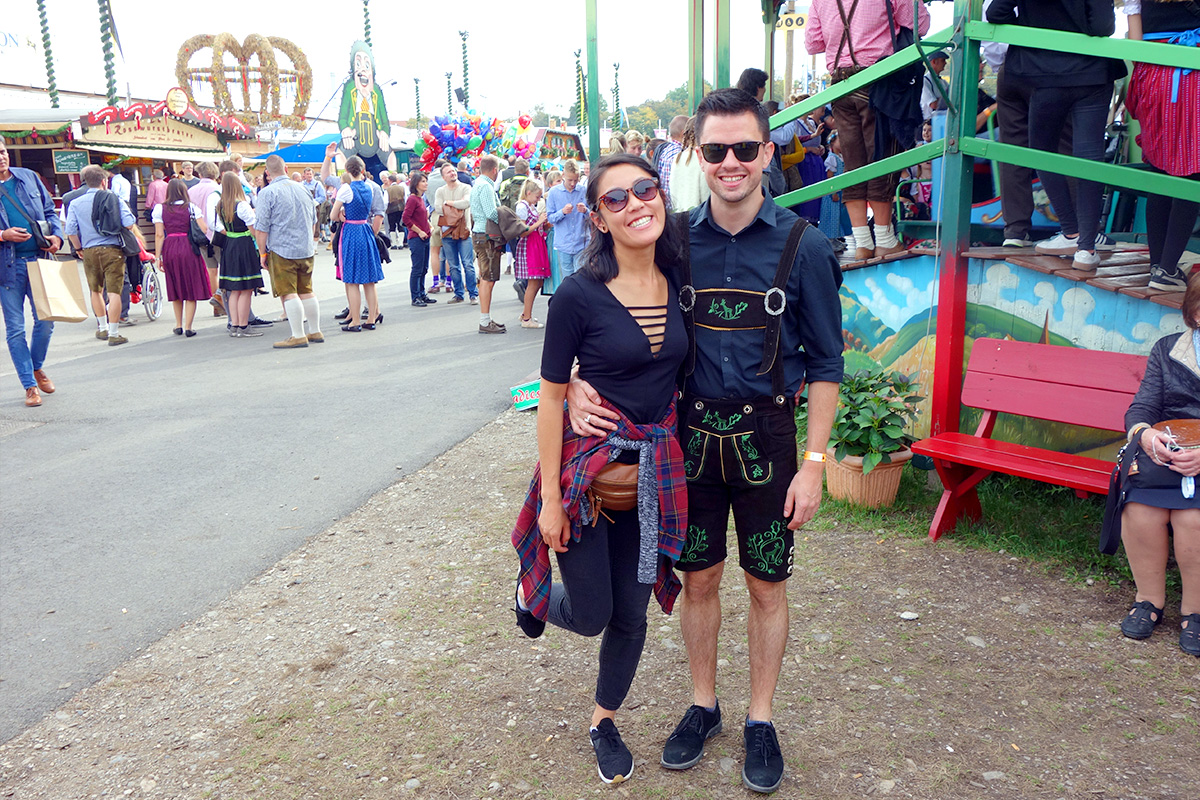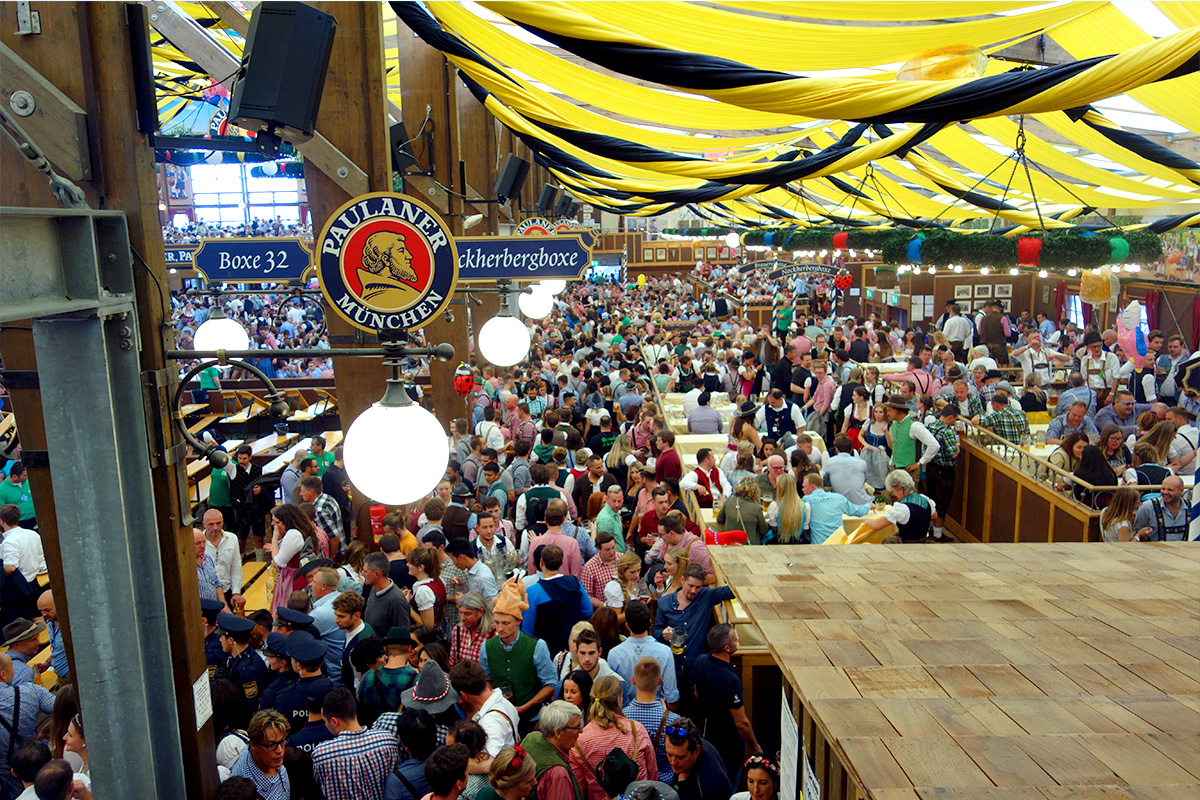 ---
Hope you too have an amazing time in Munich, as we did. Anything we missed? As always we love to hear from you!
Love it? Pin it!