The island of Penang, Malaysia has made a big mark on the backpacking radar, and for good reasons: there's amazing, cheap food and photo ops left right centre. What more could a backpacker or travel blogger ask for?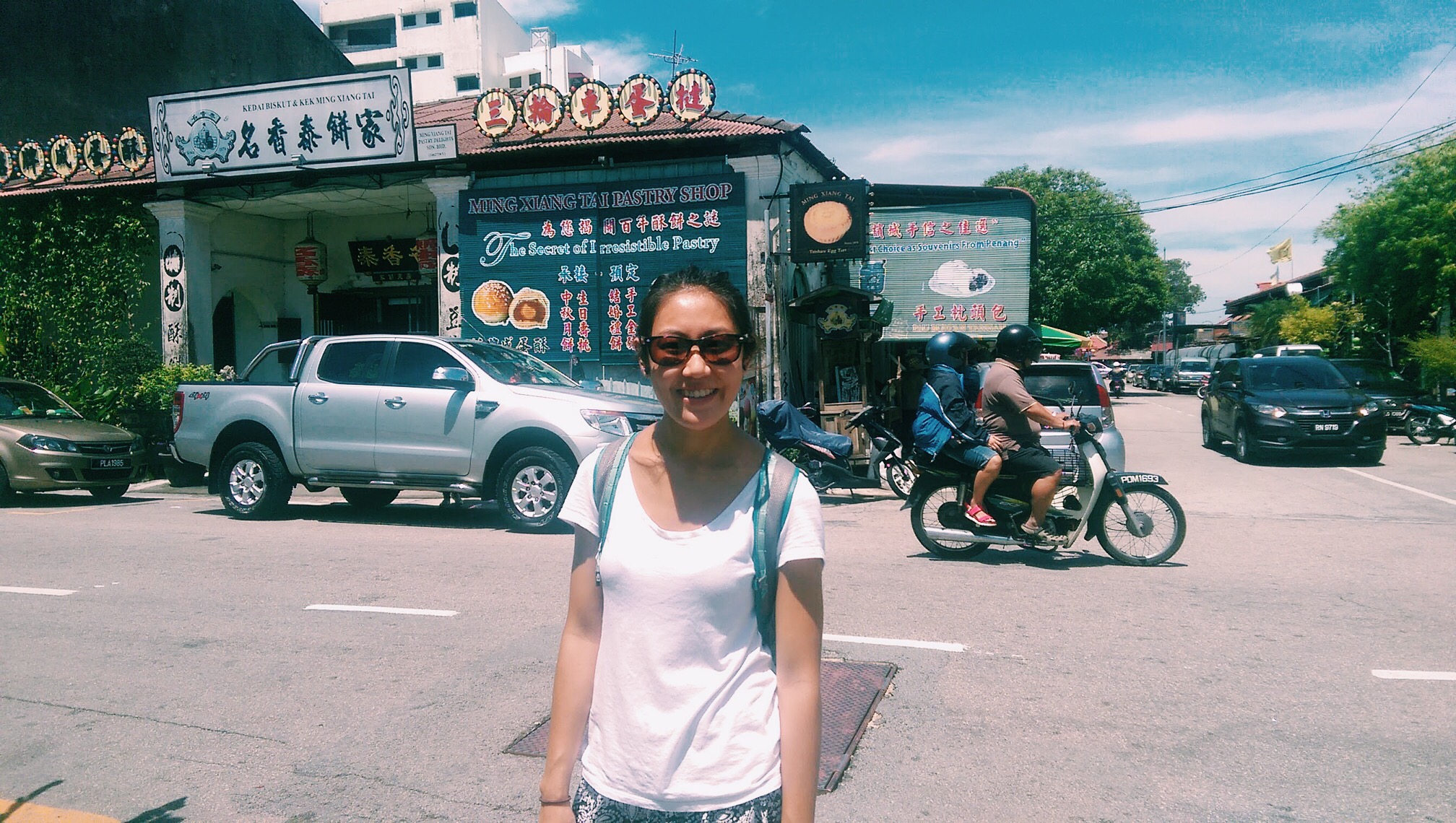 The main town of Penang is Georgetown. It clearly still owns it's British influenced name.
It has the most amazing street food.
Really there is and endless list of dishes and food you really should try, but here is a condensed version.
Char kway teow
Penang is famous for its char kway teow, so this is tops of the list. It's fried flat noodles with soy sauce and spices and it's really really delicious. No funky flavours, easy on a western pallet. Matti's personal favourite.
If you're a noodle person: What the Pho? A Guide to Ho Chi Minh City, Vietnam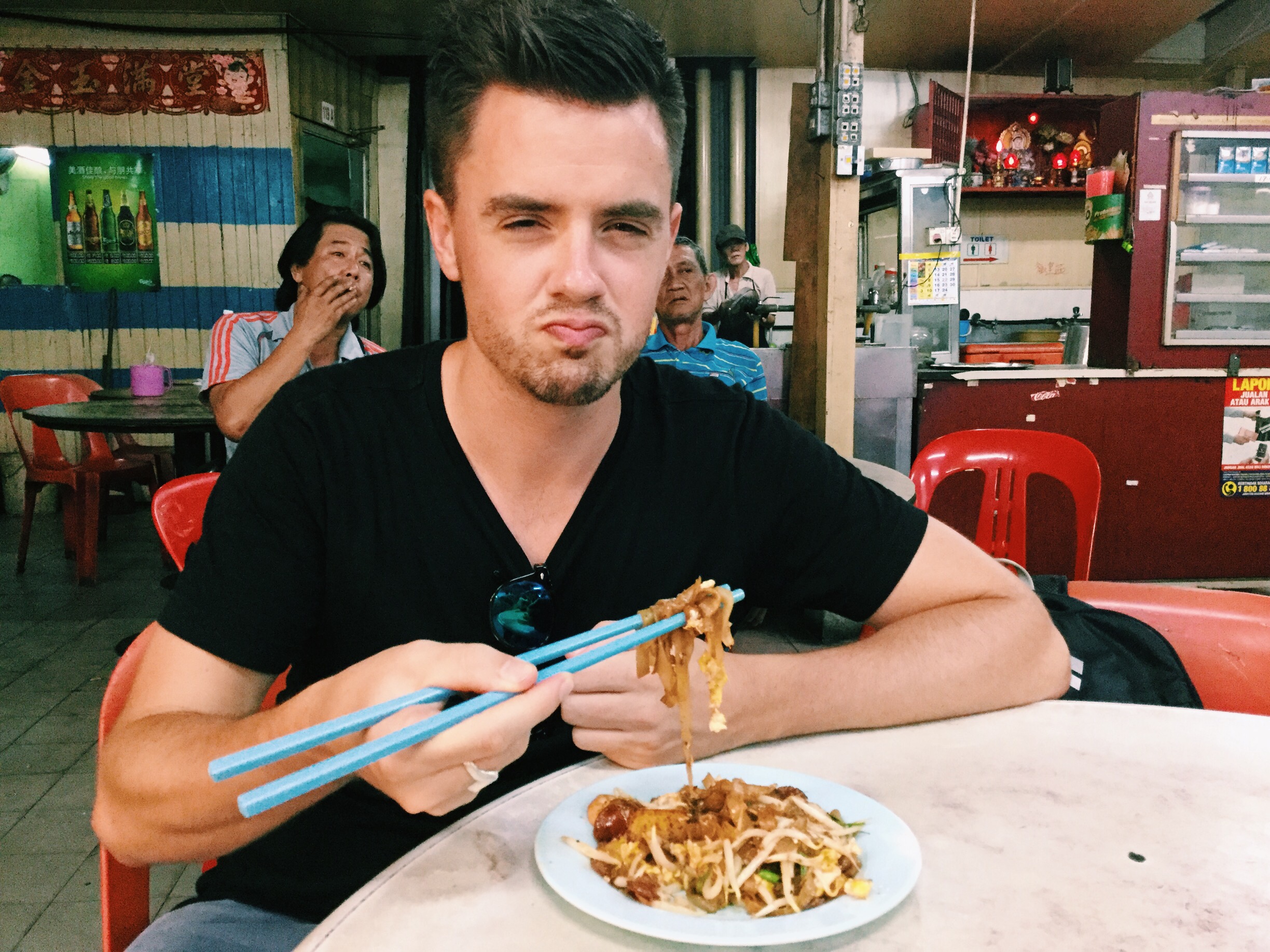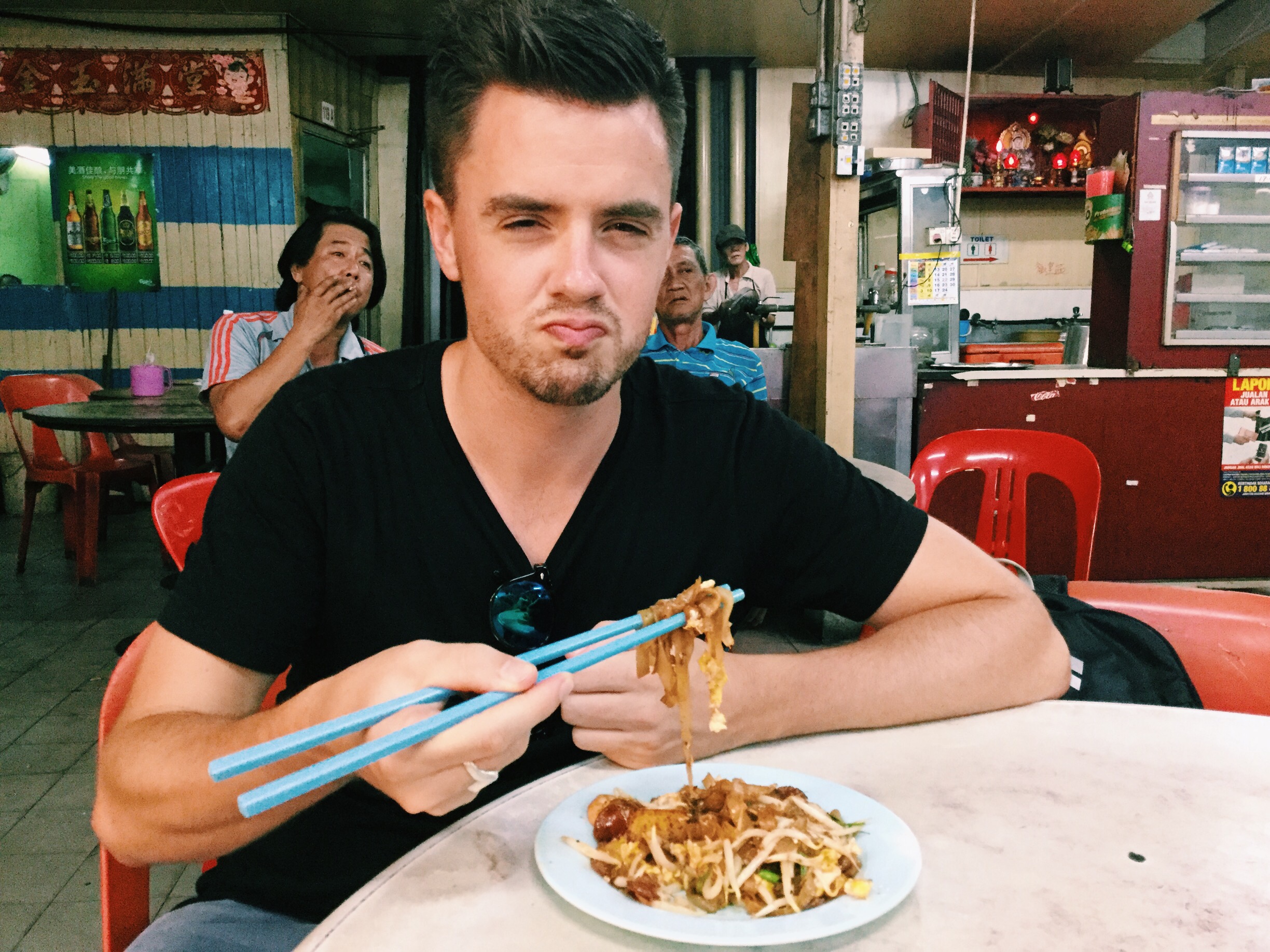 Asam Laska
Recommended if you are looking to try something different a new. Imagine spicy, sweet, a bit sour, fish broth over noodles. I would never know where to begin to cook this, but it's a real flavour party.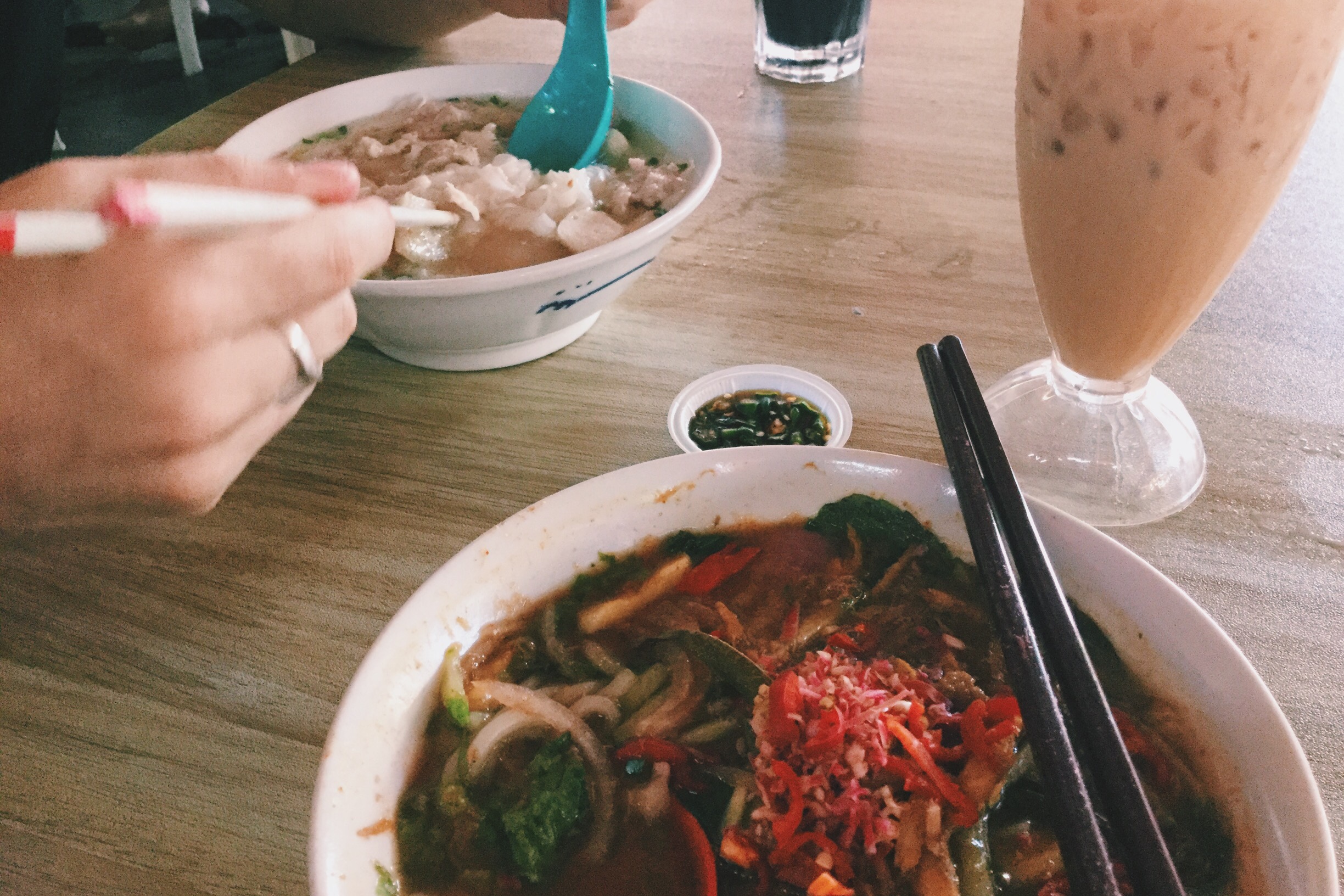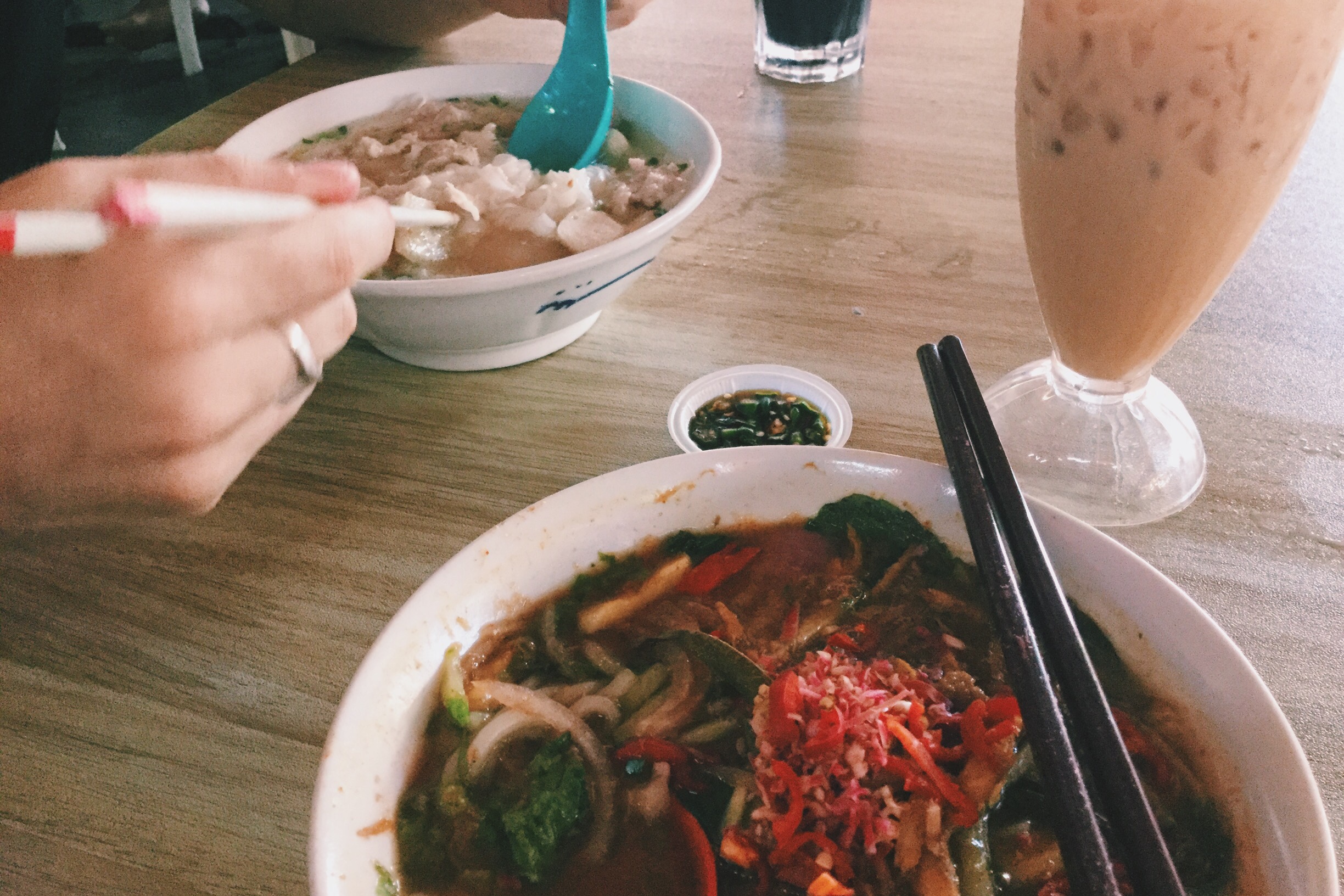 White Curry
Red curry, yellow curry, green curry, why not white curry? Have your noodles covered in a delicious white curry sauce. It is usually served with various seafood items. Ours had a dark cube shaped something floating in it. We asked what it was… I was pork blood… Oh.
Wash it all down: Egg & Poop Coffee – Examining Asian Coffee (and tea!)
Durian
We came at the perfect time of the year to Penang, durian season! And our amazing family friend, Uncle Steven, hooked us up with his friend and brought us to his durian orchard to try fresh durian straight from the tree! The funniest thing, Matti went from thinking durian is poisonous, to actually liking the fresh good stuff! He ate probably two whole durians. Stuffing himself full right before dinner.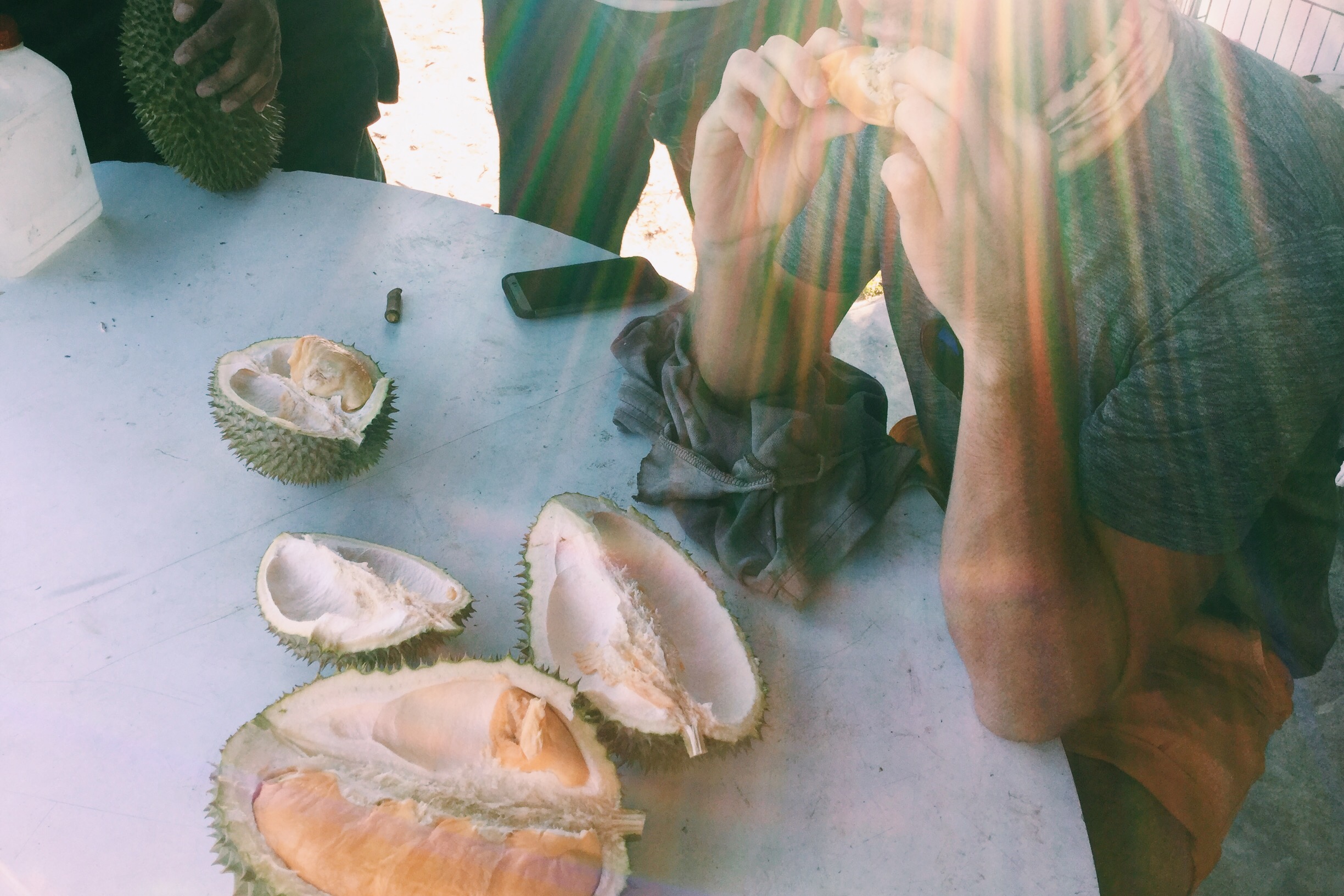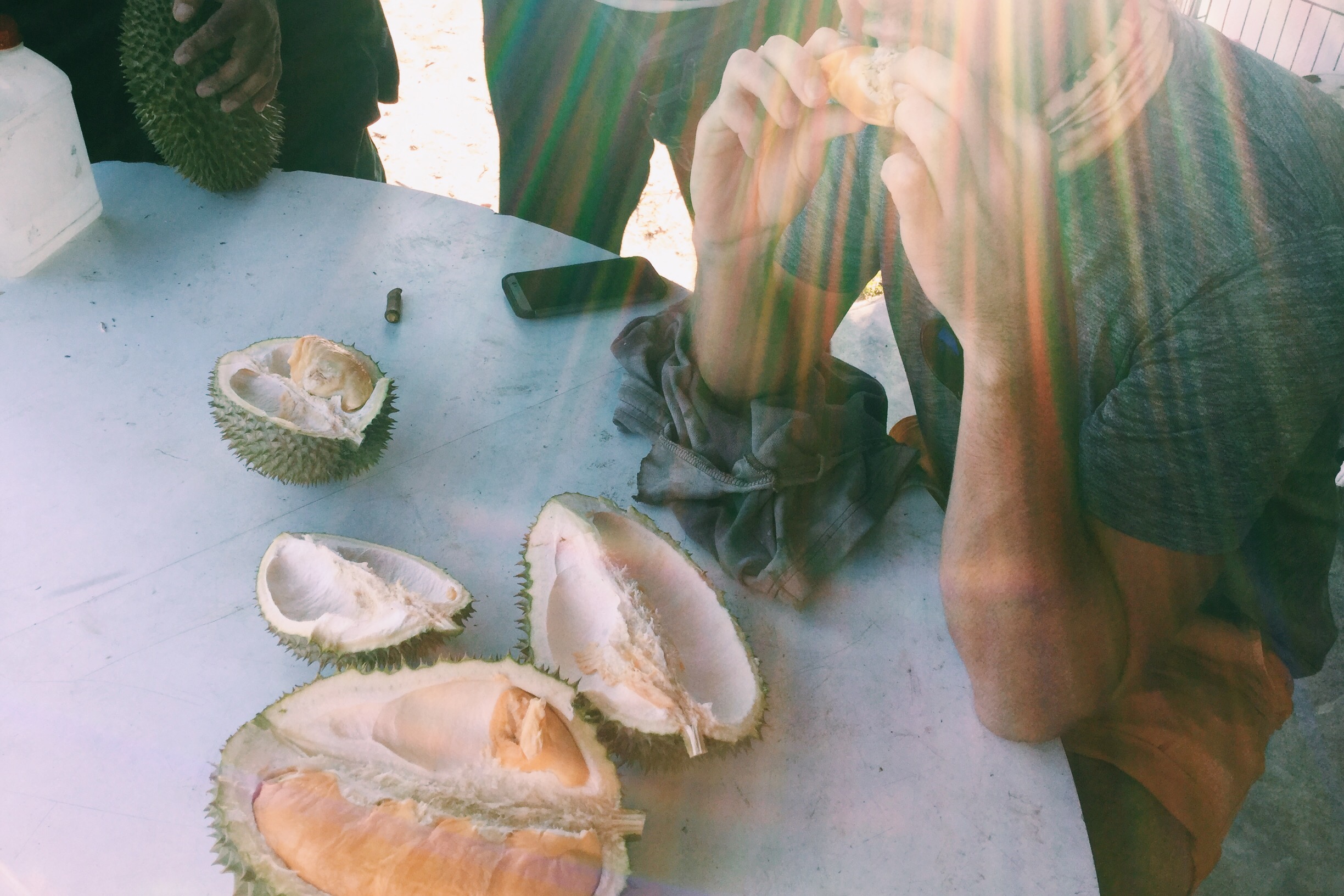 Egg tarts & Chinese pastries
Georgetown has cute Chinese pastry shops all though the city. Making sweets using century-old recipes, you bet these will be some great snacks. Egg tarts are always delicious, but be sure to try the other filled ball-shaped pastries. Some may be filled with pineapple, others coconut, or perhaps red bean.
For more amazing food, you've got to visit Hoi An, Vietnam. There is a whole list of  foods you've GOTTA TRY.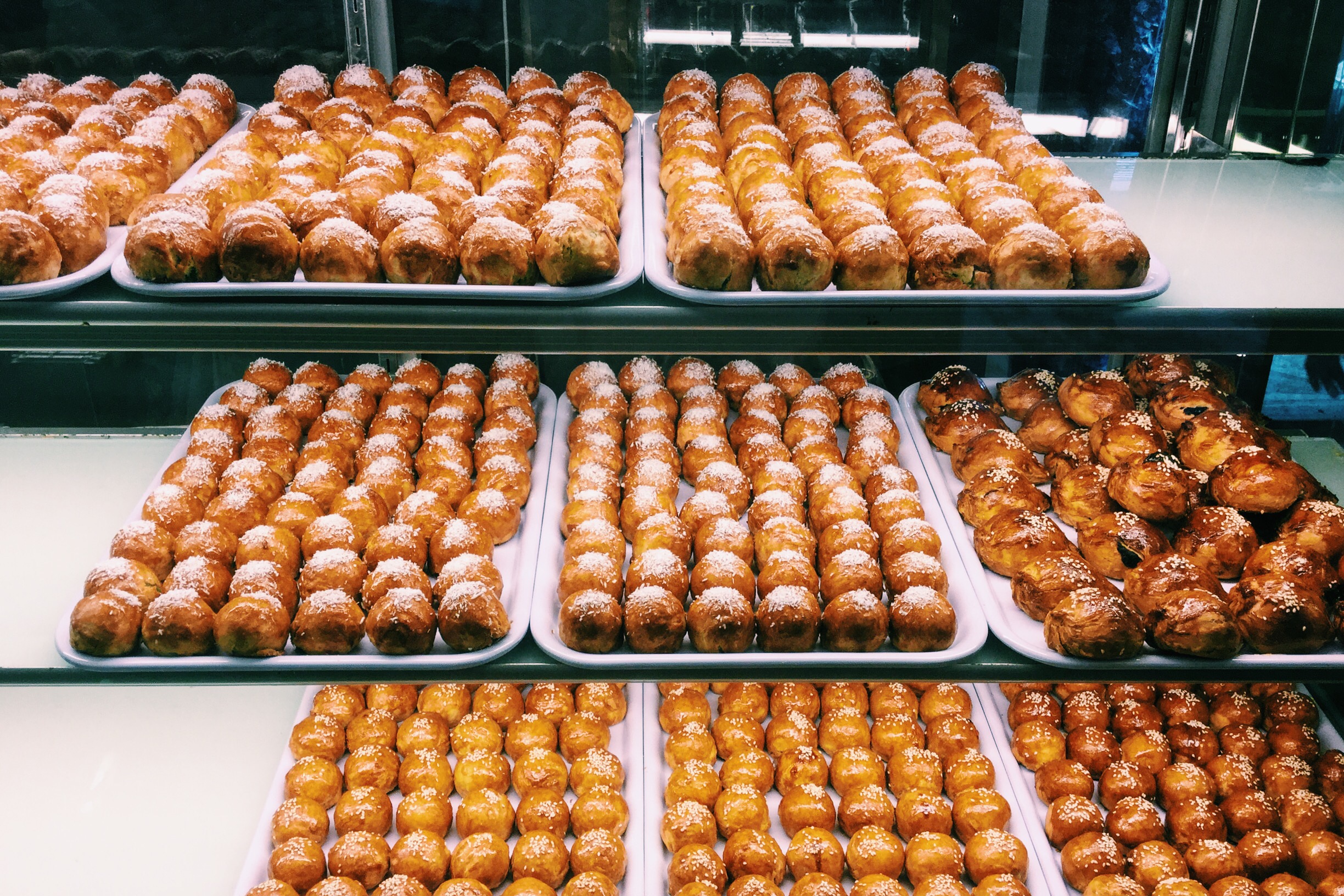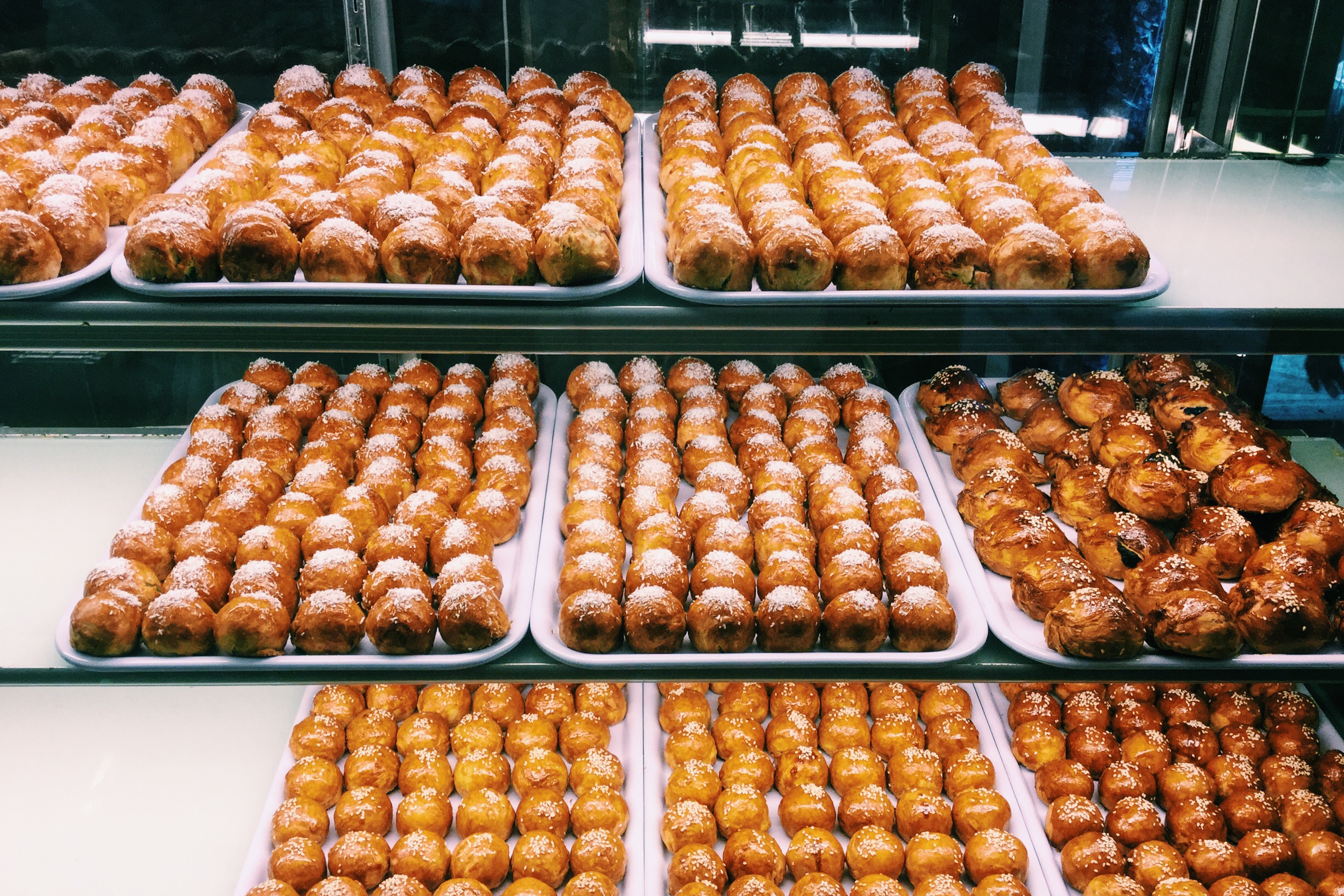 You can go from hill top to beach to pier in a day.
There's tons of variety of cheap places to visit in Penang that will satisfy any type of backpacker. You can take it easy on the beach, or bike up the hill, or explore the culture of the people, possibly all in the same day.
Catch the view from Penang Hill
If you enjoy climbing to the top of mountains, without the actually hiking park, then you're in luck! Penang Hill is about 800 MASL and has the hard part taken care of. Ride the hill train up to the top in no time. Enjoy 360 degree views of the island without breaking a sweat. Of course, hiking or cycling up are options if you're into that.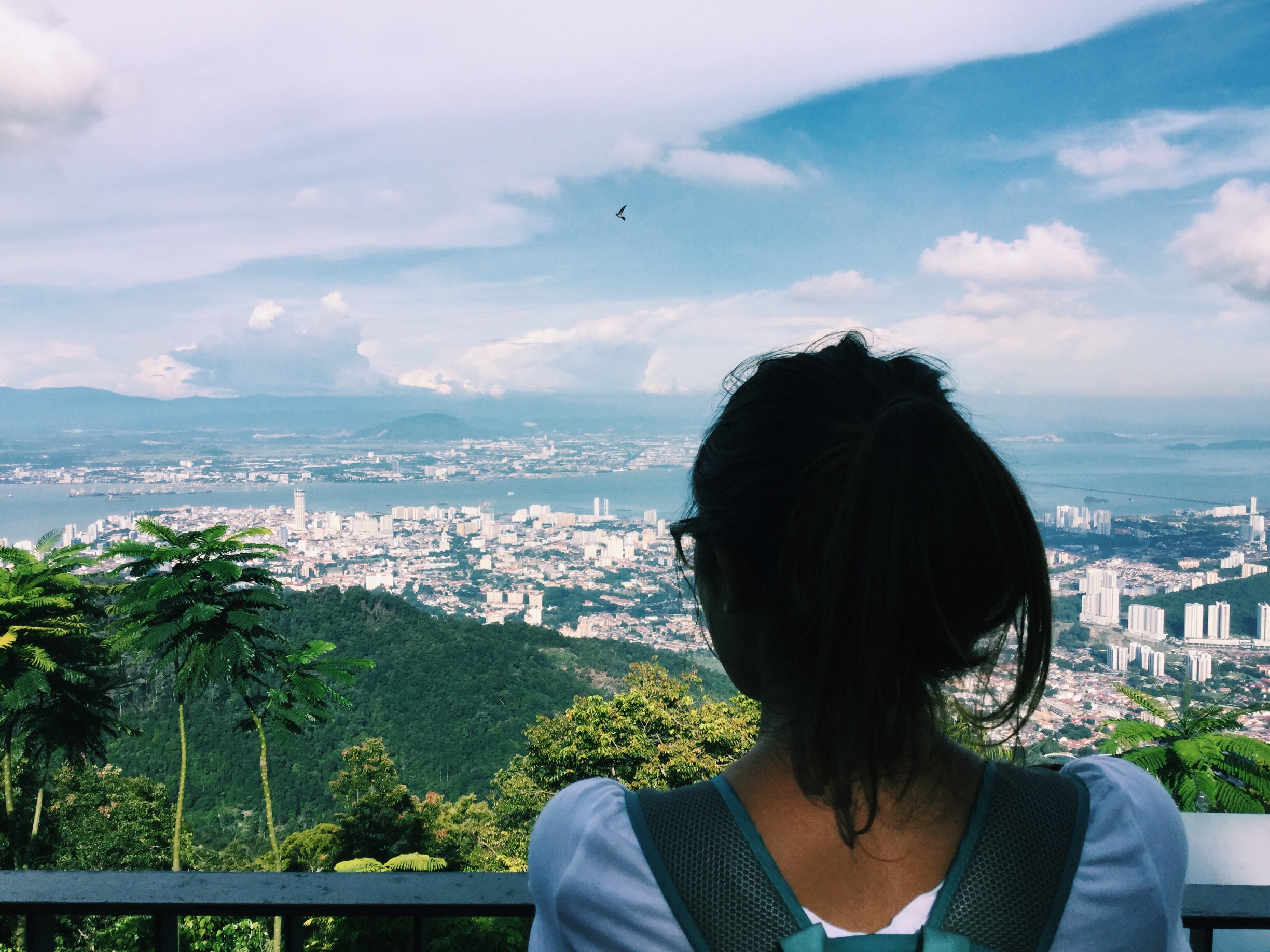 At the top there are some temples, cafes and trails to walk (or hire a cart) for other views. It's a nice place to spend the after and watch monkeys try to reach into garbage cans.
Foreigner price is 30 MYR ($10 CAD) while local price is only 10 MYR ($3 CAD). Another classic example of exploiting foreigner wallets.
You can take the 403 bus from Georgetown right up to the hill for about 2.70 MYR ($0.85 CAD) per person. The bus takes about an hour.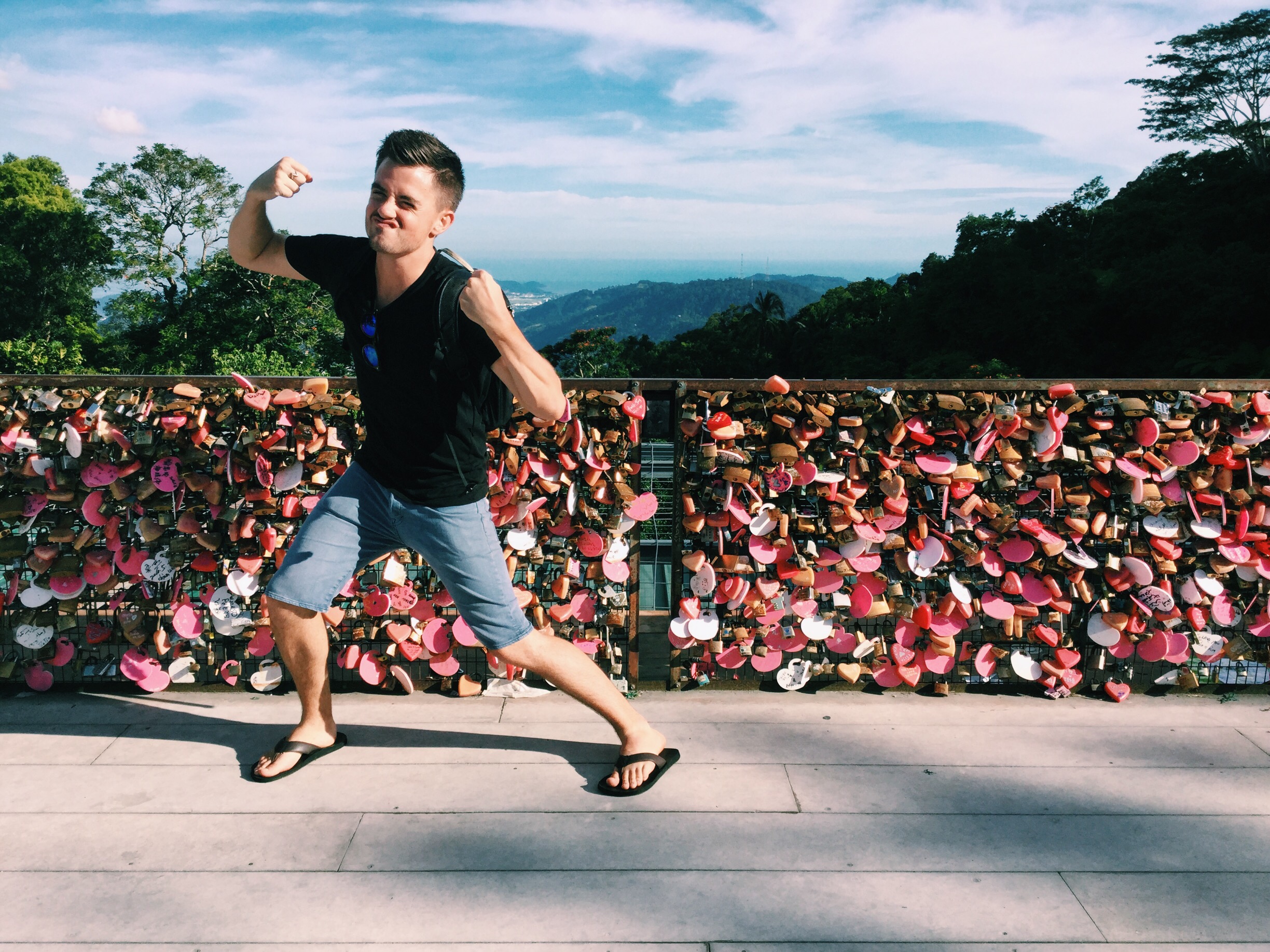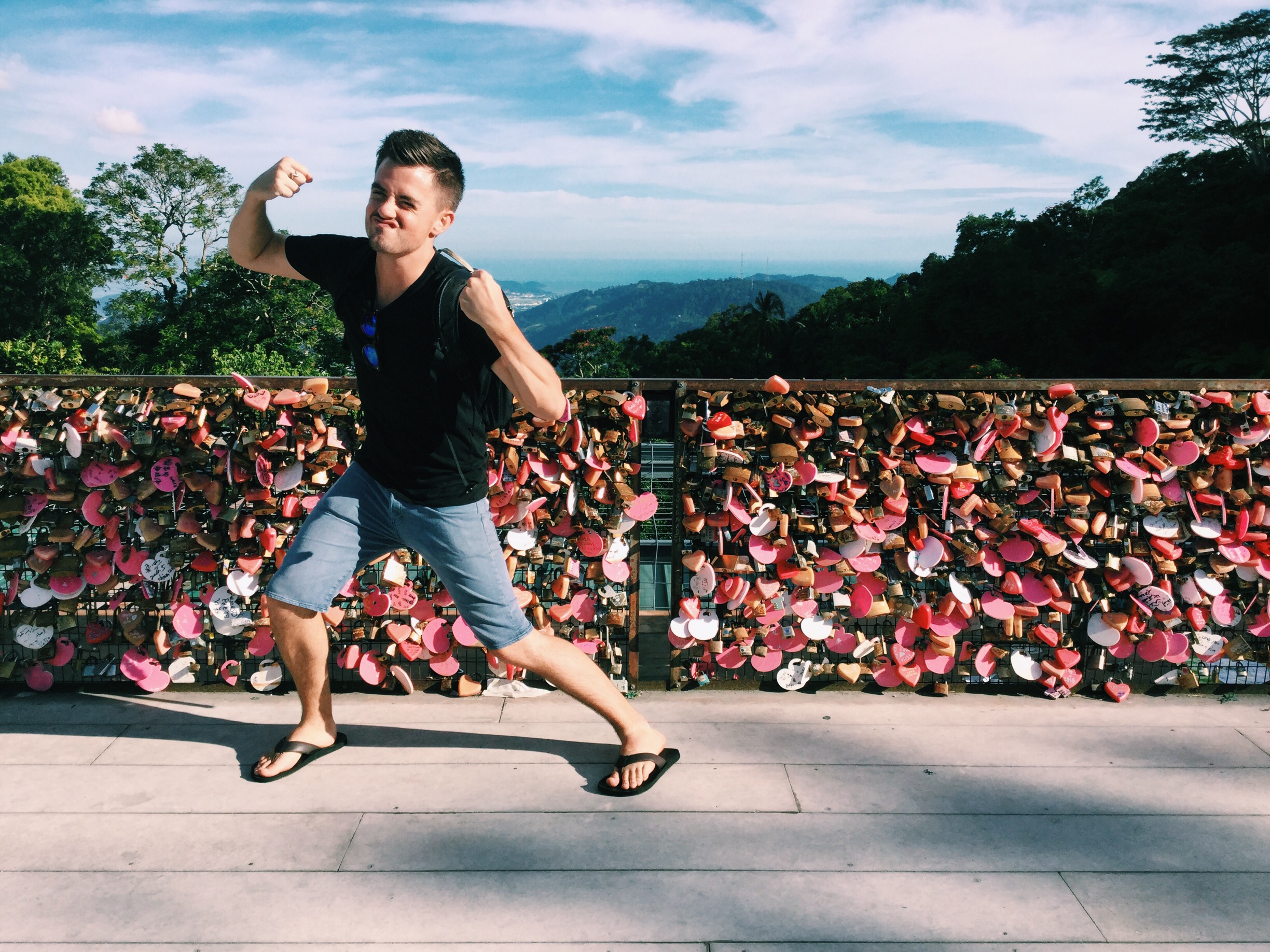 Walk the beach of Batu Ferringhi
When on an island, it's almost mandatory to spend time at the beach. Batu Ferringhi is where all the upscale resorts are like the Four Seasons and the Shangri-La. You can access the public beach just beside the Shangri-La. Take the 101 or 102 bus for about an hour along the coast.
A funny story; while we were walking along the beach, watching the parasailers going by, a woman approached us. She asked us if we could be extras in a movie trailer that they were filming. Our role was simply to walk down the beach, holding hands, chatting, when the director yelled action. Sounded easy? Oh also this is a paid job, plus lunch! So a few takes later and they got what they wanted. Then we found ourselves enjoying free lunch with some other travellers who played key roles such as: "French couple enjoying coconuts" and "Finnish girl sunbathing". With 60 MYR ($20 CAD) in our pockets, we concluded that it was a good day to come to the beach.
If you love island beaches: A Backpacker's Guide to Krabi & Koh Phi Phi, Thailand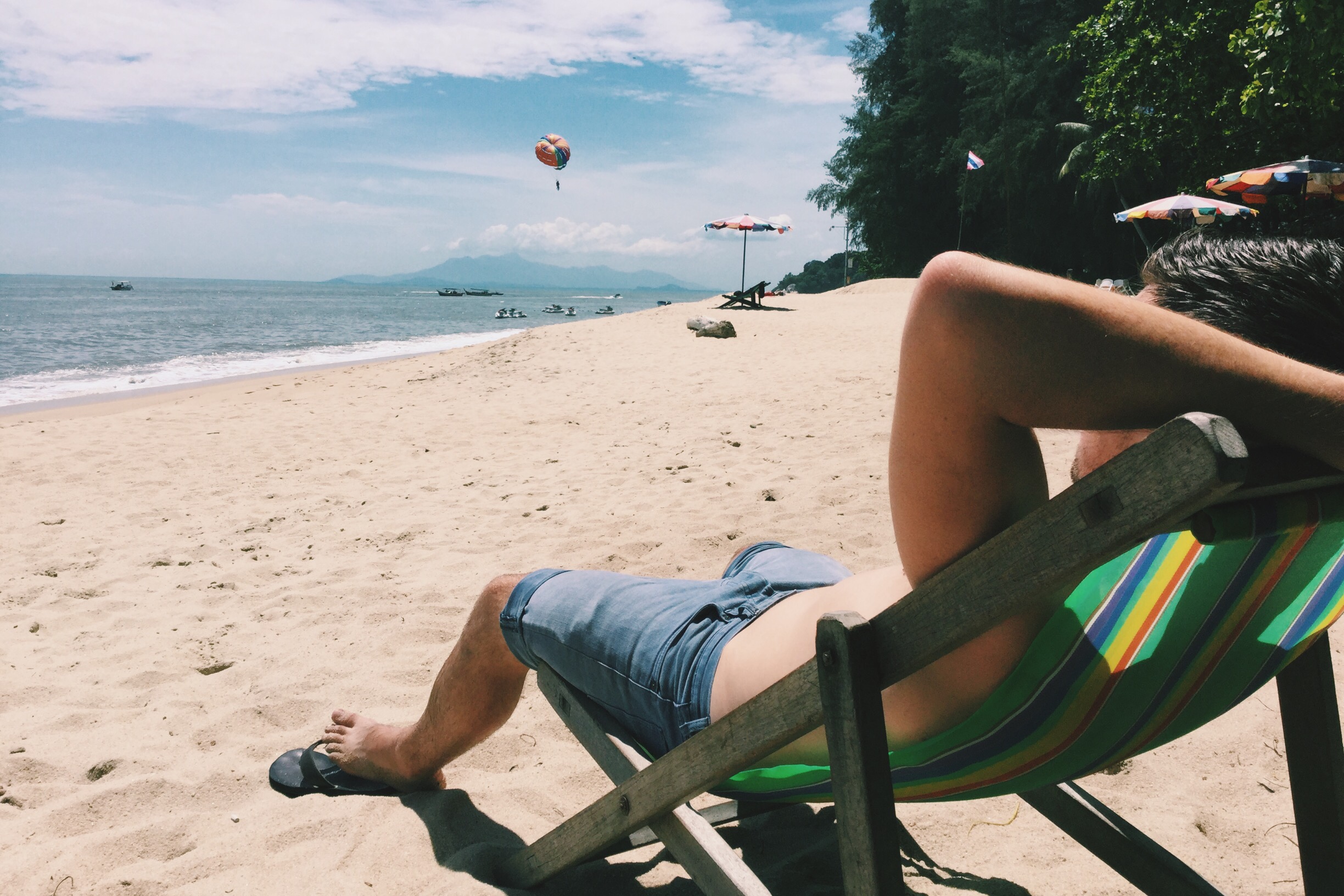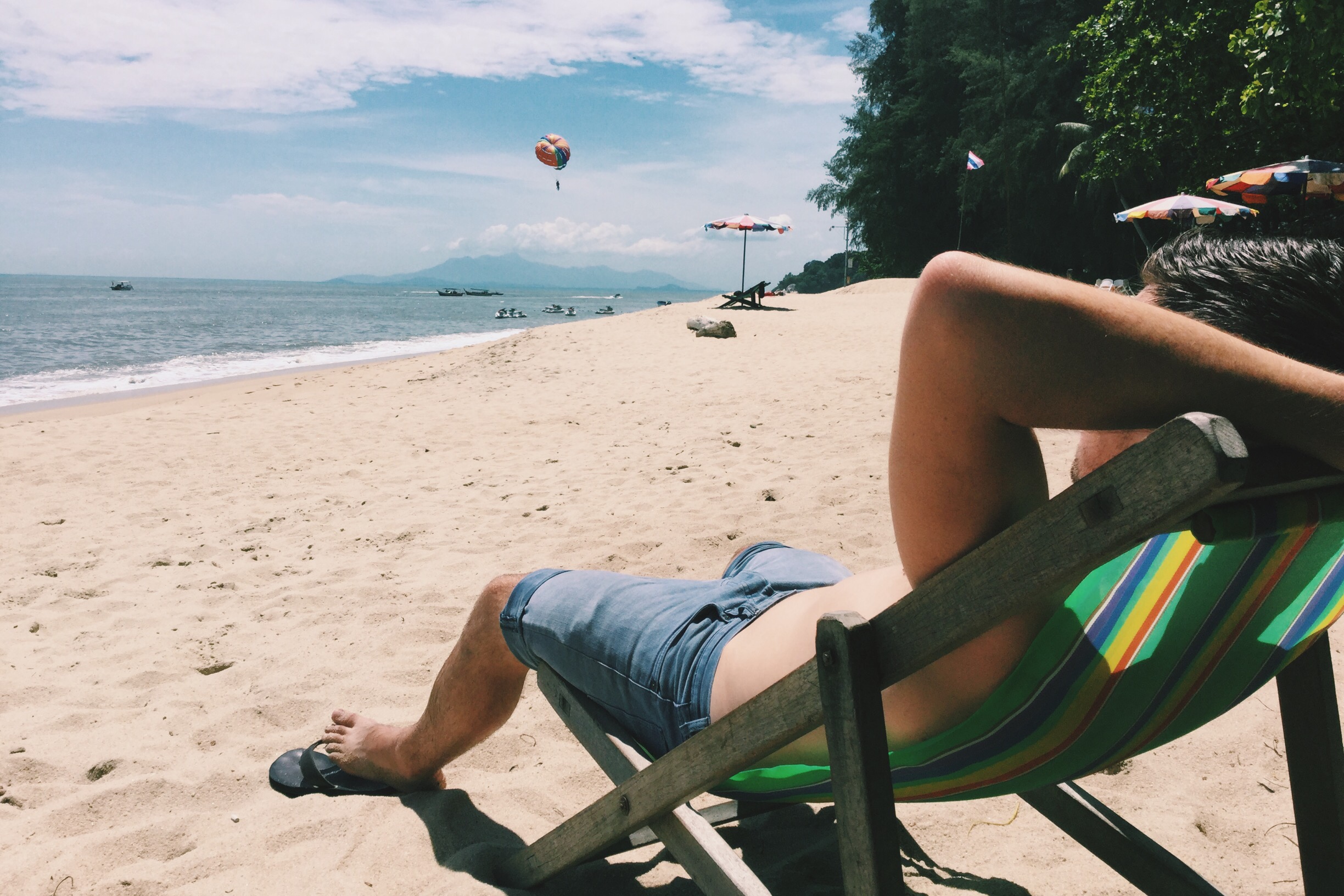 Explore the Clan Jetties
It'd be a shame to visit Penang and miss a walk along the clan jetties. Networks of wooden docks over the water house store fronts and restaurants as well as personal homes and temples. Each jetty is tied to a family name keeping its honour alive. The Chew jetty is the largest and most popular among tourist.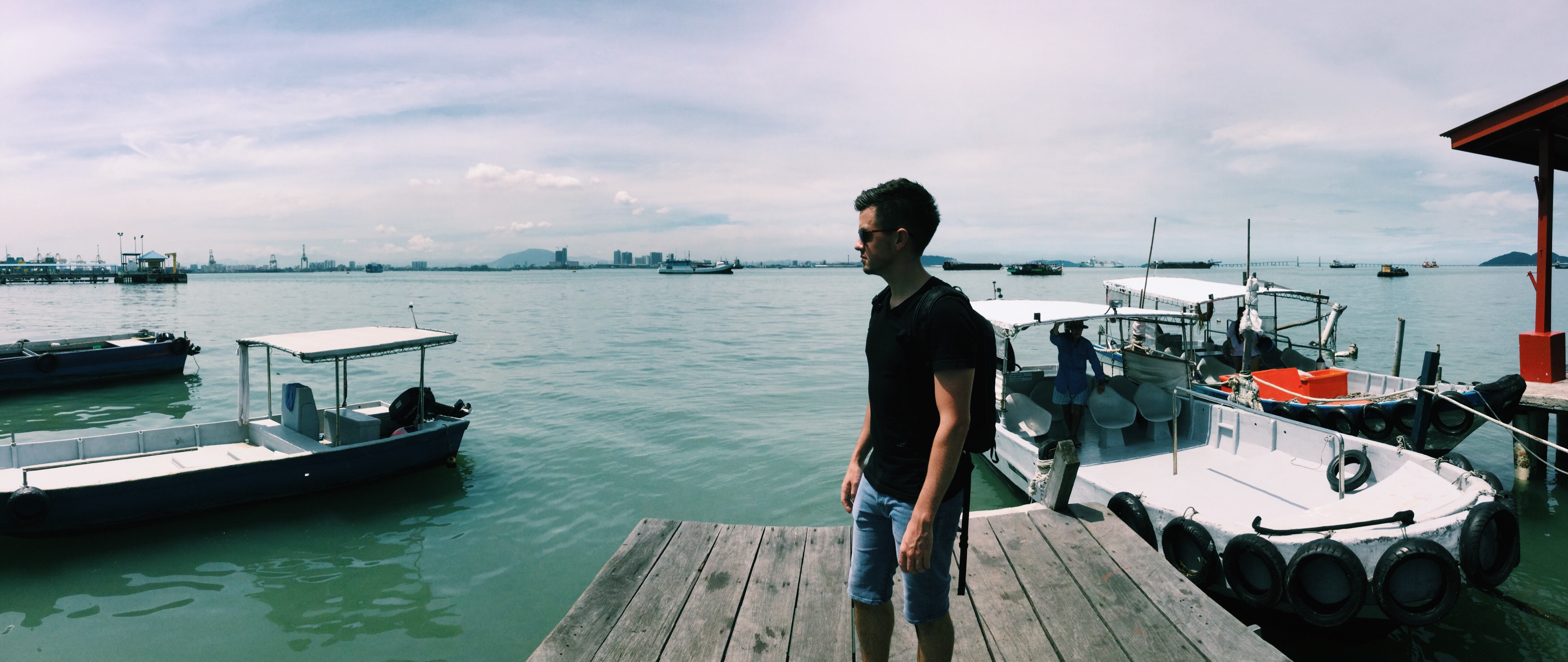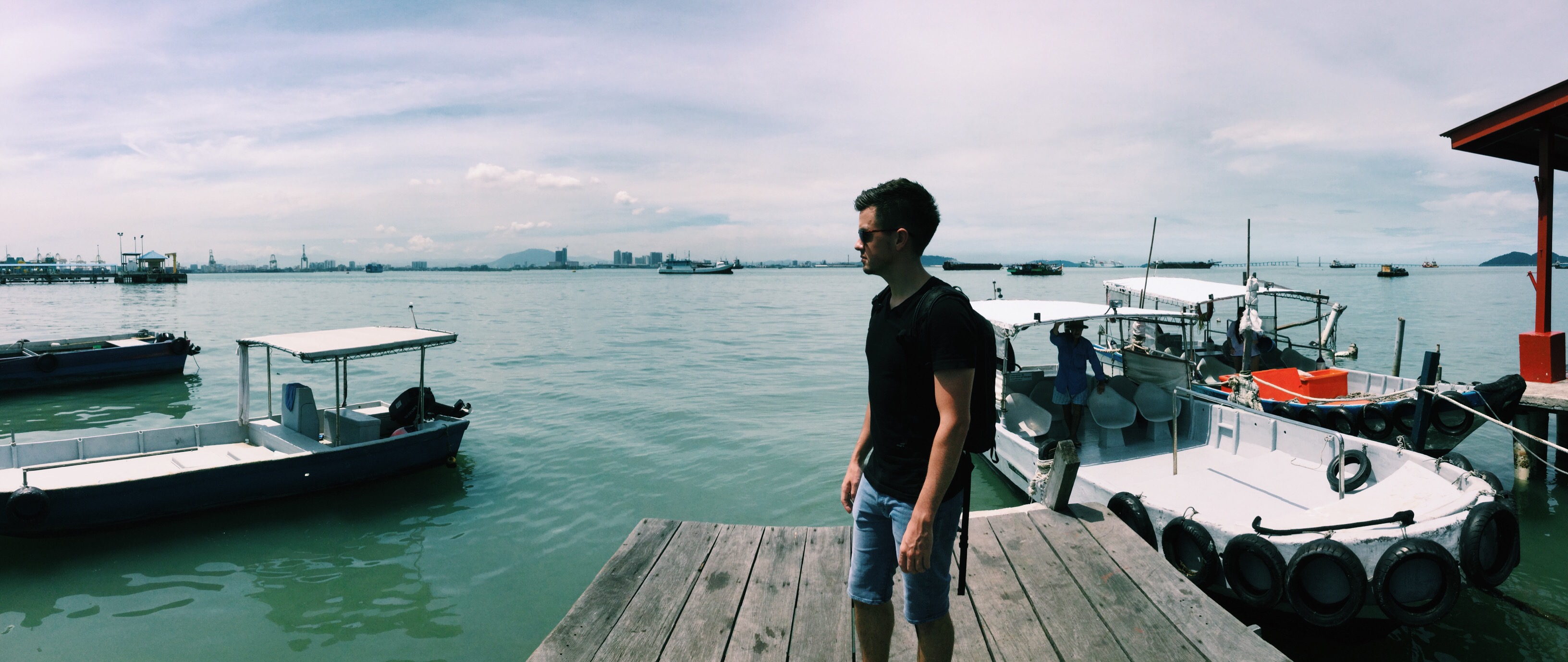 A friend of ours, Adaline, brought us, and a group of friends, to the jetty dock during the night and we spent time sharing stories and admiring the mainland lights reflecting on the water.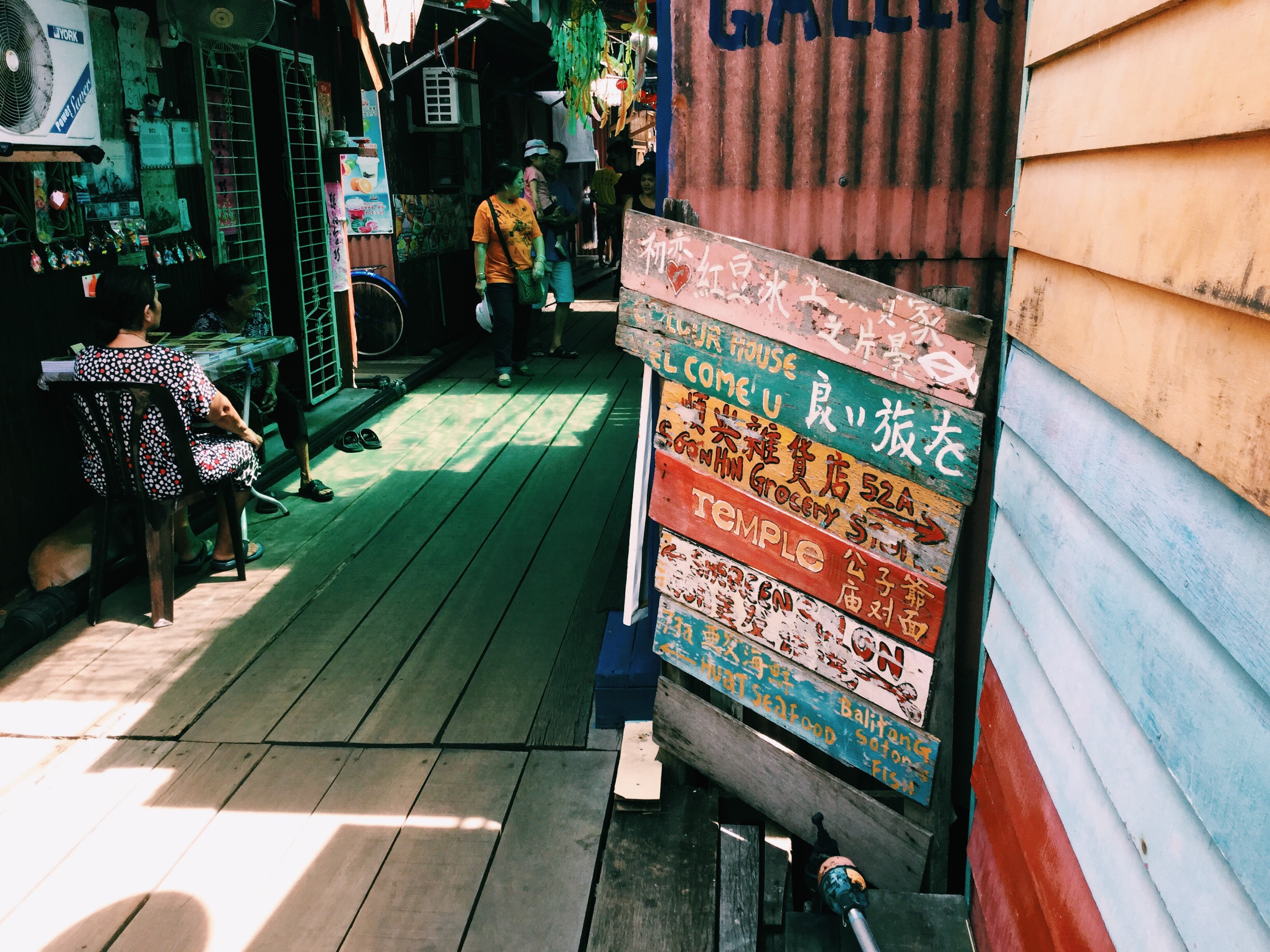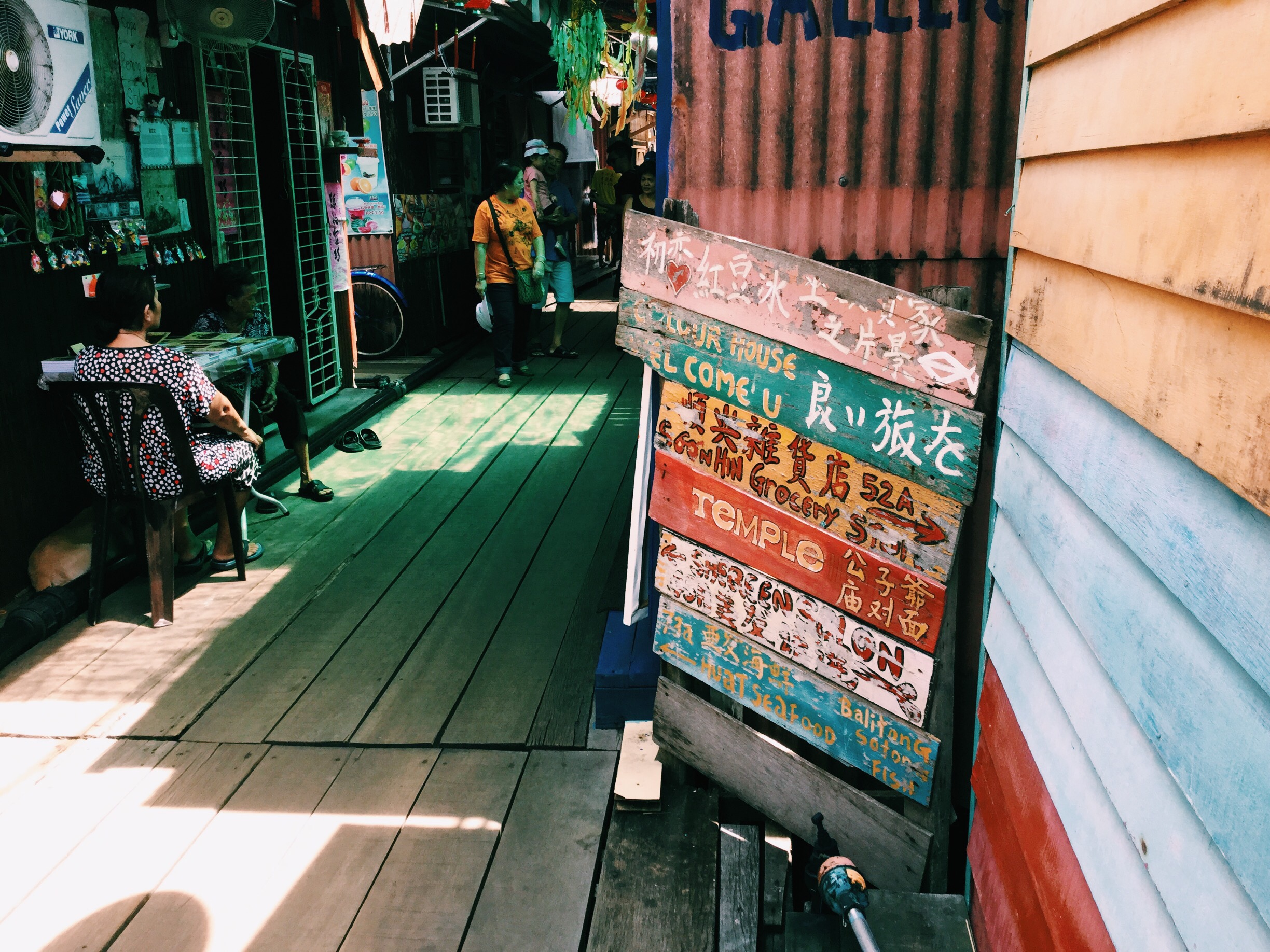 Explore Georgetown in 2 Unique ways
Georgetown is getting so hip! There really isn't anything cooler than graffiti and latte art, is there?
1. Go Street Art Hunting
The thing to do in Georgetown is go street art hunting. Get yourself a tourist brochure and spend the day wandering up and down the streets searching for as many pieces of art as you can find.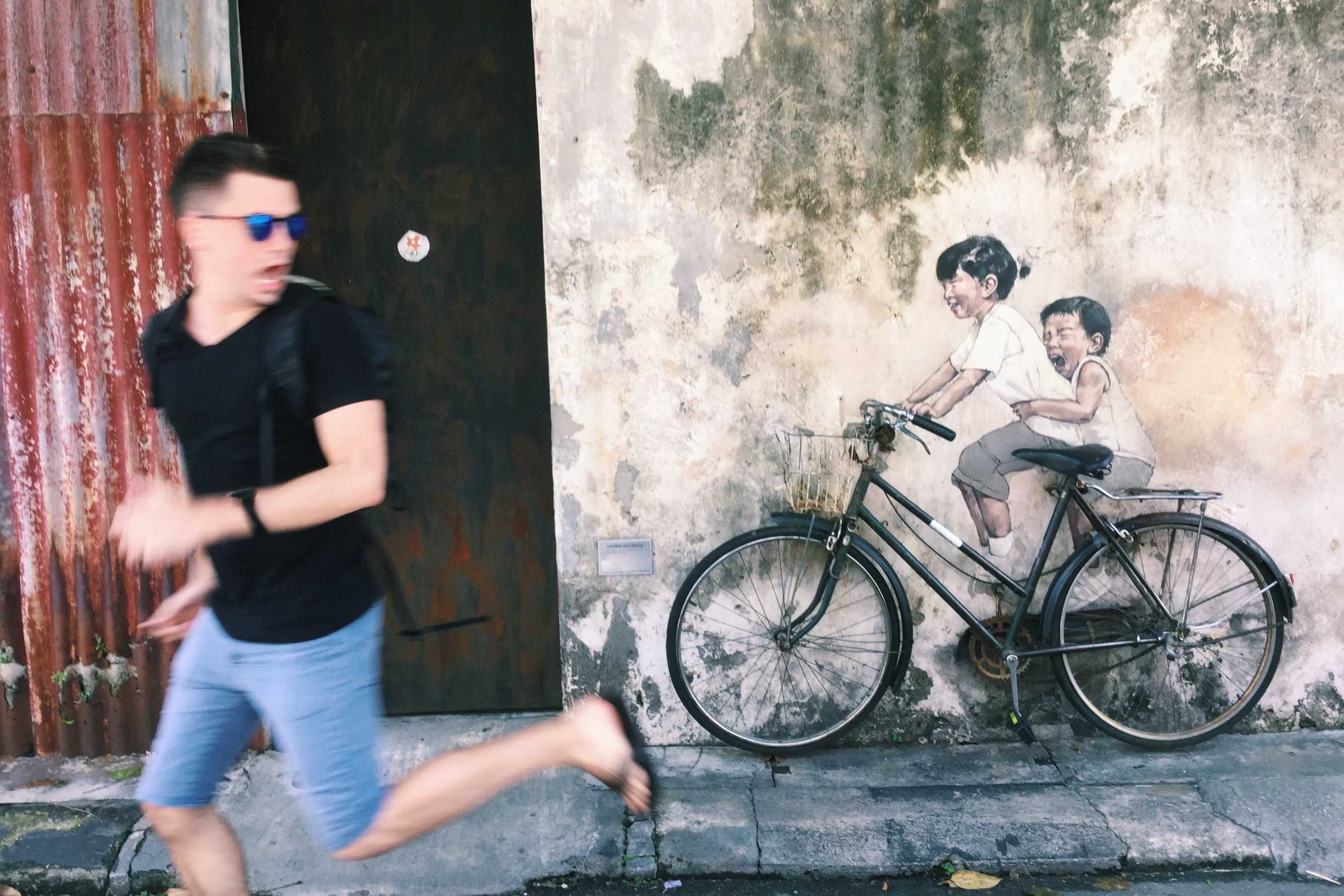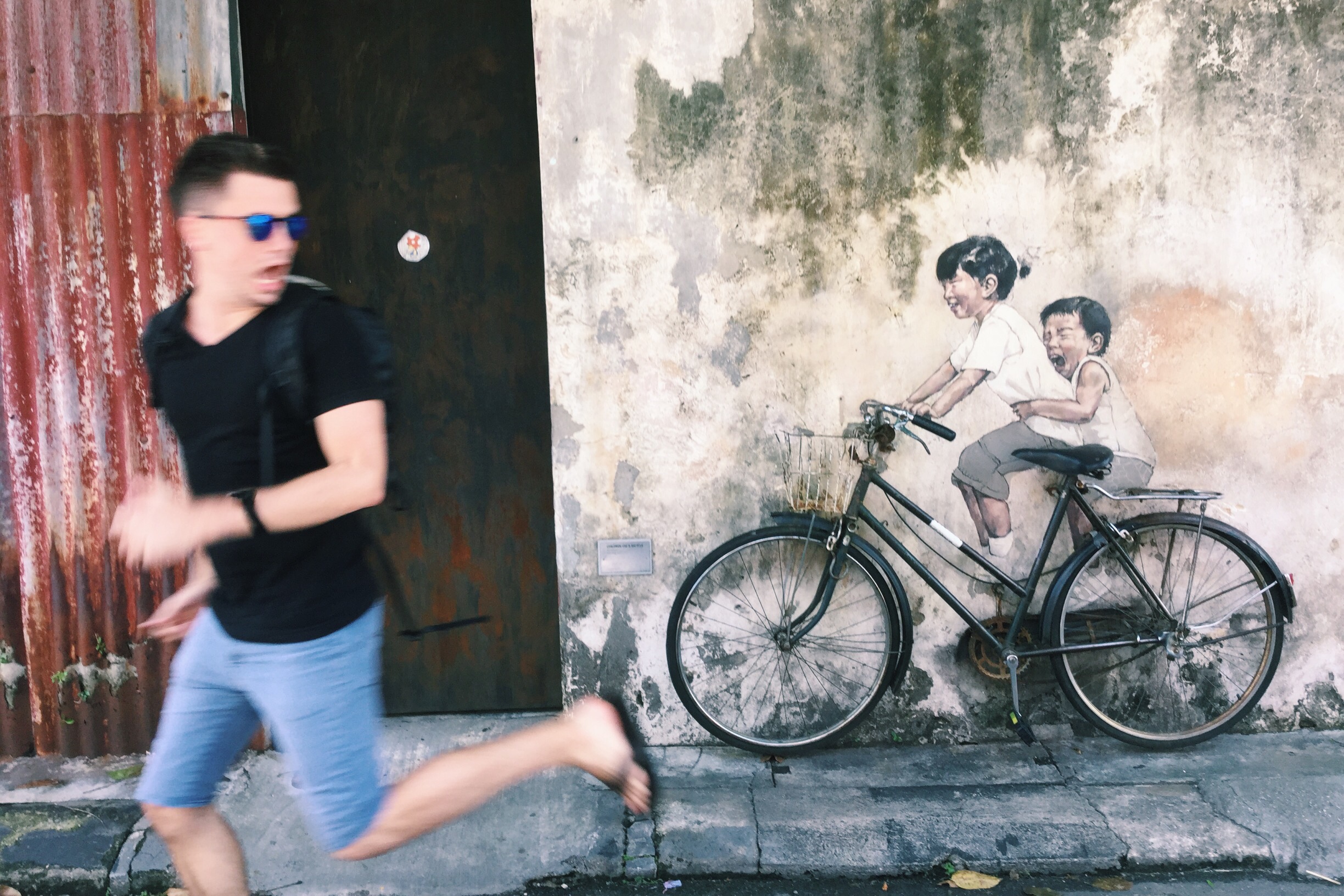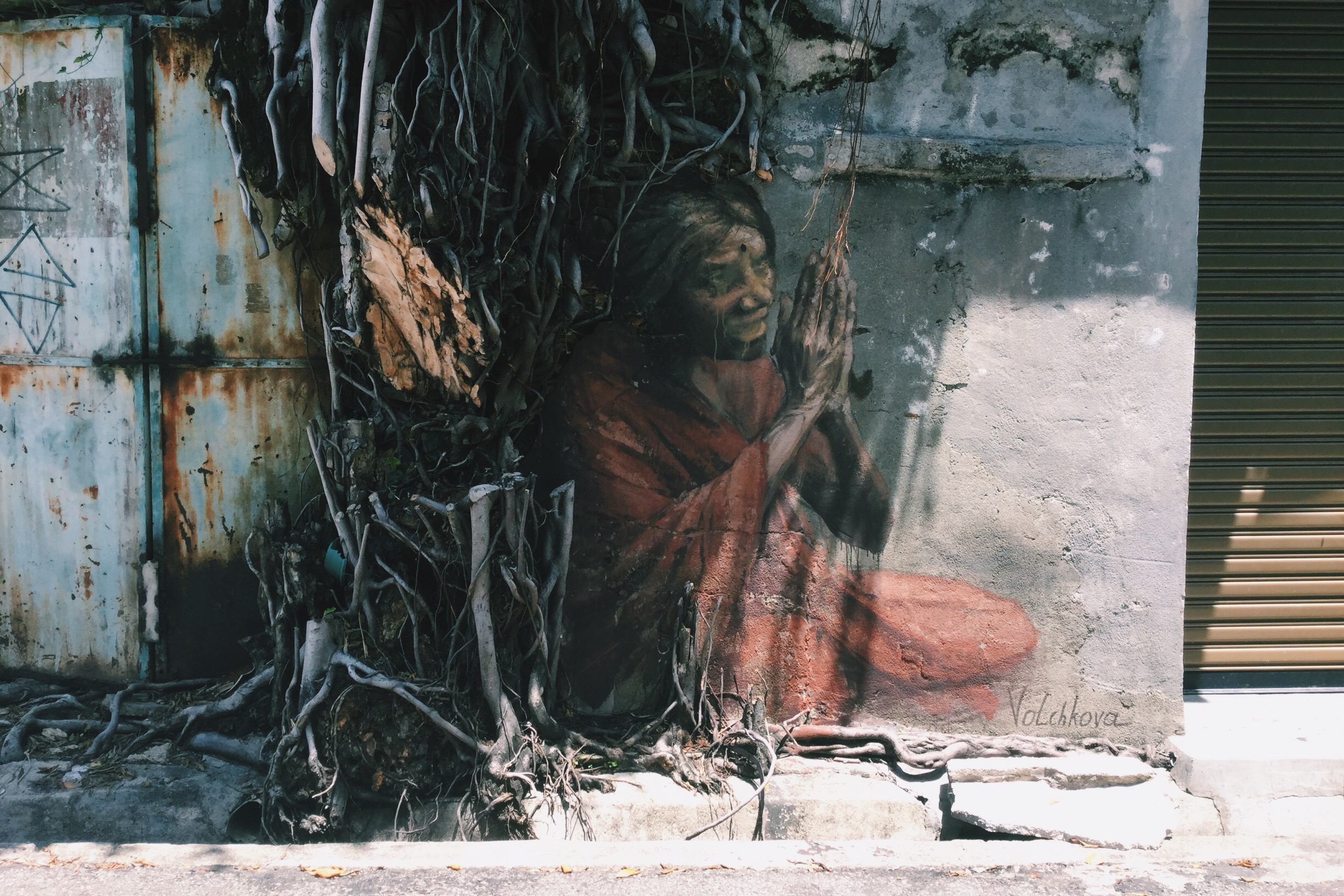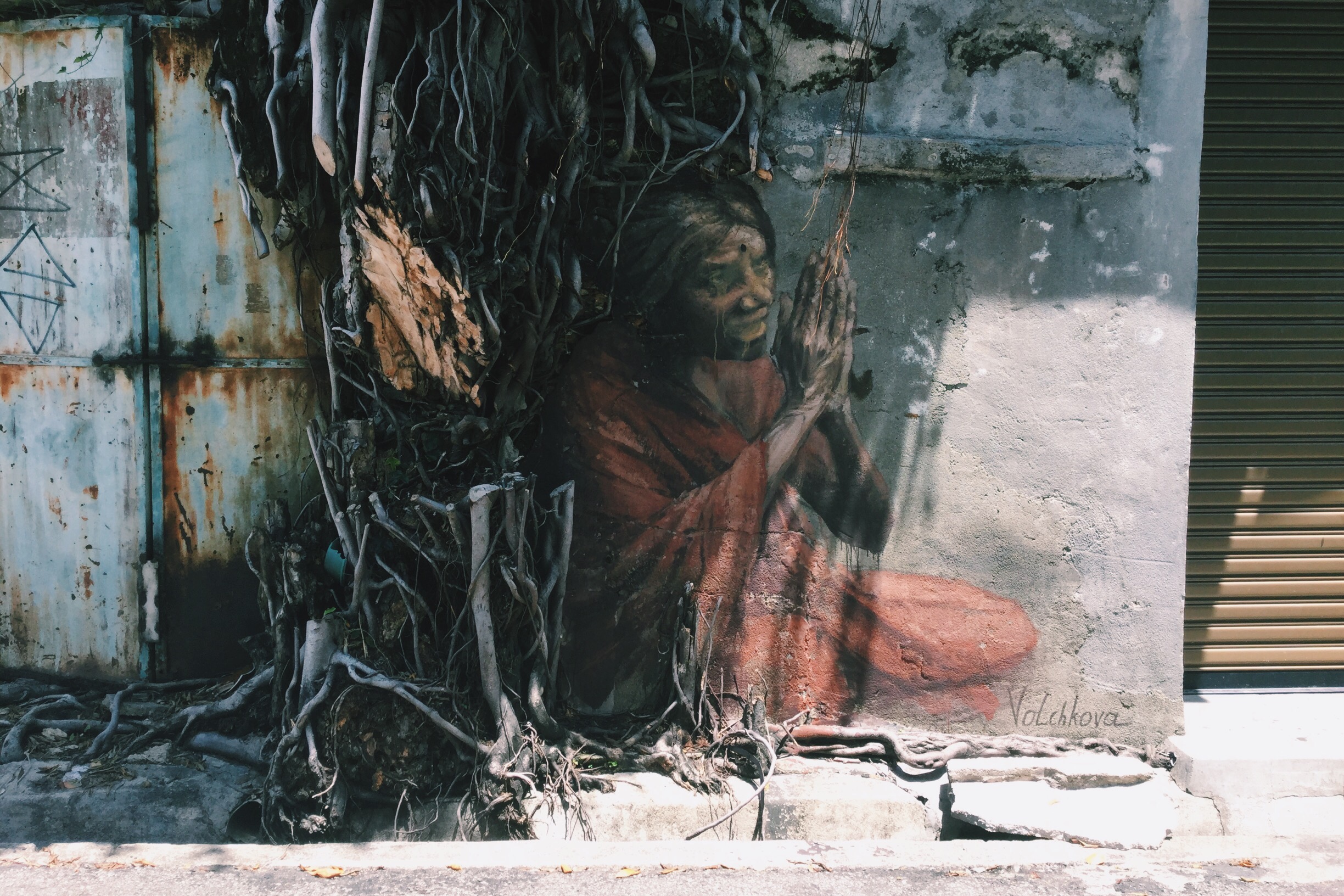 The big ones are easy, there will be a group of tourists surrounding, taking photos. It's the hidden ones that are satisfying, like finding and snapping a shot of Mew in Pokemon Snap.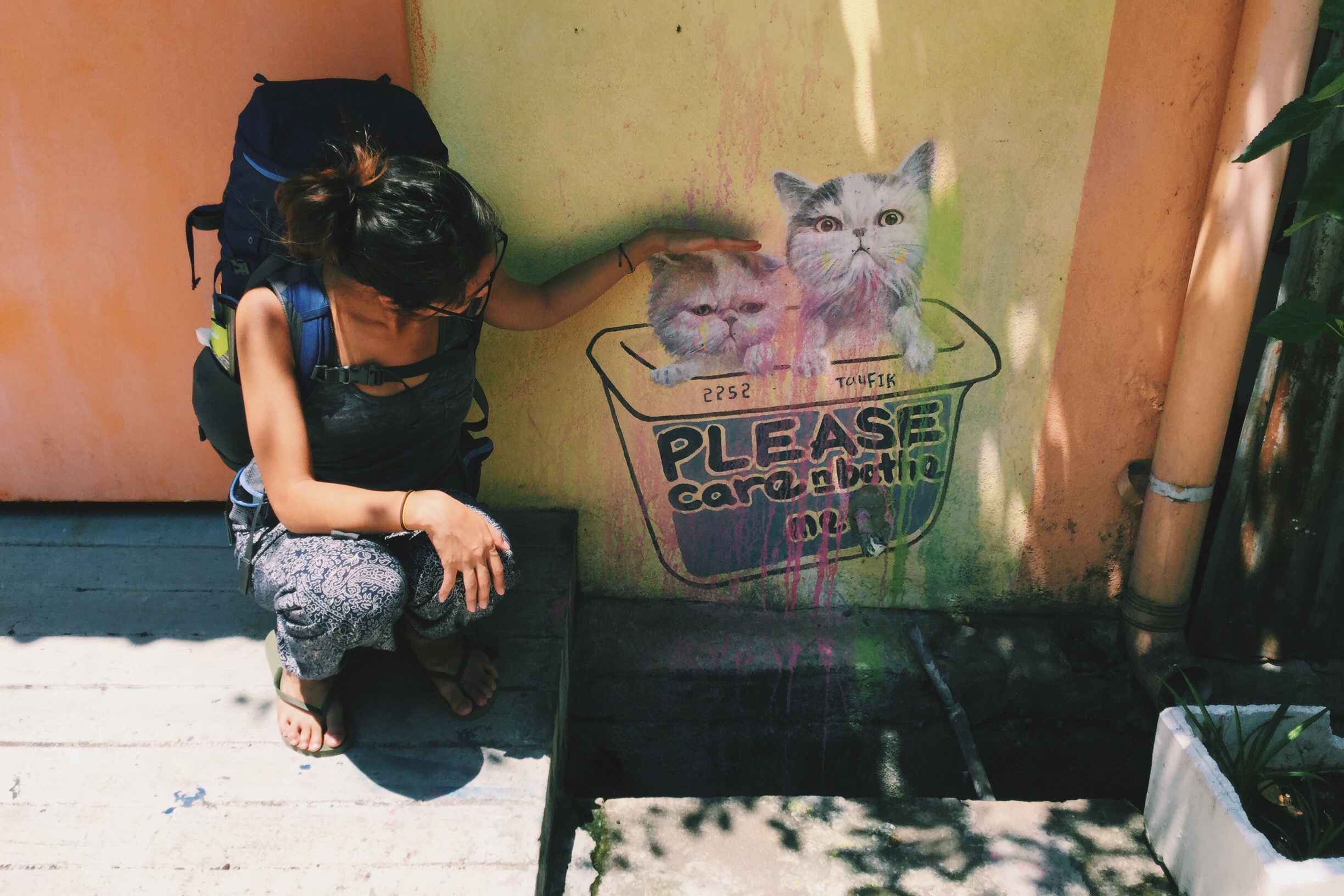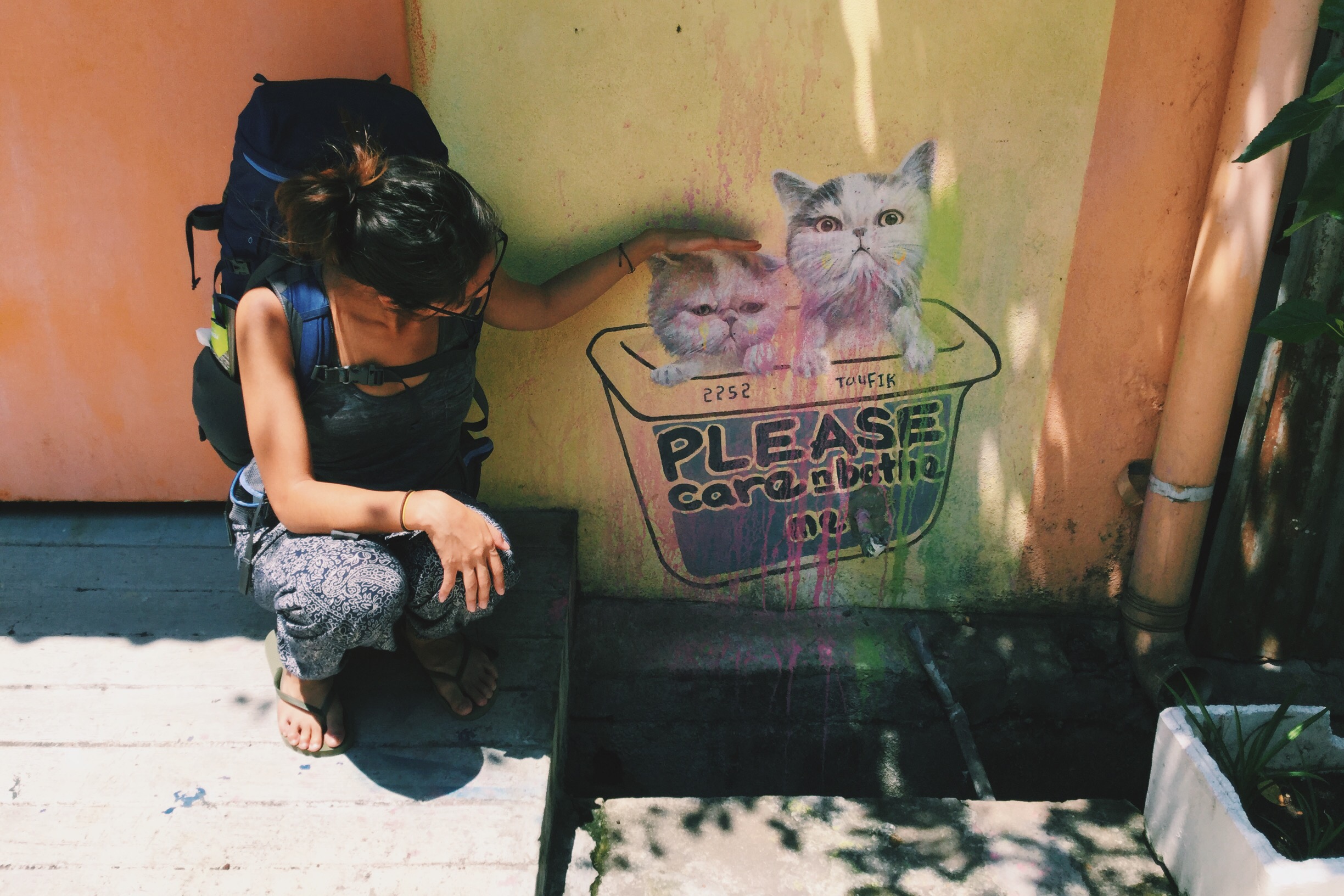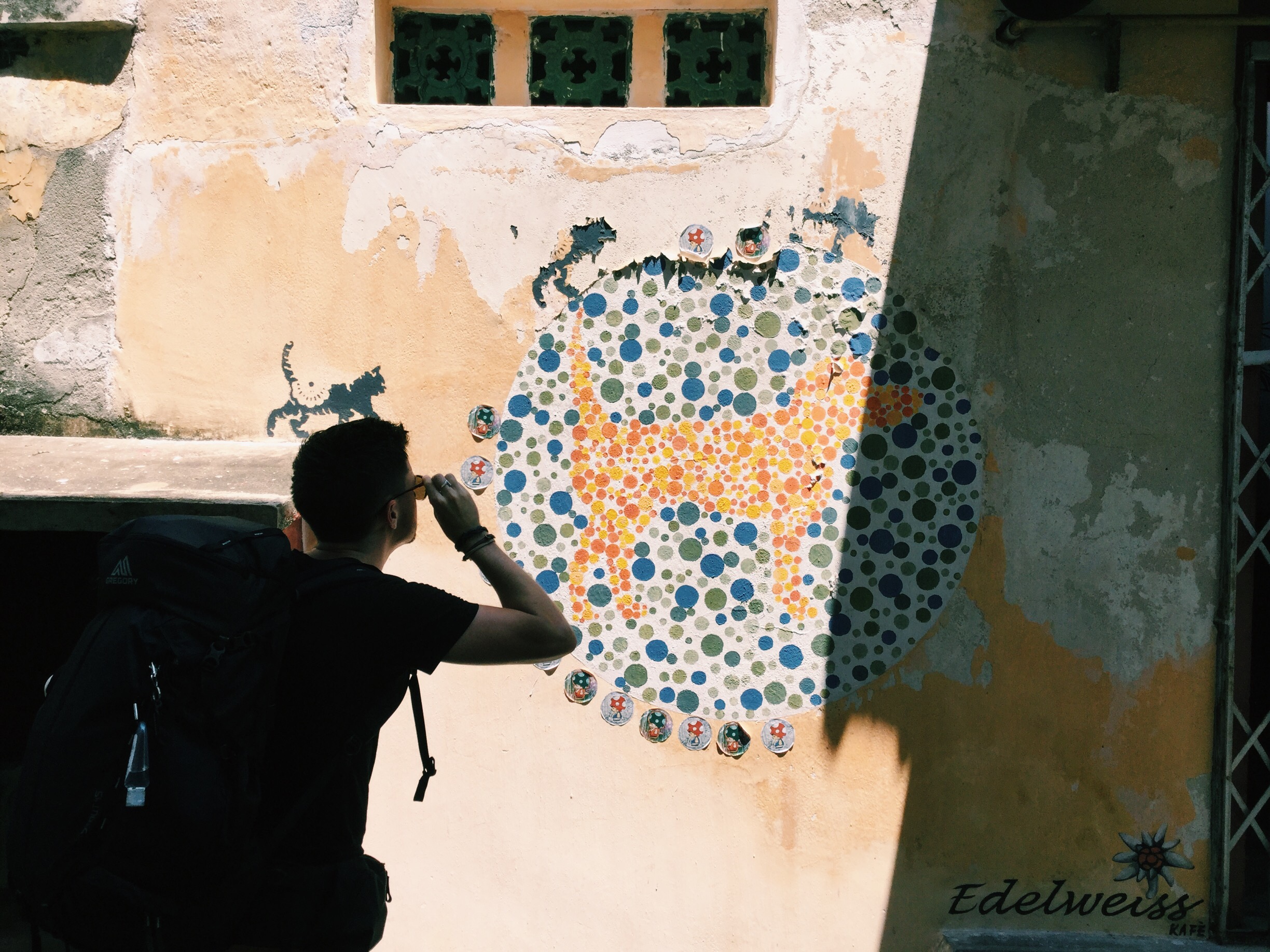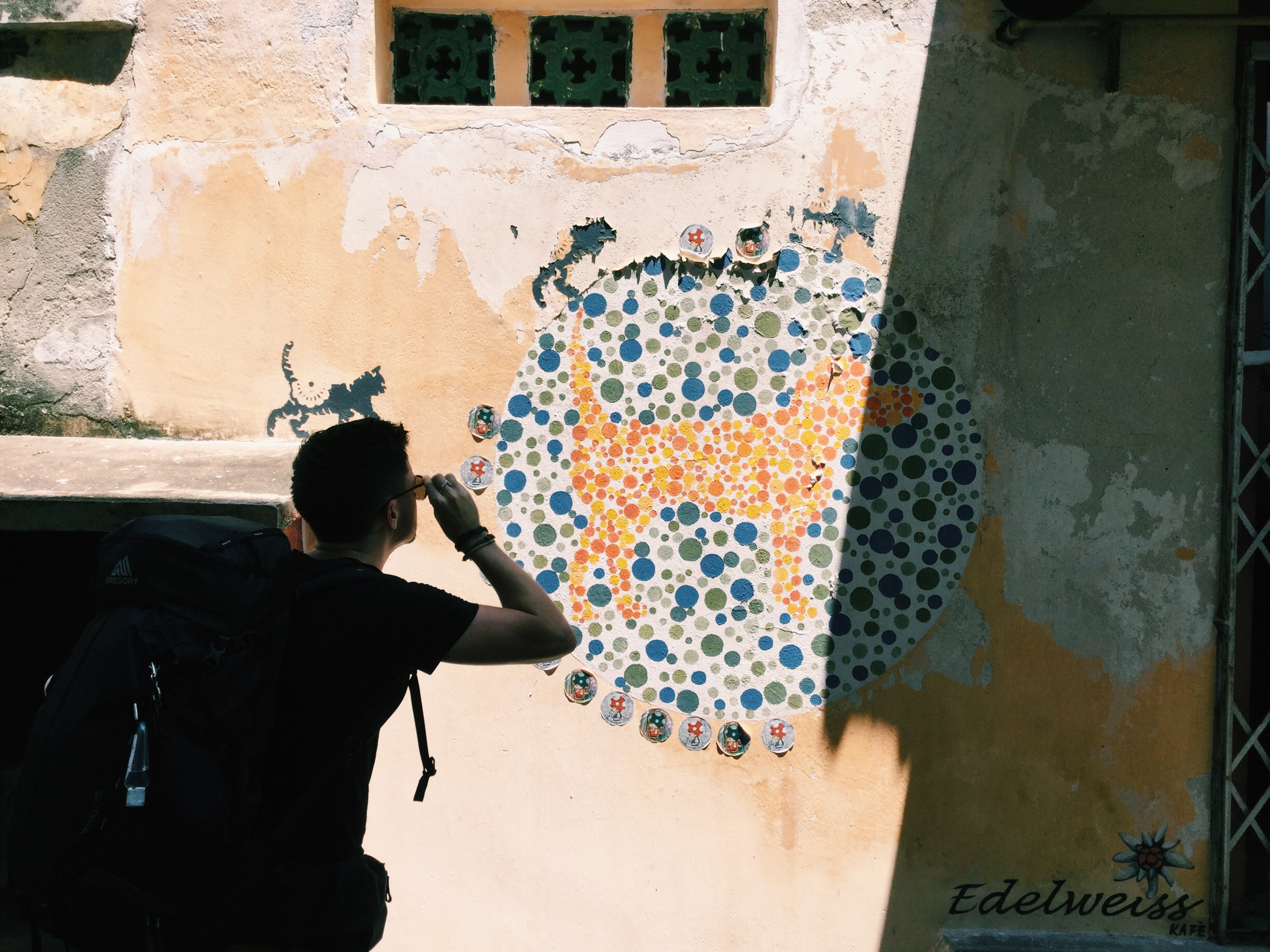 2. Check out hipster cafes
We were told that ever since the street art livened up Georgetown, all sorts of quirky hipster cafes have come along with it. If you're into instagraming latte art beside a tree that is growing from the ground inside visit Awesome Canteen. Overpriced espresso with boho jungle vibes can be found at Cozy The Rocket. Both nice spaces to spend a calm afternoon.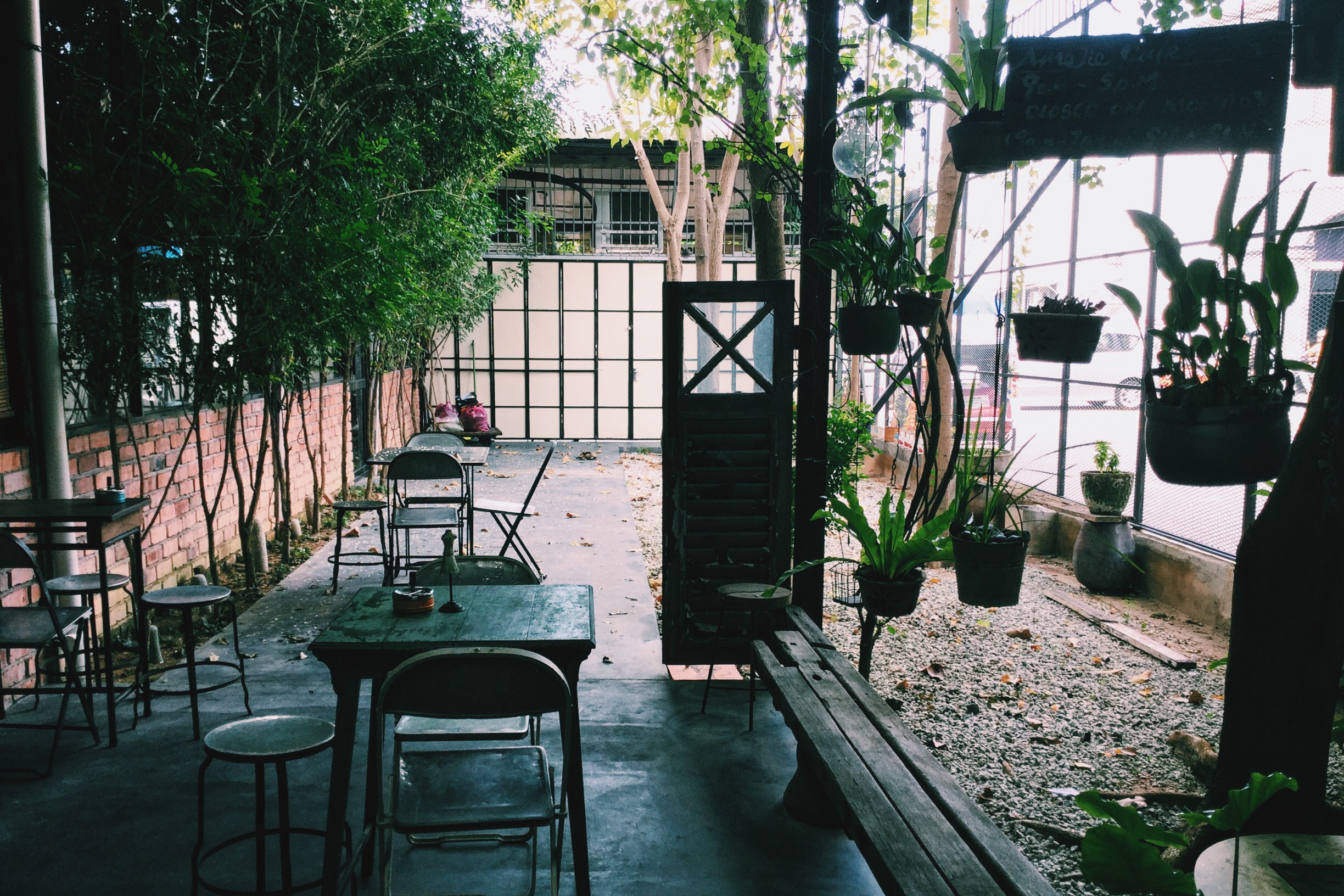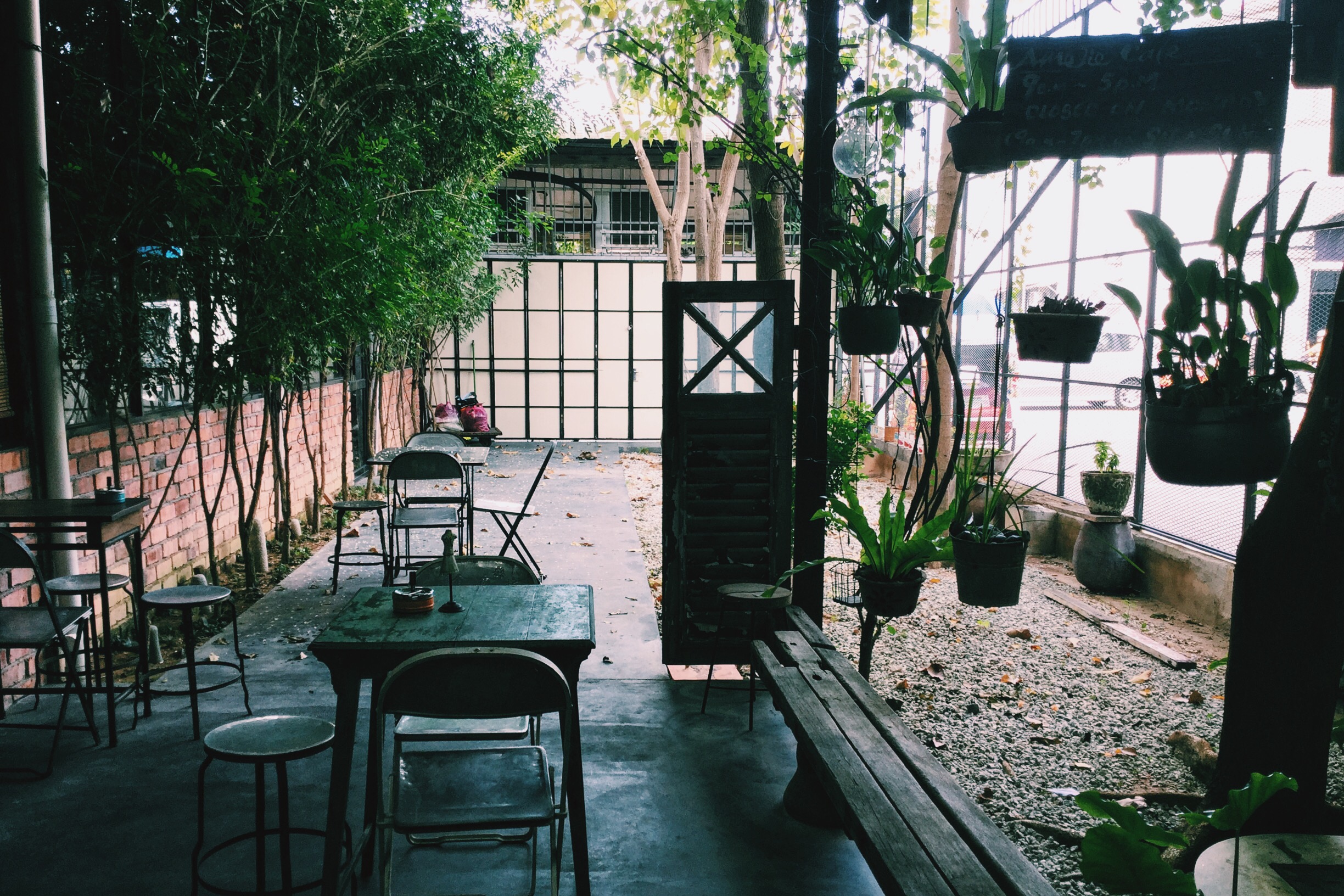 Tips on Getting Around
Penang has a decent transit system of buses called Rapid Penang. You can get pretty much anywhere for about 2MYR per ride ($0.66 CAD) in a clean air conditioned bus. The main stations are at the jetty are and the Komtar building. Ask anyone around there and they can direct you to the right bus.
There is a free shuttle bus called CAT Hop-On by Rapid Penang. We never took it, but definitely look into it, and maybe you can get around for free! (If you do, let us know for next time we are there!)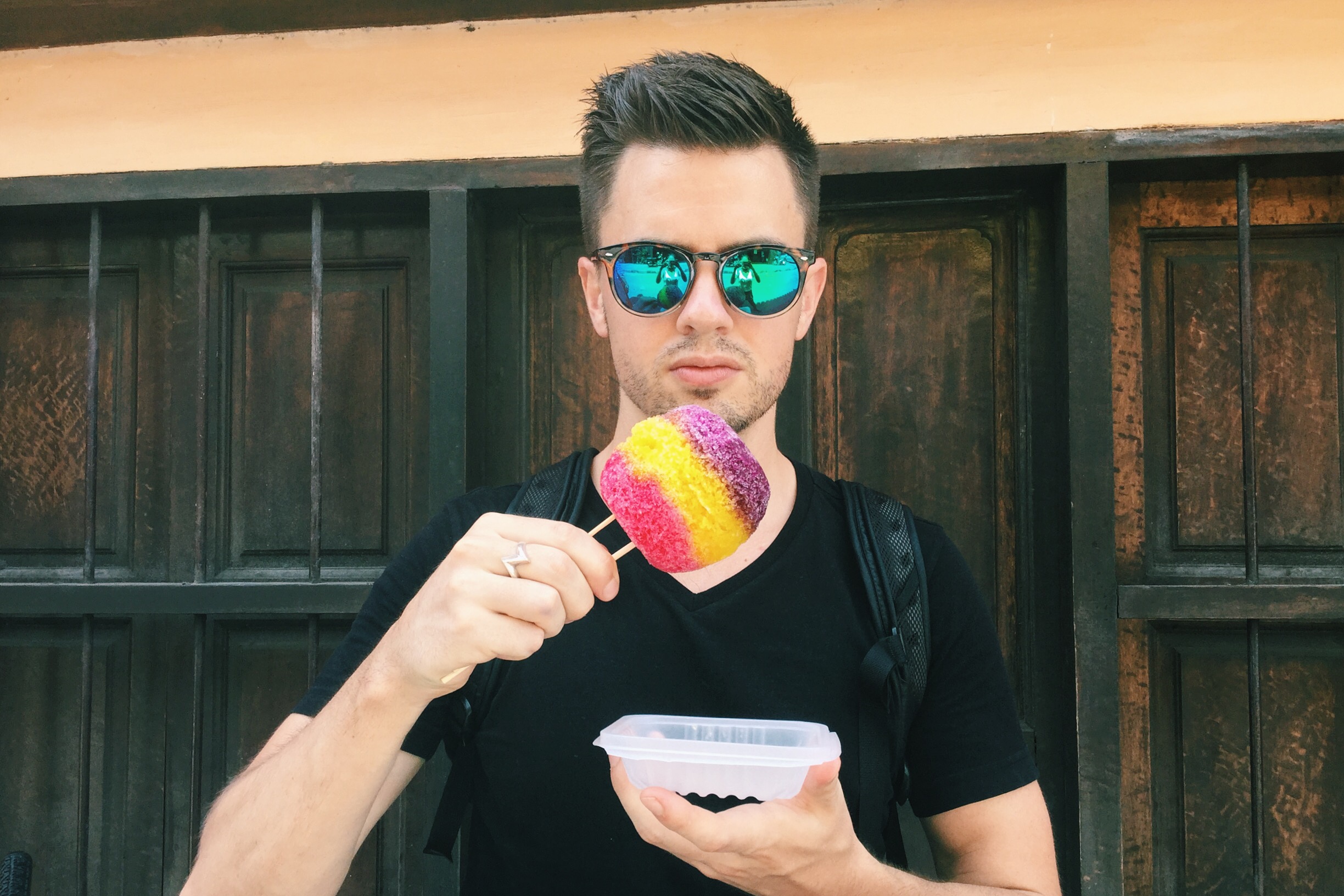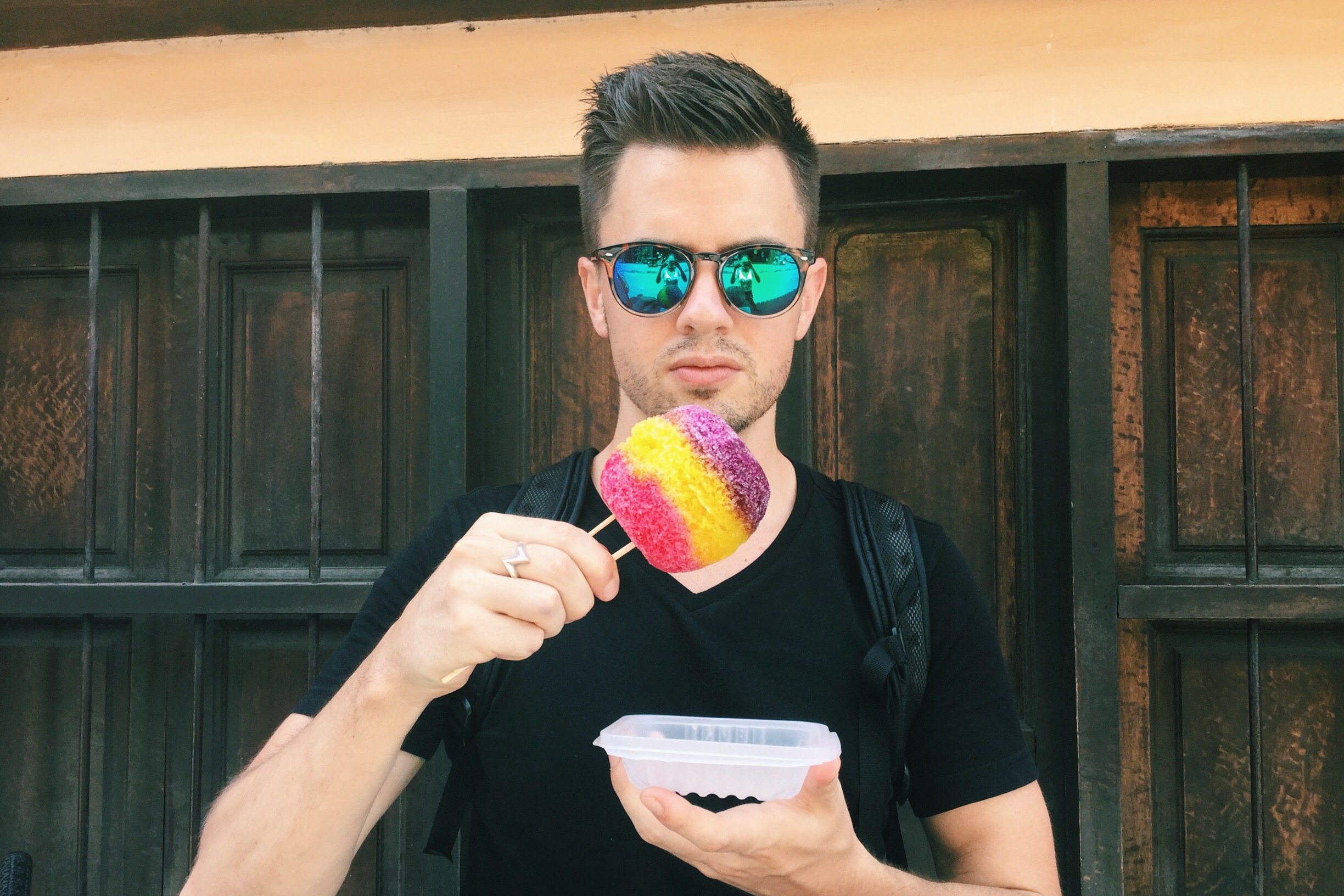 ---
We loved the time we spend in Penang. It is lively and very tourist friendly. We would like to thank Uncle Chee Keong for letting us stay at his home, Uncle Steven for driving us around and organizing our trip to the durian orchard, and Adaline for showing us a good time around Georgetown. 
You'll seriously also love:
Like? Pin it!