It is inevitable that every backpacker passing through Vietnam will end up in Hanoi for a few days. Rightfully so, as it is such a charming place with plenty to do (and eat).

What to do
Visit Ha Long Bay
A trip to Hanoi is truly not completely without seeing the photo perfect Ha Long Bay. If you have more time you can do a multi day trip, but we opted for just a day trip. The drive will take about 3 or 4 hours and many companies will take you on a cruise around the bay including lunch, kayaking, and cave trekking.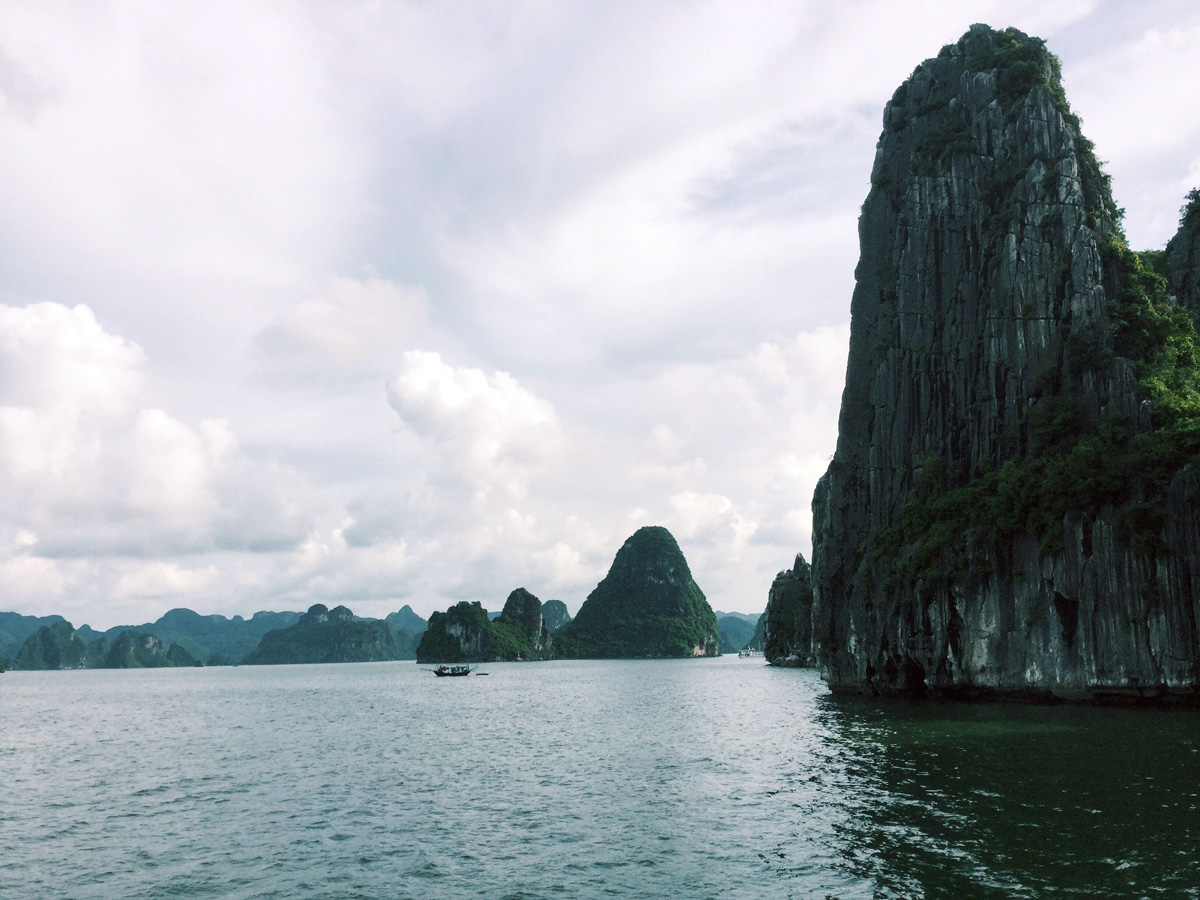 Hope for a clear day because you'll enjoy most of your cruise on the top deck of the ship taking tons of pictures of the grand limestone cliffs. Our trip was actually delayed a few days due to a typhoon that ripped through the area.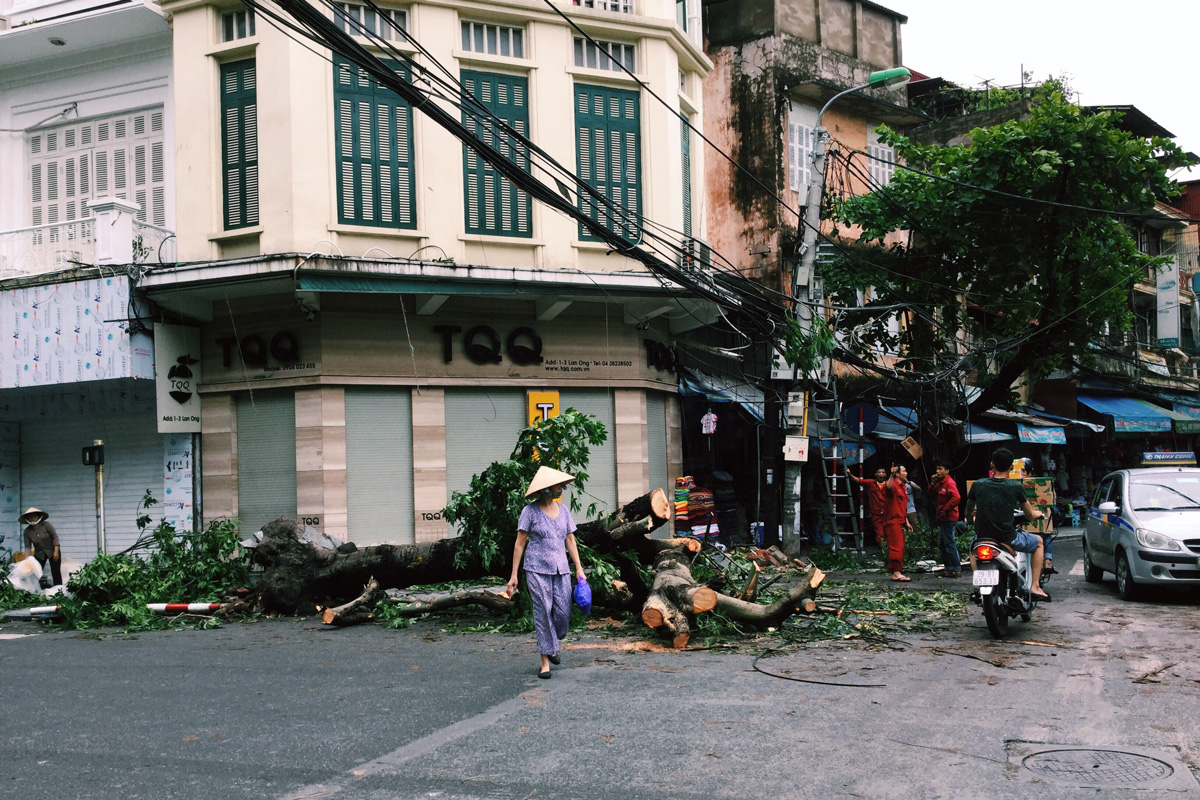 Wear your swim suit to take a dip while kayaking through cave tunnels. I'd suggest packing extra snacks and water because they do offer extra food but it's sold at extremely over inflated prices.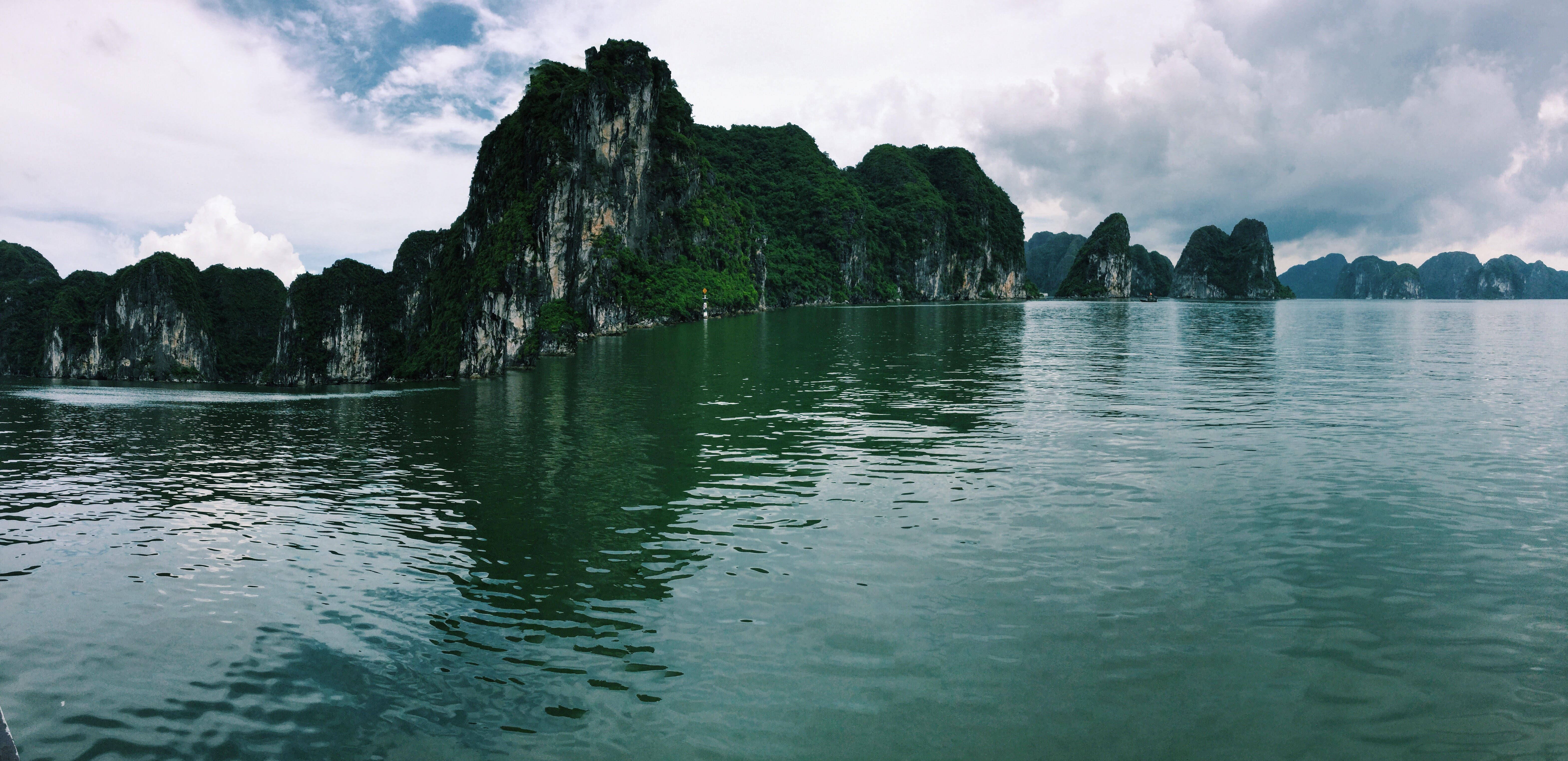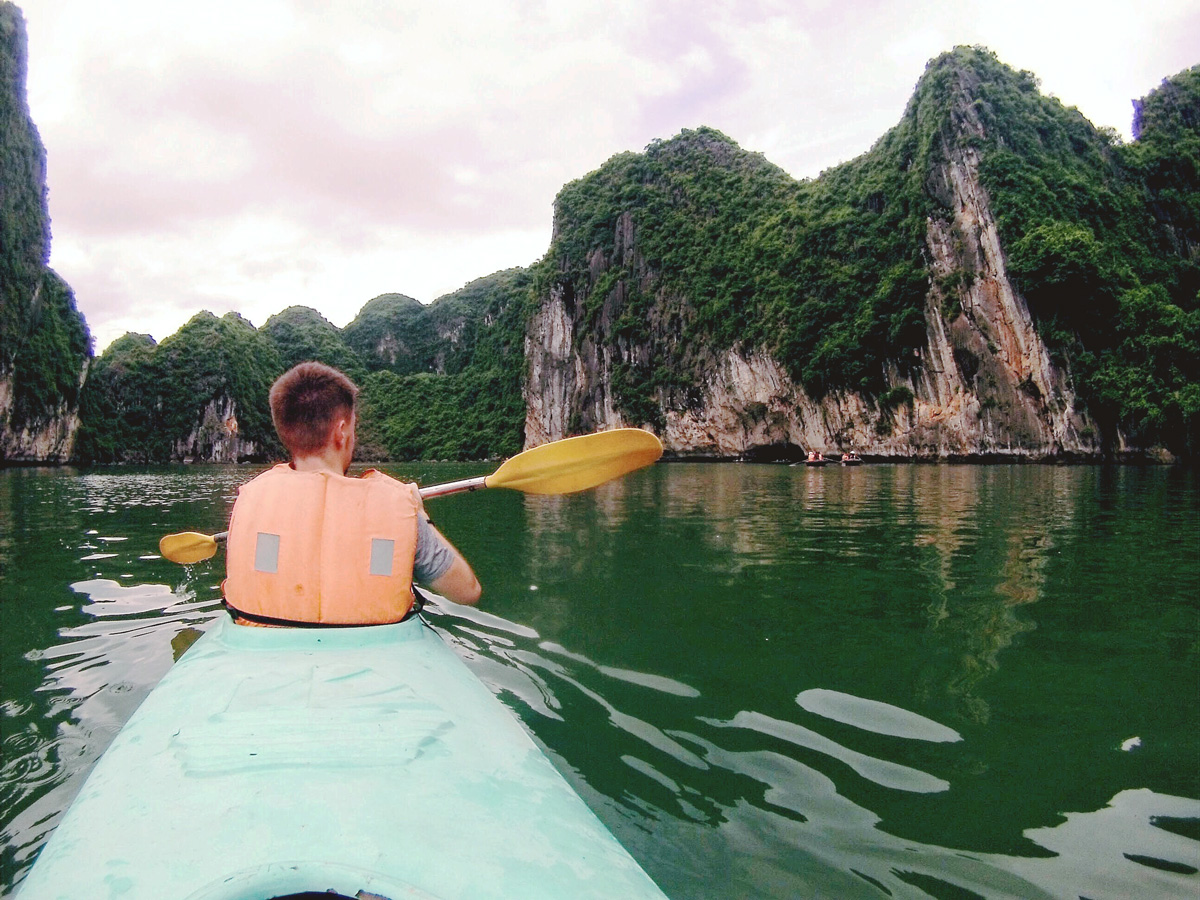 Many agencies offer multiple cruise options. We chose the cheapest "backpacker" cruise which was actually quite good for what we paid for. Many agencies will tell you the cheap cruise is terrible to try to get you to upgrade and pay more. We paid $20 USD per person after bargaining quite a bit. Shop around and grab the best price because no matter how much you pay, you'll probably be out on the same trip anyways. We asked some of the people I our cruise how much they paid for their ticket and it ranged from $25-40 USD. And we all got the same thing.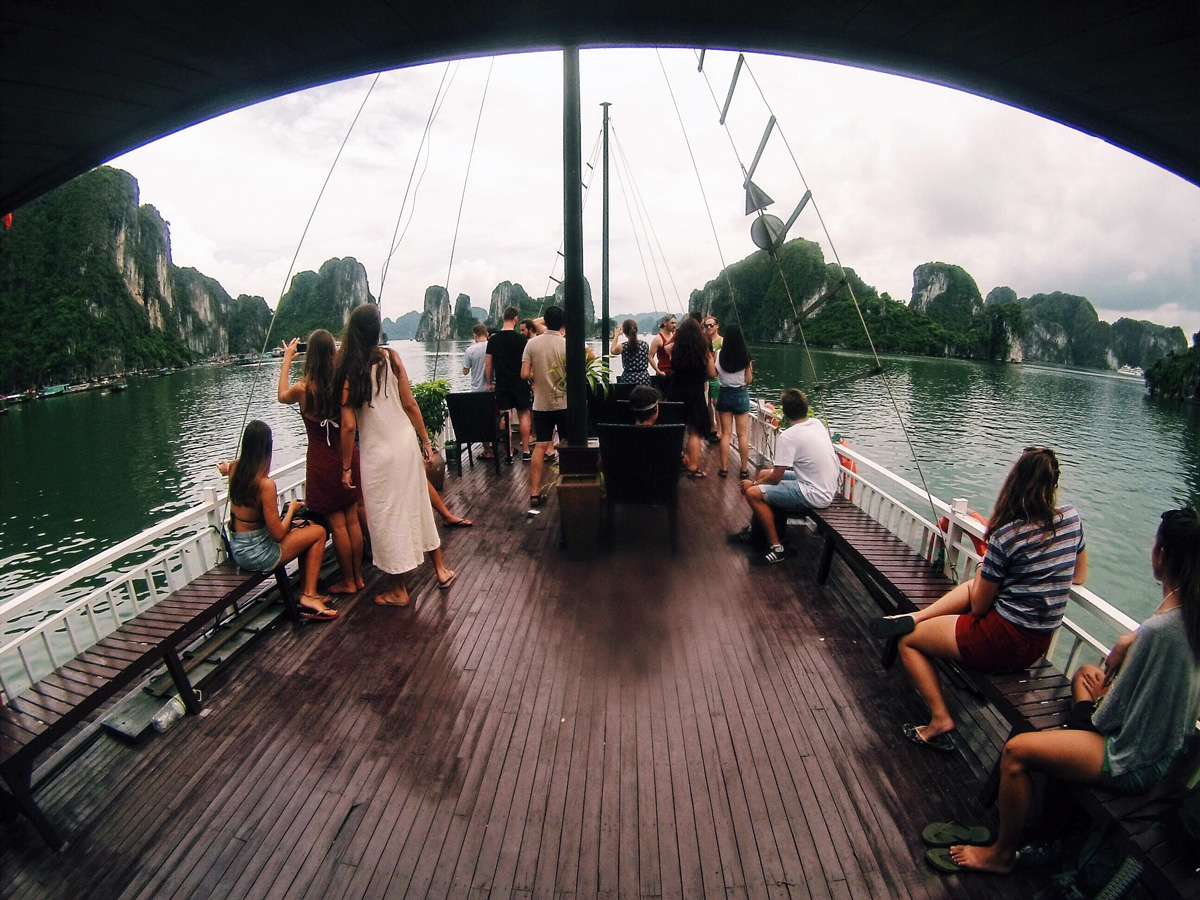 I must admit our tour was a bit disorganized and our frantic guide seemed like it was his first tour he has ever lead. But we had a great time in the end it doesn't matter how nice the boat is or what you ate for lunch. The bay itself is completely breathtaking.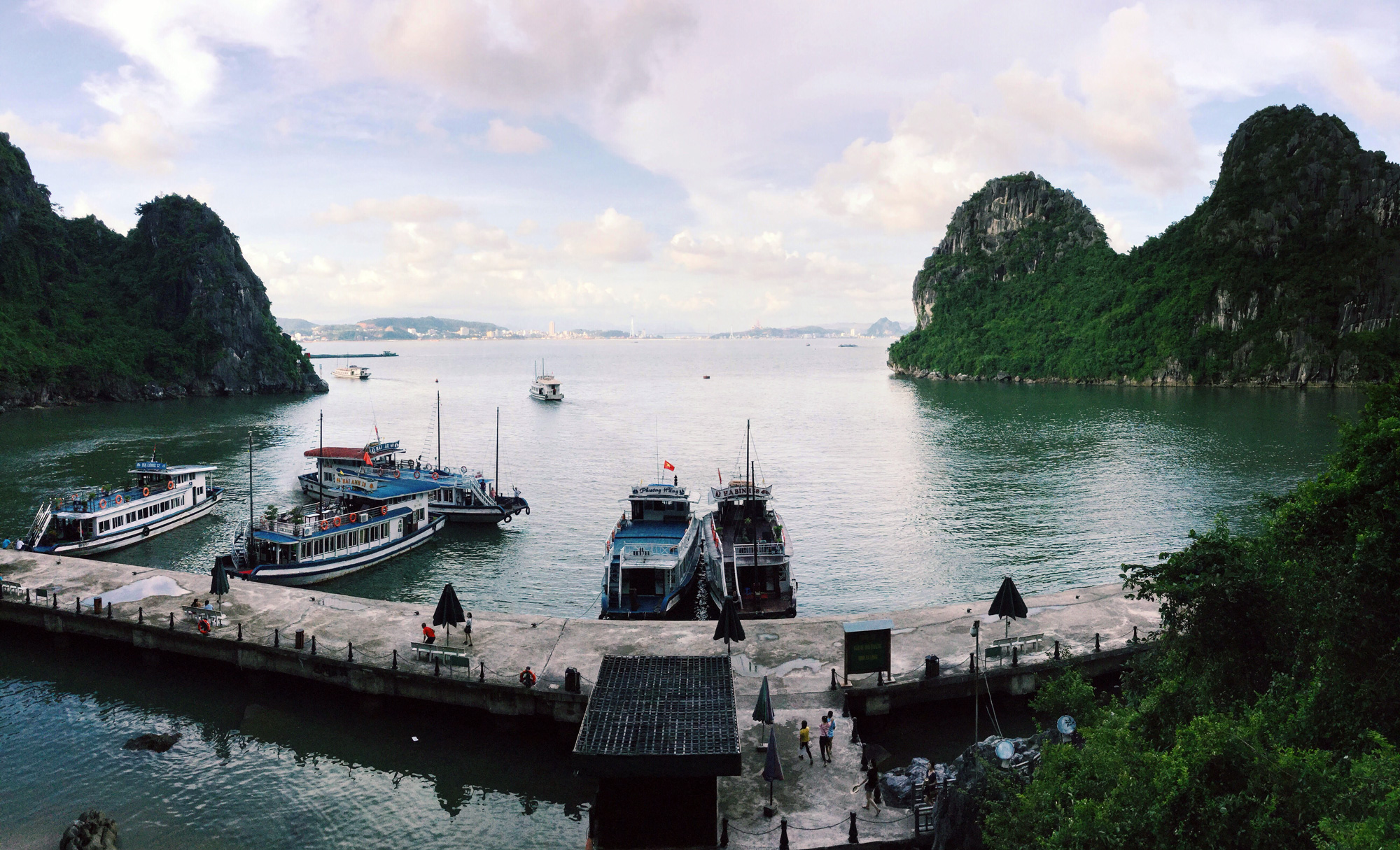 See a Water Puppet Show
We are all about traditional cultural theatre. Water puppets? You have our attention. We loved the show! Unlike other traditional theatre like in Java, or Bali, Vietnamese water puppets don't rely on dialog (never in english) to tell their stories. It is almost entirely visual. So it makes it easy to follow along with the stories and get many laughs out of them. They also use some witchcraft or something because the post impressive part was their use of pyrotechnics in the water. My meager designer brain can't comprehend the science behind how fireworks stay lit in the water. We later learned from our couchsurfing host that water puppets is a show for children. Thats why it is was easy to understand for us naive foreigners. Tickets at the Lotus Theatre cost 100,000 VND (~$5.90 CAD) each and there are usually two shows in the evening every day.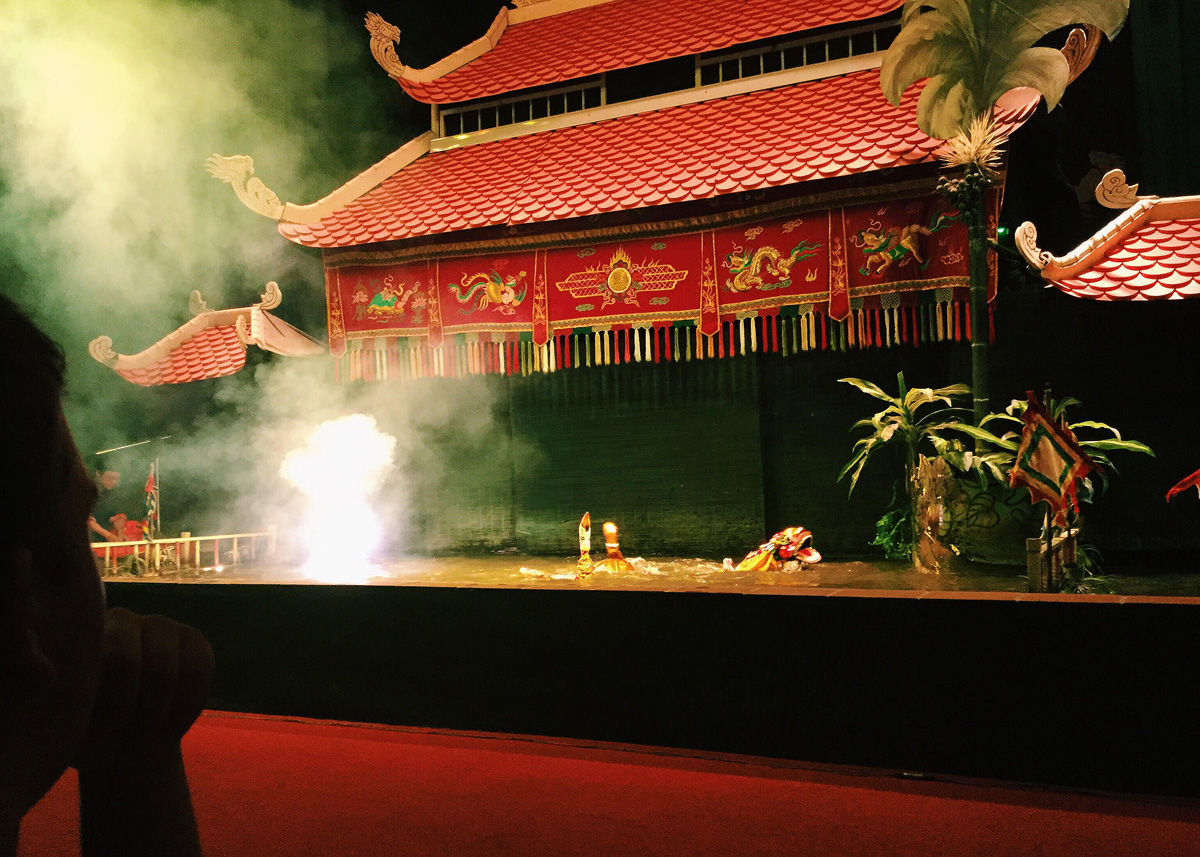 Visit
Bookworm
If you're interested in having a slow day in the old town, consider checking out Bookworm. It's a cute little bookstore thats tucked away down a small narrow alley way. It is filled with shelves and shelves of mostly english books of all genres. We spend a quite afternoon reading books, cooling off the in air conditioning.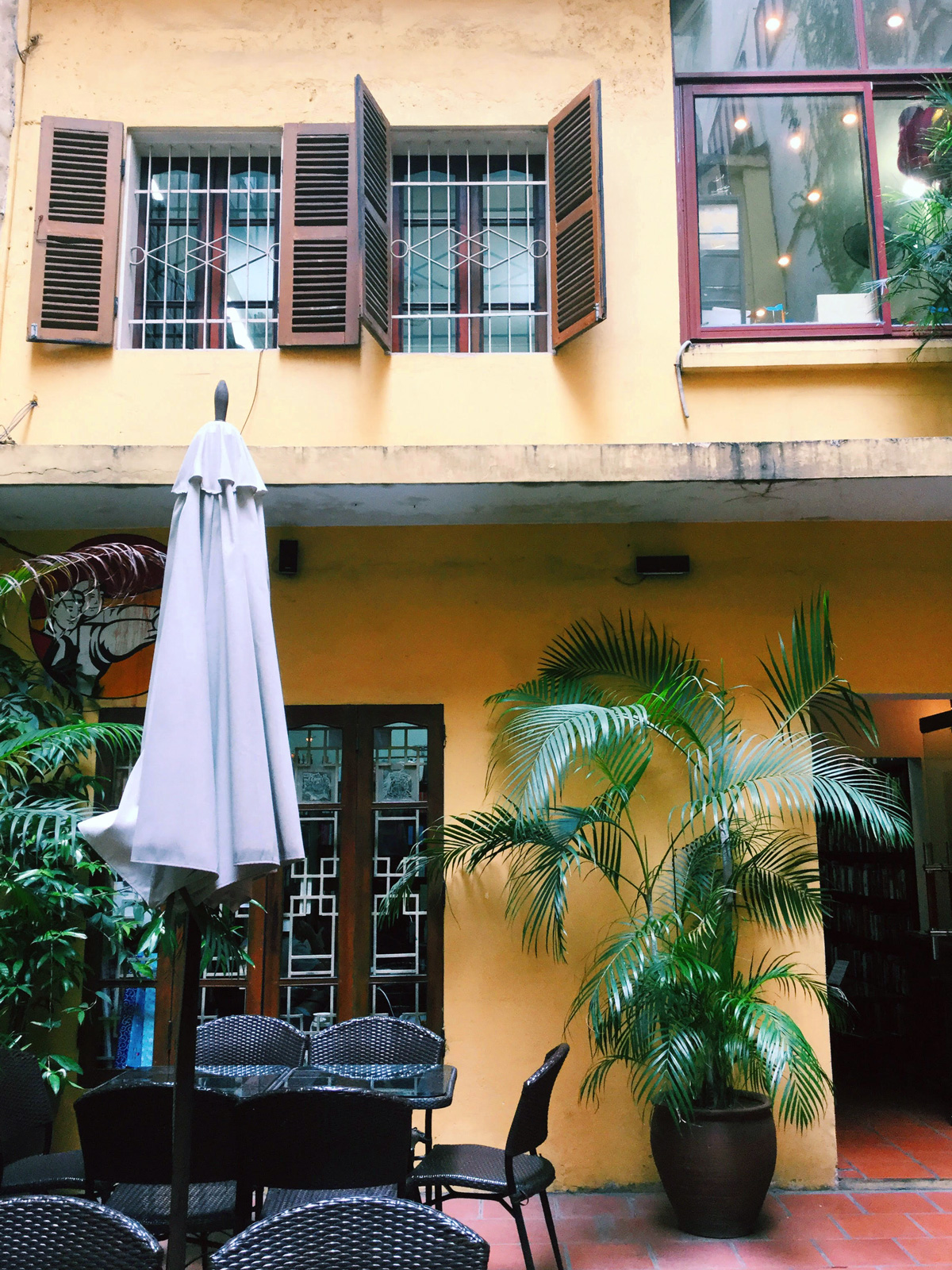 Always Cafe
And who would have guessed that Hanoi is home to an adorable Harry Potter themed cafe? Decorated floor to ceiling with every HP reference, it makes for a great spot to connect to some free wifi and perhaps catch up on some blogging (or something…). Order a delicious Vietnamese style coffee or some Hogwarts Butter Beer! We were too excited that I forgot to snap a shot before we started digging in.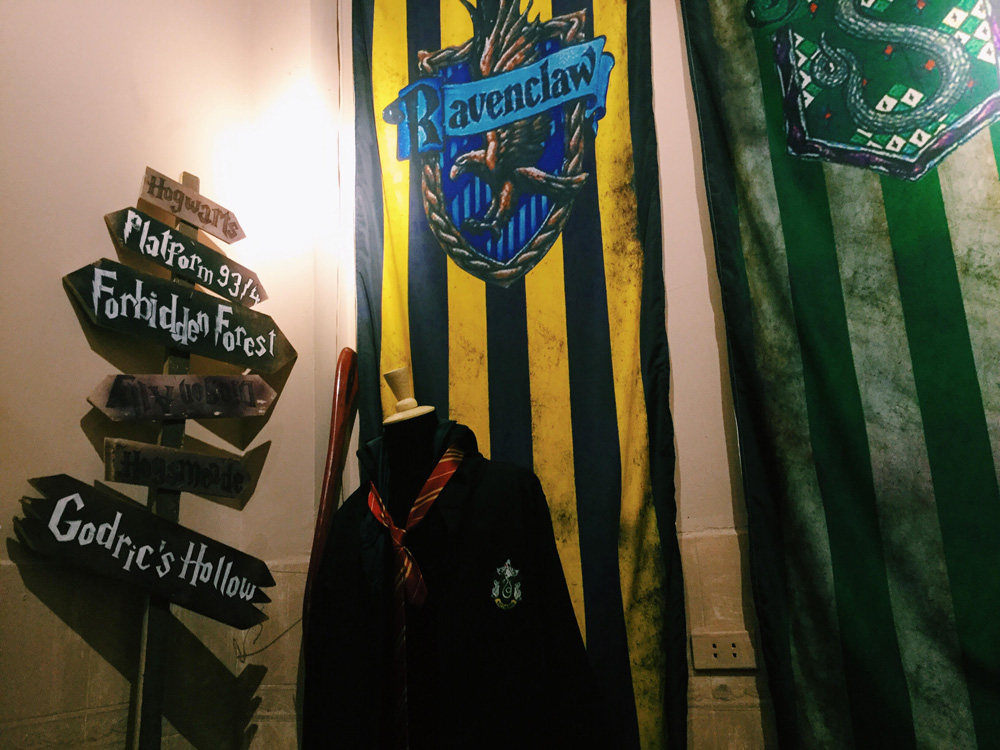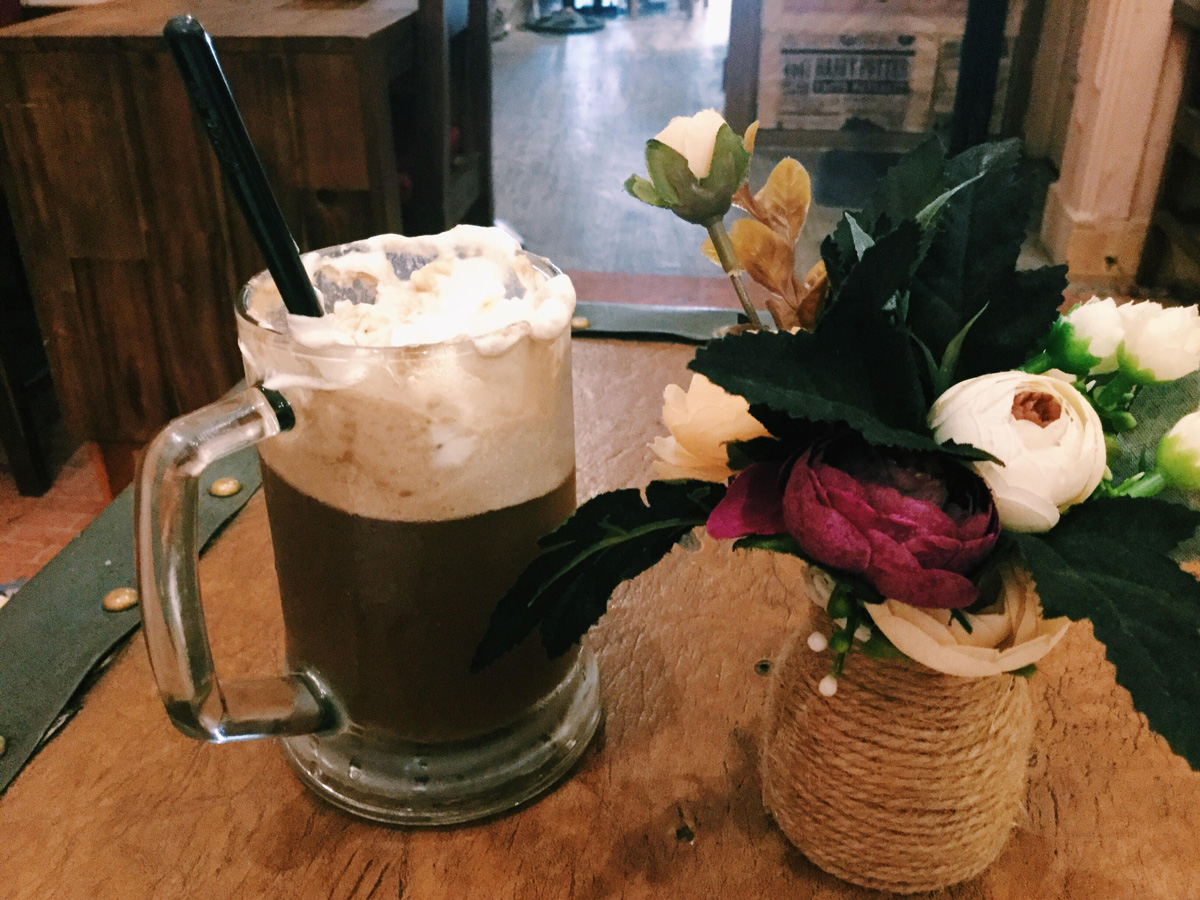 Caps N' Taps
But if you're more of a actually beer person, Caps N' Taps is a sweet spot to grab a craft brew and people watch on the balcony overlooking the narrow streets.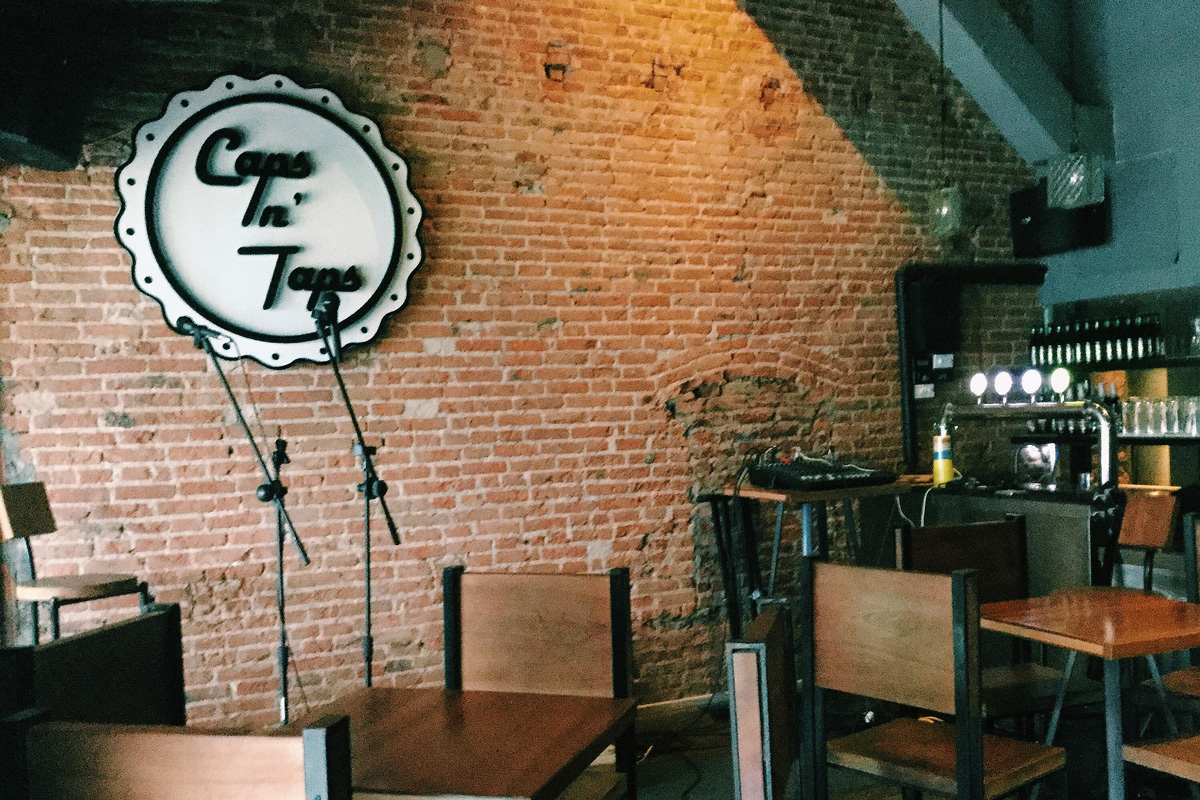 Eat
I guarantee that you will not go hungry while in Hanoi. With cheap food down every road, its simple to find a bite to eat at anytime of the day. But there are some specialties that you must try when you visit.
Egg coffee
Sounds weird right? But if you're a fan of a frosty latte with a big layer of foam on top, this is your cup of tea, I mean coffee. The coffee itself does not taste like egg. They add egg yolk to the milk to make a meringue like foam that sit on top of a strong brew. When mixed it makes each sip super creamy and delicious. Plus look at this cute cafe tucked away at the back of some shops. Asia is just filled with crazy coffee (and tea) concoctions.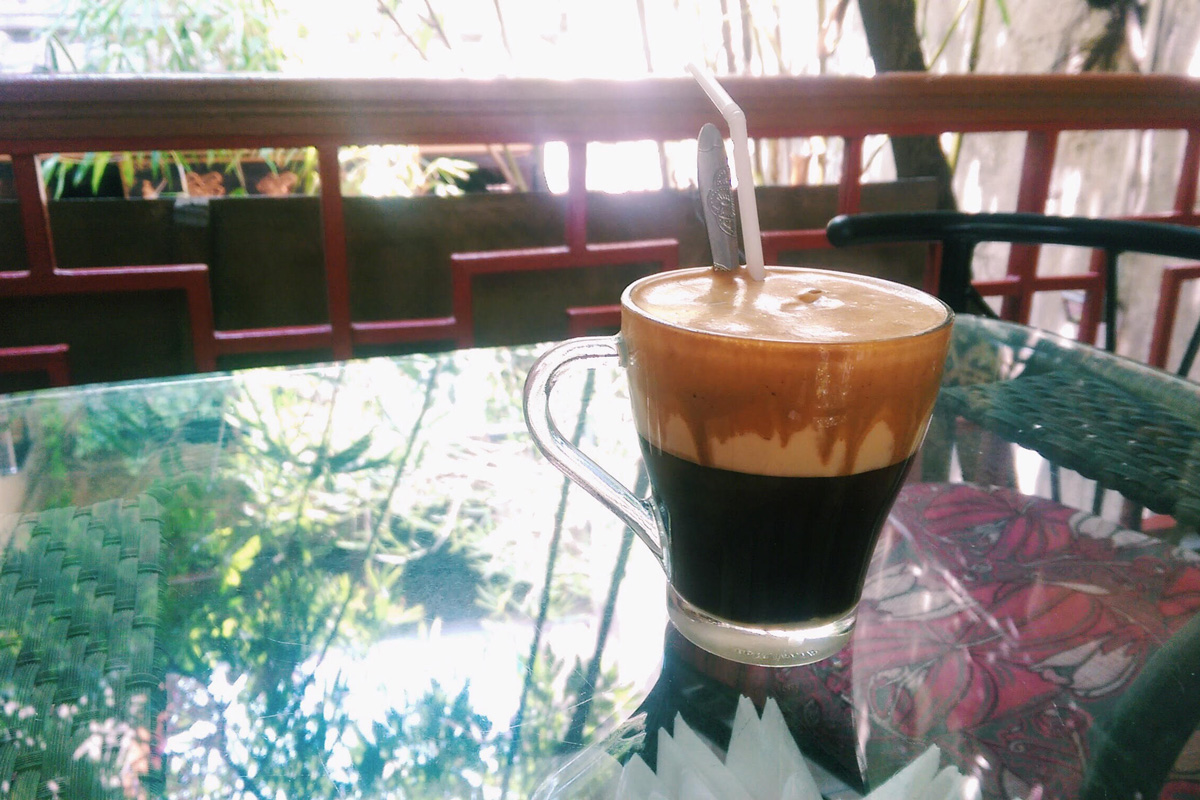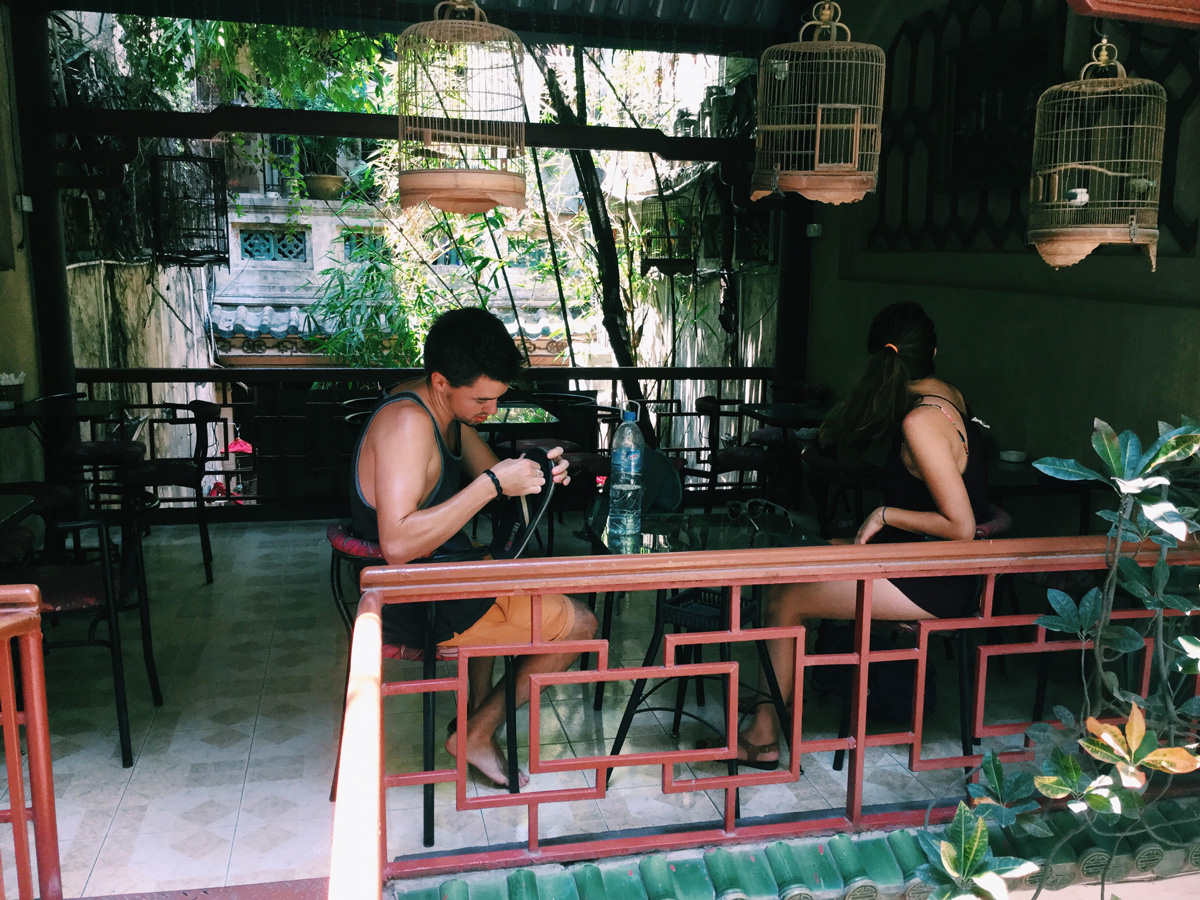 Banh mi (sandwiches)
Bless the French for bringing chewing baguettes to Vietnam, am i rite?! If you're always on the go during your travels, I bet you'll be eating lots of banh mi sandwiches. Traditionally these grab and go meals are filled with Vietnamese sausages and pickled veggies, but you can really find a huge variety from egg to steak. You'll find banh mi vendors and shops everywhere! So I'm sure you'll have a favourite go-to by the end of your time in Hanoi.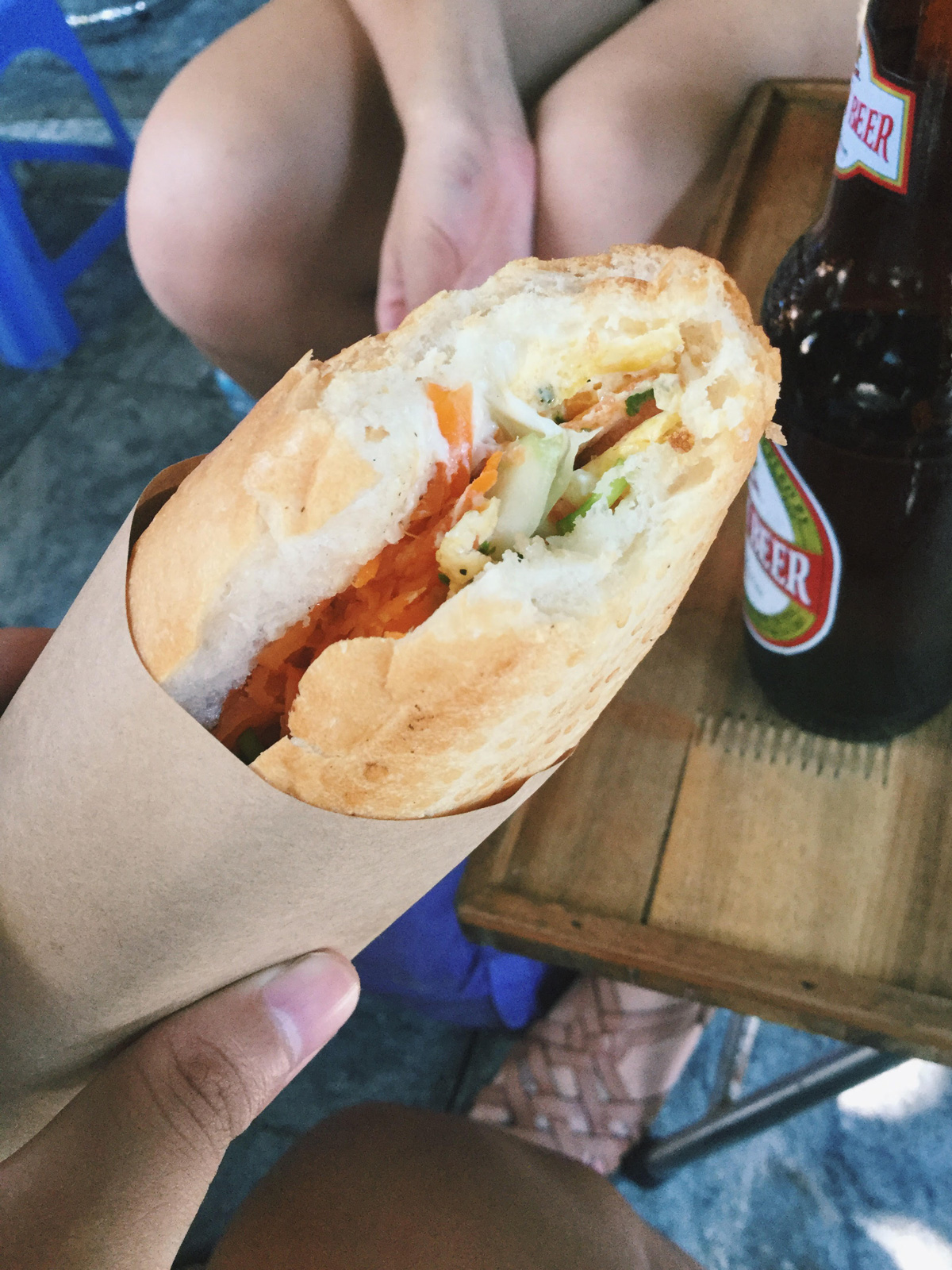 Banh Cuon (rice noodle rolls)
Similar to the Chinese cheong fun, banh cuon is made with rice flour into pretty much a giant rice noodle and then rolled with filling, usually pork with vegetables. We went on a journey to try banh cuon at a famous place we read about at 14 Hàng Gà, but NOTE: it is closed! I don't know what happened to the business, but we had to find banh cuon elsewhere. No worries, its not too difficult to find.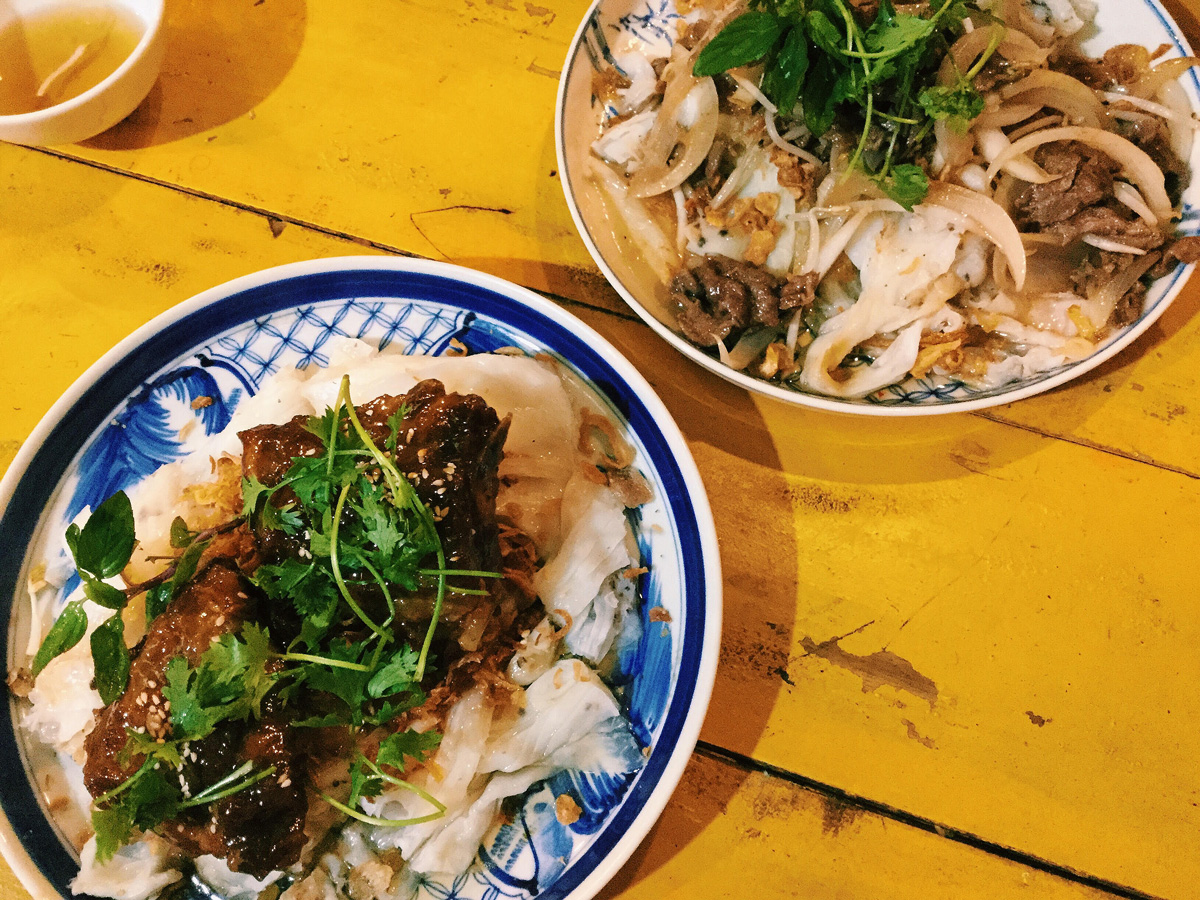 Xoi (sticky rice)
I read about this popular place in Hanoi to eat sticky rice called Xoi Yen. All the bloggers were writing about it. And once we were in Hanoi, I could help but notice that it was always busy with locals. That's when I absolutely knew we had to try whatever they were selling. I'm such a sucker for sticky rice, and I still dream about this one to this day. Xoi Yen's specialty is yellow sticky rice topped with mung beans and topped with your meat of choice (I'd recommend the pork). So good, so filling.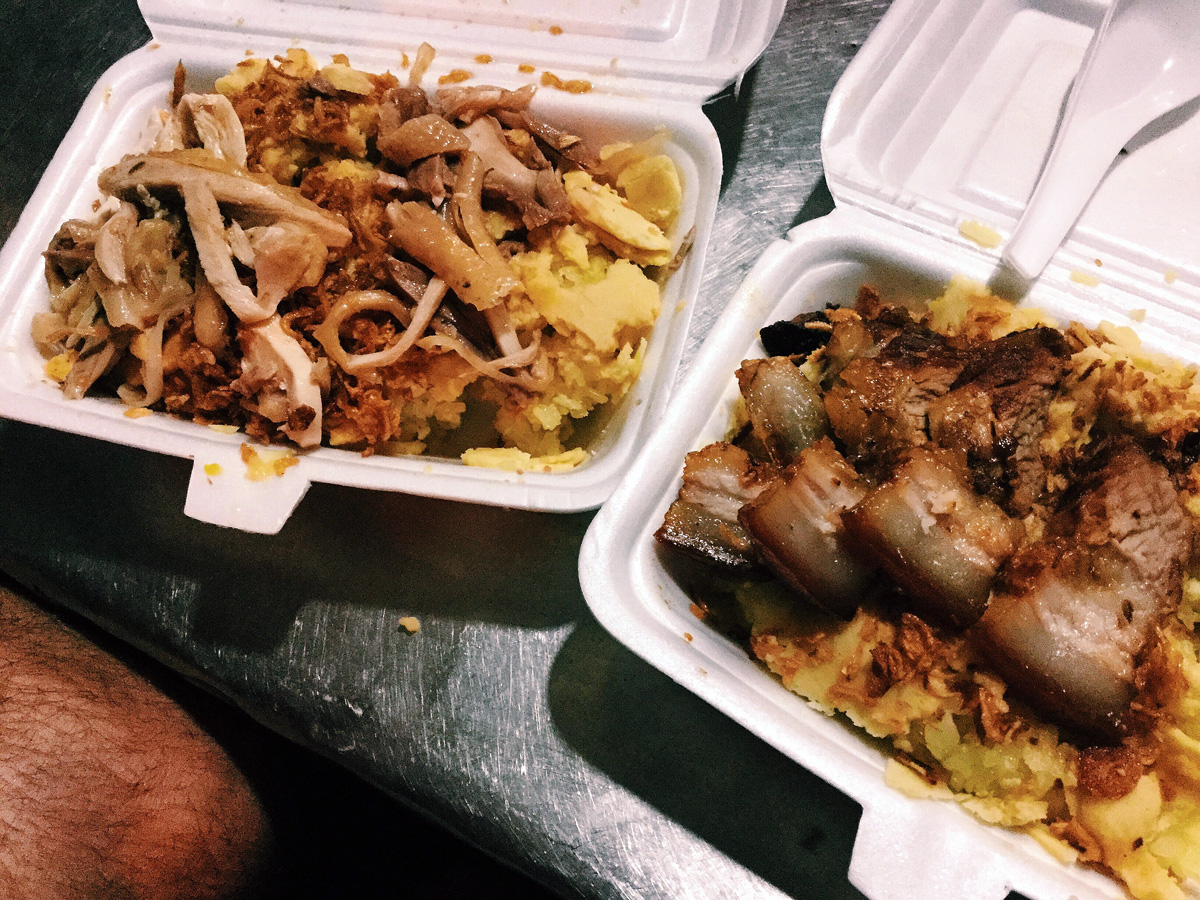 Bun cha (grilled pork and rice noodles)
If you're a fan of BBQ'd meat, you gotta try the bun cha. It's grilled pork with thin rice noodles in a light broth. I mean if it is good enough for President Obama and Anthony Bourdain, it sure is good enough for me. Bun Cha Huong Lien is a small restaurant that recently exploded after serving the United States President and the biggest foodie in the world, just recently in May 2016. Now it has pretty much becoming its "thing", with pictures all over the walls of the two causally seated on the classy low plastic stools, having a conversation over some beers.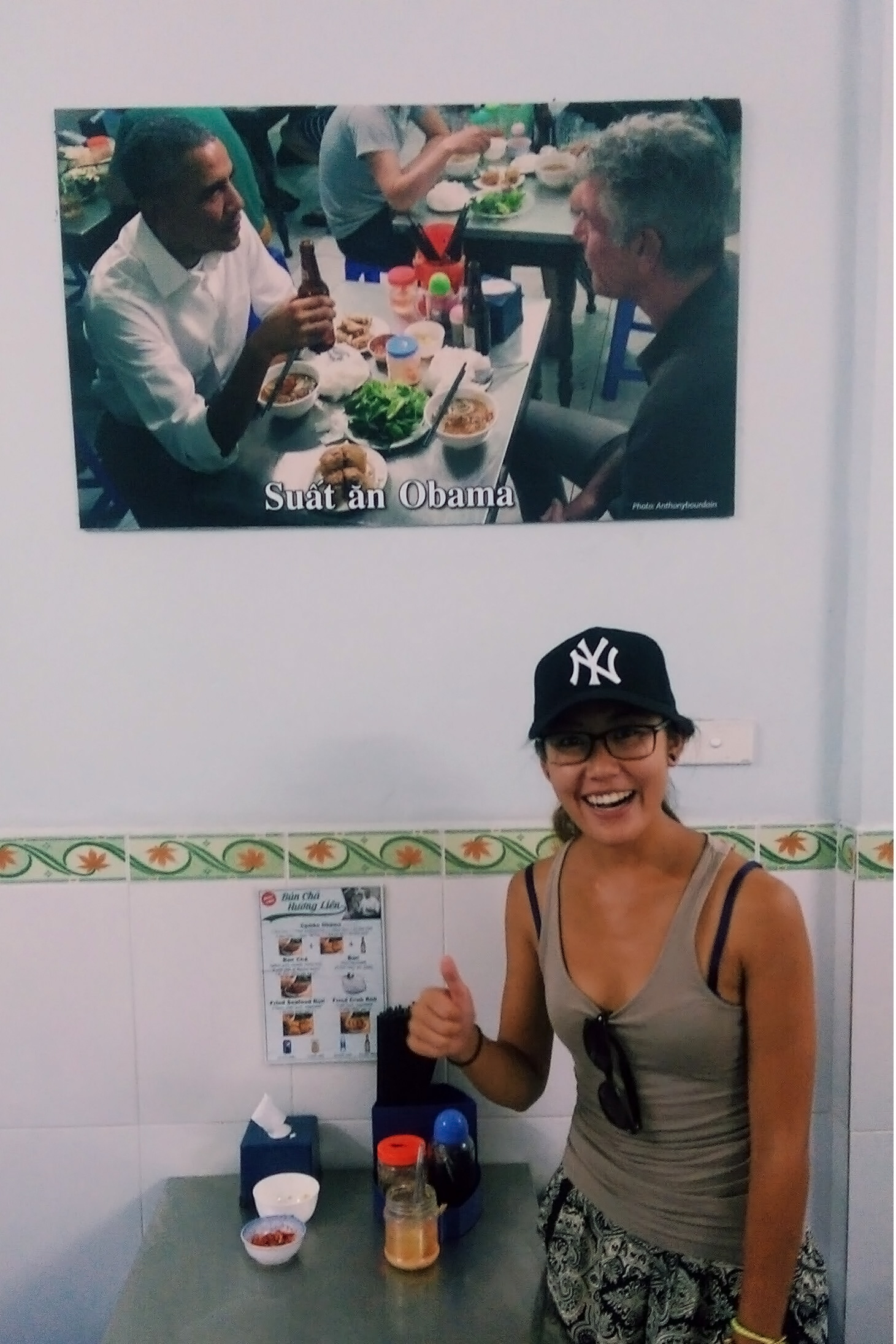 You can even order the "Obama Combo", which is really just one of each menu item. That being said, the food is actually tops, so arrive early as the place gets busy!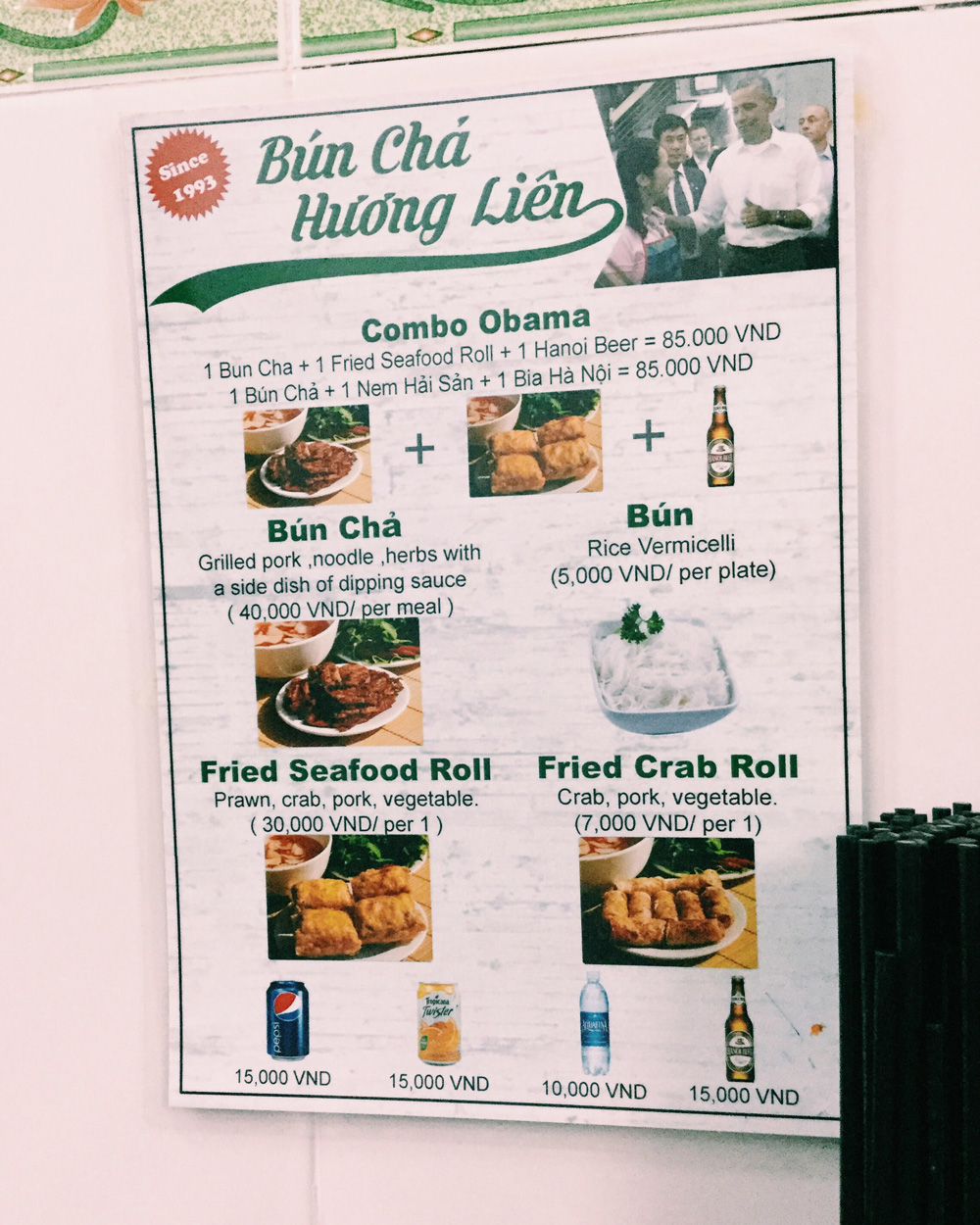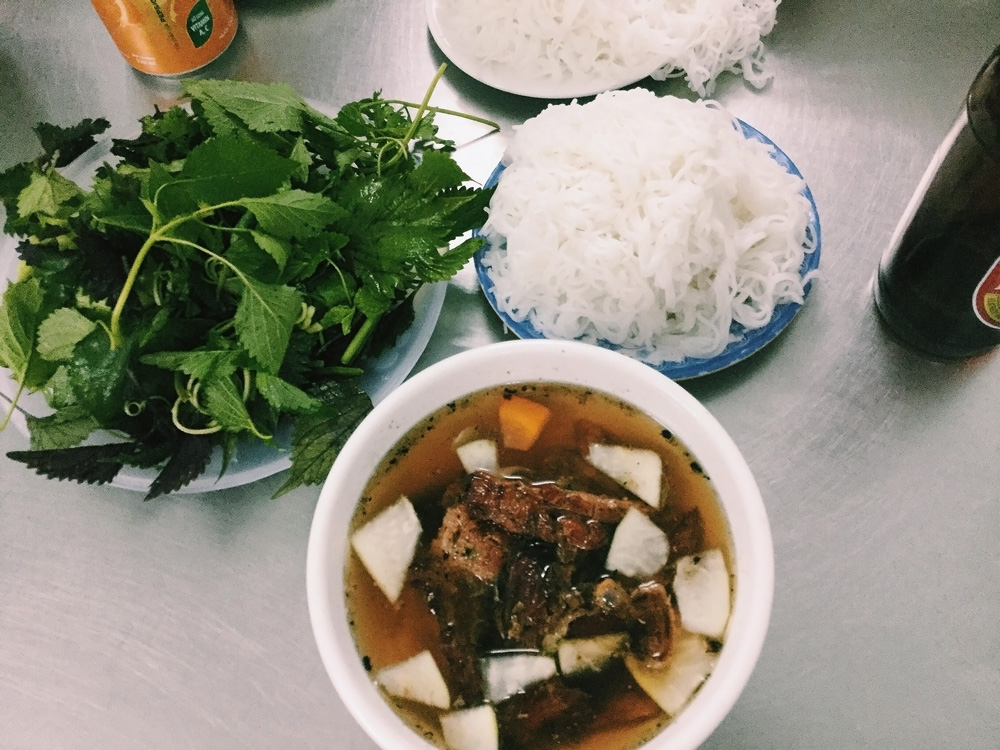 ---
---
Hanoi is charming and can accommodate the frantic backpacker, jamming as much as possible into one day, or the relaxed traveller, taking it easy, cafe hopping day to day. There are so many little hidden gems in the city, make sure to take a few days to wander. Did anyone visit Ho Chi Minh's mausoleum? How was it, should we have taken time to check it out?
If you're traveling to other parts of Vietnam, you may be interested in our guide to Ho Chi Minh City or maybe find out what to eat in Hoi An. Sigh, Vietnam is a delicious place.