"If you're in Cambodia, You have to go to Koh Rong Samloem, and stay at the Chill Inn. It's my favourite place in the world!"
We got this tip from a friend of Matti's that he used to go to high school with. And it was enough to send us on our way with the promise of visiting the best place in the world.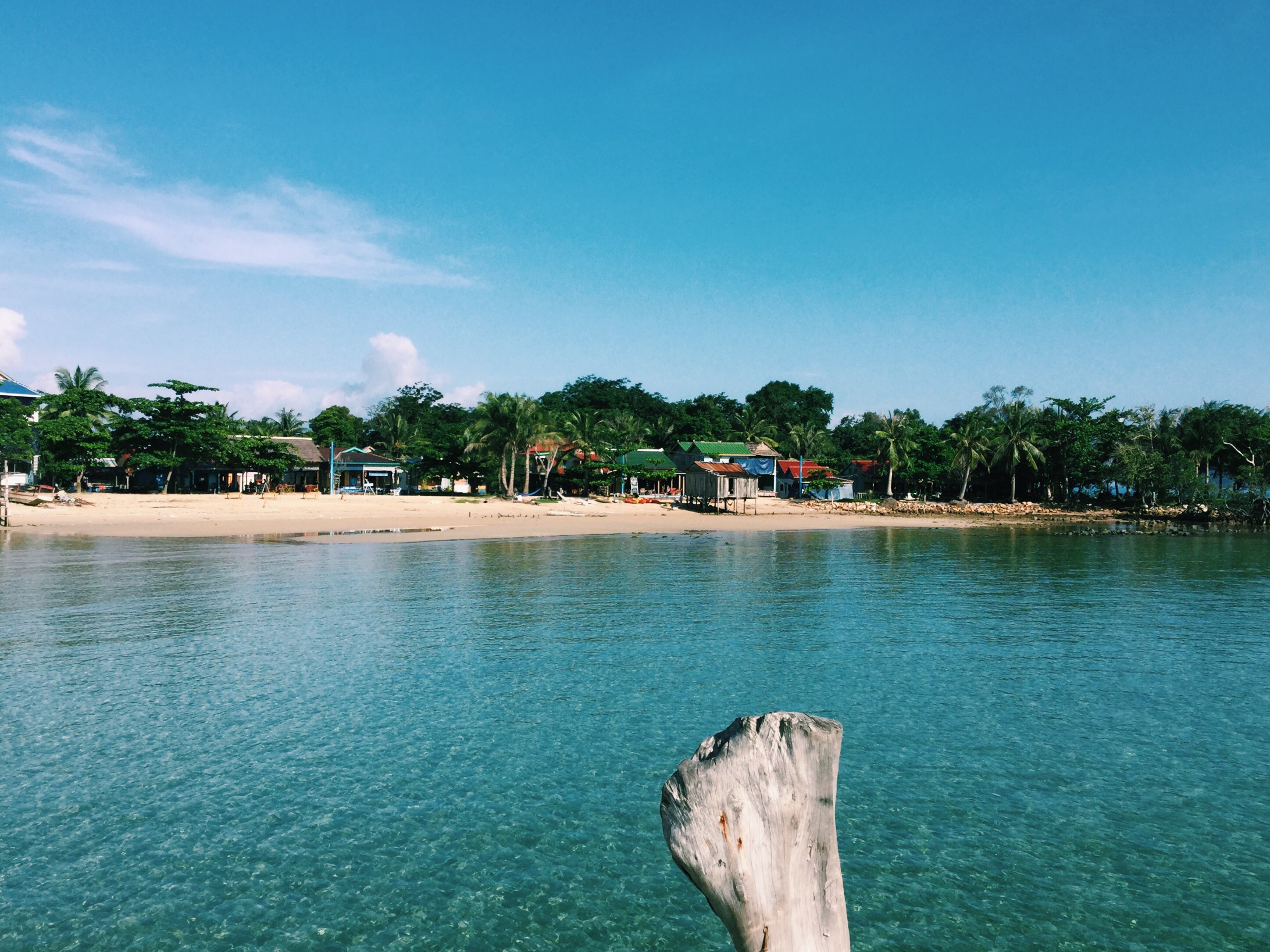 When we finally arrived, we were pleasantly surprised by a little village of Khmer folk living in harmony with a handful of trendy hostels owned by expats. We weren't hustled when we got off the boat, prices didn't look crazy inflated, there was no sign of a 7-11 anywhere close by. Okay, I could get used to this.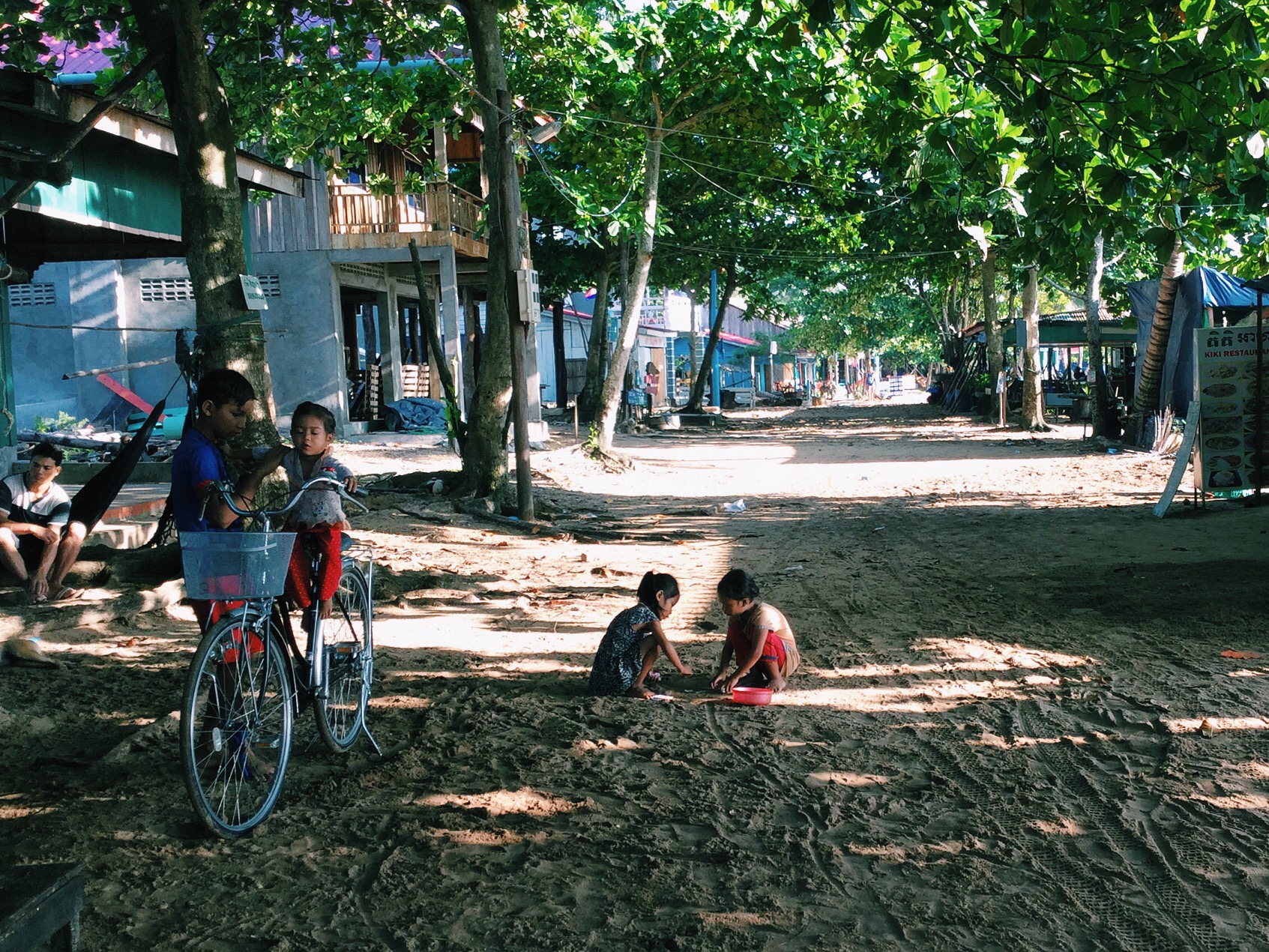 How to get there?
Let's take a step back. It only took us two boats and a hike to get here. There is an easy way to get to this quiet paradise, and a hard way. We unintentional chose the hard way.
So back in Sihanoukville we learned that there are two islands, Koh Rong and Koh Rong Samloem, a smaller quieter version. We bought return tickets to Koh Rong Samloem for $18 USD from one of the many travel agencies. It seemed easy enough. Wrong, first mistake. There are two boat companies. You want to get tickets on the yellow speed boat. We were sold tickets for the blue boat. The yellow boat makes three stops, two at Koh Rong Samloem, first at Saracem Bay then M'Pai Bay, then Koh Rong. While the blue skips M'Pai bay. Guess where we needed to go?
Well once we got dropped of at Saracem Bay, we checkout the map and realized where we wanted to go is on the other side of the island at M'Pai bay. We walked down the quiet beach and check out the beach side bungalows, maybe we could just stay here. This side of the island is for rich people only. The cheapest bungalow is about $30 USD per night. Nope, beyond our budget. We walked in the sun about 750m to the next pier and asked around about getting to M'Pai bay. The only way to get there is on the supply boat that comes twice a day or a 3 hour hike that may or may not have been a rumour.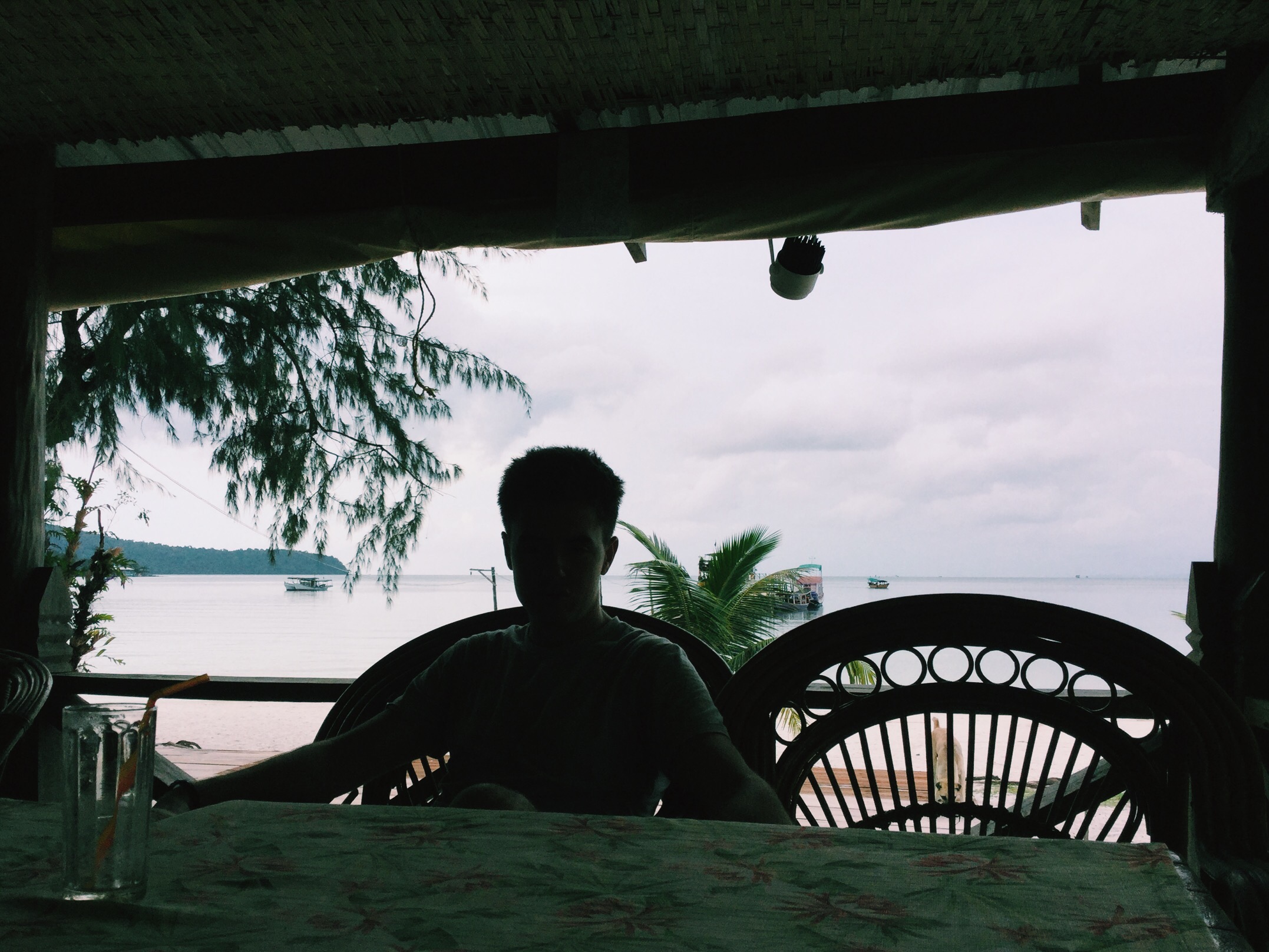 We waited for the supply boat which was supposed to arrive around 4:30pm at the pier. We hopped on a small blue boat while locals unloaded supplies at Saracem Bay, including large blocks of ice, bags of vegetables, and a full sized fridge. Our trip costed us another $5 USD to ride among the remaining produce and livestock. It was a rainy 30 minute ride around the island before arriving, finally, at our destination. We also learned that you can take the supply boat all the way from Sihanoukville for $5 USD, but it'll take a while. Hindsight is 20/20 eh?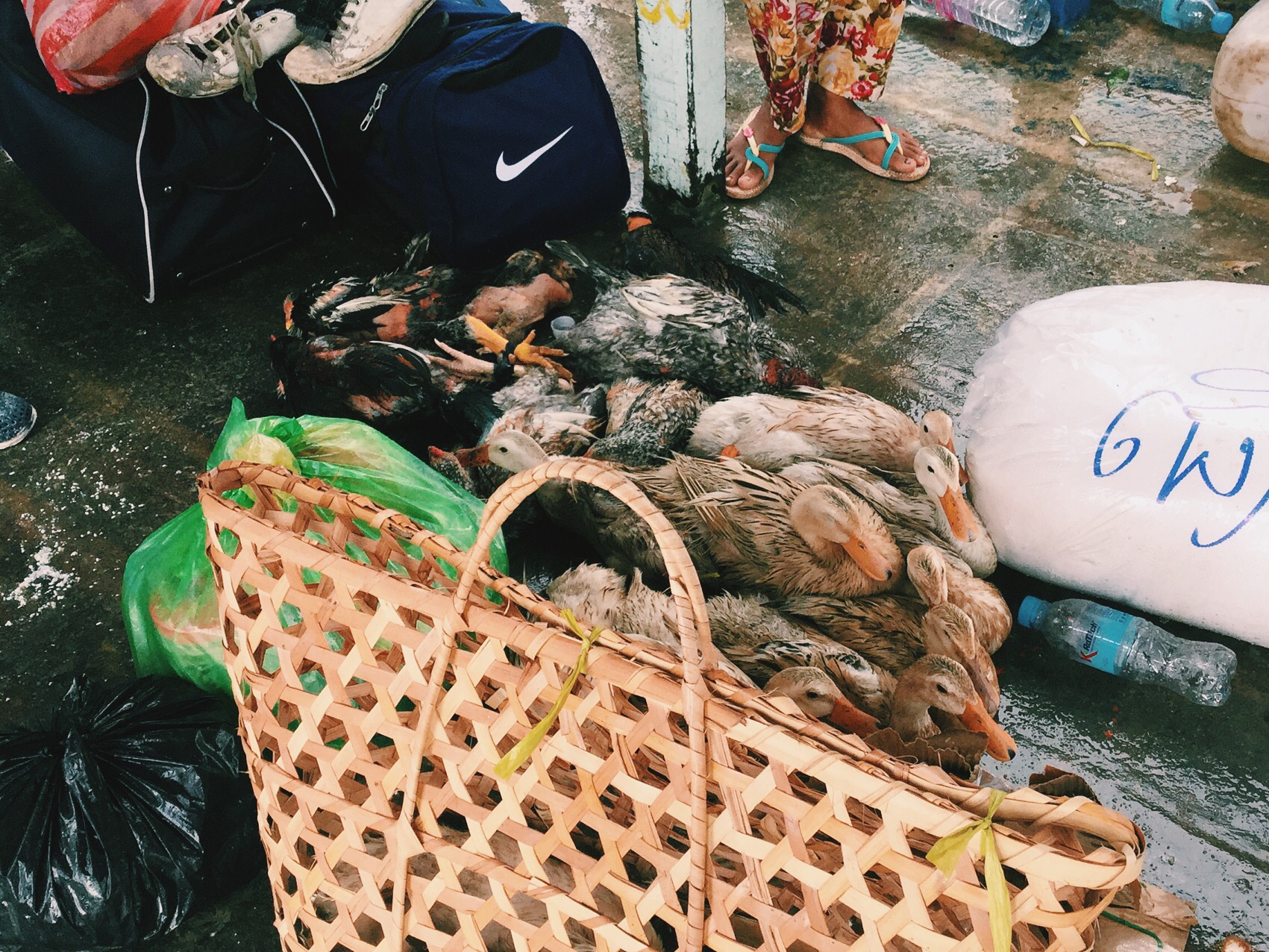 Where to stay?
Once you walk into the village, there are many signs pointing you in the direction of the handful of hostels. We were told by Matti's old high school classmate to stay at the Chill Inn, where he used to work.
The Chill Inn is at the end of the row near the Sunset Bungalows. When we got there the place looked closed. "Hello?" A guy looked flustered as he peered around the side of the building. Shay, the owner of the place, happened to have just arrived himself, off the same boat we were on. He had spent the past few days in Sihanoukville because of the low season. What lucky timing? We mentioned we knew Mike, Matti's old classmate, and stayed at the Chill Inn for three nights.
Most places on the island charge $5 USD per night per person. The Chill Inn is no different, but with it comes a free daily local beer and friendly owners. Perks!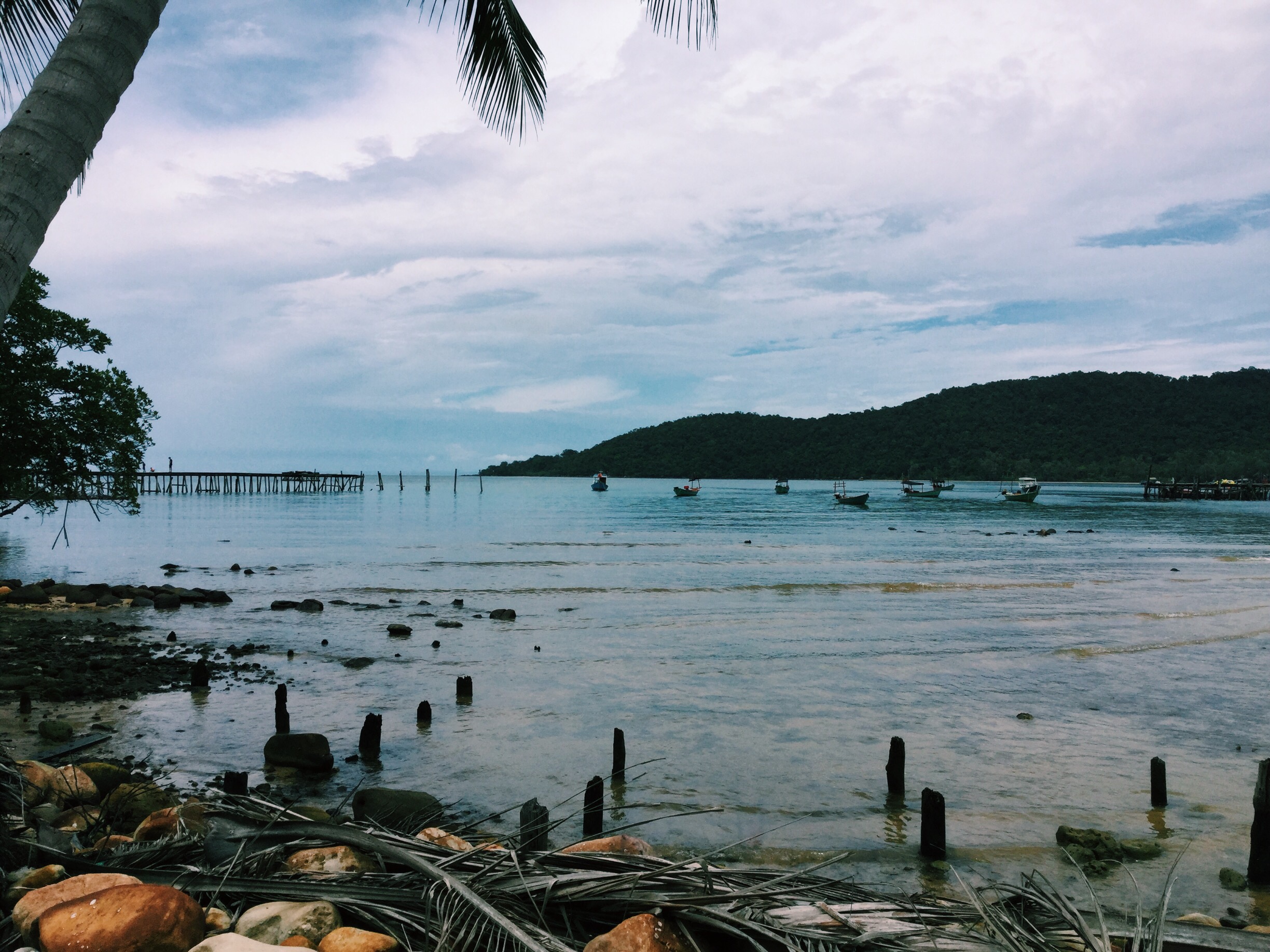 What to do on the island?
Chill out
Most of our time we spent chilling in hammocks. And of the hammock time we read, blogged, and napped. This is the pace of the island. Everyone is happy.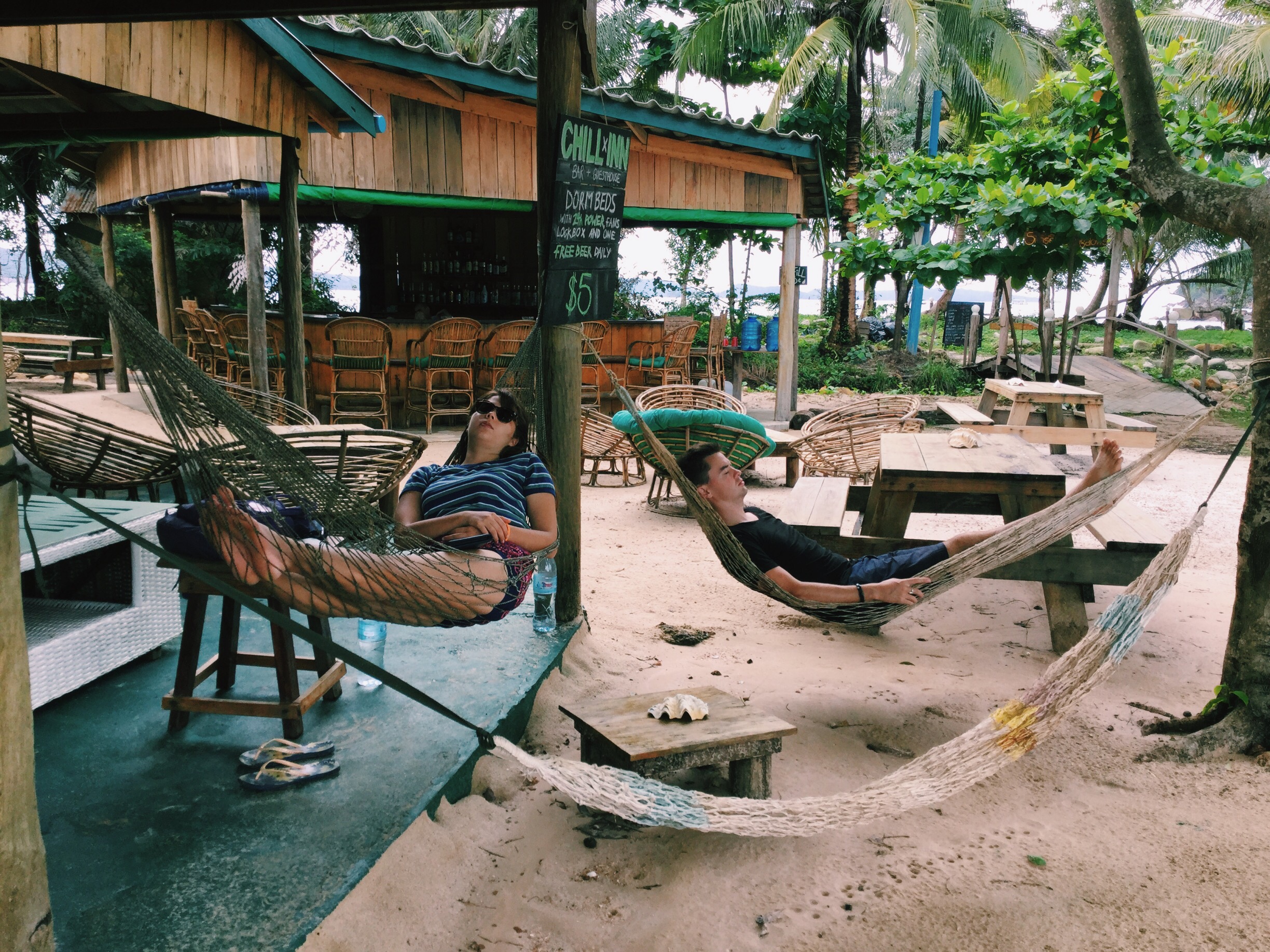 Fishing
One afternoon, we organized with a local to take us fishing on their boat. We just chatted with the fine young man who works at Kiki's restaurant (one of two on the island, you won't miss it). It was a nice journey on a small boat with homemade fishing lines. We managed to catch only a few small fish and a small octopus! Mostly just relaxing with the waves gently rocking the boat. We paid the local family $5 USD per person to take us on the boat fishing. They can also arrange snorkelling and other activities.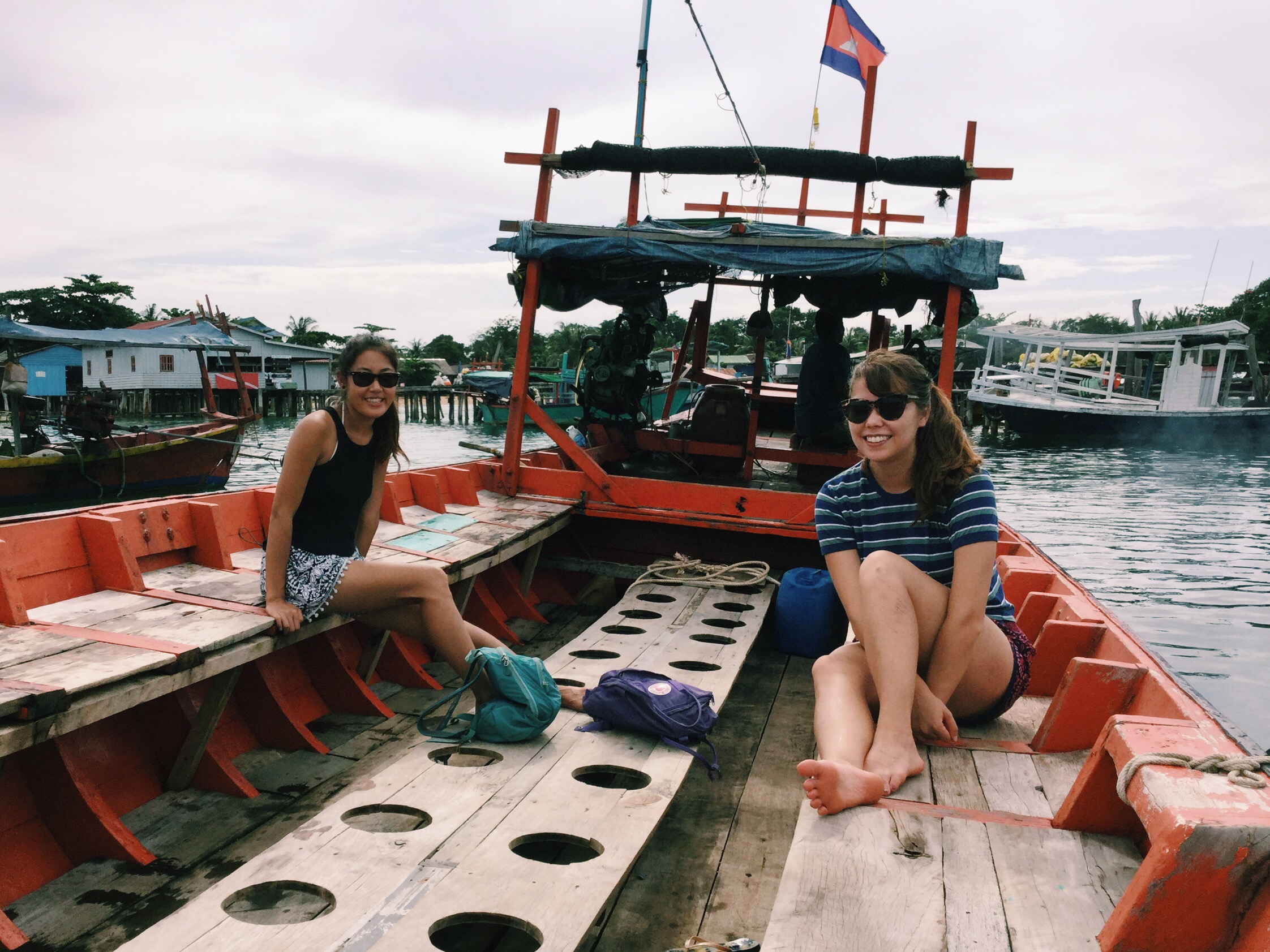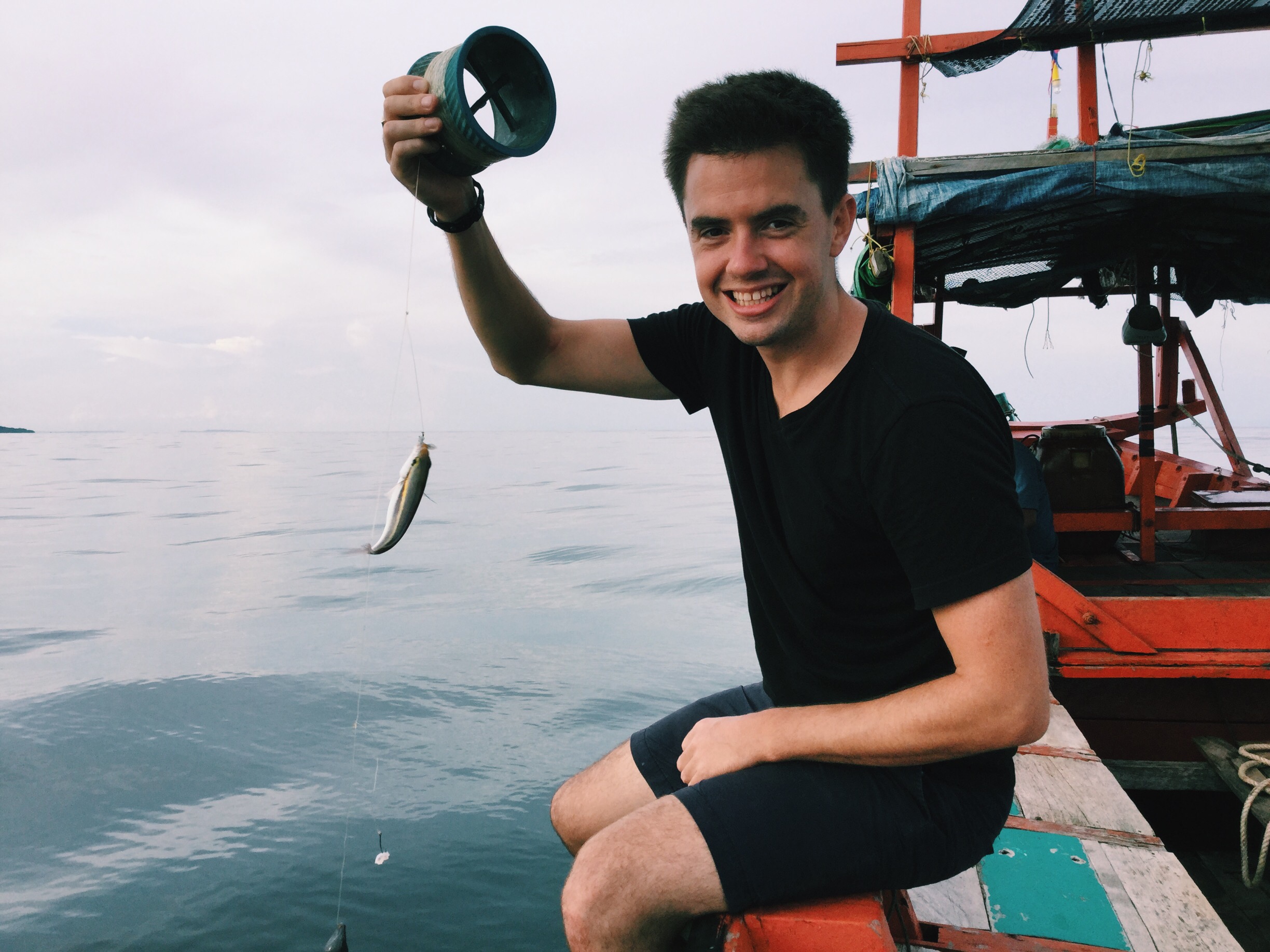 Swim
Just down the coast of the island is a beautiful beach with white sand, perfect for swimming. The water is crystal clear and cool on a hot day. It's quite shallow, so you can go out quite far as small fish swim around your feet.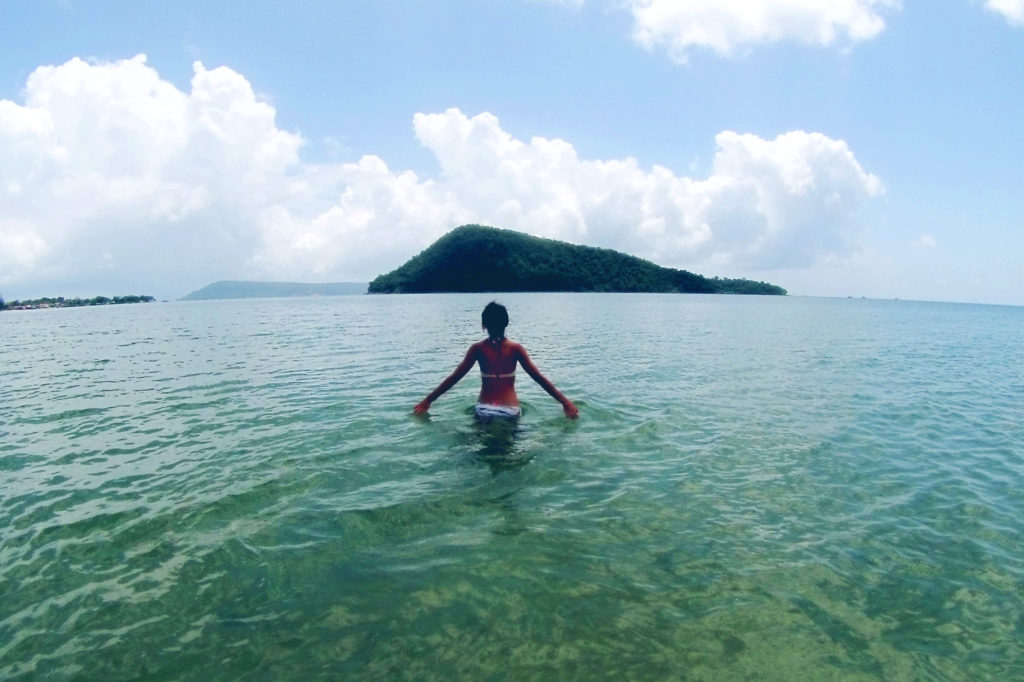 Swim through Glowing Plankton
The highlight of our trip to Koh Rong Samloem was swimming with the glowing plankton. People may offer to take you for a price, but seriously no need, they are everywhere. We went with a few other travellers, lead by an English guy that worked at a neighbouring hostel, to the swimming spot at a nice beach.
The darker the night, the better to see the plankton. Just wade through the water while waving your hands through. As the water is agitated, the plankton light up quickly flickering like stars in the night sky. It was really magical swimming through the water with a trail of sparkles. It's hard to explain, and impossible to take pictures of, so it's really something to come and experience for yourself! This is some seriously Life of Pi witchcraft right here.
How to get back to mainland?
If you have the yellow speed boat ticket you're golden! If not…
We had to take he supply boat back to Saracem Bay in order to catch our speed boat at 10am back to Sihanoukville. The morning supply boat comes at 8am and goes straight to Saracem Bay (the opposite direction as the evening boat). As we got some breakfast and waited for the boat, the same local boy that took us fishing offered to take us on a private boat around the island for the same price, $5 USD per person. Bonus, he would drop us at the right pier so we wouldn't have to walk down the beach in the sun with our bags. We opted for yes, with another backpacking couple.
Once back at Saracem Bay we showed our tickets and got on the boat back to Sihanoukville. Smooth sailing.
(Alternatively you can take the supply boat all the way to Sihanoukville, but it'll take a while. And we already paid for our speedboat tickets, so we took advantage of it.)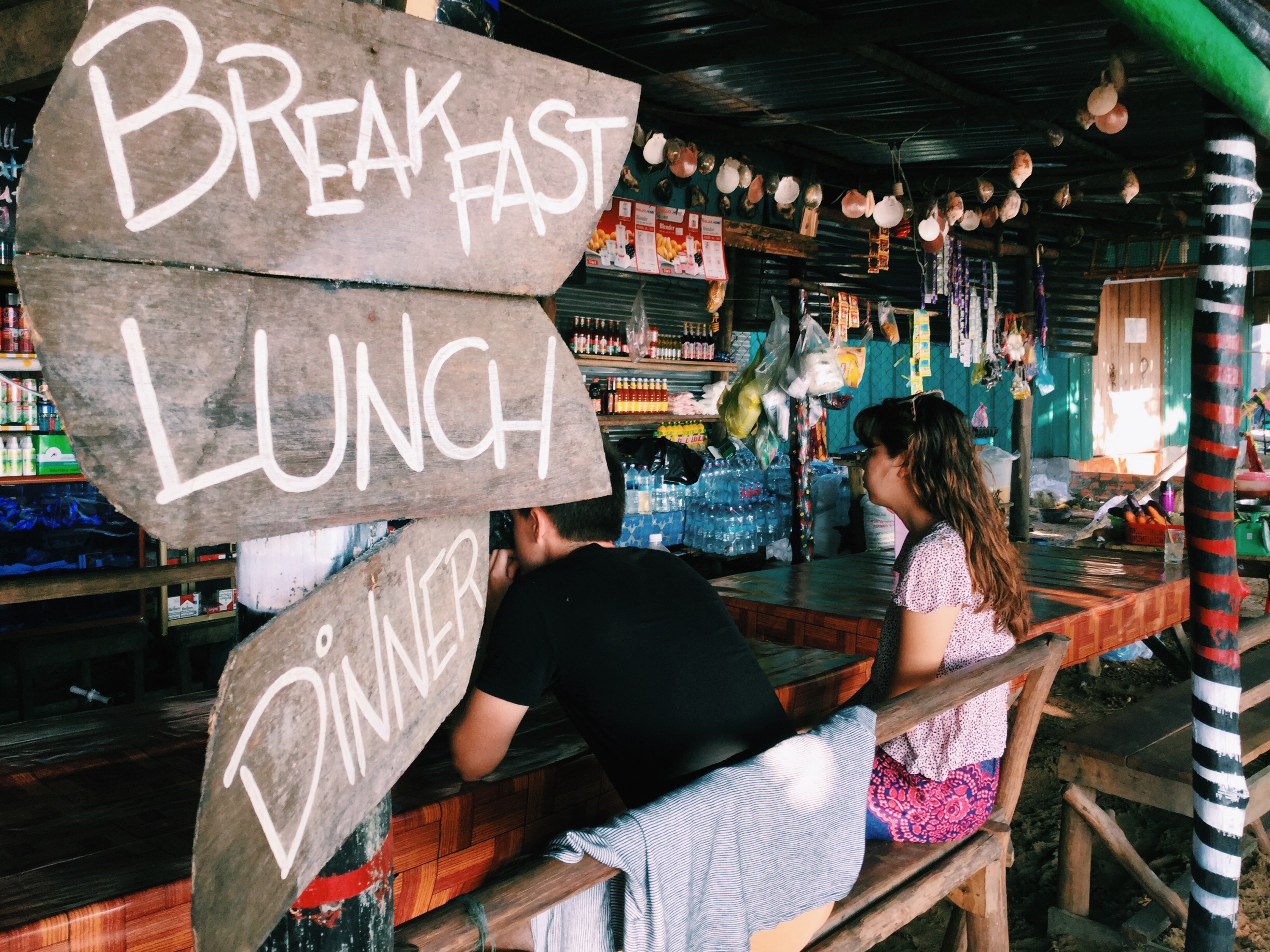 ---
If you're looking for a quieter island experience, Koh Rong Samleom is perfect. Quiet a nice contrast to the party island, Koh Phi Phi or scuba diving in Koh Tao in Thailand!