If you search online for Lombok (the island just east of Bali), beautiful pictures of the lake and crater of Mount Rinjani will be the first thing you see. After seeing those photos, I knew that is the thing we had to do when visiting Lombok.
Pre-climb
We met Cristina, a solo traveller from Spain at the Couchsurfing hostel we were staying at in Mataram. We was also in Lombok to climb Rinjani. We were lucky to stay at the right place because there we made the right connections to hook us up with a good deal to get us to the 3700m summit.
We decided to do the 3 day and 2 night climb so that we could see the lake and hot springs before descending. I read online and got quotes beforehand and they were all over the place. Some quoted $260 USD per person, some $150 USD. We ended up scoring a great deal at 140.000 IRD ($140 CAD) per person which also included the night prior, breakfast before starting, and transportation to wherever we we're headed after the hike. I think prices will vary between companies and you'll be paying premium for a private guide.
I got scared because I read articles online about people that couldn't make it to the summit because it was too difficult. We met a man from India the night before our climb who had just finished who said he couldn't feel is legs. But we also heard a story of a Canadian guy who made it to the summit and back in less than 8 hours.
Also I was worried before I had been pretty much out of commission for two days prior to a minor case of suspected food poisoning. Running to the toilet all the time while trying to hike a volcano just wouldn't be ideal.
Luckily we were able to store our bags at the hotel safely on the ground and only take up whatever we will need for the three-day hike. My advice is to pack as light as possible but bring layers as it does get cold at the summit and at night. We stuffed our 10-ish litre day bags with clothes and snacks.
Putting my worries aside, Matti, Cristina and I took our final shower for the next few days and got a good nights rest before taking on the massive walk ahead.
Day one
The first day's schedule was as follows; get into the back of a pick up truck with 10 other people and all of the equipment and drive for an hour, hike up 3 hours, break for lunch, hike up another 3 hours to the campsite. Easy right?
In the back of the pickup truck we were briefly acquainted with the group we'd be spending the next three days with. Two travellers from France, a girl from California, two girls from Malaysia, Cristina from Spain, and ourselves from Canada. Along with 4 porters carrying 25kg each of equipment and one guide with a backpack bigger than my own. Our cozy team of 13.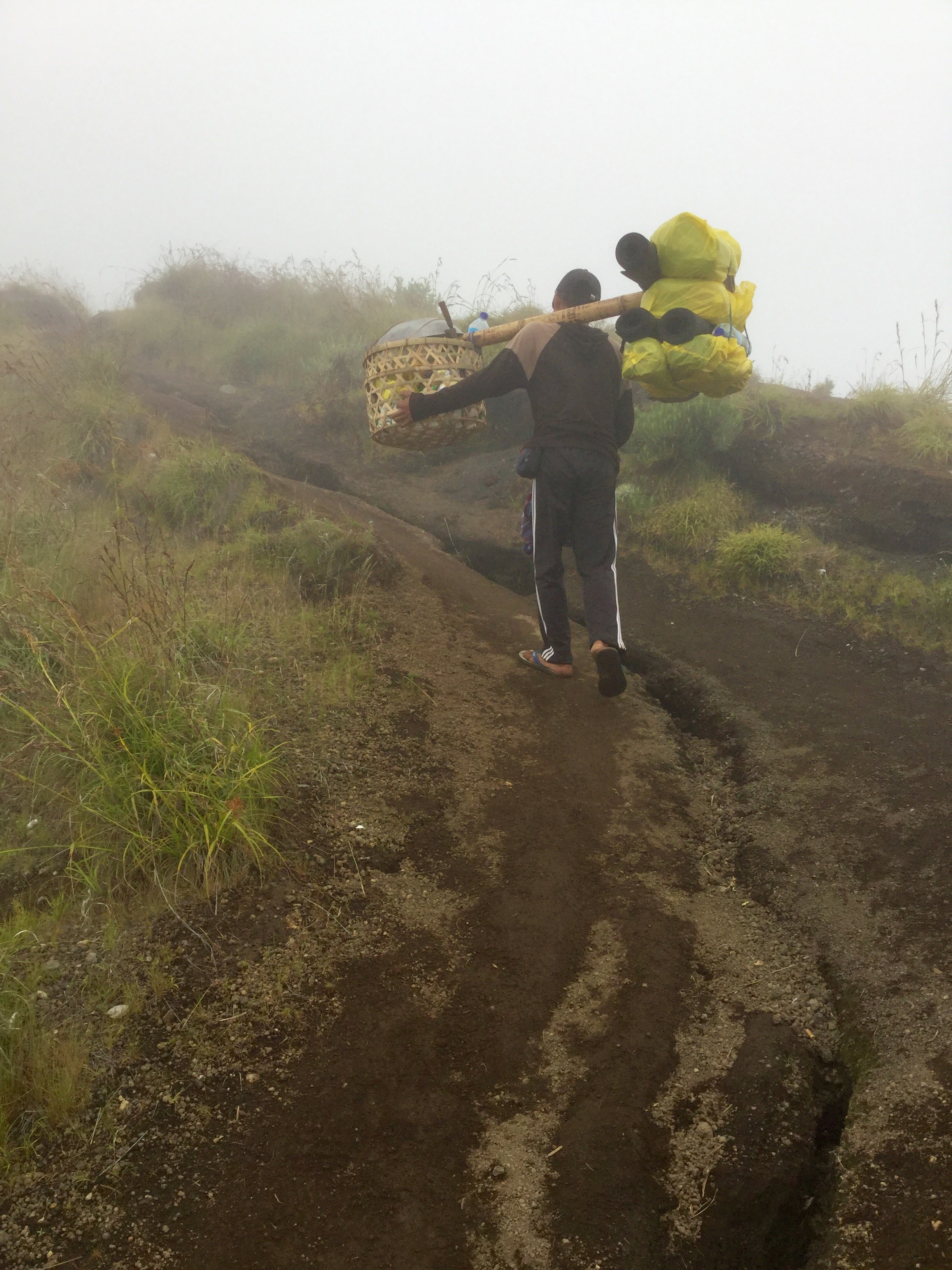 The first half of day one was walking through grassland with no coverage overhead. The sun was hot, with no shade for relief, but the terrain was quite flat and our group took many breaks. This is going to be so easy, I thought as we took a lunch break in the grass.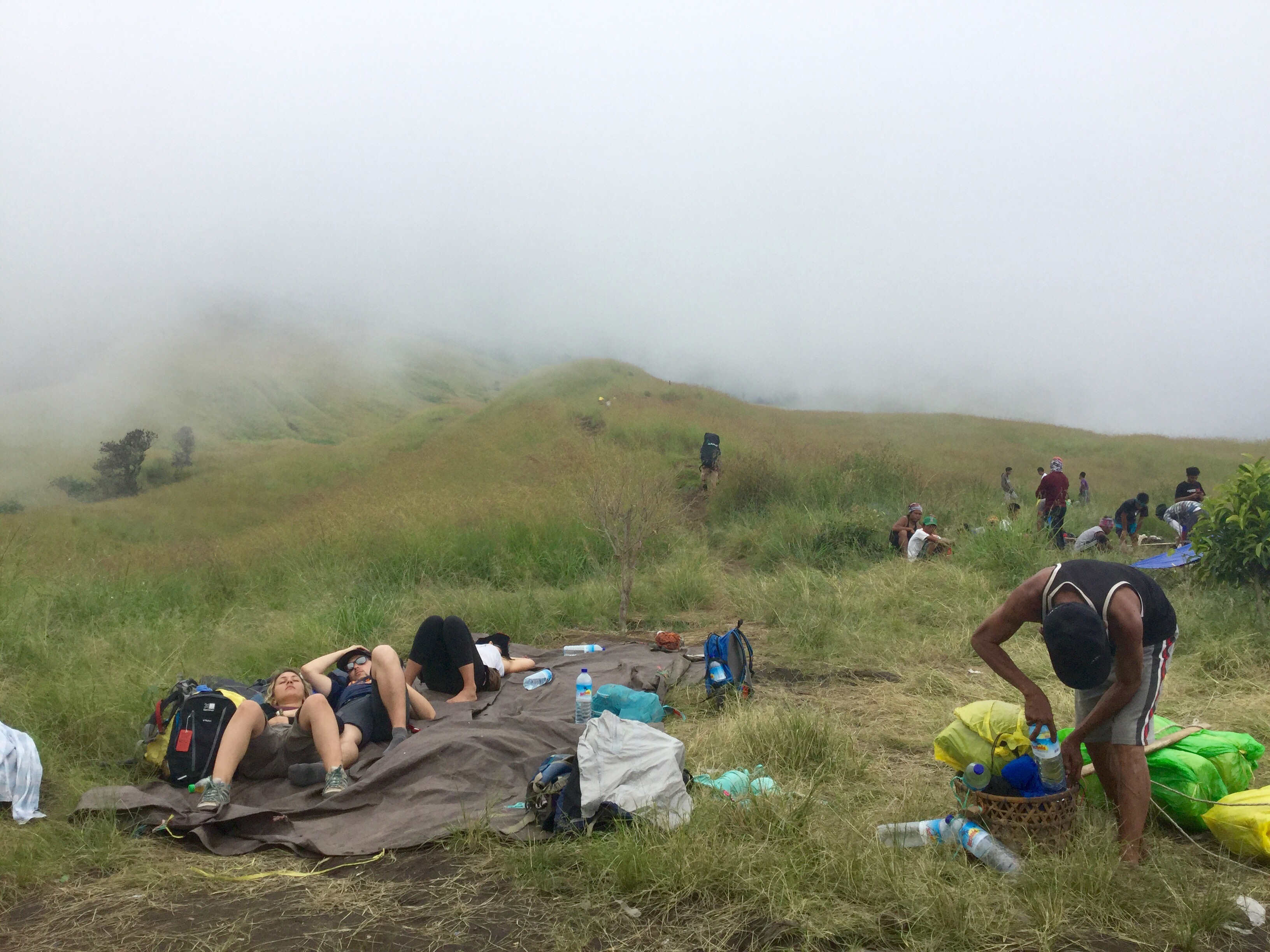 I guess they start you off easy, as not to scare you away immediately, because the rest of the day was steep, foggy and wet. Apparently every afternoon is zombie-apocalypticly foggy. I do think it was a good thing because it shrouded the mountain so that we could not be discouraged by looking at how far away the top was.
We reached base camp when it was getting dark. Cold and wet, we went straight into our sleeping bags (that were provided for us) in our small tents, wearing everything we brought in our tiny 11 litre bags to survive the night. Our porters are truly God sends, as they served us a massive nasi goreng (fried rice) pile with chicken and egg and hot tea straight in our tents. Bless.
Day two
2 am wake up call, and we could still barely see the summit because it's too dark. Just a light pre-breakfast of hot tea and crackers is enough to to jump start our systems for a 3 hour hike to the summit to catch sunrise.
Armed with flashlights and headlamps, we dimly lit up the sandy ground that no one's shoes can grip. It takes three hours to the summit because every step taken is two forward up, one step back because you're trying to walk up a hill of sand and rocks, in the dark.
Not only dark and slippery, it is freezing cold. I borrowed a scarf from Cristina. Even us Canadians weren't properly prepared for winter conditions. One of our poor porters was only wearing socks and flip flops. What a guy.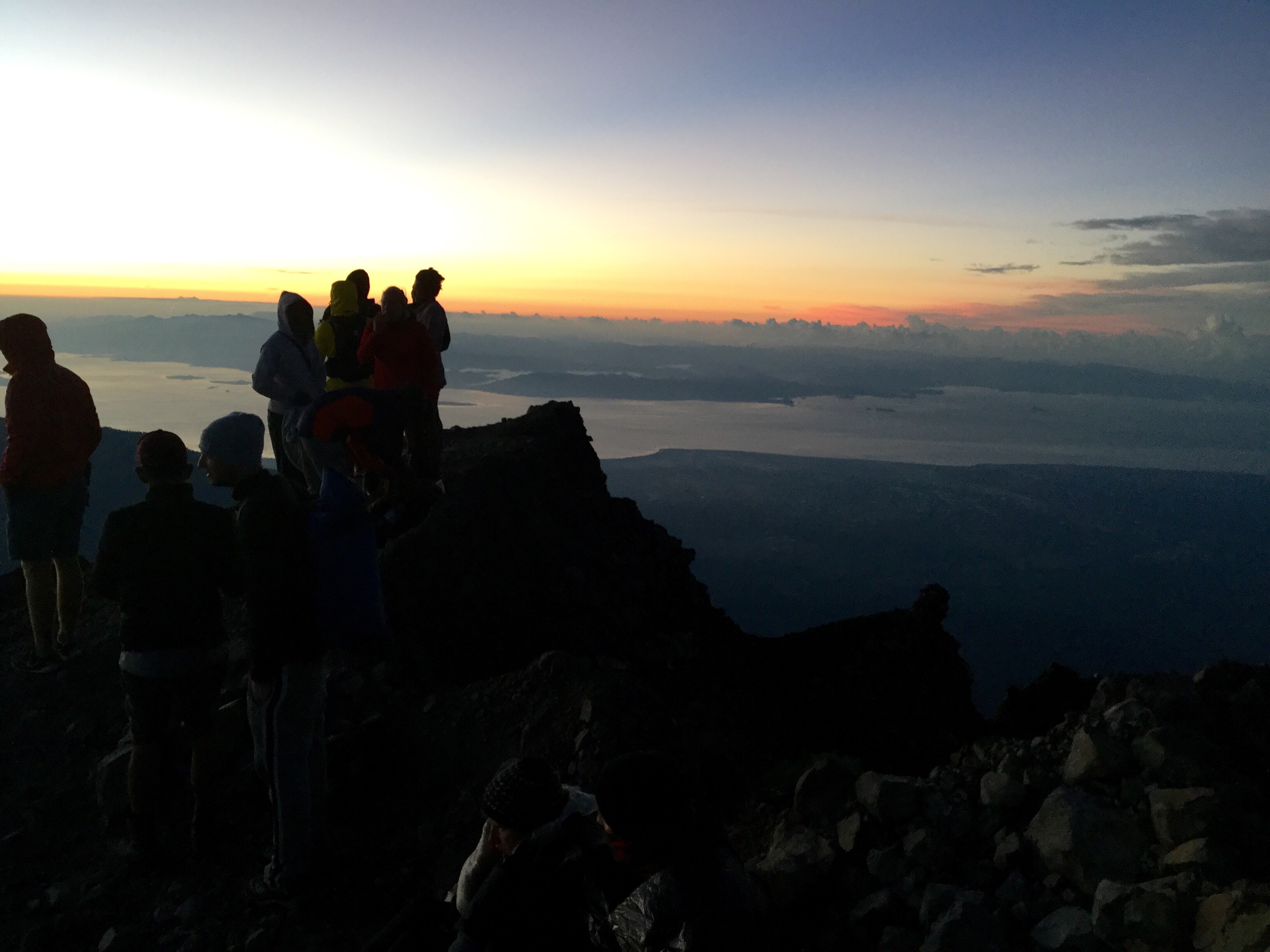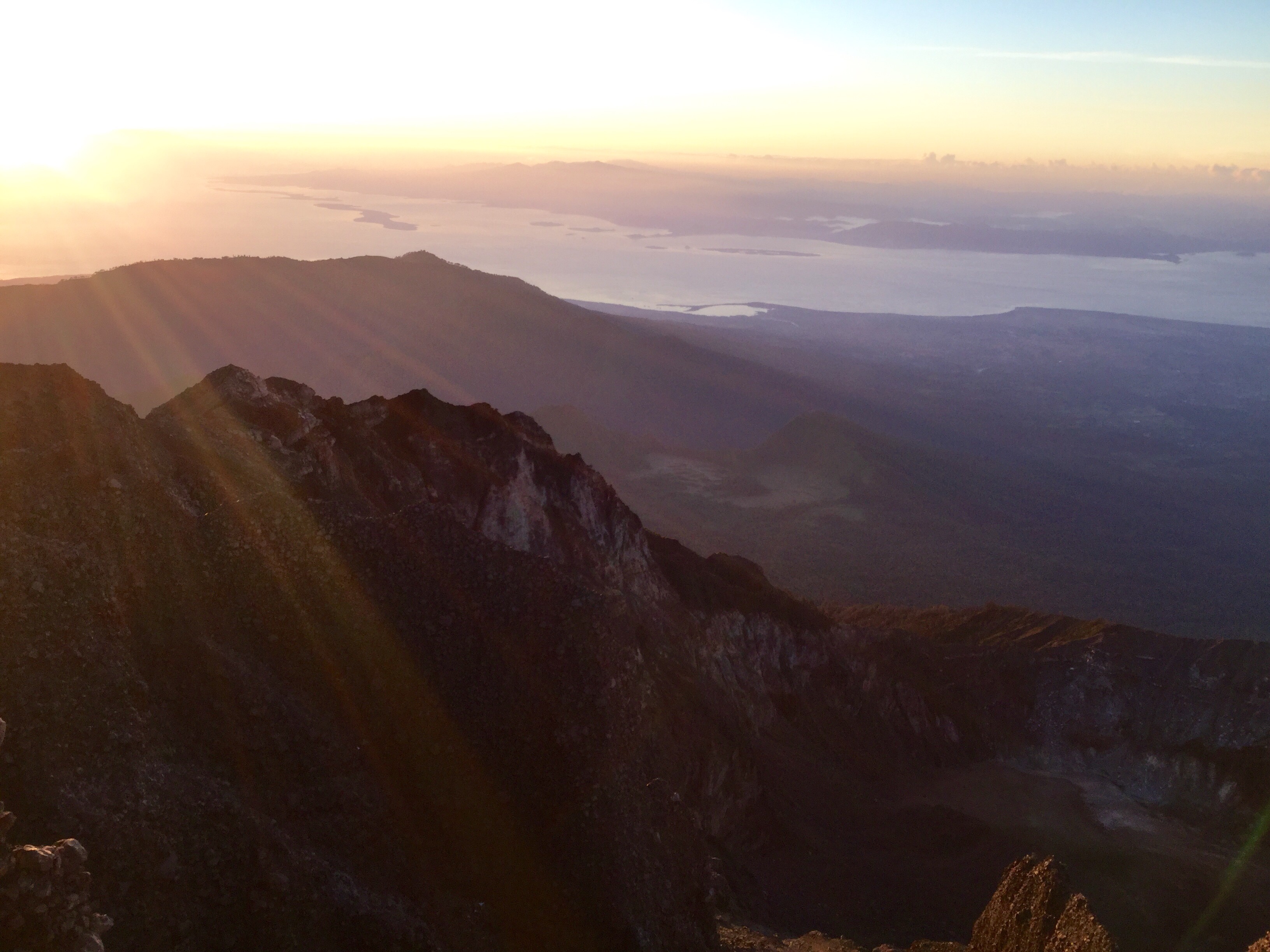 I was absolutely determined to reach the summit before sunrise. And I believe if anyone has the determination they will as well.
The summit was full of proud climbers taking selfies 3724m above the ground. From the top you can see the entire island of Lombok. You can even see all three Gili islands and Bali.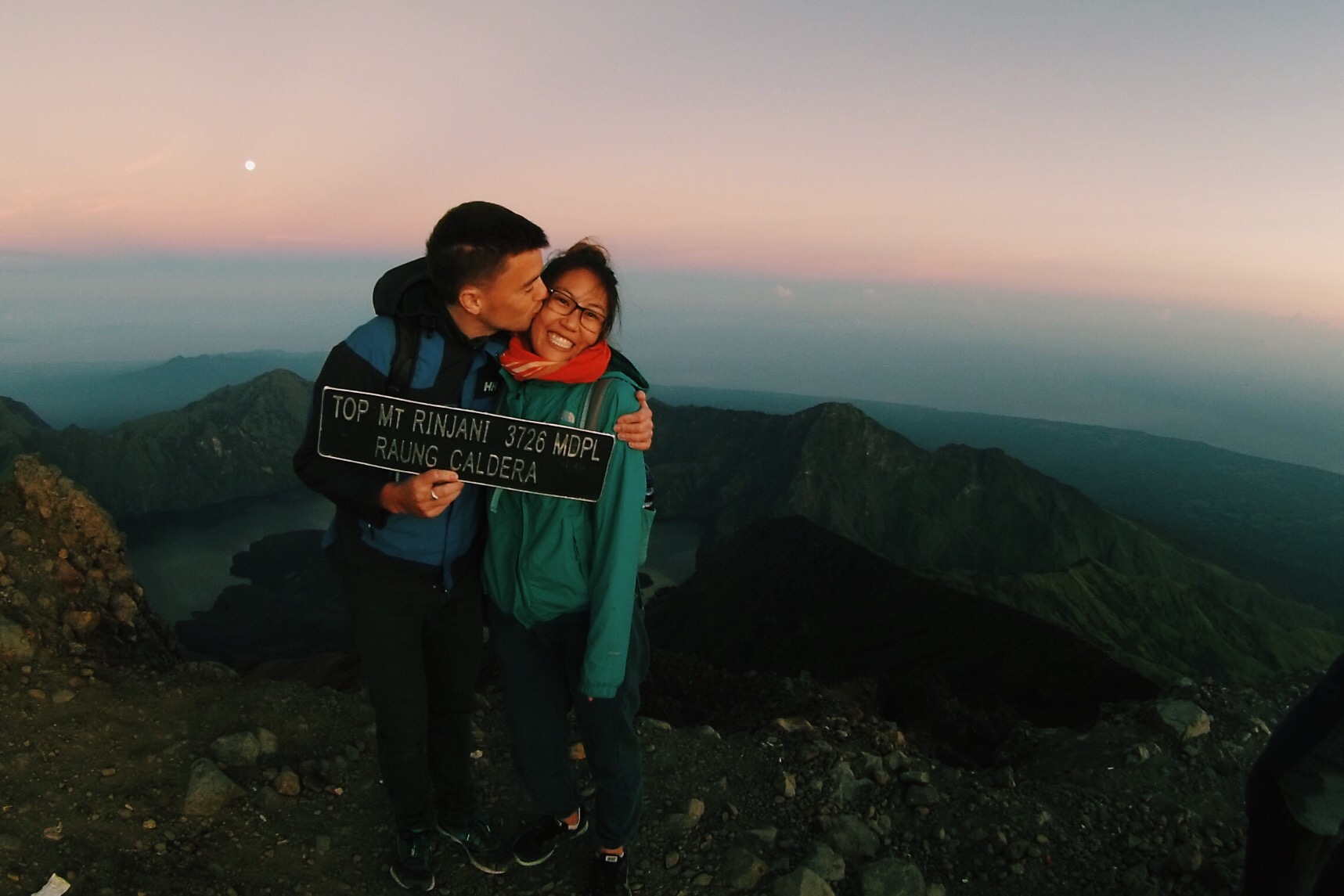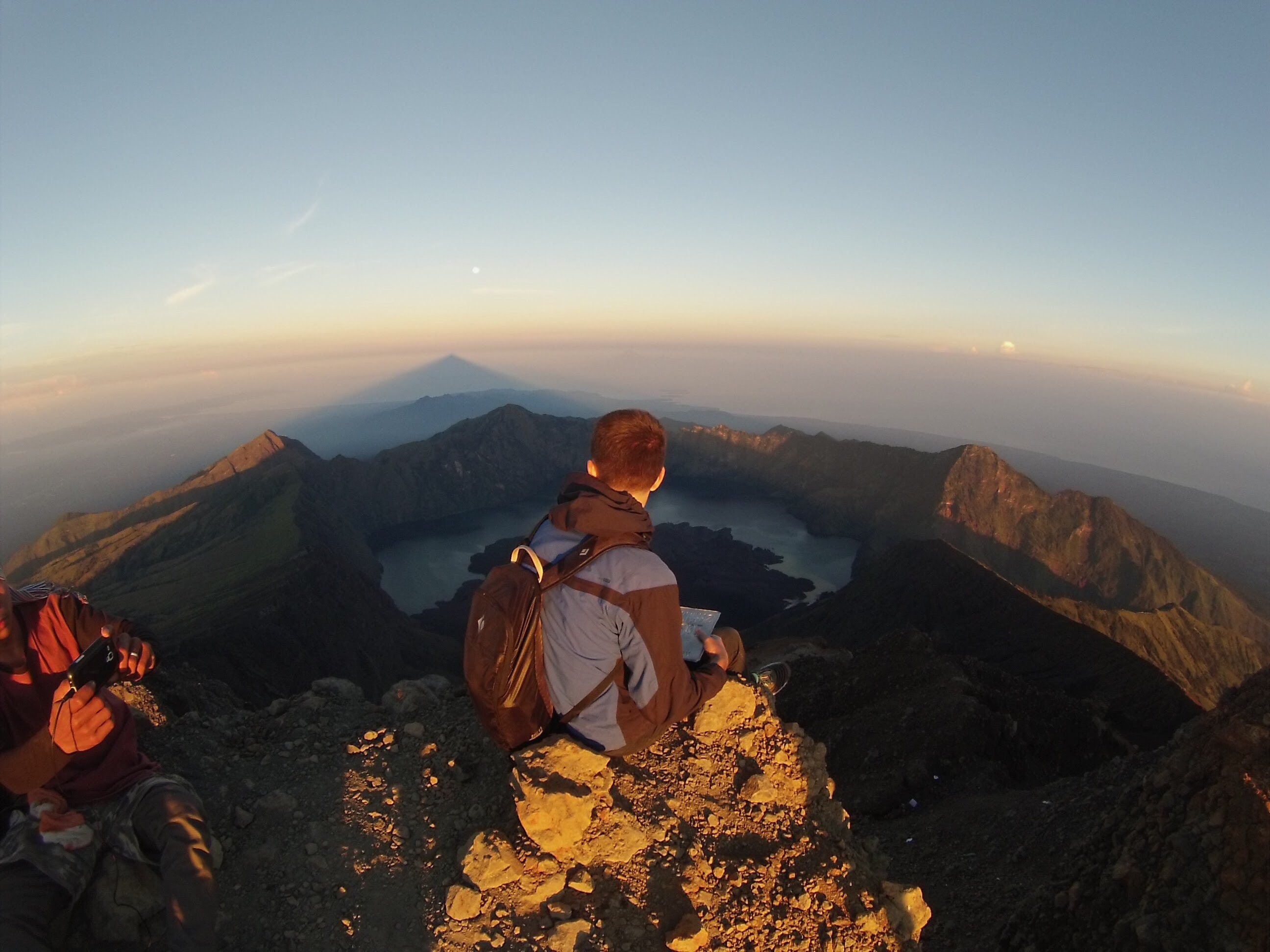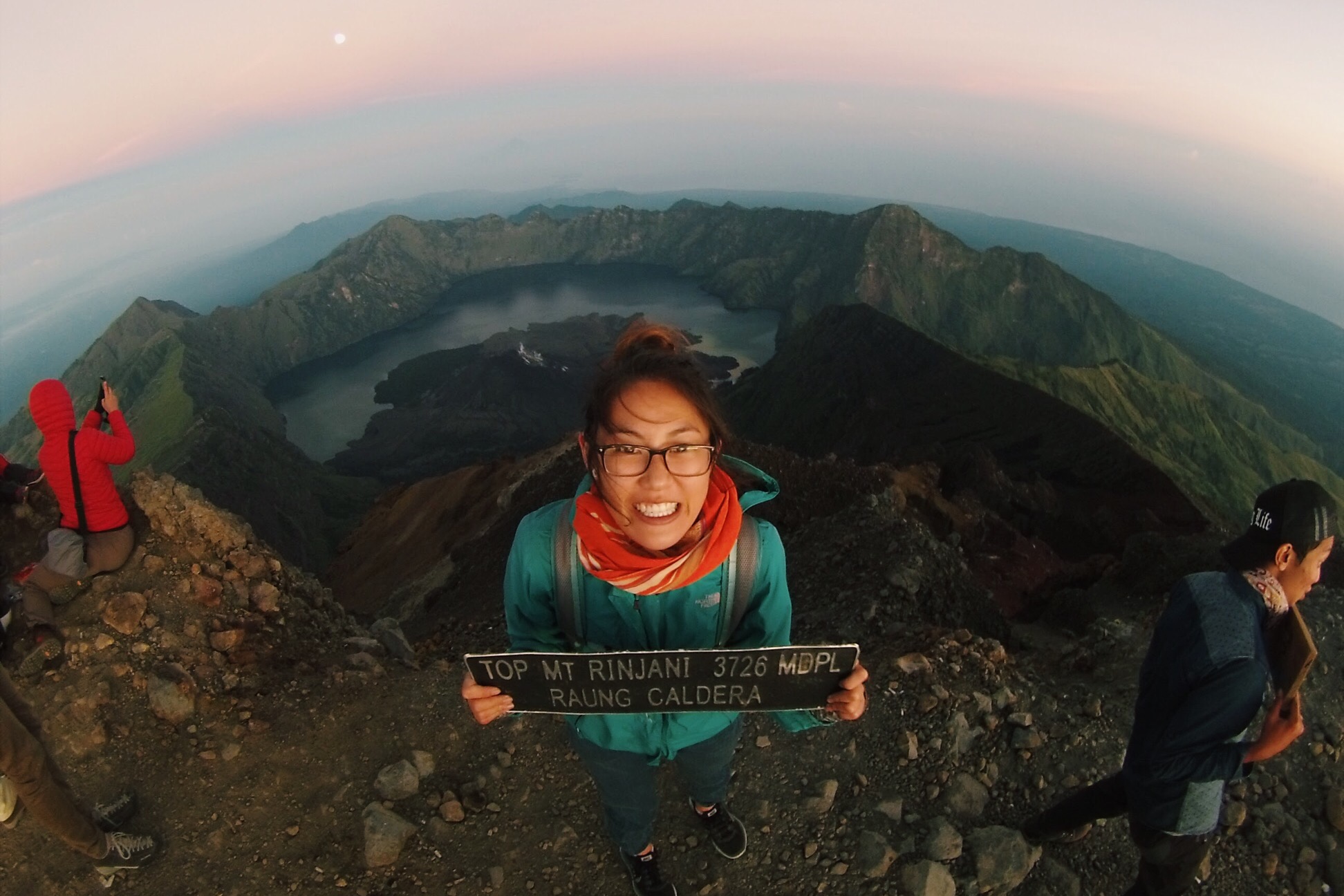 As the sun rose higher, it slowly warmed our bodies enough to snap a few selfies of our own before retreating 3 hours back down to base camp.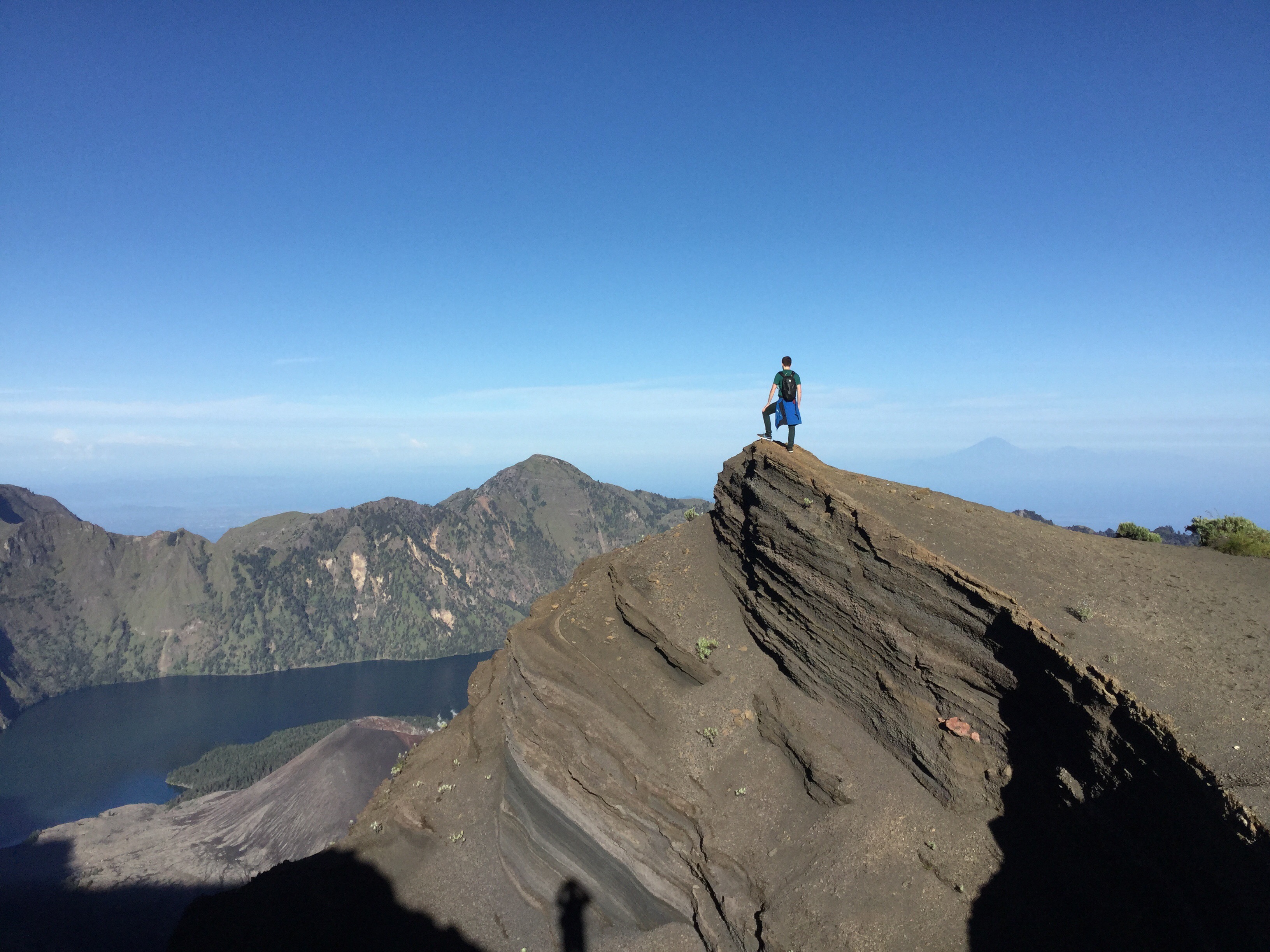 Climbing down was nearly as much as a nightmare as climbing up. The trick is to just accept that your shoes will be full of sand and to ski down. I spent enough time on my butt, just like its the first time learning to ski on the bunny hill.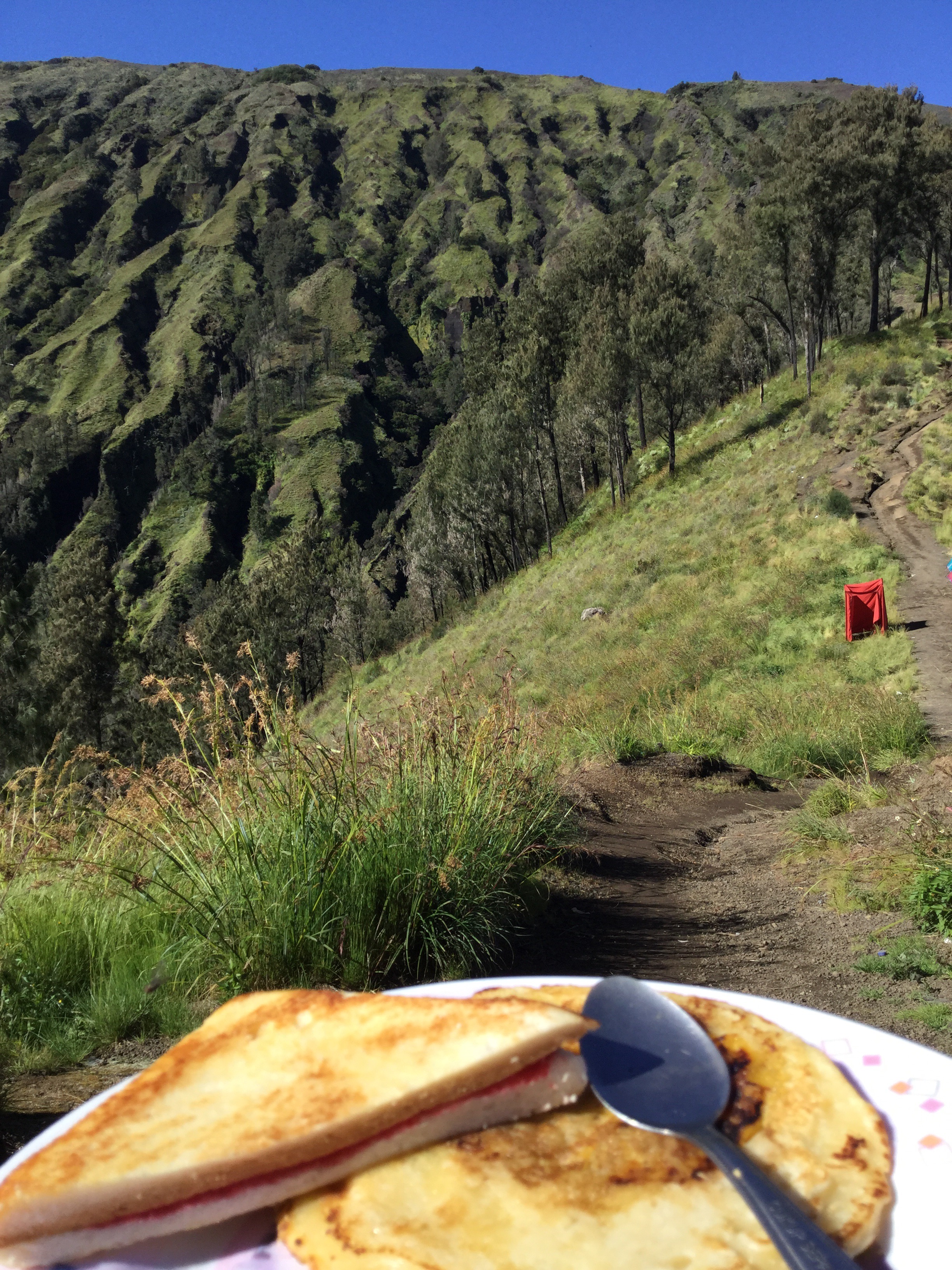 By the time everyone finished enjoying the summit and made it back to camp, breakfast was ready, the sky was clear, and the views were beautiful. Even the cheeky monkeys were out to score some of our breakfast.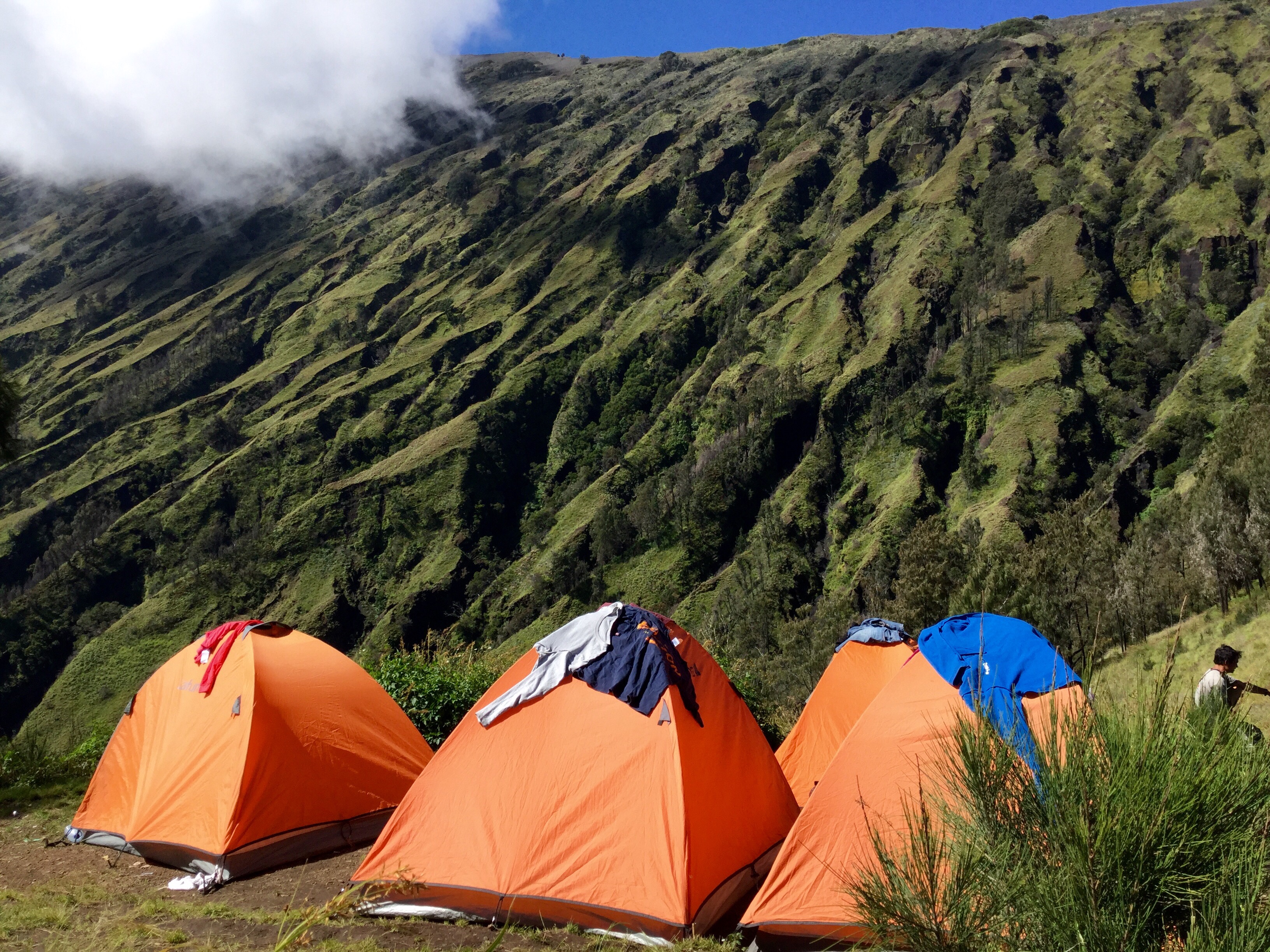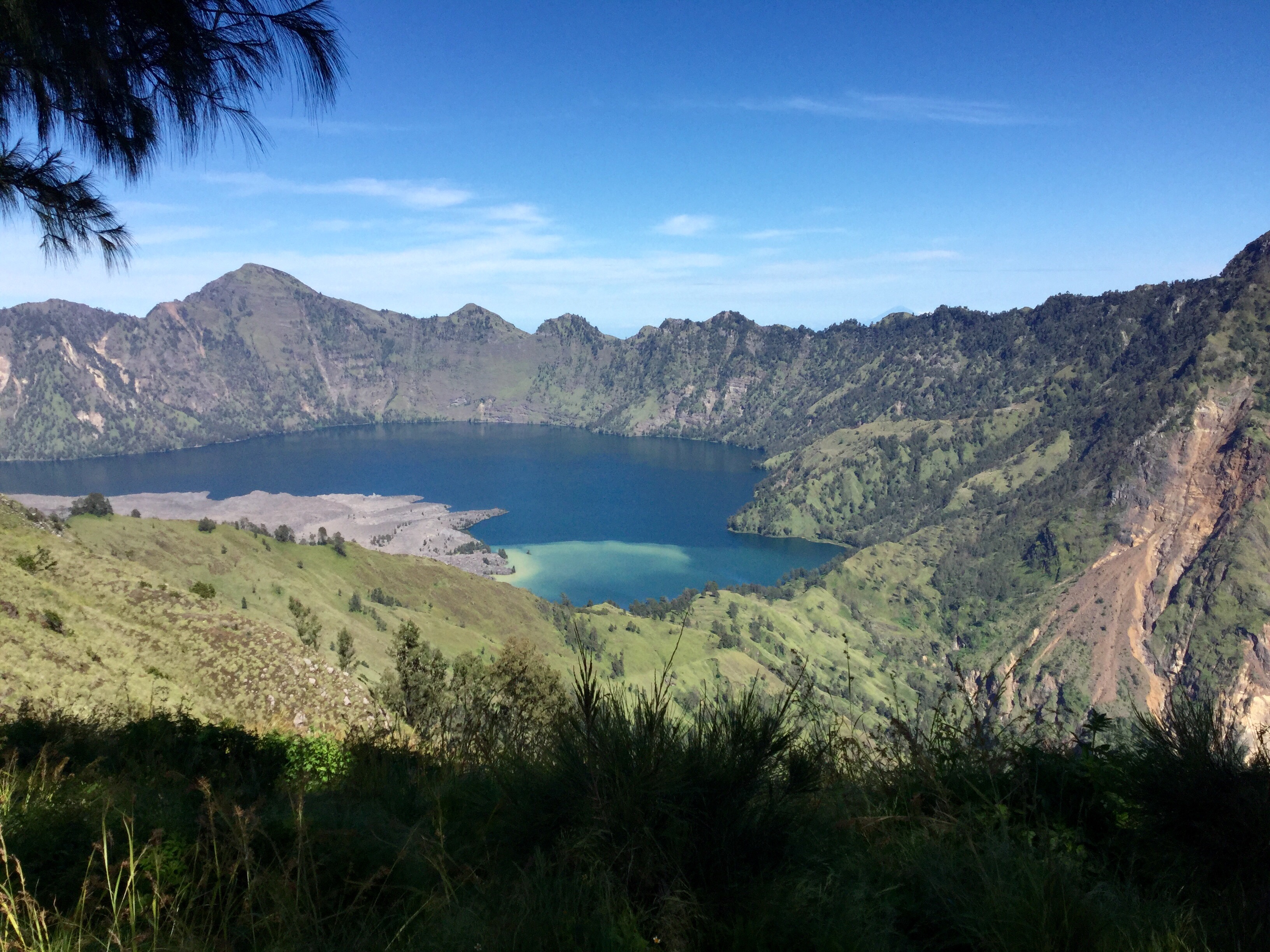 Even though everyone had 6 hours of hiking under their belt before 9am, the day had just begun. We still had another 3 hours downhill to the lake and hot springs for lunch, and yet another 3 hours uphill to base camp. Intimidated by the journey ahead, we lost the two Malay girls and a porter who decided to head back. Our group dwindled from 13 to 10. Don't think, just go.
Coconut curry lunch beside the still lake is worth the extra day of hiking. Rinjani's lake was created by an eruption that collapsed the crater, forming the lake. Across from our lunch spot is the second mini active volcanic crater. As the fog blows through, the volcano appears and vanishes into the white abyss.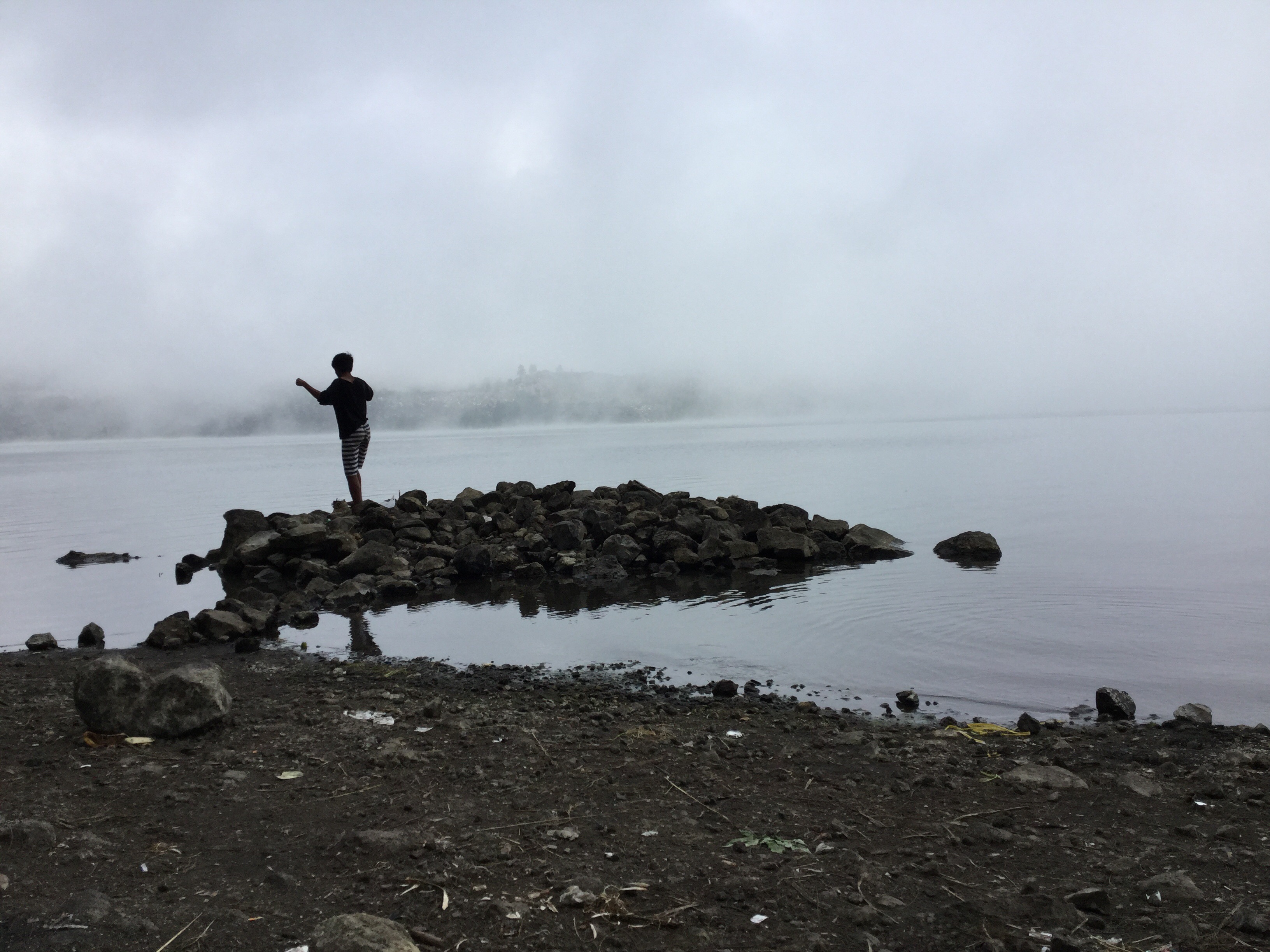 Our guide took us for a short walk to a warm hot spring. There are multiple hot springs, at various temperatures, the hottest being 80 degrees Fahrenheit. The 7 of us enjoyed a private swim in a pool with a waterfall. Our guide, a natural fish, showed off his climbing and diving skills as he scurried up the slippery rocks and jumped into the water from 10 m high. The men, of course, had to follow to prove that they were just as adventurous. The 30 something degree water made it difficult to leave the comfort of warmth.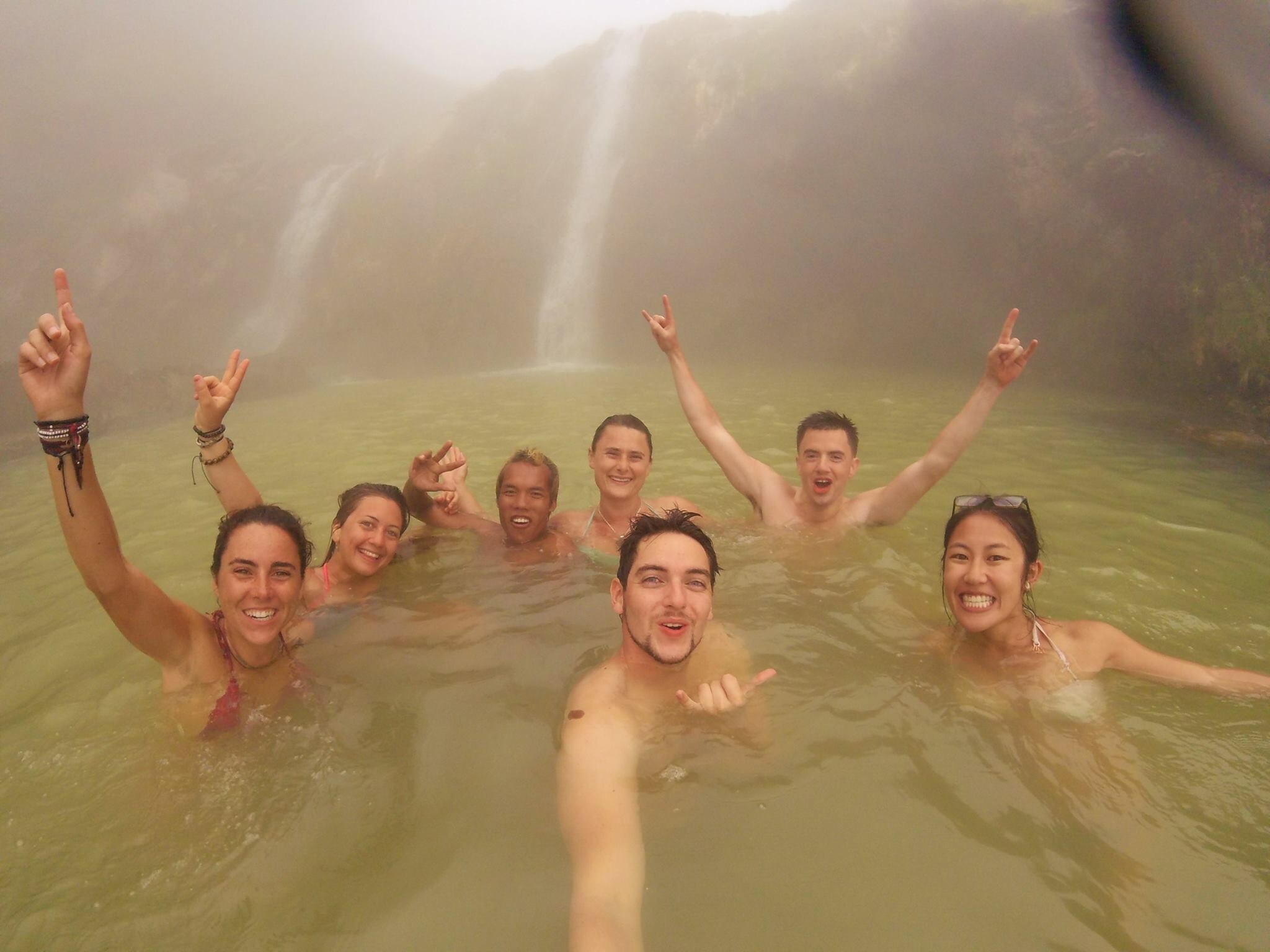 Three cold and sweaty more hours of hiking, no rock climbing, and a few chocolate bars later, we arrived to the campsite. The stars were out and we ate another grand dinner cooked by our amazing porters.
We spent time bonding with our new friends, Florian and Laura from France, Jasmine from California, Cristina from Spain, and our Indonesian porters and guide. Experiences are just as much about what you do as they are about the people you meet. We had a great time laughing and struggling with our worldly friends and will continue to remember the time we spent together.
Day three
And it's all downhill from here. 6 hours of hiking downhill back to our hotel was all that on the schedule for our last day on Rinjani. Really, compared to the days prior, it sounded like a breeze.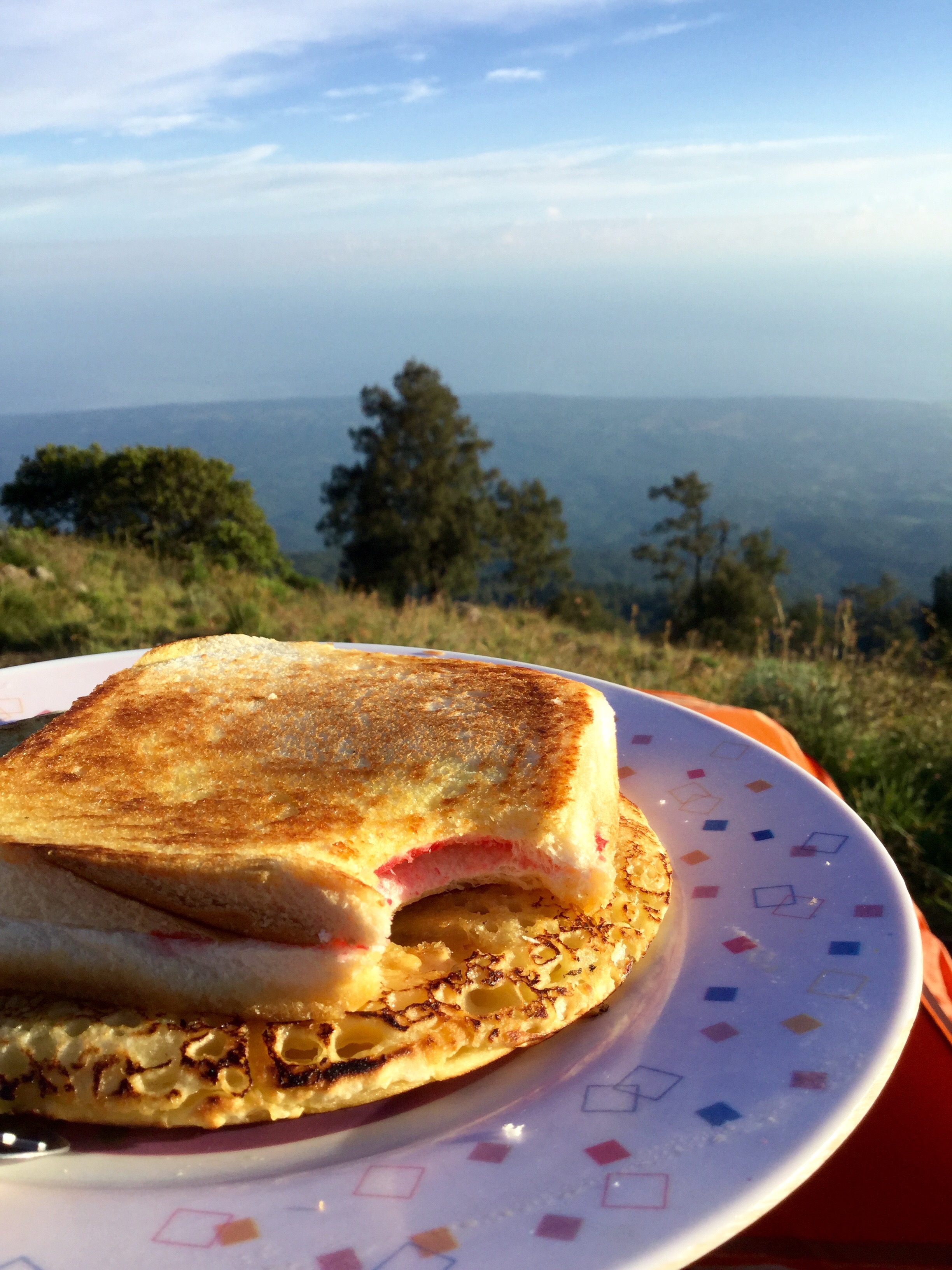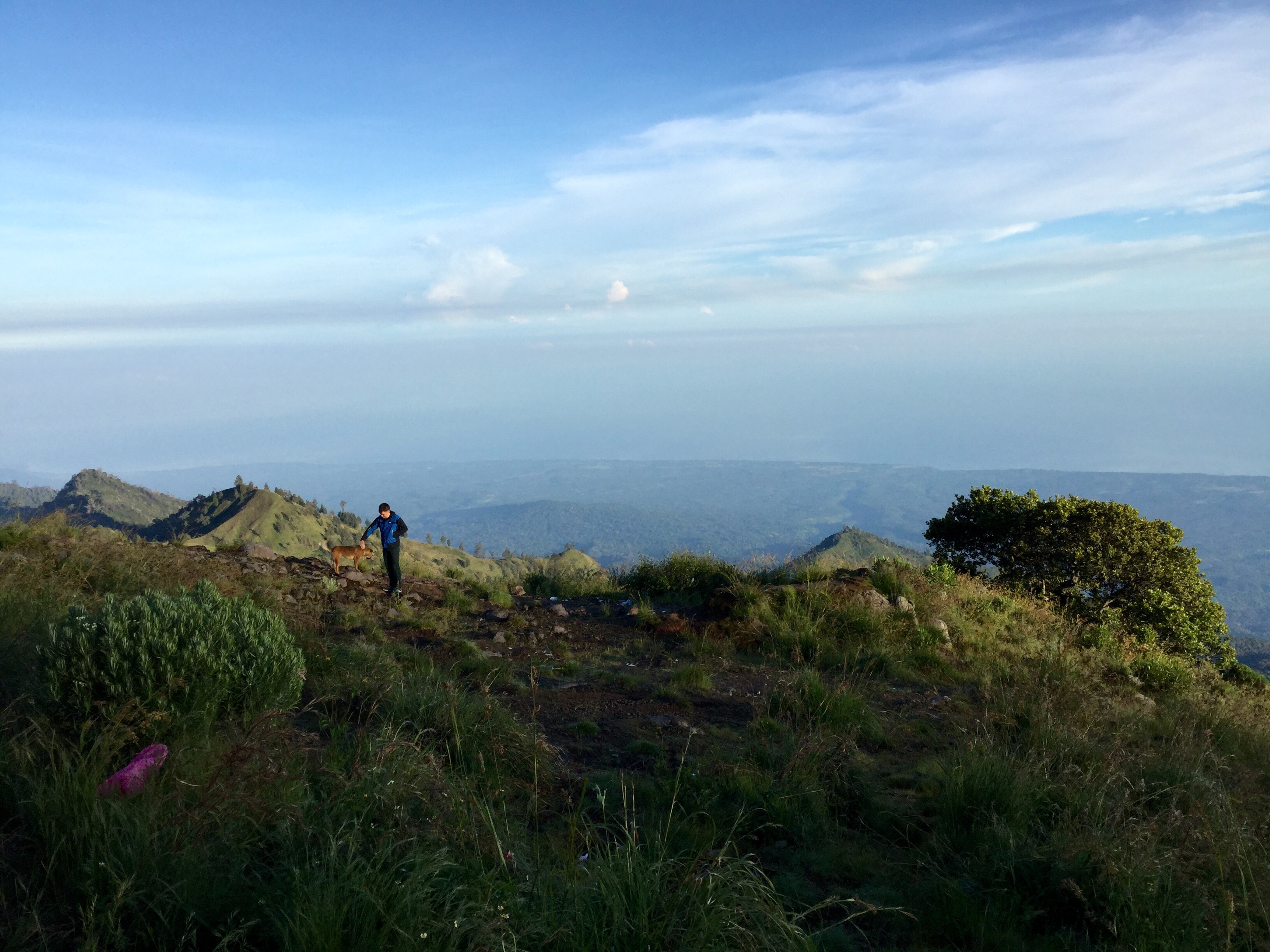 Full of banana pancakes (our breakfast for 3 days in a row now), we hiked mostly in the forest. Thank goodness because it gave is shelter from the scolding sun. After only a few stops for water and pineapple cream cookies (not as tasty as they sound), we found ourselves at our final meal time prepared by our lifesavers. If it weren't for the amazing guys that took us on the adventure, we surely would have starved and died. Hats off to these crazy Indonesians that carry 25kg of equipment including enough water and eggs for 13 people for 3 days, in flip flops none the less.
After thoughts?
Don't make any crazy plans for the next day or two because you will want to take a nice long shower and relax. Maybe do some yoga stretches or light swimming. Or just lie, motionless, on a beach somewhere.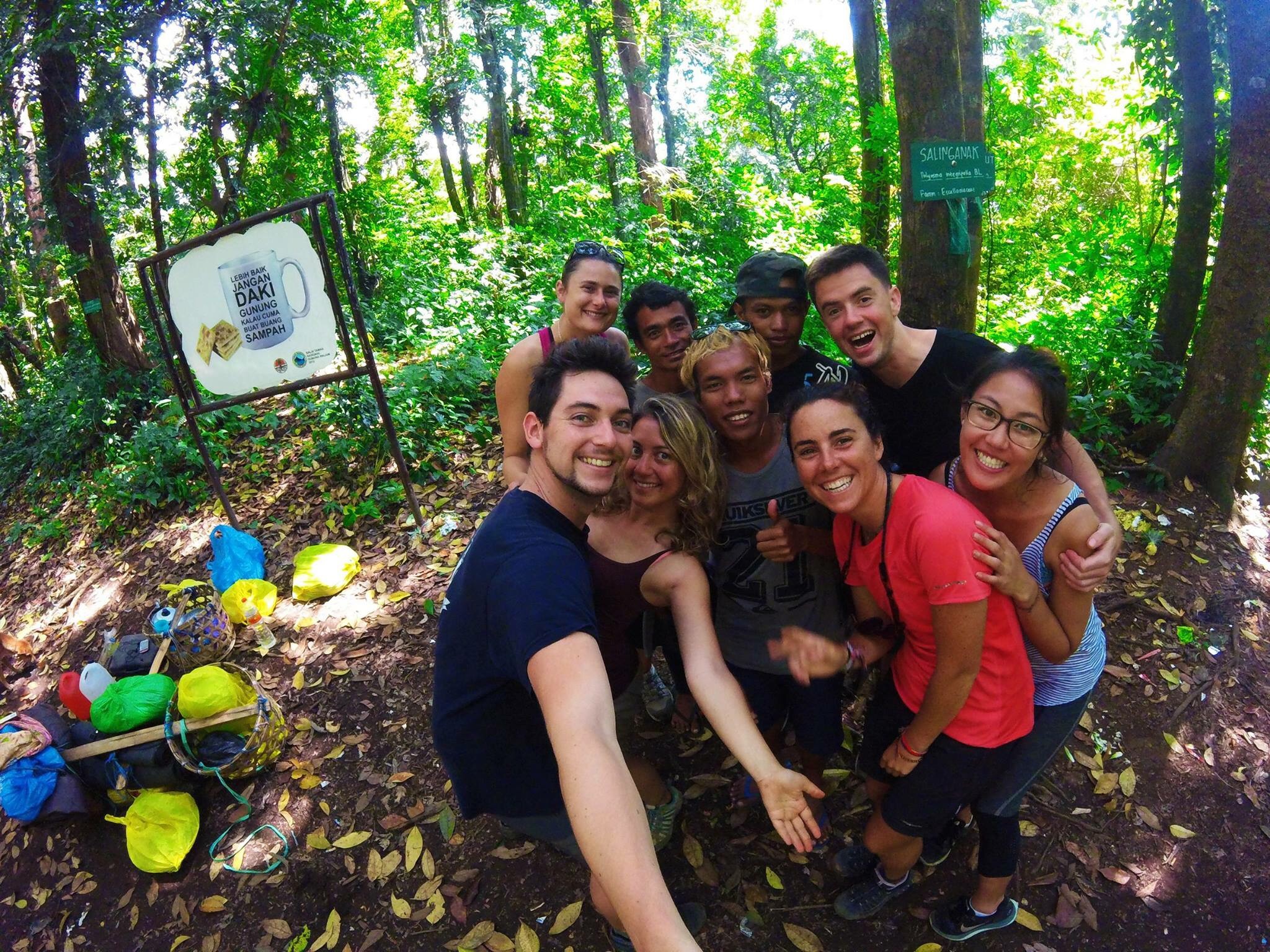 Don't listen to anyone that says it's too difficult physically. We are mildly active people (well I speak for myself, Matti is the marathon running freak) and yes, we did have sore legs, but nothing a little wishful thinking cannot overcome. The hike is 90% mental do if you are determined to make it to the summit for sunrise, you will.
If you're making the trip to Lombok, you're up for an adventure, and you don't mind skipping the shower for a few days, hike Rinjani!