Since we were already in Japan, we felt it absolutely necessary to visit Hiroshima. So we hitchhiked 6 hours from Kobe to meet our couchsurfing host, Moeko (who just so happens to be a former tour guide). How convenient. Besides visiting in the aftermath of the devastating atomic bomb drop, we did not know what else to expect from Hiroshima. To our surprise, there is a ton of stuff, you could easily spend a whole week here, so our few days just flew by!
1. Visit the A-Bomb Dome
Let's firstly address the elephant in the room. Hiroshima was hit with an atomic bomb during WWII that devastated the city and reduced it to rubble. Hiroshima has since then rebuild bigger, better, and stronger than before. You would not have even know that just a few years prior that the 6-storey shopping centre that you're in was once just a pile of debris.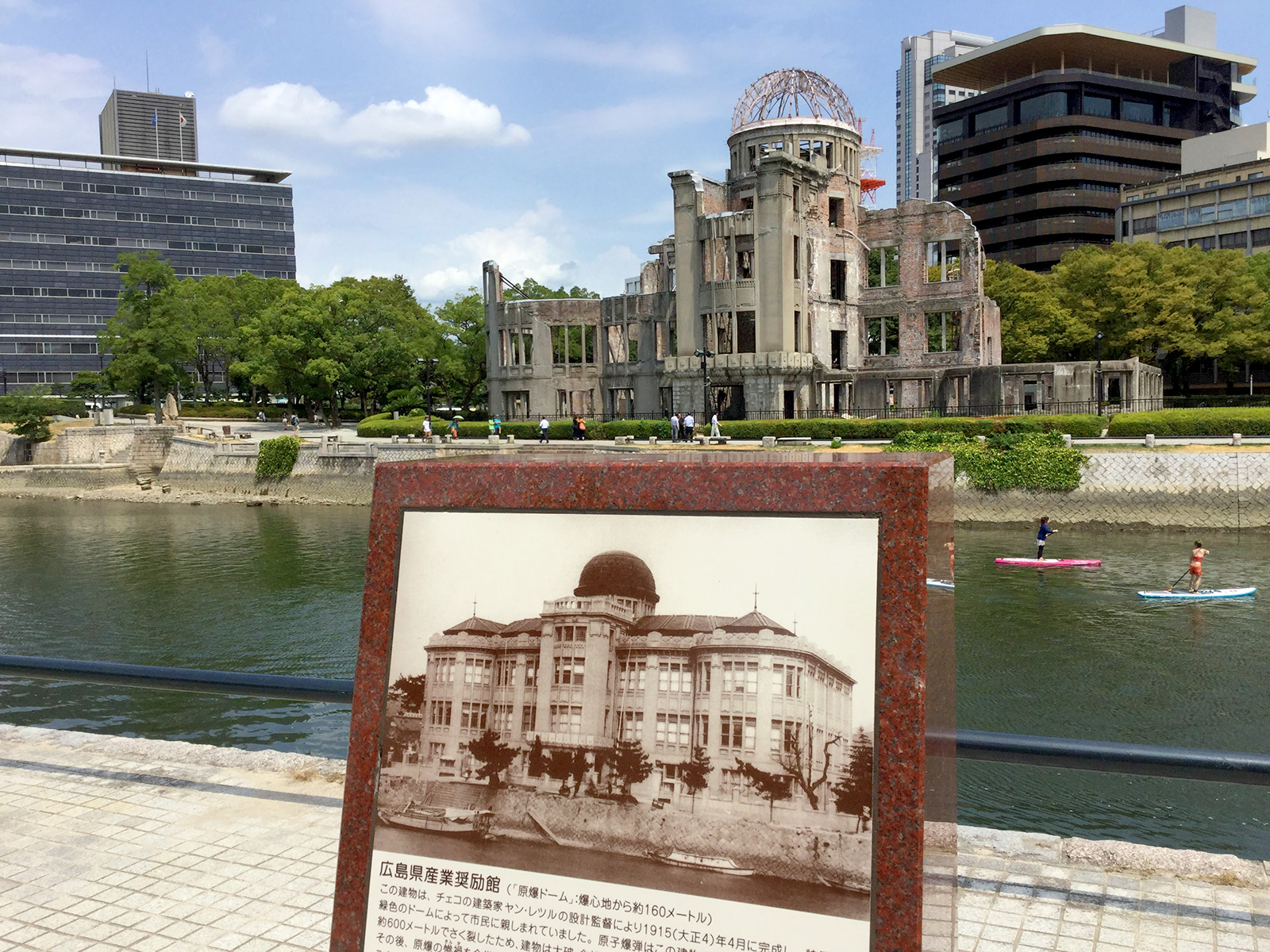 The A-Bomb Dome was once a city hall sort of building, but it is now a symbol of peace. It was the most recognizable structure still standing after the blast. So many survivors used it as a landmark in hope to find their love ones among the chaos.
So stay a while and take in the significance of what you're looking at.
2. Stroll around Peace Park + visit the Peace Museum
Once your finished reflected on the dome, take a stroll around the peaceful park. You'll come across the Sadako Sasaki memorial, a statue of a little girl holding up a paper crane.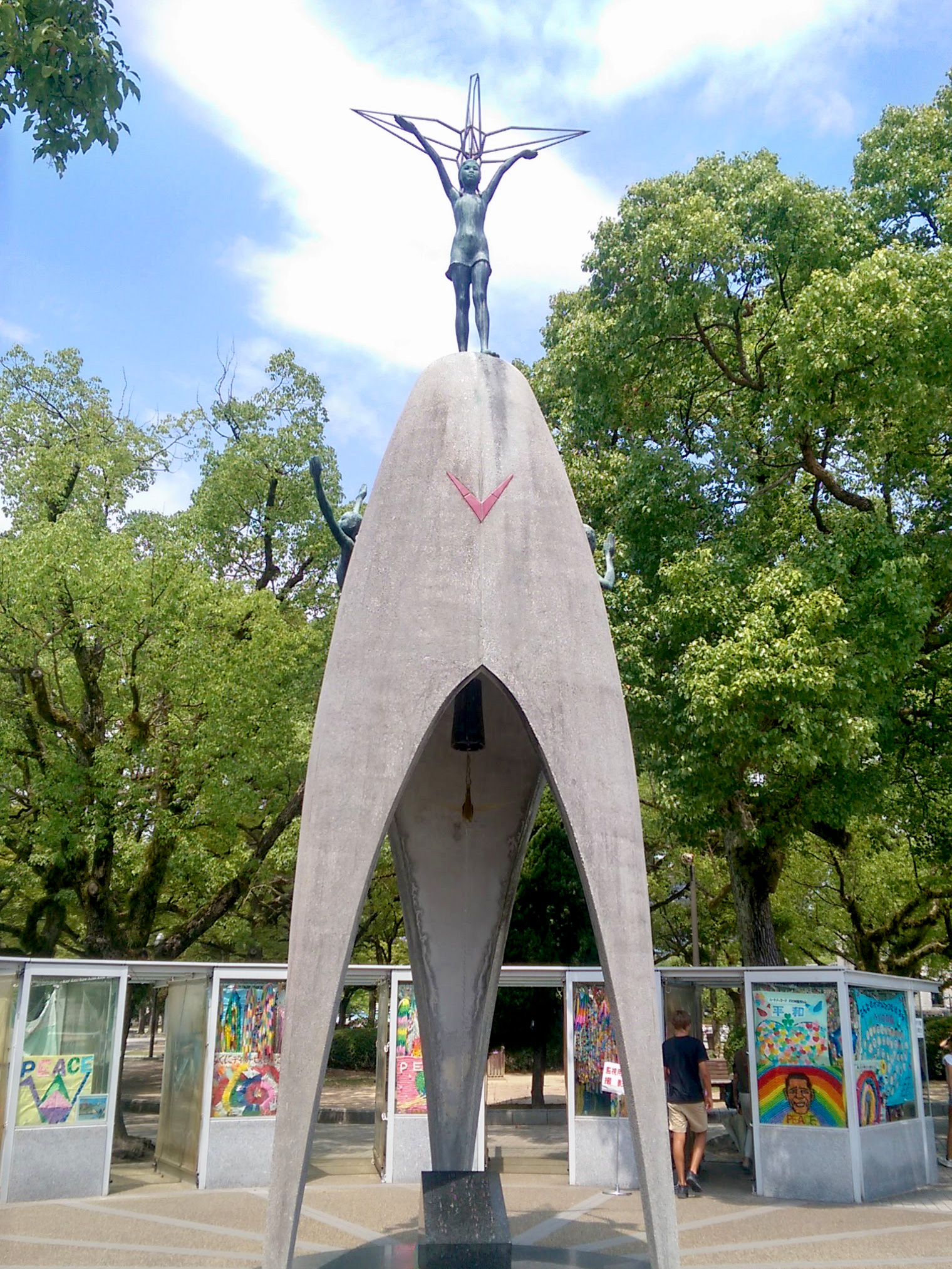 Her story goes something like this: The bomb hit near her home when she was just 2 years old. To her mother's surprise, Sadako, a baby at the time seemed unharmed. About 10 years later Sadako become ill and was diagnosed with leukemia as a result from the atomic radiation. She was told that if you fold 1000 paper cranes it will fulfill a wish. So she spent her remaining time folding cranes with whatever paper scraps she could find. Unable to fulfill the task of 1000 cranes, she passed away and her classmates folded the remaining and buried the cranes with her. Sadako and her cranes have become a symbol of hope and the impact of nuclear war. These days people bring folded cranes from all around the world and they can be seen displayed in the park.
Also in the park, leading to the museum, is the eternal flame. The flame is remain burning until there are no longer any nuclear weapons on earth. The flame still burns strong.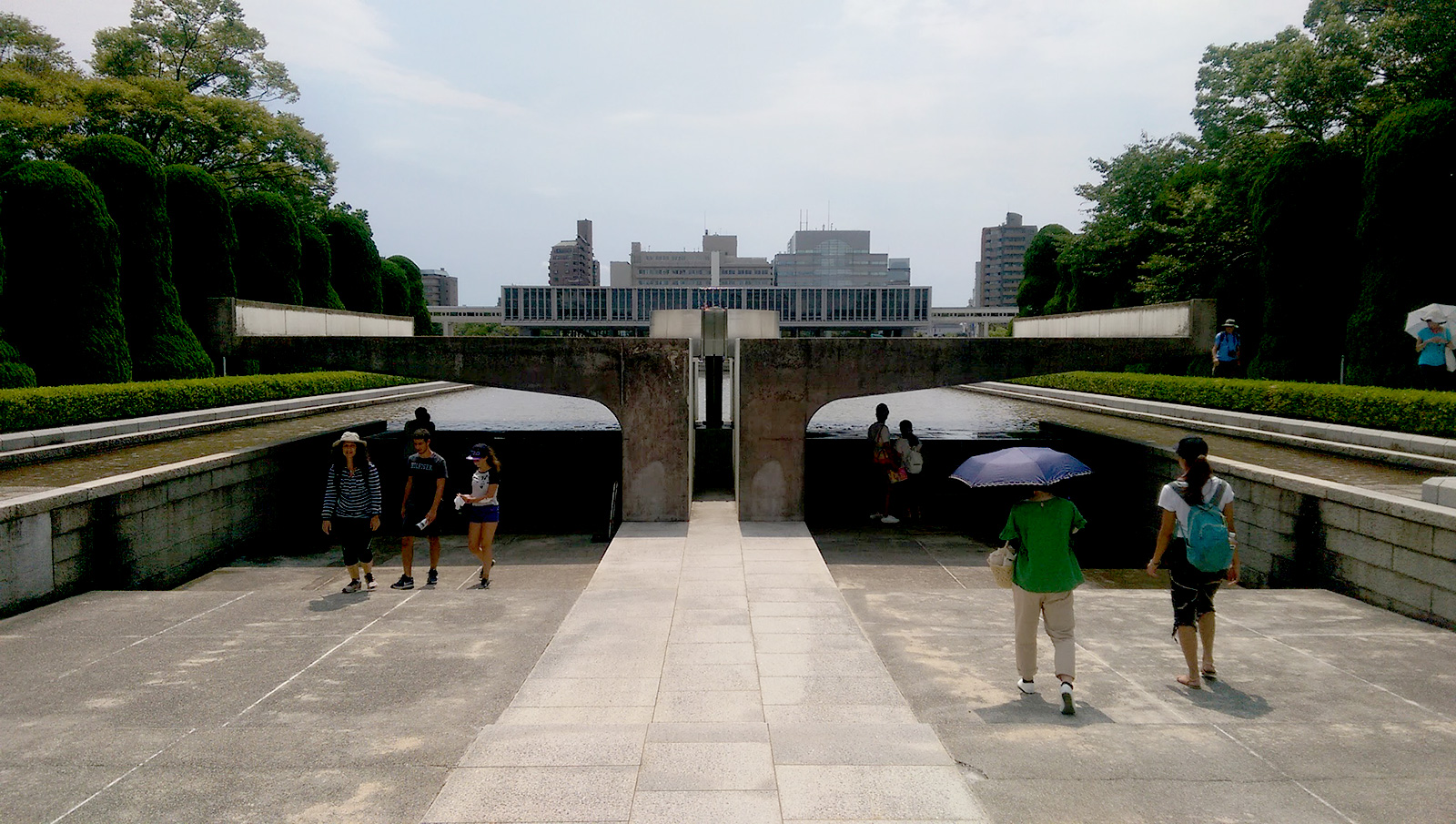 And finish you tour with a visit to the Peace Museum. Entry only costs 200 JPY ($2.60 CAD) so it's definitely worth it. You'll see many more pieces of the city affected by the radiation as well a some paper cranes that President Obama folded while he was visiting Hiroshima in May 2016.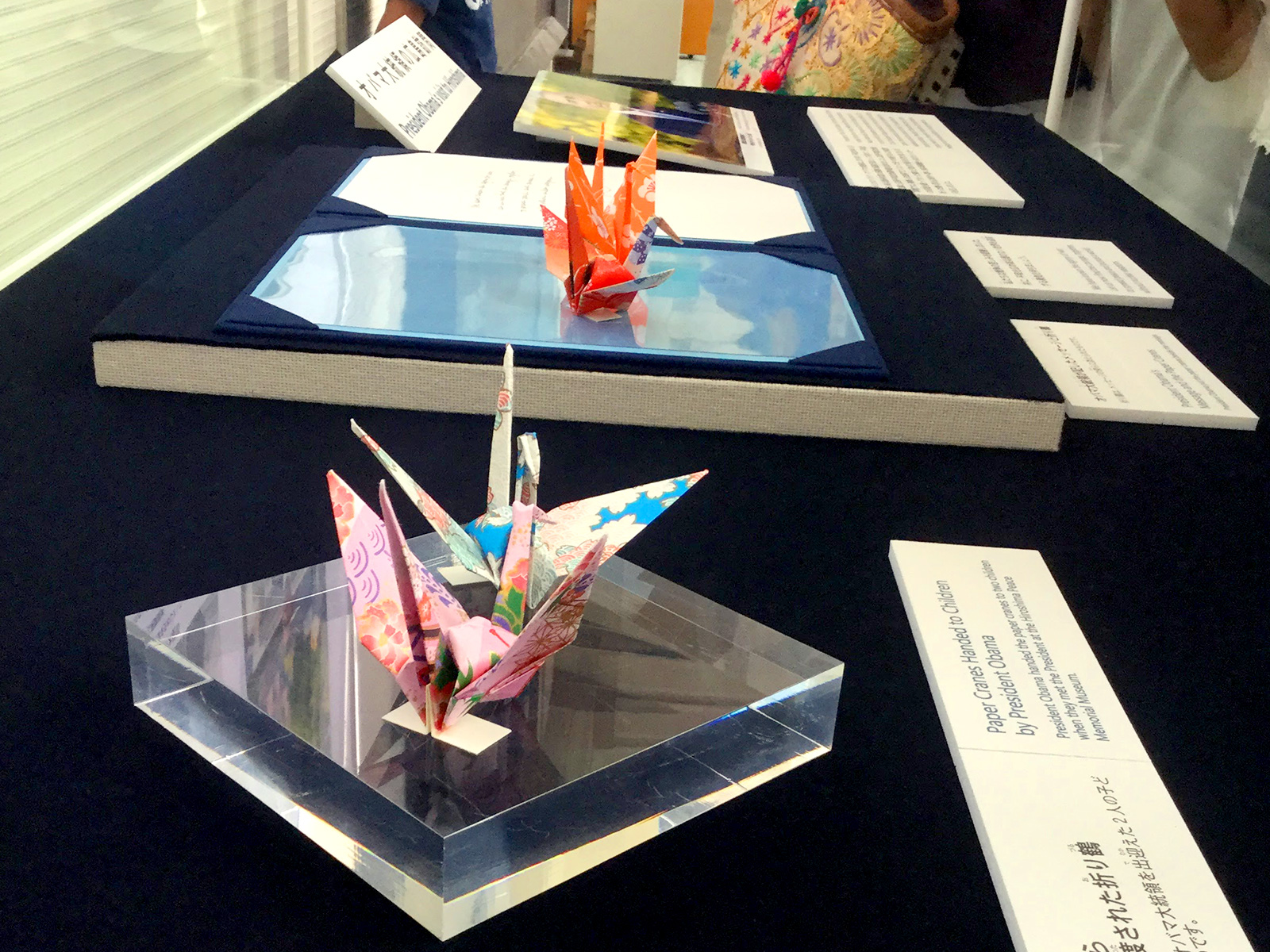 3. Eat (the creamiest) ice cream
Now that you're nice a sad, go for an ice cream. Japanese soft serve is everywhere and it's not like ice cream in America. American white ice cream is, by default, vanilla flavour. But Japanese default ice cream is actually cream flavoured. Sweet, rich, creamy, delicious cream. Especially Hiroshima is know for cow farms, so the ice cream is especially great so don't miss out!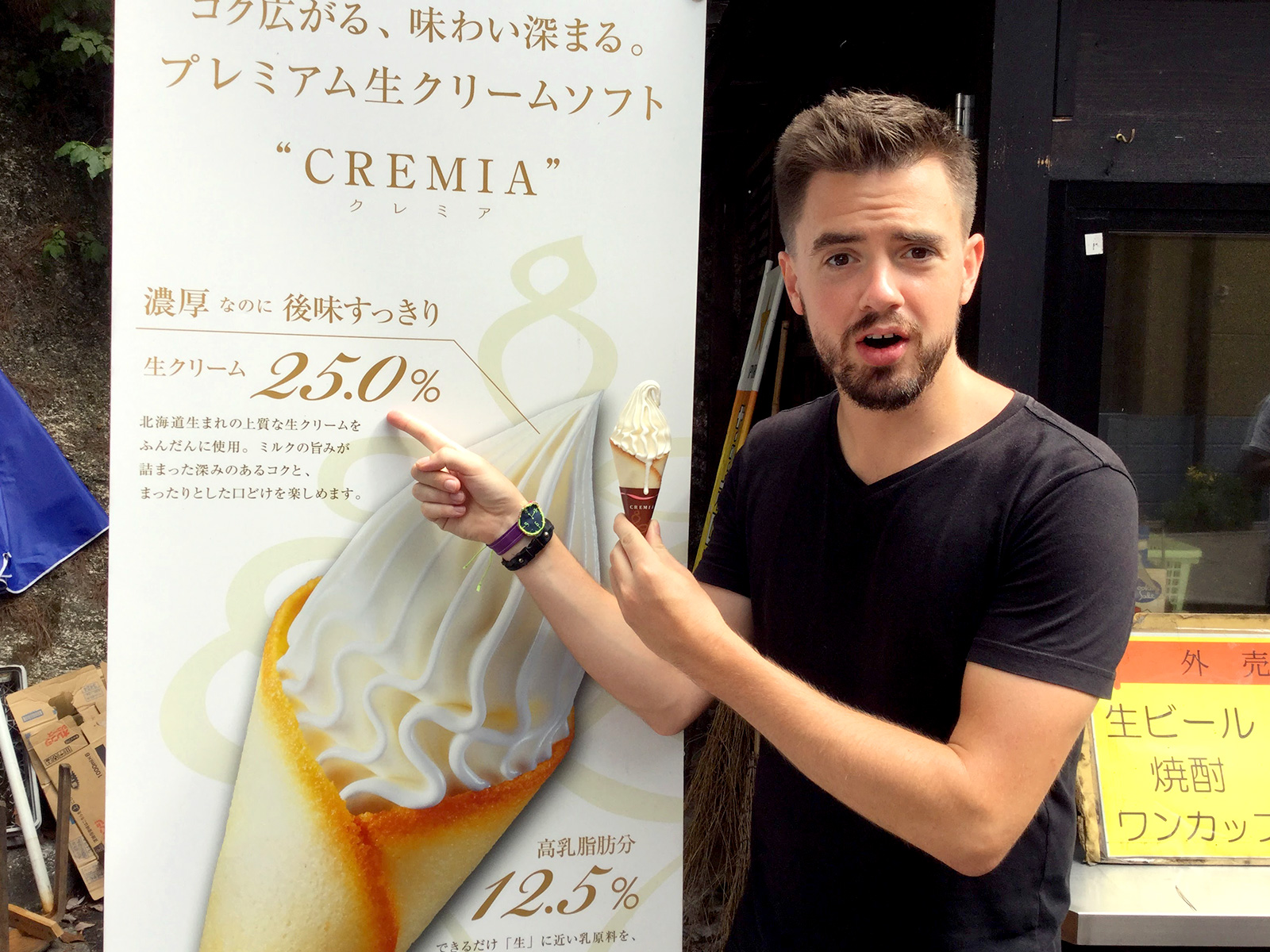 4. Try Hiroshima's famous Okonomiyaki
You already know that Japan is such a foodcation hot spot. So just add Hiroshima's Okonomiyaki to your forever growing list. Okonomiyaki is a layered pancake looking food that piles noodles, bean sprouts, egg, pork, cabbage, green onions, and other flavours and sauces to form a perfectly constructed savoury pile of yum. If you know where to go (like Moeko, our cs host), you can score a huge and filling meal for about 700 JPY (~$8.30CAD). But beware of tourist traps because I'm sure the same thing near a tourist hot spot will cost you much more.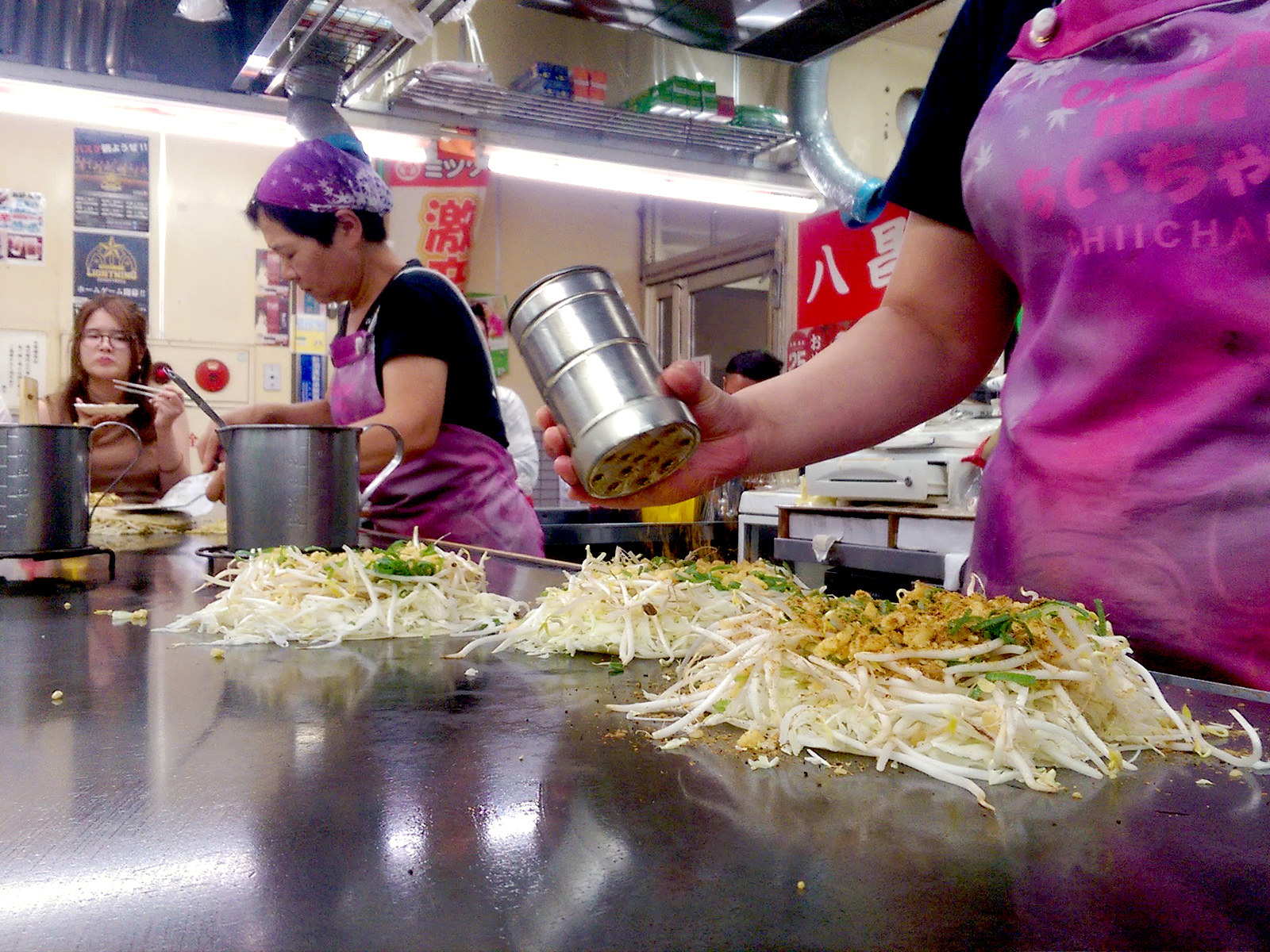 "Okonomiyaki wa domo des ka?" perhaps this phrase could get you to some good local okonomiyaki (disclaimer, I do not claim to know or am able to teach Japanese, and I cannot guarantee this will lead to to successfully find great okonomiyaki. I will though claim responsibility for getting some good laughs from the locals).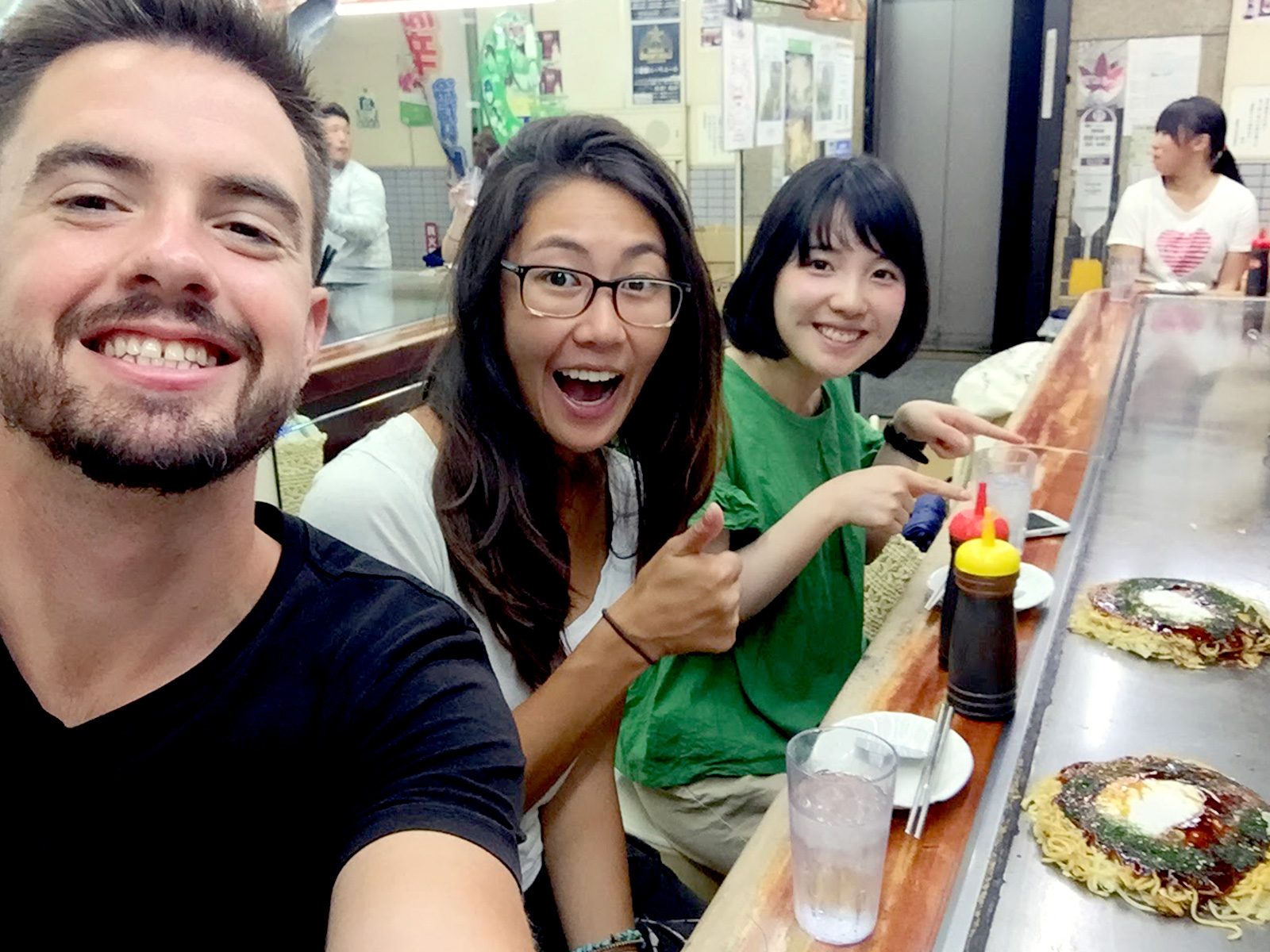 5. Go to Miyajima Island + pet a deer.
One of the other main things to do is taking a day trip to Miyajima island. You can take the subway to Miyajimaguchi Station then take the ferry to the island for 360 JPY ($4.28 CAD) round trip. The ferry departs every few minutes and only takes about 10 minutes to get to the island.
Immediately on the island you'll notice that it has a large population of friendly and curious deer. Actually curious is probably and understatement. They are paper eating, personal bubble invading, food stealing deer. They look super cute from afar, but those antlers are a bit aggressive so close up.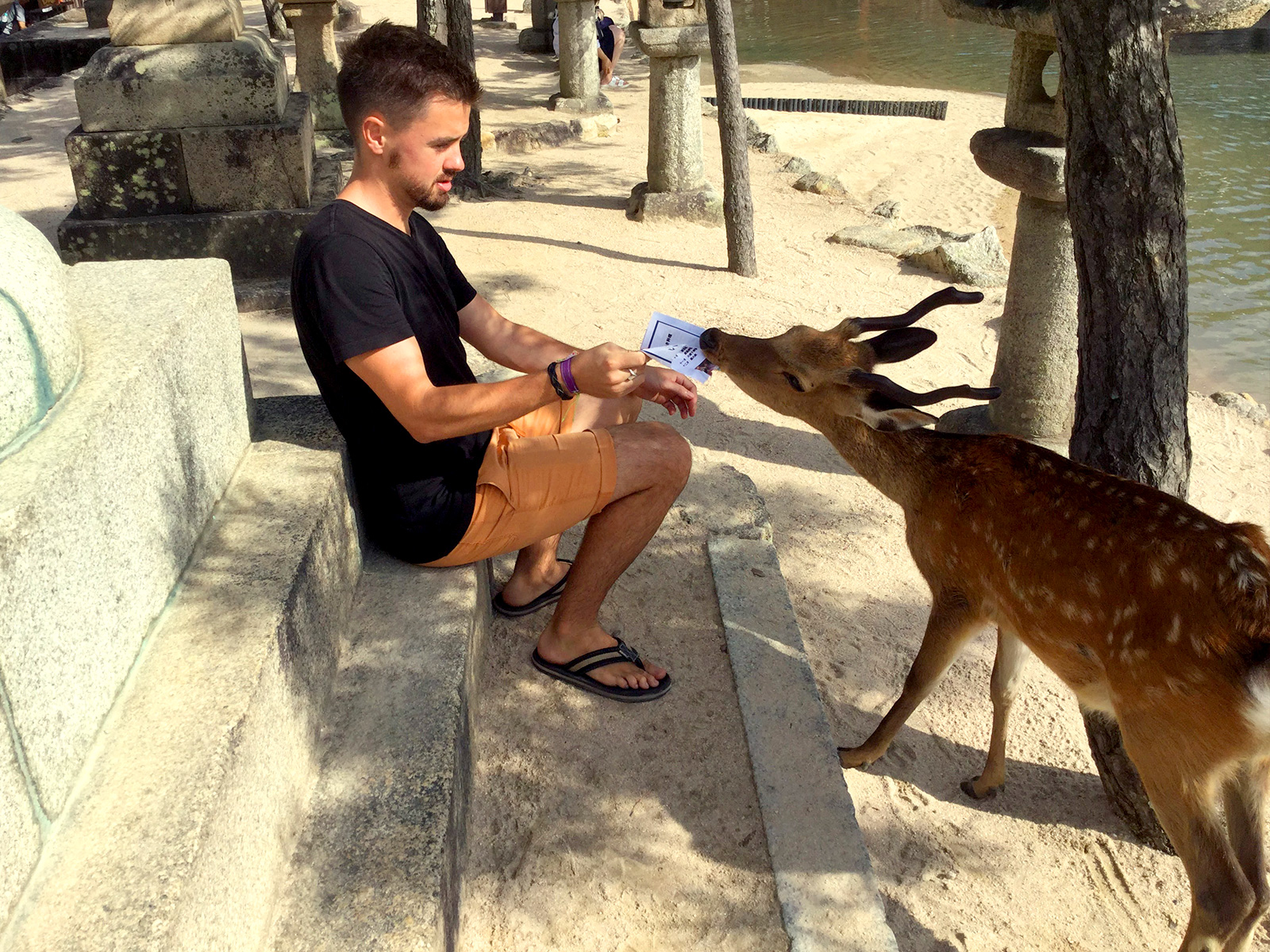 6. Eat Maple Cake (Momiji Manju)
Did you know that Canada is not the only country know for their maple trees? Though Japan is a little more humble about it, resisting from including it on their flag.
They make up for their love of maple in tiny cakes. How can you resist this little, cute, spongy cake? Out of flavours like custard, red bean, and chocolate, I got matcha green tea of course.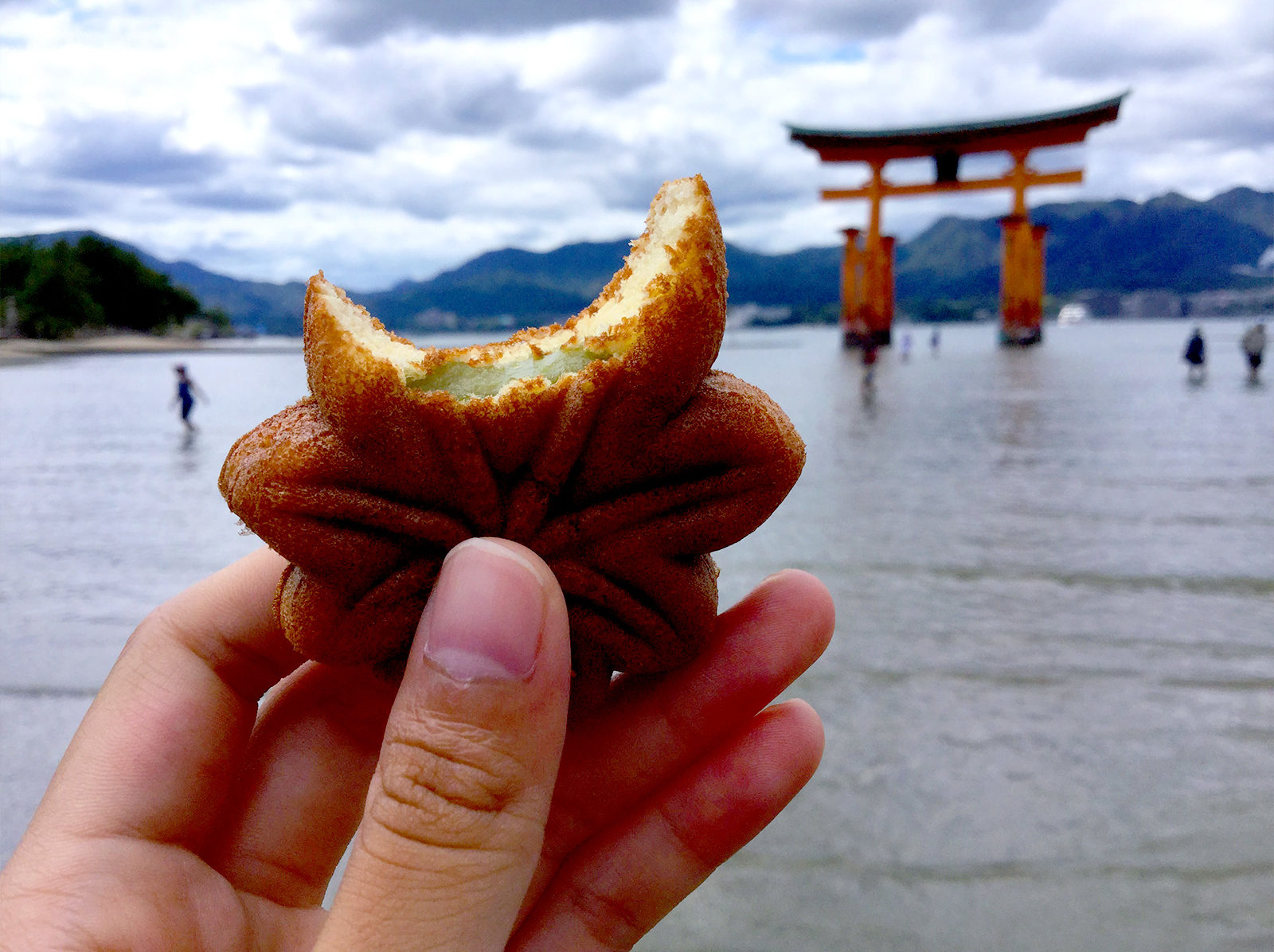 For 60JPY(<$1 CAD) you too can feel like an anime character eating a squishy, bean filled cake.
7. Selfie with the Floating Tori Gate
I'd say this floating gate is one of the most iconic images of Japan. Roll up your pants to wade all the way under the gate. Or stroll there easily without getting wet during low tide. Your choice.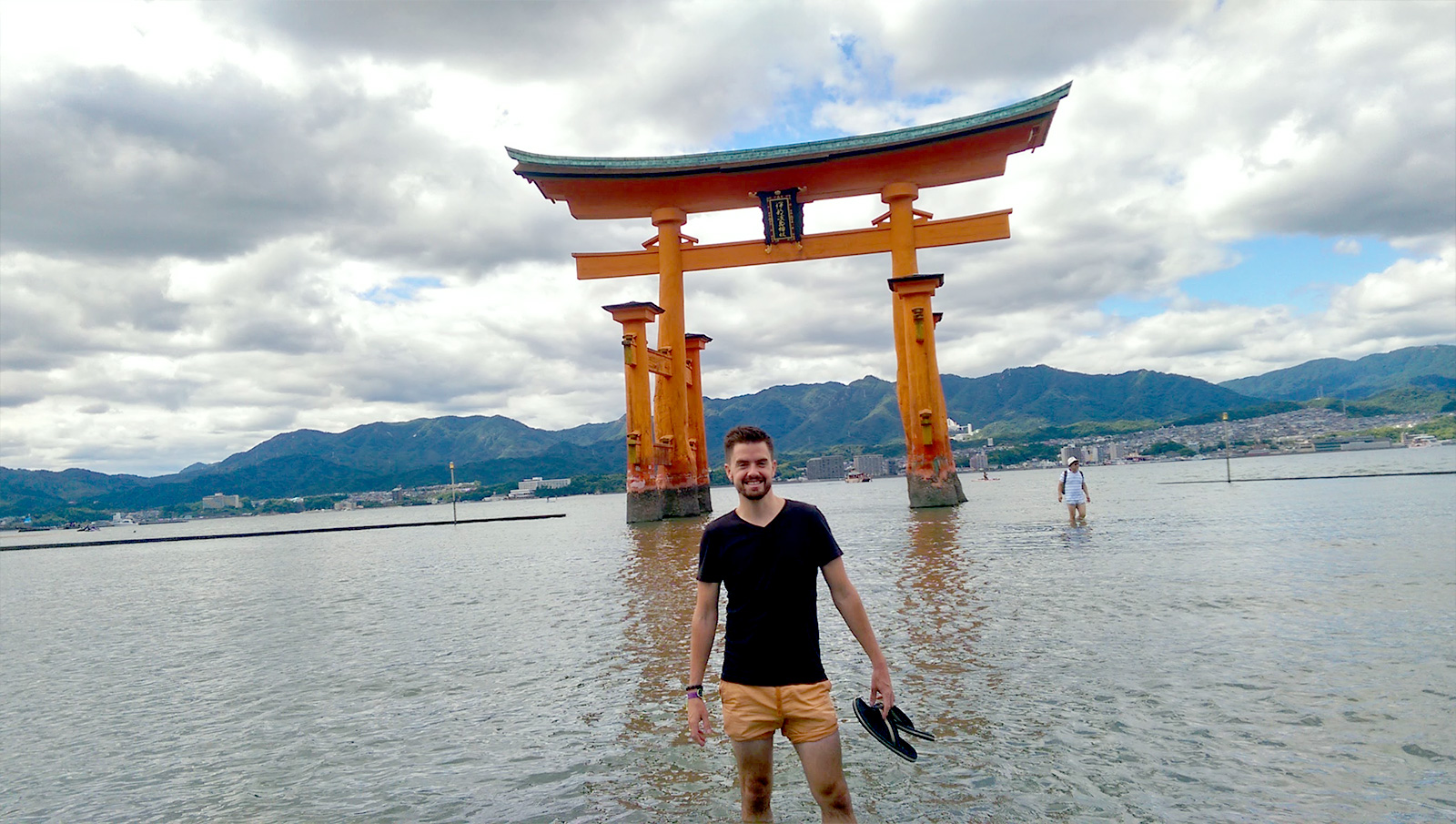 8.  Walk through the Itsukushima shrine
For only 300 JPY (~$3.90 CAD) more you can stroll through the rest of the floating shrine. The shine's halls are all built on stilts so the shire appears to be floating during high tide. Inside the shrine you can admire the view of the floating tori, buy a good luck fortune, or say a prayer.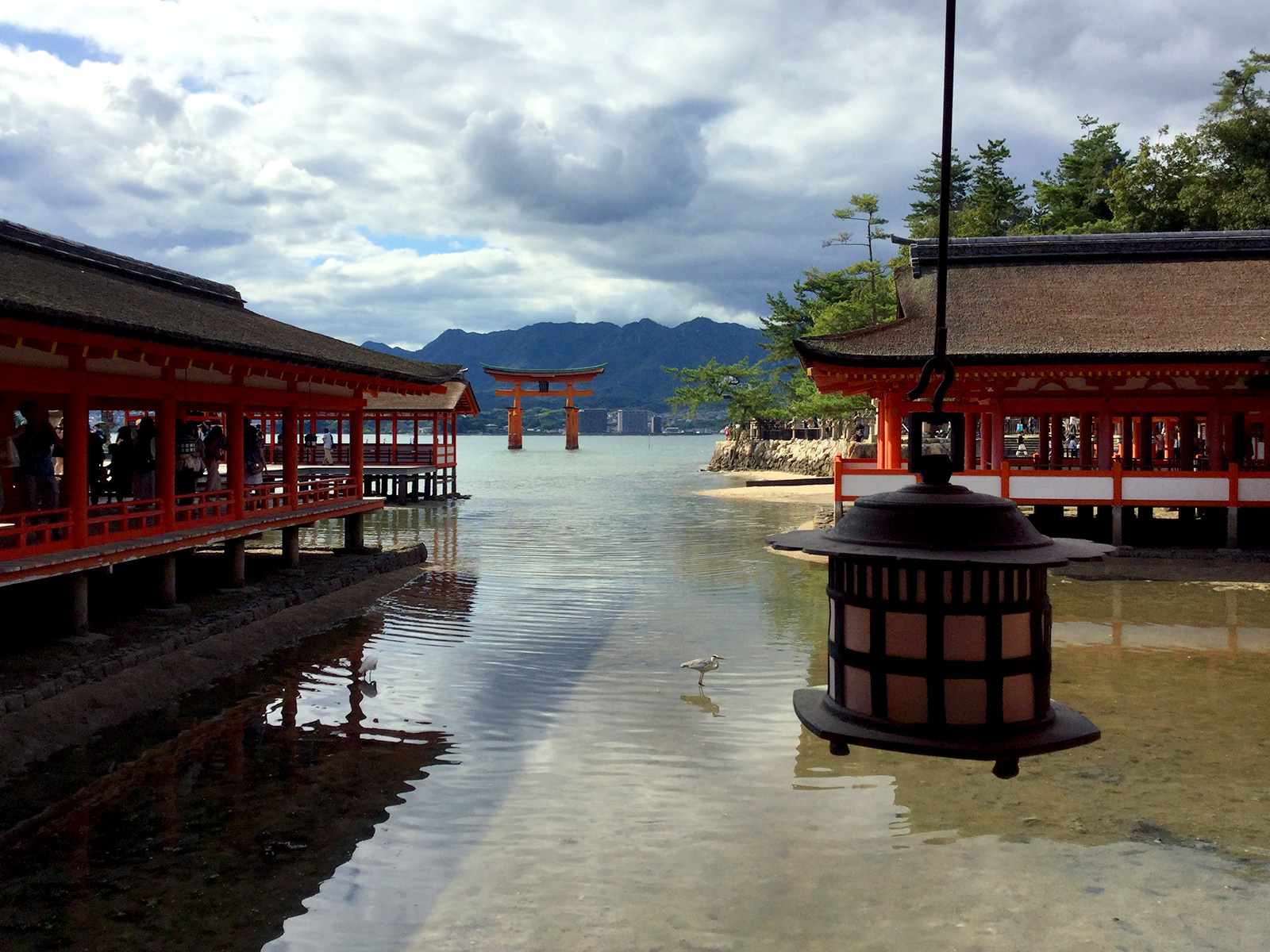 9. Check out the 5 Story Temple
Another landmark of the island is its 2-story pagoda also known as Gojunoto. It is not open to tourists but it is again a great photo opp for that classic Japan postcard image.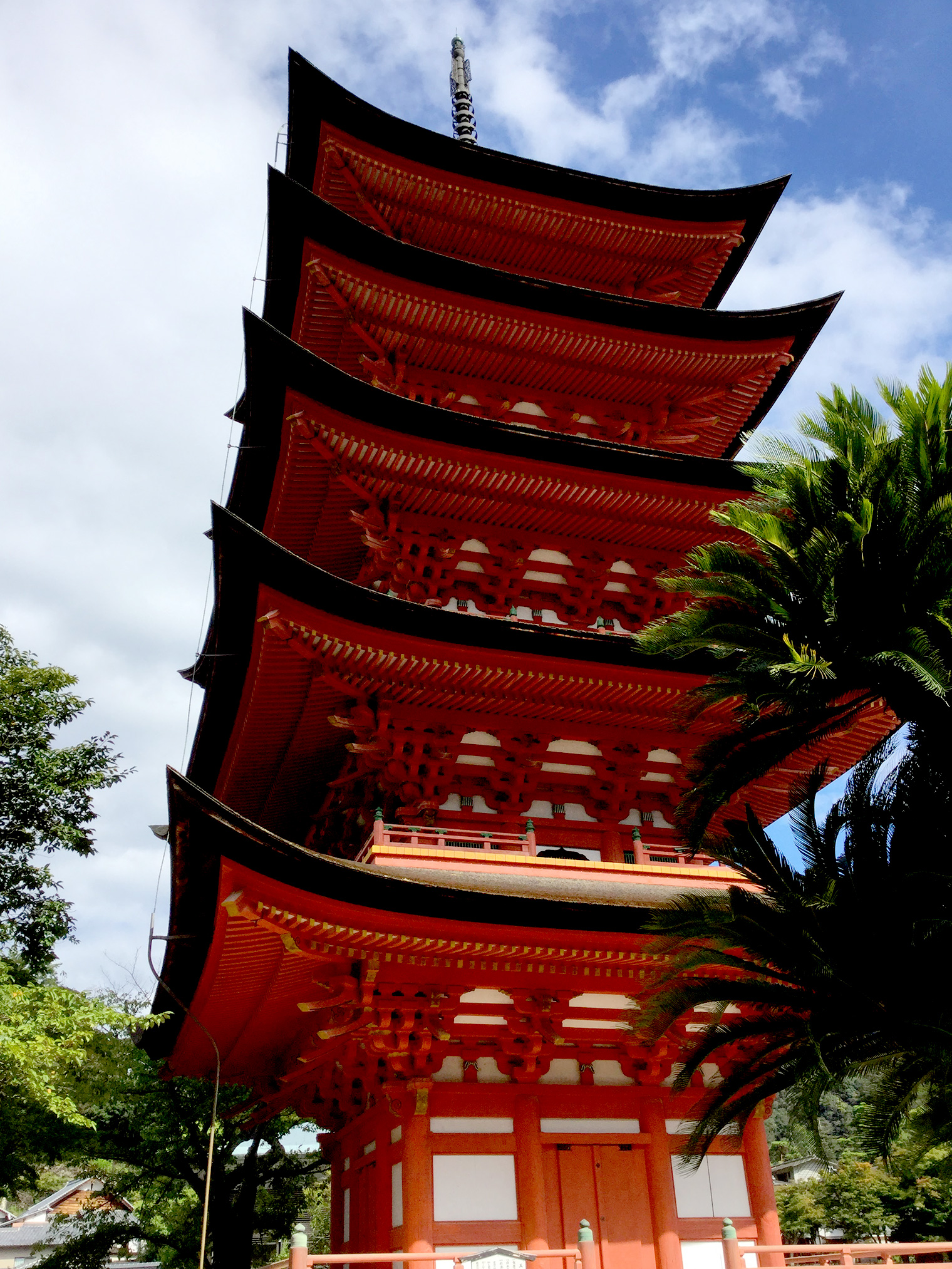 10. Eat island oysters
Now apparently Miyajima and Hiroshima are known for their seafood, especially their oysters. So it is hard to resist when you see these huge shellfish on the grill being sold everywhere. We got two massive honkin' oysters for 400JPY ($4.80 CAD). Apparently there is a big oyster festival in the winter time where you can get every oyster dish one can imagine. Uhh can you say yum?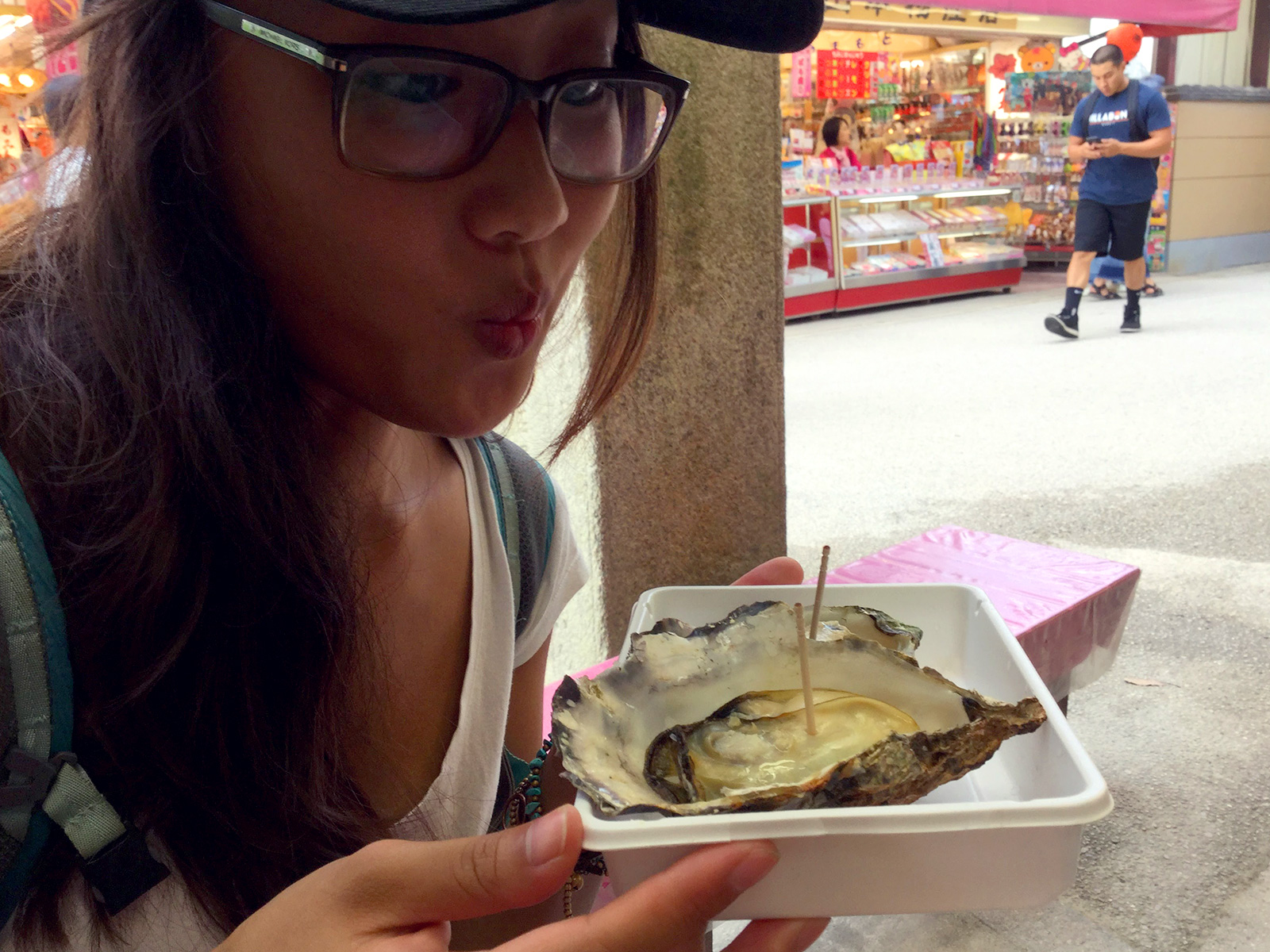 11. Go for a free massage
When you get back to the mainland, hit up any large department store and go straight for the massage chairs. Take your shoes off, stay a while, feel no guilt. It was funny to see many working men kicking it back for 30 min – one hour, some even feel asleep in the chairs. Do as the locals do and you'll blend right in.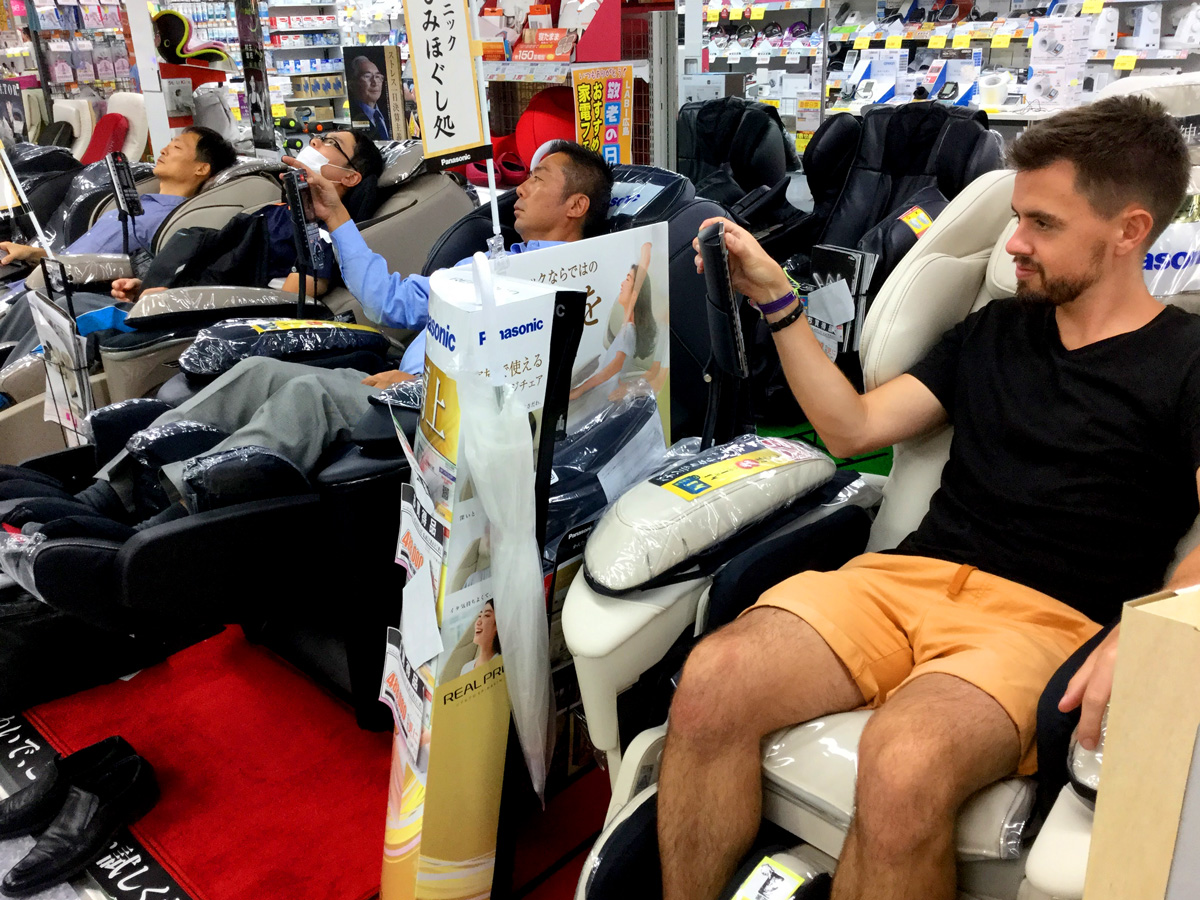 ---
Now I know there are a million more things to do in Hiroshima/Miyajima island, but you gotta make the most of your time! What kept you busy in Hiroshima? Comment below and let us know!
Hungry for more backpacking tips for Japan? Make sure you read our 6 Money Saving Tips for Travelling Japan. Jappy travels! (give me credit I tried).